Following up on my earlier post on the JVC Noise Canceling Headphones with folding over-ear design (model HA-NC80), JVC has released its first In-Ear Noise Canceling Headphones (model HA-NCX77, $79.95).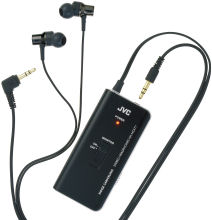 These are rated to cancel up to 80% of the background noise (more than 14dB at 120Hz), in combination with a tight seal from the earpieces. As a bonus, they work fine as headphones even when unpowered, and include a helpful Monitor switch to turn off audio playback so you can listen to important announcements.
In my testing, especially riding on a train, these headphones clearly dropped the level of the background environment, providing a quieter and more peaceful experience to focus on the music.

To perform the noise canceling magic, the electronics are built into a small box (approximately 3 1/4 x 1 1/2 inches), with the controls and a slot for one AAA battery. The earphone cord is attached to the top of the box, next to an audio input jack for the detachable connection cable that plugs in to your audio player.
The unit includes a power switch with indicator light, plus a volume control. You also can use the Monitor switch to mute the audio playback so you can hear what's happening in your surroundings without having to remove the earpieces.
The fit of the earpieces are very important -- the in-ear design is extended by having the earpiece slightly angled from the base to better slip into the ear canal, providing a strong seal against ambient sound. JVC also provides three sizes of earpieces in order to provide a secure fit that provides good sound isolation, even before the noise canceling effect. JVC warns that a loose fit can result in sound leakage, loss of bass sound, and less effective noise canceling.
The product also includes a soft carrying case, dual plug airline adaptor, and one AAA battery good for approximately 70 hours.
While the result is not as impressive as over-ear headphones, these new JVC headphones do help you enjoy your music a bit father removed from noisy environments. They also are more portable than full headphones (although the unit is actually larger than some small MP3 players).
See more on noise reduction, headsets and headphones in the Portable Accessories Gallery, under Audio Headphones.

Find the JVC In-Ear Noise Canceling Headphones on Amazon.com