It's the best of both worlds for mobile music fans -- A multi-use stereo headset to listen to your music, that also has an integrated microphone for hands-free mobile phone use. These take advantage of two upgraded Bluetooth specs: A2DP (Advanced Audio Distribution Profile) for stereo music (not just mono voice for mobile phones), and AVRCP (Audio Video Remote Control Profile) for remote control of the playback device.
These Sony Stereo Bluetooth Headsets have controls to adjust the volume, answer calls, play and stop music, and even forward and rewind. And they can simultaneously connect to two devices: a portable media player for playing music, and then switch over to a mobile phone for receiving and making calls.
They use Li-ion batteries that charge in 3 hours, to provide 11 hours of talk and music playback time, and 100 hours of standby time.
The Sony Stereo Bluetooth Headset DR-BT30Q is a minimalist design -- It has earpieces that clip on behind the ear, connected with a 20" retractable zip cord. It weighs about 2.1 oz., for $129.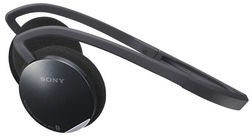 The Sony Stereo Bluetooth Headset DR-BT21G is a snazzy "street style" headset worn behind the head that hooks over the ears. It weighs about 2.3 oz., for $129. It folds up for storage.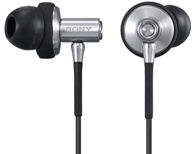 If you're looking high-end wired earphones, check out the Sony Stereo Earphones MDR-EX90LP with a metal housing. It includes 3 sizes of earbuds and a leather carrying case, for $100.

See more in the Portable Audio Accessories Gallery

Find the Sony Stereo Bluetooth Headset -- clip-on on Amazon.com
Find the Sony Stereo Bluetooth Headset -- street style on Amazon.com
Find the Sony Stereo Earphones on Amazon.com