Bluetooth headsets for mobile phones were originally about getting rid of wires, but now they have become our lifelines, as we go though our day's activities chatting away. But it's noisy out there in the world, especially when trying to talk to a small device plugged in our ear. So it's good news as sophisticated DSP (Digital Signal Processing) technology is reduced to fit in even tiny headsets, to provide noise reduction and voice enhancement so both you and your caller can hear more clearly.
The bottom line: Today's noise reduction technology really works, in headphones, and even headsets. It's worth the incremental cost to step up to get some of this magic.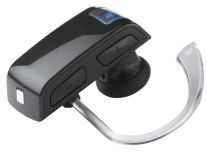 For example, the BlueAnt Z9 Voice Isolation Bluetooth Headset is a tiny marvel -- It's slick looking, and has dual microphones for voice isolation ($99 / $61). It won a CES 2007 Innovations Design & Engineering Award last January, and was released widely in August.

This little bug is small even for a headset (1.5 x 0.69 x 0.44 inches, 0.39 ounces), with a built-in spring clip to attach to your clothes when not in use, and a fully adjustable translucent ear hook. It has dedicated volume up and down buttons, plus the main multi-function button, although it can perform some 20 calling functions (with multiple presses).
The Z9's signal processing to separate the voice signal from the background noise works on both the incoming and outgoing signals, with noise suppression, echo cancellation, frequency correction, and automatic gain adjustment of the voice level. A single press of the main button also switches between Standard mode and Max Voice Isolation for extreme noise environments -- with spoken voice confirmation of the change (not just beeps and tones)!
In my testing, the Standard mode worked well with various kinds of background noise like trains and machines and fans. The Max mode seemed to work harder, but with noticeable distortion of the voice.
The Z9 uses a standard Mini USB Type A interface to charge the battery, which opens the possibility of not having to carry yet another custom charging adapter. It also supports firmware upgrades though USB, although it's a multi-step process to set up. The battery is rated at up to 5.5 hours talk time, 200 hours standby.
The BlueAnt Z9 demonstrates how noise reduction technology is coming fast to audio devices, packing more processing intelligence and even voice prompts in to a nice small and lightweight unit. Whatever your preferences for comfort and style for your next headsets / earphones / headphones, definitely look into noise reduction.
See my Audio Accessories Gallery for details and related products

Find the BlueAnt Z9 Headset on Amazon.com