Tired of all that manual messing around whenever you want to get photos from your digital camera -- Bring the camera back to the computer, dig out the necessary cables and docking connectors, fire up the photo software to upload the files, and then shutdown and disconnect the camera.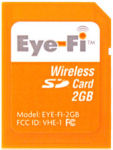 The Eye-Fi Wi-Fi-enabled SD card ends all that fuss. It's a standard SD memory card with built-in Wi-Fi wireless networking, so it can upload your photos whenever you are in range of your home wireless network.

The Eye-Fi SD card works with many models of digital cameras, with 2 GB of storage for your photos. It was released in October 2007, and is priced at $99.
To use the card, you first set up the wireless interface by connecting the included USB reader on a PC or Mac and running the Eye-Fi Manager software. You then configure your home wireless connection, and specify the location where you want the files transferred -- to your local machine (running the Eye-Fi software), or to a photo sharing website (via the Eye-Fi Web service).
I was hoping to take advantage of the card to do some more tricky things like transferring non-photo files or adding Wi-Fi capabilities to a Palm Treo PDA, but the Eye-Fi card is relentlessly focused on working simply and well with digital cameras.
Even so, from my experience it's still useful to understand some of the additional details about how it works that are not explained in the documentation. And, since it works silently and without any feedback, there are some useful ways to test it out and monitor its actions before walking off with a camera.
See full article -- Eye-Fi - Wi-Fi SD Card for Digital Cameras
See my Portable Storage Gallery for details and related products

Find the Eye-Fi - Wi-Fi SD Card on Amazon.com