It's the season for graduations and weddings, and I'm ready again with the perfect gift, especially for travel -- a fun little camcorder that's so easy to carry and simple to use. Last year, the RCA Small Wonder and Pure Digital Flip Video camcorders were a big hit for young grads and couples.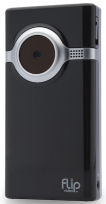 And this year the amazingly thin Flip Video Mino takes portability to a new level -- a palm-size device that shoots 640 x 480 MPEG-4 video, and even looks great when burned to a DVD. But sliming it down required using a non-removable battery and omitting expansion memory.
While Flip has focused on clean simple products, RCA Audio/Video (now owned by Audiovox) has taken the same design and developed some new models that offer a few more useful options, especially for travelers, young and old, who want to shoot for extended periods.

The RCA Small Wonder EZ200 "MyLife" and EZ205 "Pocket" include a handy flip-out LCD display, and use removable AA batteries and swappable microSD memory cards so you can keep shooting all day long. The EZ210 "Traveler" adds a bigger screen and more rugged design.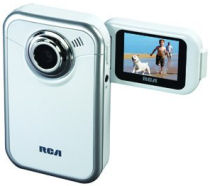 The RCA Small Wonder EZ205 seems to hit the sweet spot for travelers. Available for under $99, it comes with a 1 GB microSD memory card, to shoot up to 30 minutes of High quality video, or 2 hours of lower-res Web quality.
Add more memory cards to keep on shooting -- 8 GB gives up to 4 hours at High quality, or 16 hours of Web quality video on a single fingernail-sized card (around $50 to $100 -- definitely shop for deals).

Previous Posts
- Flip Video Mino -- Slimmer Simple Camcorder (6/08)
- Pure Digital Flip / Ultra - Fun & Simple Camcorders (12/07)
- RCA Small Wonder EZ-201 Digital Video Camcorder (6/07)
- RCA Small Wonder Camcorders - EZ-105 (4/07)
See my Digital Camcorders Gallery for more on digital camcoders, from tiny webcams to full HD camcorders.

Find the RCA Small Wonder EZ205
and Flip Video Mino on Amazon.com