It's September -- and time for the annual refresh of the Apple iPod line, with new generations of the iPod nano and touch, tweaks to the iPod shuffle and classic, bright colors, and fun enhancements to iTunes 8 with the Genius feature.

Apple describes the iPod as the world's most popular family of digital music players, with over 160 million sold and holding at over 70% of the market. Its iTunes Store has moved up to be the #1 music distributor in any format in U.S., with a catalog of 8.5 million songs, over 30,000 TV episodes, and over 2,500 films including 600 in HD. And the new App Store has seen more than 100 million applications downloaded since the launch on July 11, with more than 3,000 available, over 90% under $10, and more than 600 are free.
- The new 4th generation iPod nano returns to a vertical design, with the same screen resolution in an even slimmer design (reducing from 1.74 to 1.3 oz.). It also adds a built-in accelerometer: rotate sideways for a widescreen view with Cover Flow album art, or shake to shuffle music. It's available in nine colors, with double the storage at the same price, 8 GB for $149, 16 GB for $199.
- The new 2nd generation iPod touch is smaller and lighter (from 4.2 to 4.05 oz.), and adds integrated volume control buttons and a built-in speaker for casual listening. It also doubles the storage with 8 GB for $229, 16 GB for $299, and 32 GB for $399.


- The iPod classic simplifies to one slimline model with 50% more capacity, with 120 GB for $249.
- The iPod shuffle adds four vivid new colors, still at 1 GB for $49, 2 GB for $69.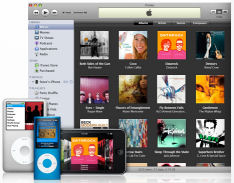 - iTunes 8 adds enhanced visual browsing by album and video covers, and adds high definition television programs from ABC, NBC (returning to the iTunes store), and Showtime for $2.99 per episode.

But the big addition is the new Genius feature that automatically creates playlists from songs in your music library that go great together, as well as recommending related music from the iTunes Store. You also can create Genius playlists on-the-go with the new iPods.
For more info:
- For a good time, see the Steve Jobs keynote introduction of the new products - www.apple.com/quicktime/qtv/letsrock
- For Apple's summary of specs for the new iPod line, see www.apple.com/ipod/whichipod
- And for details on the new products, and the iPod product line history, see my Portable Media Players Gallery

Find the Apple iPod nano (gen 4)
and the Apple iPod Touch (gen 2) on Amazon.com