When I'm working in my home office at the back of the house I'm really out of touch with what's happening out front on the street. I'd like to know when a visitor has pulled up before the doorbell rings. And sometimes it's rather urgent to see when the FedEx truck pulls up, especially if I need to go down to sign for a package.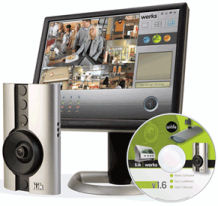 You can monitor video out a window with a webcam, and send digital video around the house with an Internet camera, but the Logitech WiLife Video Security System does so much more ...

The WiLife software monitors up to eight cameras at a time. The cameras use HomePlug power line networking through your existing electrical wires, so there's no messy network setup. And the software actively monitors your video watch for motion in designated areas, to record the associated video clip and generate alerts (via e-mail and mobile phone, if desired).
You start with a Starter Kit ($299 and up) with an Indoor, Outdoor (weather resistant), or Spy camera (disguised as a working digital clock). Then add more cameras ($229 and up). There's also a Platinum software upgrade ($80/year) with more flexible alerts, security, and online storage and access to recorded clips.
I mounted the WiLife Indoor camera on a window with the included suction cup to watch the front of the house. And I experimented with optional wide-angle lens (120 degrees) and NightVision IR lens (which includes an IR illuminator designed for indoor spaces).

The system and software worked cleanly out of the box, quickly finding the camera over the existing electrical lines, although it did need to be reset occasionally after long use. The motion detection worked fine with cars and trucks, but also alerted on the movement of strong shadows from trees blowing in the wind. Cranking down the sensitivity helped with the shadows, but then missed the motion of many pedestrians on the sidewalk. (This is a hard problem in video analysis, so don't expect miracles when an outdoor environment is in motion from wind, rain, lighting changes, and the like.)
The IR lens was quite useful, making fun false-color scenes during the day and showing detail under trees at night. But the wide-angle lens worked even better for my needs, showing almost twice as much footage along the street, and even showing some detail at night under the streetlight.
See more details and pictures with the different lenses in my full article -- Logitech WiLife Video Security System
See more on webcams in my Home Media Gallery

Find the Logitech WiLife Video Security System on Amazon.com