Someday all our devices will be wireless, and our files and media will just be there whenever we want them. Even today we can see the beginnings of connectivity for sharing photos, with camera phones that automatically upload photos to online sites, digital photo frames that automatically update with new images, and portable players like the Microsoft Zune that sync wirelessly to update with new media.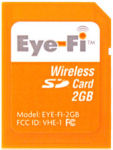 But we still need to cable our digital camera to a computer (or pop a memory card) in order to save our stored photos, and then be able to upload them to share on online sites.

Or -- turn your digital camera into a wireless device with the Eye-Fi Wi-Fi SD Memory card. This is a standard 2 GB SD memory card, plus built-in Wi-Fi networking (see previous post).

These are standard SD memory cards, which should work even in older devices that use the SD format. And now Eye-Fi has introduced the next obvious step, moving to the newer SDHC format to increase the on-board memory and access speed:
- Eye-Fi Anniversary Edition ($129) - Like the Eye-Fi Share for uploading over your home network to a computer or online sites, but now with 4 GB of storage. Available only at Costco.com for $99 to club members, or from Eye-Fi for $129, while supplies last.
The 2 GB Eye-Fi SD cards are available in several versions:
- Eye-Fi Home ($79) - Connects to your home Wi-Fi network and uploads photos to a folder on your computer (running the Eye-Fi software)
- Eye-Fi Share ($99) - Adds uploading to online sites over your home Wi-Fi network. Eye-Fi supports more than 20 photo sharing, printing, blogging and social networking sites including Apple MobileMe, Costco, Facebook, Fickr, Kodak Gallery, Nikon My Picturetown, Picasa, PhotoBucket, RitzPix, Shutterfly, SmugMug, Snapfish, and Wal-Mart.
- Eye-Fi Explore ($129) - Adds access through public Wayport hotspots (for 1 year) plus geotagging (based on nearby Wi-Fi networks)
The Lexar Shoot-n-Sync Wi-Fi Memory Card also is available, combining Lexar memory card technology and Eye-Fi wireless technology. Like the Eye-Fi Share, it's 2 GB, and transfers photos to computer and online sites over home Wi-Fi network.
See article on the original Eye-Fi card -- Eye-Fi - Wi-Fi SD Card for Digital Cameras
See my Digital Cameras Gallery for details

Find the Eye-Fi Home, Eye-Fi Share, and Eye-Fi Explore
on Amazon.com