I'm a big fan of the Pure Digital Flip line of portable camcorders, and particularly the minimalist Flip Mino (see previous post) -- It's small enough to carry almost anywhere, and shoots good-looking standard-definition video. Most recently I shot some fun video of a high school football game at night, and some even more entertaining close-ups of the bedraggled cat getting a bath -- all of which look quite good, especially for video shot with a tiny 4 x 2 x 1/2-inch camcorder that weighs 3.3 ounces and costs around $179.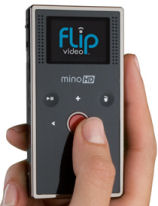 But if the Mino was amazing, wait until you see the just-released Flip MinoHD -- It's the same design, the same functionality, but now it shoots HD video (720p), and is priced at $229.
And when I say the same, the MinoHD really is the same size as the original Mino! It's just that the imager is upgraded to HD resolution, and the memory is upgraded from 2 to 4 GB, in order to still store an hour of video.

The MinoHD also comes with new FlipShare software that can be installed directly from the device, after connecting the pop-out USB arm to a Windows or Mac system. Then drag-and-drop to view, organize, edit, and share your clips, including online publishing to YouTube, MySpace, or AOL Video.
And you can use the Flip customization service to design your own personalized case (see previous post).
See my Digital Camcorders Gallery for more on the Flip line and digital camcoders.

Find the Flip Video Mino and Flip MinoHD on Amazon.com