The CD is fading away as a purchased music format, and digital music is growing, but it's still clumsy to manage digital music files -- rip or purchase songs, keep them organized, and then sync or download to the desired mobile phone or portable players.
So maybe there's still a place for a new physical purchased music format -- the SanDisk slotMusic card, available this holiday season with more than 40 "albums" from major labels: EMI Music, Sony BMG Music, Universal Music, and Warner Music.

The slotMusic format is just a standard microSD card, preloaded with music (plus additional content such as liner notes, album art, and videos). A typical "album" on a 1 GB slotMusic card contains some 12 songs, and sells for around $14.99, much like a CD.
The music is in standard MP3 format, with good quality up to 320 kbps. And it's DRM-free, without any copy protection, which means it should play on pretty much any device. You can copy and play the music files on other devices (including a PC -- they are packaged with a tiny USB adapter). And you can copy your own files to the slotMusic cards -- again, they're just a standard microSD card preloaded with MP3 and other files.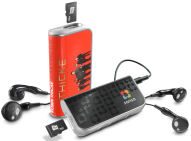 SanDisk also has released an accompanying dead simple player device -- the SanDisk Sansa slotMusic Player. It just plays MP3 and WMA music files from the microsSD slot -- there's no internal memory and no display. But a 16 GB card can hold up to some 4,000 MP3 songs, which can keep you occupied for a while. The player is small, under 2 ounces, and only $19.99.

See my Portable Media Players Gallery for more on music and video players