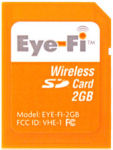 I had fun trying out the Eye-Fi Explore Wi-Fi SD Memory card the past week ($129, see previous post).
While the Eye-Fi card is currently designed to be used with digital cameras to upload photo files (i.e., JPGs), it's tempting to think about how it could evolve to be used more generally. In particular, video camcorders also use SD cards, and also can shoot still photos ... Hmmm ...
So I tried out the Eye-Fi card with the Kodak Zi6 HD Pocket Video Camera, which fits in a shirt pocket and yet shoots both standard-definition and HD video, as well as 3 MP still photos ($179, see previous post).
The card worked great -- transferring photos as I shot them while in range of the wireless signal, and also uploading additional photos that I had shot while out of range.

Just be aware that the Eye-Fi card drains the battery in ways that these cameras and camcorders may not expect. After a couple minutes of use, the Zi6's battery indicator was down to the red line. But the batteries were not drained, and the indicator when back to normal after cycling the power.
See my Digital Cameras Gallery for details on the Eye-Fi cards.
See my Digital Camcorders Gallery for details on pocket video camcorders.

Find the Kodak Zi6 HD Camera and
Eye-Fi Explore Wi-Fi SD Card on Amazon.com