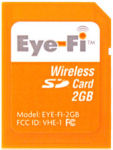 The Eye-Fi Wi-Fi SD Memory card is a standard SD memory card, with some extra magic: built-in Wi-Fi networking ($129, see previous post).
Insert the Wi-Fi card in a digital camera, and when you take pictures at home it can automatically uploads your photos to your computer. And when you're on the go, and come in range of a public Wi-Fi system, it can upload to a photo sharing site like Fickr or Facebook.

This week at CES, Eye-Fi announced support for uploading of videos from digital cameras, direct to YouTube. Since most digital cameras now shoot video clips, this is a natural extension of the Eye-Fi product (as I previously speculated).
However, this is just an announcement, along with a technology preview demo, but with no details on specific products, although something was said about seeing product this year (see comments from Eye-Fi below).
Even so, just this evening, Eye-Fi won the Last Gadget Standing contest at CES (and for the second year in a row). See clips of the demo and from Eye-Fi.
Also, at Macworld last week, Eye-Fi announced an iPhone application that will allow Eye-Fi card owners to send photos taken on an iPhone directly to their computer and the Web. This will be a free application, that apparently connects uses the upload rules that you have set up for your Eye-Fi card to achieve the same easy and automatic upload process on an iPhone.
See my Digital Cameras Gallery for details on the Eye-Fi cards.

Find the Eye-Fi Explore Wi-Fi SD Card on Amazon.com
More on the new Eye-Fi video upload ...

The new Eye-Fi video uploads could come to market as a new product, or even possibly as a firmware update to existing Eye-Fi cards. But, in my discussions with the Eye-Fi staff, they pointed out that supporting video will demand faster access times for the video data rate, plus optimized network uploads for the big video files, as well as larger cards with more storage. So providing support on old cards is difficult.
Of course there's nothing special about photo files per se, so if the card can transmit a file called something .JPG, there's no technical issue preventing it from doing the same with a file called MPG, or even TXT. Renaming files to JPG to try to get the Eye-Fi card to transmit other types of data is an obvious hack that people have tried with the Eye-Fi card, but this does not work. The card actually does an integrity check on the contents of the file to verify that it contains photo format data, as part of making the transmission more robust, to handle situations like powering off the camera before an upload is complete.
So Eye-Fi expects to support common video formats found in popular digital cameras, but not necessarily on camcorders or pro cameras.