Just when you thought USB drives couldn't get any smaller, new technology comes to the rescue with the Verbatim Store 'n' Go Micro USB Drives, which offer up to 8 GB of storage in literally half the size of a SD memory card -- or the length and width of two microSD cards (1.22" long, 0.5" wide, 0.08" thick, 0.05 ounce). These drives are only a tiny bit thicker than a SD card as well. Yeesh!

The new development here is System in Package (SIP) technology, which integrates all the electronic components into a single sealed unit. The resulting drive is resistant to everyday handling, dust, moisture and static discharges, so you don't give up ruggedness for the small size.
The Store 'n' Go Micro is also Enhanced for Windows ReadyBoost, and includes V-Safe 100 security software for Windows to create a password-protected private zone on the drive.
The Verbatim Store 'n' Go Micro USB Drive is available with 2 GB for around $19 (in orange), 4 GB for $22 (green), and 8 GB for $32 (purple).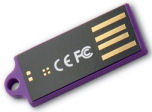 But how do you use a device that literally half the width of a USB port? Just insert the drive with the contacts facing the USB logo, or to the center of the connector. Or just try to shove it in -- you'll notice that it does not fit right if you have it backwards.
And while the Store 'n' Go Micro is not quite as small and easy to lose as a microSD card (the bright colors help too), you still may want to use the included lanyard to attach it to your key ring or cell phone. The idea is that it's rugged enough to just carry along -- the plastic case is solid, and does not flex or threaten to break.
See my Portable Storage Gallery for more on memory cards and USB drives.

Find the Verbatim Store 'n' Go Micro USB Drive on Amazon.com