The good news with digital cameras is that it's so easy to shoot lots of photos. The hard part is then accessing and sharing them -- hooking up the equipment and software to transfer your images to a computer, and then going through the process of uploading them to the Web so that others can access them.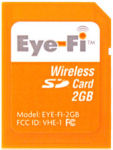 Someday our digital cameras will have built-in wireless to do all this automatically, but until then you can use an Eye-Fi card -- a clever combination of a standard SD memory card with built-in Wi-Fi technology (see previous posts).
Plug in the Eye-Fi card, and your camera can automatically transfer your photos to your computer over your home wireless network. Or there are versions that can upload directly to some 25 popular online photo-sharing sites, from home or when you're on the road at public Wi-Fi hotspots.
But digital cameras also shoot video clips -- what about sharing them too? In March, Eye-Fi announced new Video cards with 4 GB of memory (in SDHC high capacity format) and the ability to upload directly to YouTube and Flickr.
And now Eye-Fi has announced broader support for sharing videos with your photos, by also uploading to Picasa Web Albums, Photobucket, and SmugMug.
So now you can immediately share your summer trips with friends and family -- automatically, and with no hassle. Whenever you're in range, the Eye-Fi card will connect wirelessly and upload your photos, and videos, to your online album. Easy enough?
See my article on using the Eye-Fi Wi-Fi SD Card for Digital Cameras.
See my Digital Cameras Gallery for details on the Eye-Fi cards.

Find the Eye-Fi Share Video and Eye-Fi Explore Video on Amazon.com