HD Expo NY came to The New Yorker Hotel in New York City last week. The show is changing its brand to Createasphere, in recognition of the broadening of production beyond just HD (... and avoiding confusion with Hospitality Design Expo). The organizers produce other related shows in Los Angeles, and are looking to expand in New York for two days next year.
The event on Thursday, September 17 ran from 11 am to 7 pm, and included panels, workshops, and an exhibition.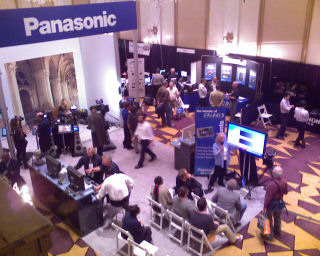 The panels included conversations with film editors and cinematographers, and a New York production industry update. These were packed, with waitlist lines, and clearly need more space next year. The workshops included Apple FCP, Canon EOS HD, HP NLE, Panasonic P2 Varicam, and RED on Adobe.
Approximately 35 exhibitors in this friendly setting offered plenty of opportunities for extensive discussions and hands-on time with equipment, especially cameras (Canon, JVC, Panasonic, Sony), lenses (Carl Zeiss, Fujinon, Schneider), and related equipment such as lighting.
One clear trend is the interest in shooting video with a HD DSLR camera, like the Canon EOS 5D and new 7D -- shooting photos plus short HD video clips, less obtrusively than with a video camera, and with the creative look from the choice of options of professional lenses, and especially control of depth of field.
Createasphere NY reports that registrations for the event doubled from last year. The New York area clearly is underserved with these kinds of video production events -- DV Expo East is now only West, and ShowBiz Expo is long gone. We do have two events coming up on in October, the New York Post|Production Conference, a training event from Future Media Concepts (who also do training at NAB), and HD World, a two-day event of sessions and 140-some exhibitors, as part of the umbrella Content & Communications World event at Javits, combined with SATCON and IP Media Expo.
See also my list of Digital Media Conferences in 2009, including regional events around New York City.