WiFi is great for letting you wirelessly connect to the Internet from your laptop -- as long as you are hanging in a coffee shop with a free WiFi hotspot, or within a wireless campus like a university or Bryant Park in New York City. Even better, you can get wireless broadband through the cellular phone network, so you can connect from anywhere you can get a mobile data signal.
Originally available as a PC card or USB dongle, cellular modems for broadband data service are available with some laptops, and built in to the new netbooks, which are smaller and less powerful, but focused on this kind of always-available online access. However, these do require a mobile data service subscription with a carrier like AT&T, Sprint, or Verizon -- in addition to your other mobile phone subscriptions.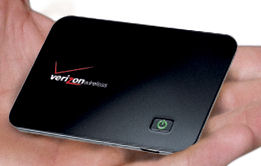 The Verizon Wireless MiFi 2200 by Novatel combines these two ideas in one device that gives you the best of both worlds -- ubiquitous mobile broadband, shared as a personal WiFi hotspot. The MiFi is a cellular modem which connects to the Internet though the Verizon Wireless data service, and it's a WiFi router, supporting up to five simultaneous wireless connections, from your laptop and others in the area.
And the MiFi is tiny, around 3.5 x 2.3 x 0.4 inches, and just over 2 ounces. It has a removable rechargable battery for up to 4 hours of active service with one device, or 40 hours standby. You can then charge it from a USB port, or with the included USB wall charger.
But this is a full-up modem and router. For mobile data, the MiFi supports Verizon's fast EV-DO Rev. A service, with typical download speeds rated at 600 to 1.4 Mbps and uploads at 500 to 800 Kbps. And for WiFi, it supports WEP/WPA/WPA2-PSK security, with MAC/Port filtering, and VPN compatibility. Plus, you can use it as a modem without WiFi by connecting it directly to your computer via USB and running the VZAccess software. (Get the latest version at vzam.net).
The MiFi is available from Verizon Wireless (and other carriers like Sprint) for $99 with $50 rebate and two-year service plan. (Amazon lists it as free with a new service plan.)
Verizon offers mobile broadband data plans starting at $39.99 per month with a 250 MB monthly allowance (10 cents per MB overage), or $59.99 a month with a 5 GB monthly allowance (5 cents per MB overage). Or you can pay as you go with a DayPass plan at $15 for 24-hour access.
Note that there's no "unlimited" service offering for data. Sprint even warns that "Sprint reserves the right to limit throughput speeds or amount of data transferred" -- so don't plan to spend your days watching online videos.
See my Mobile Communications Gallery for more on the MiFi and mobile data services.

Find the Verizon Wireless MiFi on Amazon.com