Apple's iPod and iPhone lines are great products, but we always want to do more with them, which has lead to a proliferation of third-product accessories, from docks to cases to chargers to external audio/video connectors.
Dexim has introduced some clever accessories for powering and sharing your iPhone/iPod.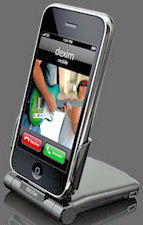 The new Dexim P-Flip is a foldable, portable, rechargeable dual-purpose power dock and battery, available for $54. The P-Flip closes up for storage to pocket-sized, and then flips open as a desktop stand for your iPhone 3G/3Gs or iPod touch.
It serves as a cordless charger, or you can connect the included miniUSB cable to recharge and sync the iPhone/iPod. The three LEDs display the charge status of the device and the battery, which extends talk time up to 8 hours, video/game play to 15 hours, and music to 60 hours.
You also can download the free PFlip Clock app from the Apple iPhone Store.

When driving, the Dexim Car Charger for iPhone/iPod includes both a cable with an Apple connector for charging your iPhone/iPod, and a USB port protected by a rotating cover, for $15.
Dexim also offers other versions of car chargers with USB port, dual USB, iPod connector, and/or cell phone tips.
And to share your photos and videos on TV, the Dexim AV Adapters for iPhone/iPod include a small A/V adapter that plugs in to the Apple connector, with connectors on the bottom for two included cables: an A/V output cable (with various connectors for the different products) and a USB cable (for data synchronization and charging).
The Dexim (Composite) AV Adapter has a composite video cable with stereo audio (video + L&R audio), for $39.
The Dexim Premium (Component) AV Adapter has a full component A/V out cable (R,G,B video + L&R audio), for $49.
See my Portable Peripherals and Accessories Gallery for more on portable and computer accessories.

Find the Dexim P-Flip and Car Charger on Amazon.com