Continuing on the topic of the wonderful variety of iPad cases from CES (see previous post), meet the FreeOneHand iPad Holder & Stand, a clever approach for using the iPad for extended periods.
Tablets, of course, just are too big and too heavy to hold up in one hand for easy reading like a smartphone. So you end up having to shift your sitting position, or rest them awkwardly on your stomach, or hold them in two hands while trying to brace your arms.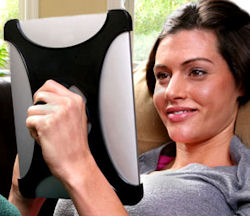 The FreeOneHand changes this completely. It clips onto the four corners of the iPad, with a two-inch pedestal in the back for holding the iPad comfortably with just one hand. For example, you can grip the post securely in your fist, or cup it in your palm in your lap, or hold it between your split fingers.
As a result, you can hold the iPad comfortably for extended use, and, of course, your other hand is free for easier typing, or to reach for your coffee without having to put the iPad down. And the FreeOneHand is very useful for presentations, since again you can hold up and display your device, and even have a hand free for pointing.
The base also works as an iPad stand or easel, in portrait or landscape mode. And the corner grips even extend out from the surface to protect your screen if you put the iPad face down on a table.
The FreeOneHand iPad Holder & Stand is available for around $39, in ebony, ivory, silver, lime green, sky blue, and rose pink.

Find the FreeOneHand iPad Holder on Amazon.com