Ecstasy!! -- It's a new Apple iPhone. Agony! -- It's not the rumored iPhone 5; it's just a "4S". The "S" may stand for a bump in Speed or Software from the iPhone 4 (see earlier post), but it's definitely not for Sexy or Stupendous. Instead, it appears that the iPhone 5 name is being reserved for a future new design and/or step up to 4G wireless speeds (see earlier post).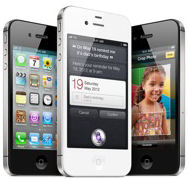 Apple positions the iPhone 4S as the same thin glass and stainless steel design, but "entirely new" on the inside. That's not quite "insanely great," but the 4S actually is yet another impressive piece of engineering from Apple, cramming significant enhancements into the same, still-sweet design as the iPhone 4:
- The iPhone 4S is now a world phone, working on both AT&T and Verizon networks, as well as overseas -- and adding Sprint as a third option.
- It steps up to the same Apple dual-core A5 processor that's in the iPad, for faster performance (2x) and graphics (7x).
- And Apple has significantly enhanced the camera, from 5 to 8 megapixels, and now supporting HD 1080p video recording.
The new camera is a big deal -- Apple sees the iPhone 4S as a serious replacement for the need to carry a separate digital camera and video camcorder. You can see this in the kind of language used to describe it, which sounds more like cameras than smartphones -- with a five-element lens, enhanced CMOS sensor for 73% more light and 33% faster capture, hybrid IR filter for better color accuracy and uniformity, and an Apple-designed Image Signal Processor (ISP) enabling face detection and 26% better auto white balance.
The new design also makes the camera more responsive, taking 1.1 seconds to shoot the first photo and 0.5 seconds from shot to shot (compared to 2 to 4 seconds for some other smartphones).
Of course, the iPhone 4S comes with the new iOS 5 mobile operating system, with over 200 new features, including Notifications, iMessage, Reminders, Twitter, Newsstand, and PC Free wireless activation/updates. The update also is available free for the iPhone4 and 3GS, iPad and iPad 2, and iPod touch 3rd and 4th gen.
And the iPhone 4S also supports the new iCloud free online cloud services, to wirelessly store and sync media, apps, books, documents, contacts, calendar, and more across your computers and mobile devices. Specific iCloud services include iTunes in the Cloud Photo Stream, Documents in the Cloud, Find My Friends, backup, and iTunes Match to access your entire music collection for $24.99 a year.
But the final big deal that's specific to the new iPhone 4S is the Siri intelligent assistant -- Just hold the Home button and speak commands. Siri does voice recognition, performs sophisticated understanding of free-form commands, and speaks back to confirm and execute your instructions.
You can issue commands like Play a song, Call a name, Tell name a message, Set up a meeting in the calendar, Remind me to note, How do I get somewhere (map), or Email name about a topic. And you can look up information including weather, stocks, time, currency conversion, and general Web searches.
Along with the Siri assistant, Apple also had integrated dictation into the iPhone 4S to work with the built-in apps, describing it as natural language, conversational, contextual, personal.
Like the earlier voice support for text input on the Android, the Apple approach uses cloud services to support the voice processing, so these require an active 3G or Wi-Fi data connection. And, like other Google innovations, Apple has tagged these services as beta.
The bottom line is that while the iPhone 4S name does not have a particularly sexy name, and does not sport an exciting new look, it does pack seriously interesting new capabilities into the familiar iPhone design. It's a world phone, it performs significantly faster, and it has the potential to be all the camera and camcorder that you'll need for most situations.
The Siri assistant and dictation also should be very interesting to work with. Even basic voice recognition on the Android, for example, makes quick Web searches much quicker and easier.
Apple has kept the same pricing for the iPhone 4S -- 16 GB for $199 and 32 GB for $299 -- and matched the iPod touch by adding a new 64 GB model for $399.
At the same time, Apple has followed its pattern of discounting the older models, with the now-decrepit iPhone 4 with 8 GB at $99, and the practically-ancient iPhone 3GS still available now at $0 -- yes, that's free with two year AT&T contract.
"Seriously interesting," indeed!
See my Apple iDevices Gallery for more on the new iPhone and iPods, and a chronology of the Apple iStuff.