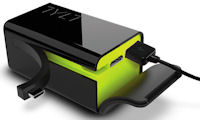 Another clever design from TYLT, beyond the fun cables (see earlier post), is the PowerPlant Portable Battery.
This is just a bit bigger than mini charger designs -- a rectangle 3 x 1 3/4 x 1 1/4 inches and 5.4 oz -- but still small enough to easily add to your bag.
The upsizing adds a real bonus in power -- with 5,200 mAh capacity and 2.1 Amps output, the PowerPlant can provide a rapid charge, or charge two devices simultaneously, bringing two smartphones to full capacity. Plus it goes beyond smartphones to also charge tablets.
The design also allows space for two charging ports -- a universal USB port for any USB device, plus a second connector on a flexible arm that pulls out of the side. The USB port is on one end, along with a microUSB port for recharging the PowerPlant, protected behind a rubber cover.
The other end has a recessed power button, plus four LEDs to indicate the battery level. The PowerPlant has load detection circuitry to automatically turn on when you plug in a device, and turn off when done. And it still can continue charging devices while it is plugged in to recharge.
So if you're traveling, the PowerPlant provides a strong comfort level that you'll have reserve power ready when needed, to refill a phone battery or even to keep a tablet going. And it keeps its charge while waiting -- it's speced to retain a single charge for up to one year.
The TYLT PowerPlant Portable Battery is available for around $69 in three versions with different flexible charging arms: microUSB for smartphones, Apple 30-pin for iPhone 4/4S, and Apple Lightning for the iPhone 5 and the like.
See my Holiday Gadgets 2012 coverage of Portable Accessories for other useful and fun products.

Find the TYLT PowerPlant Portable Battery on Amazon.com