Laptops have gotten wonderfully thin and light, but now the associated power supply seems awfully bulky and heavy in comparison.
The good news is that new power technology can deliver much more efficient power conversion, which means more power with significantly less bulk and weight -- and less heat from wasted energy.
Two different companies have recently delivered laptop chargers -- The FINsix Dart (see next post), which is smaller and lighter, and the Zolt Laptop Charger Plus, which can simultaneously charge two mobile devices along with a laptop. Both come with adaptor tips to fit most popular laptops, and the Zolt also supports the Apple MacBook.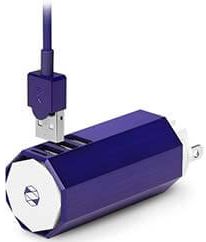 The Zolt Charger is a portable power hub that you can grip in your hand, at only about 3.7 x 1.3 inches and 3.5 ounces -- so it's around 4X smaller and 3X lighter than current laptop chargers.
The unit has three USB ports on side -- one for a laptop and two additional for mobile devices, including smartphones, tablets, portable speakers, and digital cameras.
It has a total capacity of 70W, enough to power a 65W laptop plus a couple iPhones at up to 5W / 2.6A each.
You connect your laptop with the included 6 foot laptop cable, after attaching one of the 8 interchangeable PC power tips, which are compatible with 90% of current laptops. Additional spare cables and MacBook Mag cables also are available for $19.99.
The Zolt works globally, with 120 - 240V, 50/60 Hz input. It also automatically regulates power to the connected devices, with over-voltage, short circuit, and over-temperature protection.
When you travel, the prongs on the end fold up, and you can wrap the cord around the bases, since the cord is thinner than typical power cables. As a bonus, the base also rotates up to 90 degrees so you can access adjacent outlets.
The Zolt has significantly reduced bulk and weight in my travel bag by replacing the old laptop "brick" with its multiple cords, and also removing a separate USB adaptor.
The Zolt Laptop Charger Plus is available for $99, in graphite, ultra violet, and electric orange.
See Holiday Tech 2016 for more fun holiday ideas from the mobile digital revolution.

Find the Zolt Laptop Charger Plus on Amazon.com