HOME DIGITAL MEDIA ARTICLES

Manifest Technology Blog -- Site: | Articles | Galleries | Resources | DVI Tech | About | Site Map |
Articles: | PC Video | Web Media | DVD & CD | Portable Media | Digital Imaging | Wireless Media | Home Media | Tech & Society |
Home Media: | Home Media Articles | Home Networked Media Gallery |

---
Flash Memory: Technology Summary (Updated 6/2009)
by Douglas Dixon
Flash Memory Card Formats
SD Card Format
SD Card Sizes, SD Card Capacities, SD Card Class / Speeds
SD Card Product Lines, SD Card Adapters, Prerecorded SD Cards
Sony Memory Stick Format
Memory Stick Card Formats
Recent Developments
SD Memory Card Pricing, Recent Product Announcements
References

See also:
The Flash Storage Revolution (Presentation) for more on the development of flash storage
Portable Storage Gallery for memory cards, sticks, and drives
Flash memory cards continue to evolve, adding capacity for use in digital cameras and camcorders, and shrinking in size for smaller devices like mobile phones. The spectacular growth in mobile phones and portable media devices has driven the development of solid-state memory as a convenient recording alternative, now available in multi-gigabyte sizes to rival DVD.
The key trends in flash memory continue to be:
Larger capacity, lower prices
Multi-gigabyte cards under US $100
More & smaller formats
SD (postage stamp) to miniSD (60% smaller) to microSD (fingernail)
Higher Performance
Faster interfaces for HD video and huge RAW photos
---
---
Flash memory card are available in a confusing profusion of formats, which have evolved over time to provide higher capacity, better performance, and smaller sizes. Other formats have been introduced for competitive reasons, such as Sony's Memory Stick format.
The performance and capacity is needed to support the demands of HD video camcorders and maxi-megapixel digital cameras shooting in RAW format. And sizes have reduced from the matchbook-sized CF card, which still works fine in professional cameras, but the smaller postage-stamp sized SD card fits better in portable media players, and the tiny fingernail-sized microSD card is required for today's small mobile phones.
Memory Card Formats
(images not to scale)
CompactFlash (CF) ? Matchbook

Popular - to 4 GB

SD Card (Secure Digital) ? Stamp

SD - to 2 GB
SDHC (SD High-Capacity) - 4 to 32 GB, 2 - 25 MB/sec
SDXC (SD eXtended Capacity ) - to 2 TB, 50, 104 to 300 MB/s

miniSD ? Tiny, 60% smaller, security

miniSDHC
(essentially replaced by microSD)

microSD (TransFlash) ? Fingernail, smallest

microSDHC
(also TrustedFlash DRM with preloaded content)

PRO
Duo
PRO Duo

Sony Memory Stick ? Chewing gum

PRO (faster), Duo (1/2 size), PRO Duo
PRO-HG - High-speed continuous recording for HD cameras

Memory Stick Micro (M2), MagicGate security

MultiMediaCard (MMC) ? Postage stamp

MMCmobile smaller
also MMCmobile, MMCplus, RS-MMC

xD-Picture Card ? ultra compact
SmartMedia ? single chip, to 128 MB

Toshiba
[ Top ]
---
---
The SD (Secure Digital) card format has evolved in several ways: smaller sizes (SD, microSD, miniSD), higher capacity and performance (SDHC, SDXC), and performance rating (class, read/write speeds).
---
SD Card Sizes
The SD card format currently supports three card sizes. The SD card is used in portable devices like digital cameras, camcorders, GPS navigators, media players, and PDAs. The tiny microSD card fits better in even smaller devices like mobile phones and smaller media players. The in-between sized miniSD format has been essentially replaced by microSD.
SD - Stamp
miniSD - 60% smaller
microSD - Fingernail
(not to scale)
---
SD Card Capacities
The SD format currently supports three steps of capacity / performance:
SD (Secure Digital) - to 2 GB
SDHC (SD High Capacity) - to 32 GB - 2 - 25 - 30 MB/sec
SDXC (eXtended Capacity) - to 2 TB - 50 - 300 MB/sec

The original SD (Secure Digital) card format was designed to support up to 2 GB of storage. This was amazing at the time (multiple CD's of storage on a tiny card!), but not enough to meet the growing demands of fast-shooting 10+ megapixel digital cameras and high-def video. Higher-quality RAW images require up to ten times as much storage space as compressed JPEG images. A 32 GB SDHC card can store up to 2500 RAW images (at 10 MB per RAW file).
The expanded SDHC (High Capacity) format increased the maximum capacity to 4 to 32 GB, with the bonus of faster data rates. However, devices need to be designed to support the new SDHC format; older devices do not support the higher capacity. The smaller microSD card format also has been upgraded to higher capacities with microSDHC cards. SDHC also is more rugged for professional use, moves from the FAT 12/16 to the FAT 32 file system for the higher capacity, and supports CPRM content protection.
But just a few years later, even 32 GB was beginning to limit capacity, as multi-gigabyte SD cards competed with video tape and hard drives to provide hours of storage on HD video camcorders.
The SDXC (SD eXtended Capacity) format, announced in January 2009, raises the possible card capacity up to a maximum 2 terabytes, and transfer speed up to perhaps 104 MB/s in first products, with a road map to 300 MB/s. SDXC uses the Microsoft exFAT file system, and supports ASSD and CPXM content protection.
That's a lot of data -- a 2 TB card can store some 100 HD movies, 480 hours of HD video, or 136,000 fine-grade photos.
---
SD Card Class / Speeds
The SDHC format not only increased capacity for HD video and high-res photos, it also increased performance for recording all that media in real time. But different devices require different speeds, depending on image resolution, compression, and frame rates. The SD format then includes a speed Class rating (i.e. Class 2, 4, or 6), which corresponds to the guaranteed data transfer rate, in megabytes per second. The Class rating is represented by a number within the letter "C". However, while this Class rating is the baseline or minimum guaranteed performance, a card also can support a higher maximum read/write speed to provide additional headroom for intensive use.
Class: Minimum guaranteed data transfer rate, in MB/sec (i.e., 2, 4, or 6)
Read/write speed: Maximum sequential data rate (i.e., 20 MB/sec)

SDHC logo and class rating identification
Device manufacturers specify the minimum Class rating required for SD cards in order to support the recording capabilities of the device. For video camcorders, this is the capacity required for the highest-res / highest-rate video depending on the digital video format. For digital cameras it is related to the image resolution and compression (i.e., JPEG or RAW) used to store photos.
Typical uses for speed classes include:
Class 2 - 2 MB/sec. - Digital cameras, Standard-def video - MPEG2 (DVD) MPEG4 (STV)
Class 4 - 4 MB/sec. - Hi-speed D-SLR cameras, HD video - MPEG2(DVD) H.264 (HDV)
Class 6 - 6 MB/sec. - Hi-speed D-SLR, HD professional - HDV Pro
Class 10 - 10 MB/sec. - new mid-2009
For example, for video recording, high-def AVCHD (H.264) video records at a maximum of 24 Mbps (bits/sec), which corresponds to 3 M Bytes per second, which means a Class 4 device (at 4 MB/sec.) provides all the performance required for the device, and a higher-performance class 6 device is not required for recording.
However, when you need a SD card for a specific device, check the manufacturer's recommendation for the minimum Class rating, but also pay attention to the read/write speeds for cards, to make the headroom for all you want to do with the device.
For example, you don't just record to a card, you also transfer data between the card and a computer. A higher read performance can speed up uploads when you transfer the recorded files off the card to a computer. Or if you use your device to store a media library of photos, music, and/or video, a faster write performance will speed up the sync process.
And when used with digital cameras, faster write performance can have a significant benefit in reduced lag time when storing each image. After all, while video requires lots of data at 30 frames per second, each frame is highly compressed. In comparison, digital images now have higher resolution than HD video, and also are moving to less-compressed formats like RAW, so individual images are growing larger in size. And cameras aren't just for shooting one photo at a time, they support rapid burst modes to record continuous sequences of photos. So while the Class baseline defines the minimum required data rate, additional headroom can add highly-visible performance benefits and longer burst recording.
In addition, the lines between different categories of devices are blurring -- today's digital cameras also shoot HD video, and today's HD camcorders also shoot high-quality high-res stills. So a camera's minimum Class rating may be set by its video recording mode, while a camcorder's read/write performance may be stressed by its photo burst recording mode.
---
SD Card Product Lines
The SanDisk product line provides an example of how Class ratings and maximum read/write performance are presented for consumers. SanDisk manufactures flash memory cards in a wide variety of formats, and the SanDisk SD cards are available in three product lines segmented by performance (good-better-best: blue, Ultra II, Extreme III), plus an additional line packaged for video camcorder owners.
SanDisk SD / SDHC blue cards - Value

Class 2 (Min. 2 MB/sec.)
Not rated for maximum performance

SanDisk Ultra II SDHC Cards

Class 4 (Min. 4 MB/sec.)
Max up to 15 MB/sec.
(1/08 - was 10 MB/sec. read, 9 MB/sec write)
(07 - was 2.8 MB/sec. copy / download - 2X standard)

SanDisk Extreme III SDHC Cards

Class 6 (Min. 6 MB/sec.) (to Class 10 8/09)
Max up to 30 MB/sec.
(8/08 - 50% faster, was 20 MB/sec.)
(07 - was 20 MB/sec read and write)
Durable: guarantee operation at extended temperatures
ranging from minus 13 F (minus 25 C) to 185 F (85 C)

SanDisk VideoHD Cards

High performance video cards for camcorders
Identified by capacity and minutes of recording time:
60-minute (4 GB), 120-minute (8 GB) times
Class 4 (Min. 4 MB/sec.)
Ultra II max. read/write speeds
---
SD Card Adapters
Transferring the data off a memory card requires either connecting to the device in which it is used (i.e., with a USB cable to your digital camera), or removing the card and using a card reader to access the files from a computer. (See also the Eye-Fi Wi-Fi-enabled SD Card, which transfers photos and video wirelessly to your computer or online media sharing sites, www.eye.fi).
Universal USB card readers are available to support many of the available card formats.

The micro card sizes are often sold bundled with card adapters so they can be used in larger devices (i.e., microSD with SD card adapter), or with small USB adapters for transferring to a computer.

Kingston microSD Dual Adapter Pack and Kingston USB microSD Reader
SanDisk Ultra II SD Plus USB card with built-in USB Interface
---
Prerecorded SD Cards
Flash memory cards also do not have to contain recordable memory. For example, the Eye-Fi SD Card, contains Wi-Fi hardware to transfers photos and video wirelessly to your computer or online media sharing sites, www.eye.fi).
SanDisk also has develop the TrustedFlash format to support the distribution of prerecorded content like music albums. TrustedFlash is based on the SD format, but with hardware encryption and authentication on the card to support multiple DRM (digital rights management) schemes including CPRM and OMA. These cards can combine preloaded content (ROM) with writable memory (RAM), with some of the content directly accessible (albeit with DRM restrictions), plus additional content that can be previewed and then unlocked through user purchases.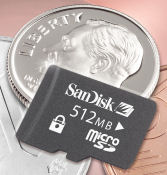 SanDisk TrustedFlash
[ Top ]
---
---
The Sony Memory Stick format is available from Sony and SanDisk.
The original Memory Stick, sized like a stick of chewing gum, was supplanted by the truncated PRO / Duo sizes (3/5 the length), and then the Memory Stick Micro (M2) format shrunk further (1/2 the length of Duo) for use in devices like mobile phones.
Memory Stick
Memory Stick Duo - 128 MB
Memory Stick PRO Duo -- 1,2,4,8,16 GB
Memory Stick PRO-HG Duo (HX) - 1,2,4 GB
Memory Stick Micro (M2) - 1,2,4,8,16 GB
In January 2009, Sony and SanDisk announced a further capacity jump for the Memory Stick card format. The new "Memory Stick Format for Extended / Expanded High Capacity" format (tentative name) will support up to 2 TB (like SDXC), with expanded versions for Memory Stick PRO / PRO-HG and Memory Stick Micro / HG. The data rates will remain the same: up to 20 MB/s , or 60 MB/s for HG data rate.
---
Memory Stick Card Formats
PRO


Duo


PRO Duo

Memory Stick - original, capacity to 16 GB (stick of chewing gum)

Theoretical access speed 20 MB/s (160Mbps) - also PRO & Micro

Memory Stick Duo -- smaller, 3/5 length of Memory Stick

Memory Stick PRO - 2003 - larger capacity to 32 GB theoretical, High Speed mode

Memory Stick PRO-HG [Duo] - 2006 - High-speed continuous recording

For HD still cameras and video camcorders
Theoretical transfer rate 60 MB/s, 3X faster than PRO

Memory Stick Micro (M2) - 2005 - tiny, 1/2 length of Duo, for mobile phones

Memory Stick HG Micro - 2009 - Faster version of Memory Stick Micro (M2)

60 MB/s maximum data transfer speed (480 Mbps theoretical)
(3X Memory Stick Micro, serial 4-bit parallel interface and 40 MHz interface)
Enhanced 8-bit parallel interface, increased interface clock frequency of 60 MHz

"Memory Stick Format for Extended / Expanded High Capacity" - 2009 - to 2 TB

Capacity up to 2 TB (vs. 32 GB -- 60X more)
Same card size, Expanded versions for:
Memory Stick PRO / PRO-HG and Memory Stick Micro / HG Micro
Continue to support MagicGate copyright protection technology
and Access Control Function
Same data rate: Max. 20 MB/s (4-bit parallel transfer)
Same HG data rate: Max. 60 MB/s (8-bit parallel transfer)
[ Top ]
---
---
SD Memory Card Pricing: SD (SDHC) / miniSD / microSD
Cost per GB from $50 to under $5 in 3 years
(Prices for SanDisk and others - www.jr.com)
4/09

64 M

128

256

512

1 GB

2 GB

4 GB

6 GB

8 GB

16 G

32 G

SD/SDHC

$9

$7

$14/39

$34/79

$64

$129

micro SD

$4

$7/19

$14

$29/54

$99

11/08

64 M

128

256

512

1 GB

2 GB

4 GB

6 GB

8 GB

16 G

32 G

SD /
SDHC

$9

$7

$9
$2

4

$14
$19
$19
$99

$29/

69


$149

$149

mini SD

($5

$5

$

9)

micro SD


$9
$2

4

$19
$44
($9)
$24/44

$39

($19)
$49/79

$

99

11/07

64

128

256

512

1 GB

2 GB

4 GB

6 GB

8 GB

SD

$14

$14/34

$34/44

$54/129

$99/179

mini SD

$15

$12

$12

$44

$79

$89

micro SD

$19/52

$49

$149

1/07

64

128

256

512

1 GB

2 GB

4 GB

SD

$12

$19

$19/49

$39/79

$89

mini SD

$16

$14

$19

$49

$54

$99

micro SD

$17

$21

$34/$59

$59

9/06

64

128

256

512

1 GB

2 GB

4 GB

SD

$9

$14/
$39

$29

$34/49
$64

$44/79/
$99

$149

mini SD

$19

$14

$29

$44,59

$64/79

micro SD

$14

$14

$29

$69

3/06

64

128

256

512

1 GB

2 GB

SD

$14

$19

$39

$59

$99

mini SD

$39

$59

micro SD

$14

$19

$39

$59

$79
---
Recent Product Announcements
Recent advances in capacity and performance
| | | |
| --- | --- | --- |
| | | |
| | | |
| | | |
| | | |
| | | |
| | | |
[ Top ]
---
---
SanDisk - www.sandisk.com
Kingston - www.kingston.com