HOME DIGITAL MEDIA ARTICLES

Manifest Technology Blog -- Site: | Articles | Galleries | Resources | DVI Tech | About | Site Map |
Articles: | PC Video | Web Media | DVD & CD | Portable Media | Digital Imaging | Wireless Media | Home Media | Tech & Society |
Home Media: | Home Media Articles | Home Networked Media Gallery |

---
Gadgets as Gifts 2002:
Smaller, Smarter and Cheaper (12/2002)
by Douglas Dixon
Digital Television - Flat-Screen Displays - Movies on DVD
Digital Cameras - Digital Video Cameras
Handheld Digital Convergence - Phones and PDAs
Reality Check
References
Another holiday season, and another cornucopia of multi-function electronic gadgets and gizmos -- mobile phones are a-ringing, and also taking photos. Portable audio devices are a-playing, and also displaying your address book and calendar. Digital cameras are a-filming, and also playing music.

Pocket Everything: Phone, Audio, Handheld, and Camera
According to the Consumer Electronics Association (CEA, www.CE.org), more than three-quarters of U.S. households are likely to purchase at least one consumer electronics product as a gift during the 2002 holiday shopping season. U.S. adult consumers named 13 consumer electronics products among the 30 top items they would like to receive as gifts this year, including DVD players and digital cameras, as well as home theater and home stereo, big screen televisions, and camcorders.
We are in the midst of a whirlwind of convergence, as consumer electronics companies desperately mix and match different product categories to try to figure out what will be interesting to us. Even in these uncertain times, companies are flooding the market with new products. After all, it's not like the consumer electronics industry can just shut down and stop cranking out new stuff.
The new world is digital, so if you have one of those pathetically old-fashioned analog mobile phones, or film cameras, or analog video camcorders, or video cassette tape recorders, well then you really need to step up to the new generation. The new digital stuff is so much cooler, and has so many features that you may never even know that many of them exist. But, more important, digital is incredibly smaller and lighter.
While this continued assault of new products does risk instant obsolesce, it also drives down prices nicely, and means an interesting holiday shopping season for both enthusiasts and people who just want to get started. So, let's take a look at some of the more interesting trends and gadgets for the season. Remember, though, it's up to you to find convincing logical explanations why they are really necessary in your life.
The great hope of the consumer electronics industry for the new millennium was supposed to be digital television, and especially high-definition TV (HDTV). However, HDTV has not caught fire except for home theater aficionados and sports addicts. The broadcasters have been behind schedule in getting shows on the air, the large displays are bulky and expensive, and the market has been muddled by the complexity in choosing formats and interconnecting components. There even is a lingering threat of future incompatibilities created by government-imposed mandatory content protection systems.
To resolve this chicken and egg situation, the government has been pushing broadcasters to get digital signals on the air, and to add more HD shows to their schedules. The broadcasters started with their flagship prime time shows, and are adding special events, sports, and the late night talk shows.
Meanwhile, digital television (DTV without the HD) has been rolling out in other forms. DVD fans can enjoy enhanced-definition display on digital TV sets. Satellite TV and digital cable are delivering digital programming, and digital video is arriving on the set-top in the form of DVD movies, digital video recorders, and DV camcorders.
But the most interesting development in television is the display, and the dramatic improvements (and price reductions) in flat-screen displays. Getting a big picture no longer requires a humongous set that requires a fork-lift to install in your home. Now you even can hang your TV display on the wall, and then connect it to a separate tuner.
LCD displays have been become commonplace on portable televisions, and are starting to become popular for computer displays to reclaim desk space in crowded offices. For example, the new Apple iMac line has the computer in a half-shell base supporting an integrated flat-screen monitor.
While a good 17-inch CRT computer monitor now costs around $150, a 15-inch LCD monitor (with only one inch less viewing area) is around $350, and a 17-inch LCD is around $650. This is not a huge premium for the better clarity and reduction in size and weight. For the next step up to a 19-inch monitor the price jumps to around $1,250.
While "flat-screen" TVs with picture tubes are getting slimmer, true flat-panel LCD TV sets are becoming more interesting. These follow the same kind of cost profile as the computer displays, with 15-inch sets starting at around $700, and ranging up to $1,300 for widescreen enhanced-definition capability. Again, the next step is a big jump, to around $3,000 for 22-inch sets for watching widescreen movies. The Sharp AQUOS line of LCD televisions include integrated speakers, and can be placed on a counter or hung on the wall (www.sharp-usa.com/aquos).
Beyond LCD, the manufacturers use plasma technology for even larger-screen flat-panel displays, 40 inches and beyond. Besides sounding cooler, plasma provides a wider viewing angle for a crowd in front of the set. For these HDTV-capable sets, you're talking $5,000 and up for a 42-inch plasma monitor, and over $10,000 for a 50-inch display. But even these large displays are around only four inches deep and weigh 70-something pounds.
If that's still a bit steep for you, the good news is that LCD display technology is moving rapidly, as the manufacturers are rolling out LCD sets larger than 40 inches for around $7,000.
Where once we hid the television inside a piece of furniture, now we can hang the display on the wall. It's easy to hang, at a couple inches thick and not much more than 10 pounds. And while the TV is off you can also use it as a frame to display your favorite photos, as some displays have a memory card slot to accept photos from a digital camera.
While HDTV has not turned out to be the savior of the consumer electronics industry, a new champion has emerged in the blow-out success of DVD. According to the Consumer Electronics Association, DVD has become the "fastest growing consumer electronics product of all time." By the end of 2001, DVD players were being used in nearly one-third of American households, a feat that took the VCR twice as long to achieve, and sales of DVD players had outgrown VCRs. The trend has continued in 2002, as the CES reports that DVD sales during the first nine months of 2002 increased 40 percent from the same period in 2001.
You also can see the growth of DVD from the expanding shelf space in video rental stores and video dealers. DVD just provides a much more interesting movie-watching experience than videotape. DVD begins with better picture and sound, even widescreen and surround-sound if you upgrade to home theater equipment. DVD menus provide the ability to easily move around in a movie, and to quickly jump around to watch your favorite part again. Movies on DVD typically also include alternate audio tracks and subtitles in several languages, so you can practice your language skills by listening in French and reading Spanish subtitles.
Movies on DVD often include a director's commentary that you can listen to while watching the movie. You can get some interesting insights into the creative process this way. For example, it's clear that the director of Ronin, the 1998 action / mystery movie starring Robert De Niro, really loved fast cars. The movie finds several excuses for wild car chases through narrow European city streets, and even a high-speed chase driving the wrong way on a highway. To get the "real" feel, the director put De Niro in the car, and had him speeding on a highway full of stunt drivers coming in the other direction -- and in a car with the door removed for the interior shots!
The Hollywood studios really like DVD because they can add these additional features that encourage you to buy the movie instead of just renting it. DVD releases typically include a variety of additional material, such as movie trailers, "making of" documentaries, behind the scenes footage, storyboards, deleted scenes, and alternate endings. Some include two copies of the film, both widescreen and standard definition ("pan and scan" to crop for television). If that's not enough, DVDs also can include additional content that can be accessed on a computer, such as more information on the movie, games, and access to special material over the Web. If you still only rent the movie, the studios will later release an enhanced "collector's edition" DVD with even more goodies to tempt you further.
You even could argue that consumer spending on DVD is keeping the American economy afloat, as people continue to spend on equipment and content for entertainment at home. To help even more, DVD is appearing in the living room in other forms. Set-top DVD video recorders are now available for under $1,000, combining the best of digital video recorders (fast recording and access without waiting for tapes to rewind) with the removable media of VCRs (to save shows to watch later, and even to transfer your home videos to DVD).
Similarly, DVD recorder drives are becoming quite affordable for computers. The computer industry also is looking to DVD recording to drive its holiday sales, with drive prices dropping under $300 at the end of this year, and beginning to become available for laptops. A wide variety of software tools are available to capture and edit digital video on Macs and PCs, and then burn your own productions to DVD, complete with custom menu graphics and navigation.
Pioneer Elite DVD recorder
Digital cameras and video camcorders also are very popular, especially for people who are already messing with images or video on computers. The primary hurdle is getting the computer, camera, and software to all talk to each other, but this capability is now built in to new Macs and Windows XP machines, especially using the hot-pluggable USB (Universal Serial Bus) interface.
Digital cameras give you much more freedom to take, use, and share photos. You can archive your photos on your computer so they are much easier to access. You can share them over the Internet by E-mail and through Web-based services such as DotPhoto (www.dotphoto.com). You can improve them by editing to correct the exposure and remove red-eye. Most of all, you can be free to experiment and shoot lots of pictures without worrying about wasting film.
You can pick up a reasonable 2 megapixel digital camera starting at around $150 that is great for computer and Web photos and standard-size prints. And you can step up to 3 or even 4 megapixels for around $250 and $500. At these resolutions, you can print beautiful photo-quality enlargements on glossy paper, or have a Web photo service print them for you.
Sony's Cyber-shot DSC-F717 digital camera offers professional features and 5 megapixel resolution up to 2560 x 1920 at around $1000 (www.sony.com/di). Just remember that these higher resolutions are too much for sharing photos over the Internet, so please reduce your photos before you try to E-mail them.
You don't even need a computer to print digital photos: you can plug a memory card into a digital photo printer like the Sony DPP-SV77 for around $800, and print borderless 4" x 6" photos in 90 seconds, even with a laminated coating. You even can view, edit and enlarge images on the fold-up touch-screen LCD display. Beyond printing, the DPP-SV88 for around $800 can archive your photos to CD-R/RW discs, and can display photos on a television through a video connection.
Sony DPP-SV77 digital photo printer
These digital cameras are getting dramatically smaller, so much that they no longer have room for many dedicated buttons, and instead are controlled more from menus on the LCD display. Actually, smaller is not a strong enough word, we're now in the range of tiny, as in the size of a credit card. The Casio EXILIM cameras weigh only 3 ounces, are less than a half inch thick, and measure 3.5 by 2.2 inches. Yes, that's a credit card; we've now moved from pocket-size gear to wallet-size!
The Casio EXILIM EX-S2 is a full 2 megapixel digital camera for $299, including an optical viewfinder, a 1.6 inch LCD display, and flash, albeit with no optical zoom capability (exilim.casio.com). It shoots up to 1600 x 1200 resolution stills, and movies, and has an external memory card slot. If that's not enough, the EX-M2 for $399 adds a built-in MP3 player, voice recorder, and movies with sound, at the cost of only another 0.05 inches of thickness and 0.1 ounces of weight.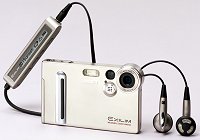 Casio EXILIM EX-S2 digital camera
We're getting close to the day that we can have a camera at hand whenever we need one. Of course, it's still better to bring a higher-resolution camera to special events, especially with a zoom lens, but these tiny cameras can shoot quite reasonable photos, and even small and short video clips.
While camcorders have not quite miniaturized down to a credit card size, the smaller camcorders now can literally fit in at least some pockets. While a variety of analog VHS-C and 8mm camcorders are still available starting at under $300, digital camcorders also have dropped under $400. Since these camcorders record digitally on magnetic tape, you can transfer your video directly to your computer, edit it, and even burn it to DVD, all at full quality.
The first digital camcorders were based on the same DV (digital video) format used in professional equipment, using a small MiniDV cassette about the same size as an audio tape. Sony then introduced the Digital8 format, which recorded the same high-quality digital data on 8mm video tapes. Digital8 camcorders are slightly larger, and can play older analog 8mm tapes.

The smaller MiniDV camcorders can be squeezed to around 4.5 by 2 inches by 3.5 inches deep, and to weigh as little as 14 ounces, although there is a cost premium for miniaturization to around $1,000 or more.
But compared to other digital goodies, even MiniDV camcorders are still too big. So Sony developed the MicroMV format, fitting the video on an even smaller cassette by using more aggressive MPEG-2 video compression (www.sony.com/micromv). For example, for around $1,200 the Sony MicroMV DCR-IP5 is 4 by 2 inches, around 3 inches thick, and weighs just 12 ounces. It includes a 2.5 inch swiveling color LCD display, speaker, 10X optical zoom, and a FireWire (also called IEEE 1394 or i.Link) interface to transfer video to a computer. This really is pocket size -- like an extra thick wallet.
Sony MicroMV DCR-IP5 camcorder
These cameras and players are fun, but we are also in the wired age, and need to be connected (wirelessly) anywhere we go. We have reached the next step in convergence, to carry a phone, and a camera, and a handheld computer, all combined into one unit that is smaller and lighter than your wallet. This really is different -- no more belt holders for the cell phone, or camera bag strapped around the neck, or laptop computer in a "steal me" shoulder bag. Instead, you can get at least a 90 percent solution for all of these devices in a single gizmo that you actually can carry in a pocket. Just make sure that you have regular eye exams so you can focus in on the tiny controls and displays.
The promise of the PDA (Personal Digital Assistant) as a multi-function device is demonstrated by the new Sony CLIÉ handheld, the PEG-NX70V, a Palm-based PDA complete with a swivel display and QWERTY keyboard (www.sony.com/clie). It has a 200 MHz processor, 320 x 480 color display, and 32 MB of memory, all of which is not bad for a computer that costs $599.
Of course the CLIÉ also serves as a MP3 audio player, and as a voice recorder, so you can save approximately 9 hours of audio on 128 MB Memory Stick expansion cards ($89). Oh, and the CLIÉ has a built-in digital camera at 640 x 480 resolution, which can be used for recording both still images and video sequences.
All this in a true handheld device, measuring 5 1/2 inches high by 2 7/8 wide by 11/16 thick, and weighing approximately eight ounces ("with stylus" notes Sony). OK, that's a bit taller than my wallet, but also narrower, and about the same thickness and weight.
So, let's see -- it's a PDA, a voice recorder, a portable audio player, a digital camera, and a video camera. And did I mention that you can plug in a $149 wireless networking card, to connect to your email and surf the Web, if you are in the range of an 802.11b wireless network. Sony even offers a $39 game controller for thumb dexterity training.
The other big convergence play is between mobile phones and PDAs. It's not clear which should be added to the other, whether we want a phone that is bulked up to be like a PDA, or a PDA that you can dial and talk from. In one case, you end up trying to interface to a computer through a numeric keypad, and in the other you can look really stupid holding a handheld computer display to your ear.
As an example of a bulked-up phone, Verizon Wireless kindly loaded me a Motorola T720 color handset with the "Get It Now" download service, priced at $299 with service agreement (www.verizonwireless.com/ics/plsql/getitnow.intro). The phone itself uses a flip design, measuring 3.6 by 2 by 1 inches, and weighing 4 oz with the standard battery. It has a bright 256 color display, and 64 MB memory. The Motorola phone also supports a detachable camera with a 180-degree rotating lens.
Motorola T720 color handset
This puppy has so many features that it requires a 192-page handbook. Of course, it supports the latest phone features such as two-way text messaging. Expanding towards a PDA, it has a built-in alphanumeric phonebook that stores 500 entries and can be synced with your computer. It includes a calculator and a currency converter. It records voice notes, and also can serve as a FM stereo radio with an optional headset. Beyond audio, it includes a picture viewer for images and animations that "you can use as wallpaper and screensaver images." Yes, these phones now turn on like computers, with an extended boot-up sequence and start-up sound.
These days it's expected that the phone has a micro-browser for surfing the web. However, this is still nothing like surfing on a desktop and clicking on text and graphics links. The phone browser uses a more limited interface with a nine-line display. You can scroll through menus and text on the display, or select more quickly using the numeric keypad. And then wait for the next page to be transferred.
The new wrinkle with the Verizon Get It Now service is the ability to purchase and download new features and applications directly to your phone. These applications are downloaded and purchased through your wireless carrier, using the Qualcomm BREW runtime environment. Many offer a free trial demo, and then can be purchased for a limited period, or on a subscription basis.
With Get Tones you can download custom ring tones, and Get Games offers dozens of games, from solitaire to baseball. Get Going offers a variety of travel services, including airline flight information, restaurant guides, and expense reporting. Get Fun offers entertainment goodies, including music event information, horoscopes, and drink recipes. To keep in touch, Get Mail provides an E-mail application, and Get Pix provides tools to view and share digital photos, including through dotPhoto.com.
Handspring even has gone as far as focusing the company on Palm-based PDA communicators. The Handspring Treo line has a flip top cover / earpiece over a color PDA screen, with a backlit keyboard, and 16 MB memory for $499 (www.handspring.com - now www.palmone.com/us/products/smartphones). And the Microsoft PocketPC phone platform is rolling out in similar products in Europe from several manufacturers (www.microsoft.com/mobile/pocketpc).
Handspring Treo 300 PDA / phone
Now, some people would argue that these devices are just toys, that the electronics just pulls us further from the real world of sunbeams in the window, wind in the leaves, and rain in our shoes. But these days, what is more real and more important than having a mobile phone to keep in touch with your family, or having a easy-to-use camera at hand to capture those special moments and share them with friends?
Don't forget, film cameras require icky chemicals, and do you really want to go back to home movie cameras and threading film on a projector? After all, wasn't film itself an abomination of "real" art.
Similarly, for today's just-in-time, same-day-delivery business in a globalized economy, it's not hard to see the return on investment from being able to solve a problem on the spot by immediately contacting the right person, or to resolve a confusion by sending a digital photo flying across the Internet.
Seriously, this season's digital devices really have reached a new threshold in pocket-size portability, and have become dramatically more affordable with their growing popularity. Connecting to computers is getting easier with standard USB and FireWire interfaces, and a plethora of software applications are available to import, organize, edit, and share.
Of course, the downside of this portability is that the controls and screen have been miniaturized as well, so you will do more fumbling with teeny buttons and paging through nested menus to access even common functions. And don't forget to bring your reading glasses.
Consumer Electronics Association (CEA)
www.CE.org
Sharp AQUOS LCD TV
www.sharp-usa.com/aquos
Sony - CLIÉ
www.sony.com/clie
Sony Digital Imaging - Cyber-shot Digital Cameras, Digital Camcorders
www.sony.com/di
Sony - MicroMV video format
www.sony.com/micromv
Casio - EXILIM digital camera
exilim.casio.com
Verizon - Get It Now
www.verizonwireless.com/ics/plsql/getitnow.intro
Handspring
www.handspring.com now
www.palmone.com/us/products/smartphones
Microsoft - Mobile PocketPC / SmartPhone
www.microsoft.com/mobile/pocketpc