HOME DIGITAL MEDIA ARTICLES

Manifest Technology Blog -- Site: | Articles | Galleries | Resources | DVI Tech | About | Site Map |
Articles: | PC Video | Web Media | DVD & CD | Portable Media | Digital Imaging | Wireless Media | Home Media | Tech & Society |
Home Media: | Home Media Articles | Home Networked Media Gallery |

---
Gadgets as Gifts 2004:
Gizmos for Your Gadgets (12/2004)
by Douglas Dixon
Consumer Electronics Gifts
Direct to DVD With DVD Recorders
Snapshot Printers for Digital Cameras
Web Sharing for Picture Phones
Lipstick-Size Portable Media Players
Unteathered Holidays
References

See also: DualDisc: Music on CD plus DVD / Portable Storage Products
Got gadgets? Looking for a cool electronic gizmo for this holiday season? You're not the only one -- did you see the lines at the electronics store on the Friday after Thanksgiving? In fact, the Consumer Electronics Association reports that 76 percent of U.S. consumers plan to buy at least one consumer electronics product as a gift during the upcoming holiday shopping season. Even in these uncertain times, the CEA reports that 73 percent of consumers expect to spend as much or more money on holiday gifts this year than last, with an average gift budget of $602 per household. And of course self-styled tech enthusiasts expect to spend up to twice as much.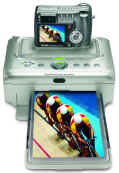 Hot this year: DVD recorders, snapshot printers, cell phone cameras, portable media players
The hot products this year? To some extent it's the usual suspects -- digital cameras, DVD players, portable music players, cell phones. And as usual, the latest crop of gadgets are better, cheaper, and smaller -- but there are limits: there's only so far you can shrink devices before they are too tiny to be usable, and anyway manufacturers would rather hold the price point higher and add more features to the new products.
What's new this year is the interconnection of these devices -- and their independence from the personal computer. Much to the horror of Steve Jobs and Bill Gates, the vision of a computer-centric digital media future is being busted by wired and wireless connections, including cameras that dock directly with printers, cell phones that post directly to the Internet, and portable devices that can bring your music, photos, and video wherever you go.
Here's some examples of products that can warm up your holidays.
It's official: digital cameras are the number one gadget gift for the holidays. In its annual survey of U.S. consumers, the Consumer Electronics Association (www.cea.org) reports that 29 percent of consumers are interested in buying one as a gift. This even stronger popularity of digital cameras is driven by the continued drop in prices, as well as the fact that there's plenty of room for growth -- the CEA estimates digital cameras have penetrated only 39 percent of U.S. households.
This rise of digital cameras has dethroned DVD players, which have been the hottest gift over the past several years, but dropped this year to around 25 percent of consumers expecting to give one as a gift. Even though DVD players are ridiculously inexpensive, this change is the result of the tremendous popularity of DVD, which has pushed the penetration to around 70 percent of U.S. households. The other change for DVD has been the advent of affordable DVD recorders that combine the functions of DVD players, VHS recorders, and TiVo time-shift recording. As a result, DVD recorders are on 24 percent of gift shopping lists, joined by portable DVD players at 18 percent.
Beyond the living room television, today's busy lifestyle also requires portable entertainment devices to go. As a result, portable music products remain very popular gift items, with portable headset CD/cassette players on 27 percent of lists and portable MP3 players at 20 percent. The mini MP3 player category is exploding, with triple-digit growth this year, moving up from around 13 percent household penetration.
The other hot on the move product, of course, is mobile phones, with cell phones on 28 percent of gift lists and cordless phones on 27 percent. These are particularly important for teens, as the CEA estimates that 80 percent of teens use wireless phones. Satellite radio is also growing in interest, especially among tech enthusiasts.
Among this cornucopia of consumer electronics devices, we have almost lost sight of personal computers and video game systems. Here consumer interest is not so much in new replacement systems, but in upgrades and add-ons to enhance existing systems, especially this season, while waiting for the next generation video game systems to launch next year. The number two expected gift purchase this year, just under digital cameras, is actually "any video game peripheral" at 28 percent, with new video game systems at 23 percent. Similarly, computer printers and upgrades are at 22 and 21 percent, followed by notebook and desktop computers at 20 and 18 percent. Demand for printers is also driven by the use of digital cameras and even cell phone cameras, as you now can print directly from cameras and memory cards, and even wirelessly from cell phones, with no PC involved.
While surveying all this altruistic gift giving, the CEA also asked about consumer wish lists. The number one consumer lust item this year is flat-panel TV, just ahead of digital cameras and notebook computers. Unfortunately, while widescreen plasma and especially LCD TVs are moving down the cost-reduction curve, they still have a long way to go before they can fit into a comfortable price range in the hundreds, and not thousands, of dollars. But there is hope for future gratification, with stronger competition from computer monitor LCD manufacturers, and the movement of low-cost companies like Dell into this market.
DVDs have peaked -- While DVD players were the blow-out success of the beginning of this decade for watching movies, these playback-only devices are being supplanted by DVD recorders that also let you burn your own discs, especially as they drop under $200. After all, the same advantages that DVD has over tape -- better quality, more convenient size, faster access to the content, plus compatibility with computers -- apply not only to playback of prepackaged movies, but also to making your own recordings.
Some tech lingo: The irritating confusion with DVD recorders is the profusion of different DVD disc formats. Like we are used to with CD, DVD recorders support both recordable (R) discs for write-one recording of permanent copies, and rewritable (RW) discs that can be erased and reused (but which are somewhat less compatible than R for playing back on the universe of current players).
So far so good -- But sadly the DVD world also is split by two competing base formats, dash (i.e., DVD-R and DVD-RW) and plus (i.e., DVD+R and DVD+RW). -- These wonderful marketing geniuses decided to help consumers not only by introducing a just-to-be-different format, but then differentiating its name only by changing the punctuation mark!
Actually, there's no big technical difference between these two formats, and both should play back equally well on any DVD player. While many of today's PC-based DVD burners have avoided this problem by supporting both formats, DVD recorders typically support only one format for burning discs, so make sure you stock up on the appropriate format -- dash or plus -- for your particular device.
Today's DVD recorders do more than just burn video -- They can act like VCRs, with integrated TV tuners for saving your favorite television shows, and also can include built-in hard discs for TiVo-like automatic recording of favorite shows for time-shifted viewing. For example, Panasonic has beefed up its high-end DMR-E85H recorder with a 120 GB hard disk (www.panasonic.com/electronics), enough to store over 200 hours of material at a reasonable quality setting (around $599 street). You can time-shift TV shows to hard disk, dump the overflow to rewritable RW discs for short-term copies, and also burn your favorites to permanent R discs to keep.
Panasonic DMR-E85H DVD recorder
Panasonic also supports yet another DVD format called DVD-RAM which has the advantage of working much like a hard disk drive (though it is not compatible with general DVD players). While DVD (as with CD), is designed to be played and recorded continuously like tape, DVD-RAM can be quickly and randomly accessed to play and edit its contents (www.ramprg.com).
DVD-RAM recorders can simultaneously record to disc while also playing back time-shifted material recorded earlier. And "mini" DVD-RAM discs are used in some Panasonic camcorders to provide instant recording and on-disc editing without waiting for tape to rewind. You then can create a playlist of your favorite scenes in the camera, and pop the disc into your (Panasonic DVD-RAM) DVD player to view them. No computer required, until you want to move the disc to your PC to edit the clips further.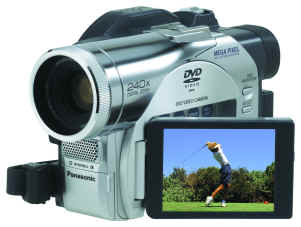 Panasonic VDR-M70 DVD camcorder
Similarly, you can use DVD recorders to burn other video material direct to DVD without requiring any computer. Many recorders have both analog inputs and FireWire jacks for DV (digital video) camcorders to copy to disc. They even can insert chapter points (i.e., every five minutes) and create scene index menus. You also can get "triple play" recorders like the JVC DR-MX1 (around $799 street, www.jvc.com), that include a DVD recorder, hard disk, and built-in VCR, for even more convenient dubbing of your old tapes to DVD.
JVC DR-MX1 DVD recorder
Besides simplifying the conversion process, these products provide another benefit: built-in video enhancement circuitry to stabilize and reduce noise in the video signal, which can help make your old analog tapes look better.
In addition, Sony recently released the DVDirect DVD Recorder, which can be connected to a PC as an external DVD burner, or used stand-alone to record discs directly from camcorders and VCRs or other analog (but not digital) inputs (www.sonystyle.com, $299).
If you get more ambitious about editing your videos, new software applications also will allow you to import your DVDs into a computer to extract and re-edit the video and menus. You can do quick recordings to DVD on the set-top, and then come back later to edit and enhance them.
For still images, today's digital cameras deliver great quality at prices around $300. Some shopping considerations: While you can get 2 megapixel (MP, million pixels of resolution) cameras at around $200 which will be fine for Web photos and small prints, for another couple hundred dollars you can significantly expand the resolution to 4 or 5 megapixels, good enough for large prints. You'll want to consider the quality of the lens (at least 3X true optical zoom, not the simulated "digital zoom"); the size of the LCD display (2+ inches to be readable in different lighting); the type of memory card; and the range of controls (automatic to manual).
You can read reviews of camera features and image quality, but the most important issue for non-professionals is how convenient these devices are to use, in terms of both the physical controls and the electronic menus. When you grab a camera out of the closet to take an occasional shot, you'll need to be able to remember (or figure out) how to use all those icons and menus. For example, Kodak has stressed ease of use in its EasyShare camera line, with liberal use of plain old English words (and other languages) in the menus (www.kodak.com/go/EASYSHARE).
Kodak also has worked on simplifying interfacing from cameras to a computer using camera dock units that provide one-button image transfer to the computer. But even more interesting for this holiday season are snapshot photo printers that can print directly from the camera, with no computer required (around $150 - $300). With these devices, you can select photos from the camera memory and print borderless 4 x 6 inch prints in around a minute. These are thermal printers (not like desk-top inkjets), that create prints that look like regular glossy photographs (around $25 for 40 prints). You also can select different print sizes, to print multiples at 2-, 4-, and 9-up.
Some snapshot printers provide docks for specific camera lines. Even better, many provide slots to print from different kinds of memory cards, and support the PictBridge standard to interface to a variety of cameras lines. And, of course, you can connect these devices to a computer like any other printer. But snapshot printers, especially with docks, may well make more sense in the living room than the den, especially when they have a video output to also connect up to the television to select photos and display slide shows using a remote control.
Kodak's top of the line EasyShare Printer Dock Plus ($199 list) also can print photos from your cell phone camera (and other devices) through a wireless interface using infrared or Bluetooth technology. You don't even need a computer to clean up underexposed photos, as it includes a built-in auto-enhance function.
Kodak EasyShare Printer Dock Plus
While these snapshot printers are small enough to think about bringing along on a trip, Kodak also has stocked stand-alone Picture Maker digital print kiosks at over 12,000 retail locations (www.kodak.com/go/picturemaker). The kiosks sport an array of memory card slots to handle almost any camera card format, and also can accept prints wirelessly from mobile phones. Or you can scan prints to make copies or enlargements, or copy digital photos from CD or floppy disk.
With a full-size touch-screen display, the kiosks even provide photo editing and enhancement functions including zoom and crop, brightness and color adjustments, red-eye removal, and added text and borders. You then can print selected photos on borderless 4 x 6 inch prints in about a minute for around 29 to 39 cents. While on vacation, you not only can make prints of your digital images, but you also can save them to a Kodak Picture CD, solving the problem of what to do when you fill up your memory cards.
Digital cameras are great, but the ultimate in always-accessible and wirelessly-connected cameras are being built into cell phones. As cell phones add more processing power and memory they can become more multi-functional, serving as always-connected portals for E-mail and instant messaging, handheld organizers for addresses and appointments, and portable players (and recording devices) for music and photos.
But phones are still about communication, albeit not just voice: text message use has exploded in the U.S., and now picture messaging is expanding as well. Verizon Wireless reports its traffic for the third quarter of 2004 included 2.6 billion text messages and 25.5 million picture messages. That's in addition to 26.8 million downloads of Get It Now applications, including instant messaging, E-mail, Web access, travel information, and of course ring tones and games. Verizon's data services contributed more than 4.7 percent of third-quarter service revenue, up from 2.3 percent in 2003 (www.verizonwireless.com).
These new camera phones are built for multimedia, with colorful displays and much better sound quality, plus the ability to take photos, record audio, and even shoot video clips:
The Motorola V710 shoots at up to 1.2 megapixel resolution (1280 x 960). To store your shots, plus downloadable content, it provides a whopping 10 MB of built-in storage, plus includes a SD memory slot for expansion cards. Other cool features include Bluetooth wireless support for headphones and speech recognition dialing (available from Verizon for $249 after $50 online rebate).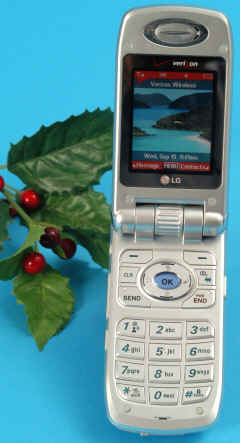 Verizon LG VX7000 picture phone
In comparison, the LG VX7000 is a VGA-resolution camera (640 x 480), and has 4 MB of storage. But it includes a rotating lens and LED flash so you can satisfy your need to take self-portraits at night (available from Verizon for $149 after $50 online rebate).
At VGA resolution, the resulting photo files can range from around 40 to 90 KB in compressed JPEG format, and can be transmitted in around ten 10 seconds. These phones also can capture 15-second video clips with audio (though at lower 176 x 144 resolution, and 10 to 15 frames per second, creating files of around 125 to 180 KB).
Just don't expect great pictures with these mini lenses and camera imagers. Camera phones do offer basic exposure and contrast controls, but really require good lighting and still produce relatively noisy images. However, these devices are not about taking beautifully-composed pictures, they are about spontaneous shooting and sharing. With Verizon's Picture/Video Messaging services you can send messages with photos and audio (but not video) directly from phone to phone. This is an add-on service beyond text messaging (40 PIX messages for $4.99 a month, or 40 PIX plus 250 TXT for $7.99).
Your photos and the video clips also can be viewed on a computer, either by sending them to any E-mail address, or uploading them to Verizon's free but limited Pix Place website (www.vzwpix.com). You can also compose picture messages from a computer using the Pix Place site to send to a phone (also saving your half of the messaging charges).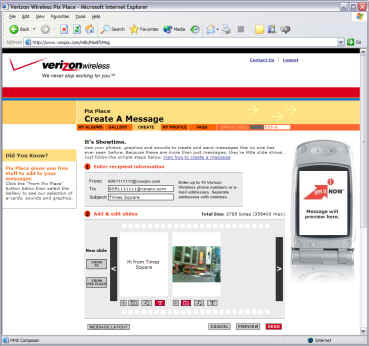 Verizon Pix Place - Send message
Besides sending photo messages, you also can share your cell phone photos more broadly over the Web. For example, Ewing-based dotPhoto offers the Pictavision service (www.pictavision.com) to share photos in both directions: upload your photos to the Web, and access Web-based photo albums on your phone ($3.99 a month for unlimited access).
dotPhoto Pictavision service
You can set up a free account on the dotPhoto site (www.dotphoto.com), and then send photos from your phone to a designated Web album, where they will be instantly available online to viewers (with password protection, if desired). Or you can access the online dotPhoto albums from your phone to browse and download any set of photos when you need them, instead of needing to choose a small group to store in your phone's memory.
Once stored on the Web, you can annotate your photo albums with voice and music and create online animated slide shows with music and effects. DotPhoto also offers photo prints, posters, photo cards, and frames, and you can order photo-decorated gifts including clothing, caps, mugs, and puzzles.
However, now that we have come to rely on them so much, these 4-ounce cell phones seem awfully big and clumsy when they're just being used for the old-fashioned purpose of talking on the phone to other humans. Some people now use earphones with a wire running to the phone on their belt holder, leading to sightings of more and more people who seem to be talking to themselves on the streets.
The answer, of course, is to cut the cord and go wireless. But not just with a crummy old analog voice radio connection, but with a digital data connection like the short-range Bluetooth interface. For example, the Jabra BT800 headset weighs only 25 grams, and is a complete phone answering system ($119 list, www.jabra.com).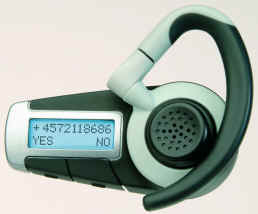 Jabra BT800 headset
Your phone can remain nestled comfortably in a pocket or bag, and when you receive a call the headset vibrates or rings (with selectable ring tones) and displays the caller ID information on the backlit LED display. You then use the jog wheel to answer the call, as well as mute and adjust the volume. By doing digital, the built-in processor even can automatically adjust the headset volume in response to background noise, and improve audio quality in windy or noisy environments.
In this digital media age, we are all content creators with our digital cameras and video camcorders, and also content aggregators and broadcasters with our digital music collections, photo websites, and DVD recorders. And we don't even need a television or computer to play and share our media; we can take it with us in our handheld devices. While you can use your digital camera or mobile phone to stash a collection of some favorite photos or music (and even short video clips), serious use requires a dedicated playback device, with more storage and higher-quality audio (for music) or displays (for images). The trick is to find the right balance of supporting different types of media while still remaining portable (and cool).
Apple's iPod has been the clear success and trend leader for portable music, leveraging tiny "MicroDrive" hard disk drives to store a huge library in a portable and stylish player (www.apple.com/ipod). The original iPod weighs 5.6 ounces, provides up to 12 hours of battery life, and stores up to 10,000 songs in 20 GB and 40 GB models for $299 and $399 respectively. The newer Apple iPod Mini slims down 3.6 ounces, storing 1,000 songs in 4 GB, and lists for $249.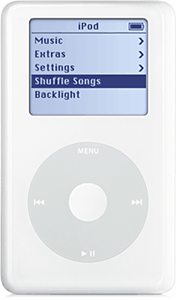 Apple iPod and iPod Mini
The success of the iPod was driven by Steve Jobs' ability to convince the music industry to license songs on reasonable terms so that customers will buy them. As of October 2004, Apple reports that more than 150 million songs have been purchased and downloaded from the iTunes Music Store, from an inventory of over 1 million songs (www.itunes.com). And the iPod has been a tremendous boost for Apple as it morphs into more of a consumer electronics company -- Apple shipped over 2 million iPods during the third quarter of 2004, a 500 percent increase over the previous year quarter, compared to 836,000 old-fashioned Macintosh computers, only a 6 percent increase.
After originally declaring a single-minded focus on music, in October 2004 Apple decided to bless imagery with the introduction of the iPod Photo. This weighs a little more than the iPod at just over 6 ounces, and includes a 220 x 176 backlit LCD display with 65,536 colors. It also upped the disk capacity with 40 GB or 60 GB models for $499 and $599, which can store up to 25,000 digital photos or 15,000 songs. The battery provides up to 15 hours of music playback or up to 5 hours of slideshows.
Apple iPod Photo
The success of the iPod has lead to a host of imitators, offering cheaper prices, more storage, higher resolution displays, FM radio, removable batteries, and augmented capabilities, including video playback. But all these units are based on hard disk drives, which limits the ability to further shrink the size or price, especially for the original purpose of portable music playback. After all, do you really maintain a digital library of 15,000 songs? Do you intend to buy that many songs from the iTunes store, even at 99 cents each? How many songs do you really need to have with you, even for a week of travel?
The alternate approach is to use flash memory cards instead of hard disks -- the same cards used in digital cameras for storing photos. While flash memory cards cannot compete with disk drives for multi-gigabyte capacities, they are getting significantly less expensive for smaller sizes: you can buy 256 MB flash memory cards for under $40 and 1 GB under $90.
So, let's build some products: Start with a tiny flash memory card and just add a USB connector. Now you have USB "thumb" drive: convenient portable storage for all your computer files, including music and photos. USB flash drives like the Verbatim Store 'n' Go Pro (www.verbatim.com) have become fashion accessories, available in bright colors and with lanyards to wear around your neck. But you still need a computer to access the files that they contain.
Verbatim Store 'n' Go Pro USB Flash Drive
The next step is clear: To make a stand-alone portable music player, just add a few controls and a headphone jack. This is exactly the approach taken by Creative Technology, makers of the Sound Blaster and other lines of digital entertainment products for the computer (www.creative.com). The higher-end Creative Zen line of disk-based portable media players includes the Zen Portable Media Center, a 12 ounce handheld with a 3.8 inch, 320 x 240 display, using a 20 GB hard drive to store up to 9,000 songs, tens of thousands of photos, and even 85 hours of videos at 320 x 240 resolution.
Creative Zen Portable Media Center
But for portable music players, the Creative MuVo TX FM comes the closest to an all-in-one player in a "lipstick" form factor. The core unit is a thumb drive with the USB connector and audio player controls: roughly 5 by 2 by 1 cm, and under 32 grams. It includes a small LCD display to list music folders and song track information (reversible for left or right handed operation), playback and volume controls, plus a built-in microphone for voice recordings, FM radio, and even a five-band equalizer. The main unit then mates to a separate sleeve that contains a standard AAA battery, actually doubling the size and weight to make it a little less likely to be lost accidentally.
Creative MuVo TX FM
To load the unit, simply plug it into a USB port on your computer (preferably the newer and faster USB 2.0). No additional software is required: It mounts as a removable storage device, so you can drag and drop files to transfer them to the flash memory as if it was an external disk drive. The unit will find and play any folders and files that you copy containing MP3 or WMA (Microsoft Windows Media Audio) music.
Or you can use a media jukebox application like the latest update for Microsoft Windows Media Player 10 on Windows XP, which provides built-in support for syncing and managing music to portable devices. Music you purchase or subscribe to online may also be copy protected, so Media Player provides Digital Rights Management (DRM) support to permit protected content to be securely transferred and played on more than 75 portable devices.

Microsoft Windows Media Player 10 -- PlaysForSure logo
Unfortunately, these media formats are another great battleground in the digital entertainment world, as the format owners and promoters seek to partner with the media providers (especially online stores) and device manufacturers. Microsoft is promoting a new PlaysForSure logo program to identify devices that support its preferred Windows Media formats and rights management (although it is grudgingly providing better support for the older MP3 format as well). Meanwhile, Apple is using the standards-based AAC audio format for iTunes music and the iPod, and provides a converter from the WMA format.
Gadgets galore! They're multiplying and interconnecting as never before, breeding not only new and smaller variants, but even add-on gizmos to augment your gadgets.
The good news for this holiday season is that you finally have an answer for the person who has everything: get them a gadget to go with their existing gizmos -- A DVD recorder for their entertainment center, a snapshot printer for the digital camera, a wireless headset for the cell phone, or a smaller combo portable media player to detach from the computer. You've got even more choices for saving and sharing your media in electronic form, and taking it all with you on your holiday travels.
Consumer Electronics Association (CEA)
www.CE.org
Panasonic - Consumer Electronics
www.panasonic.com/electronics
JVC
www.jvc.com
DVD-RAM Promotion Group (RAMPRG)
www.ramprg.com
Kodak - EasyShare Cameras
www.kodak.com/go/EASYSHARE
Kodak - PictureMaker DIgital Print Kiosks
www.kodak.com/go/picturemaker
Verizon Wireless
www.verizonwireless.com
Verizon - Pix Place
www.vzwpix.com
dotPhoto - Pictavision
www.pictavision.com
dotPhoto
www.dotphoto.com
Jabra - Mobile Phone Headsets
www.jabra.com
Apple - iPod
www.apple.com/ipod
Verbatim - Store 'n' Go Pro USB Flash Drives
www.verbatim.com
Creative Technology - MuVo
www.creative.com
Microsoft - Windows Media - Media Guide
www.windowsmedia.com
Microsoft - Windows Media - Technology
www.microsoft.com/windows/windowsmedia