HOME DIGITAL MEDIA ARTICLES

Manifest Technology Blog -- Site: | Articles | Galleries | Resources | DVI Tech | About | Site Map |
Articles: | PC Video | Web Media | DVD & CD | Portable Media | Digital Imaging | Wireless Media | Home Media | Tech & Society |
Home Media: | Home Media Articles | Home Networked Media Gallery |

---
Building the Wired Home
(Home Animation, 1/2000)
by Douglas Dixon
Wires and cables and cords, oh my! Are all the wires running around your house driving you crazy? And now there are even more wires coming into the home, including multiple phone lines, cable television, and Internet connections. So wouldn't it be nice to be able to access these services from anywhere in the house, so you could listen to your CDs in any room in the house, or keep watch over the sleeping baby from any TV, or connect to the Web from any computer, including a roaming laptop?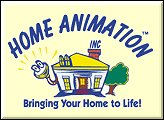 This is the vision of the wired home, with video and audio, communications and control, and computer connectivity available throughout the home. A new company in New Jersey, Home Animation, is helping to build these capabilities into new homes by providing design planning and wiring installation services. "Installation during construction is by far the most cost-effective," says John Romanowich, president of Home Animation. "It's important to do it before the walls are up, before the house is completed. And you can include the wiring cost in your mortgage."
Toll Brothers
Home Animation has joined with Toll Brothers as its first partner for offering wiring and media design and installation services to new home buyers. Mike McGlone, project manager for Toll Brothers at the Preserve at Princeton Walk off Route 1 in South Brunswick, reports a high amount of buyer interest in home wiring solutions.
"The homeowners are all over it: eight to ten at this site (Princeton Walk) have begun to choose options, and another half dozen at another site," says McGlone. Princeton Walk is a single-family development with 110 units, averaging 3,000 square feet, and from around $300,000 to $550,000 in price. It is "selling fast," around 35 per year, and should be complete in another year and a half.
"We are excited to be the first in the area to offer these services to the homeowner," says McGlone. "Out west they are expected, but the east has been behind. Our homeowners are very educated, and we can give them what they want. Now we can get you ready for anything coming in the new millennium."
Wired Home Services
Home Animation is the brainchild of Romanowich, an independent product design and manufacturing consultant with a masters in electrical engineering from the New Jersey Institute of Technology. His partner is Kathy Kinka, director of marketing, who is an independent systems consultant with 25 years of sales and marketing experience with Xerox, Digital Equipment Corporation, and Sarnoff. "We've been involved with this for over a year," says Kinka. "Everything just fell together. It's the right market at the right time, and the need is tremendous."
Companies like Intel, IBM, and Lucent agree. They have joined with 15 leading technology companies to sponsor the "Wiring America's Homes" campaign under the Home Automation Association trade group. This campaign is focused on educating home buyers and builders on the importance of designing homes to accommodate both current and future needs for the "connected home." "It's all about the comfort and convenience of your home," says Romanowich, "and growing into the future. You can have whatever you want in every room, and control and interact with the world."
Wiring the home opens up a wide range of possible services, including:
- Computer networking, so you can share data, and hardware such as printers and scanners, among multiple PCs.
- Internet access, so multiple computers can access the Web at the same time. By moving your Internet connection to a cable modem or the new DSL phone service, you also can have continuous service that is always available (with no waiting to dial), has significantly faster access time, and avoids tying up a phone line.
- Home office phone service, so you can have multiple phone lines within the home, and digital-ready lines for fax and data services.
- Distributed video and home theater, so you can enjoy video and audio entertainment throughout the house, including cable and satellite television, VCR and DVD movies, and CD audio. Home Animation can do the wiring alone (stereo and home theater equipment not included) for somewhere between $2,000 and $4,000, says Romanowich.
- Video cameras, so you can see visitors at the front door, monitor children in the nursery, and watch swimmers in the pool. You can view this video on any television, or even in a window on your computer screen. The wiring might cost as little as $1,500, but to get everything on Home Animation's price list -- the equipment and computer networking included -- can cost as much as $40,000, says Romanowich.
- Environmental automation, so you can automatically control lighting and save energy. Home Animation installs programmable thermostats for about $150; lighting automation for $600.
Designing the Wired Home
Home Animation's approach to providing these services is to first sit down with the home buyer and discuss the specific needs of the family, and then design a custom solution. "You need to make it simple," says Romanowich, "so sight and sound can just be there, available in any room in the house. It needs to be ubiquitous, but not overpowering, not in your face." This requires discreet placement of outlets and controllers and even speakers, as needed in each room.
There are other partial solutions for providing specific services such as Internet, video, and control signals around the home. These are particularly useful for retrofitting older homes, where snaking wires through walls can be very difficult. Many of the same industry players are establishing other trade groups and selling consumer products for home networking using both existing phone and electrical home wiring, and by using wireless radio communications. However, an integrated solution using dedicated wiring not only offers a complete solution, but should be more secure, more reliable, and offer faster throughput.
"The alternative is very piecemeal," says Kinka. "There are people who install only certain types of wiring. We pull it all together into a complete solution, starting with a media plan, and putting the right outlets in each room." The Home Automation Association, the industry trade group, estimates a recommended wiring solution could range from $750 to $2,000, depending on the homeowner's needs. "People want well-integrated solutions at a fair price," says Romanowich. "It's a BMW kind of service. Everything is taken care of, it looks good but is practical, and provides good mileage and good performance."
Doing the Wiring
Home Animation supports the recommendations issued by the Home Automation Association for "whole-house structured wiring" solutions. The basic approach is to provide service throughout the house using high-quality wiring, which supports faster communications with less interference. The wiring is typically designed with a star configuration, distributed to each room from a central service center where the outside services enter the home. To protect the wiring, and to provide easy access for future changes, the wires can be installed using a "home run" approach, where the wires are bundled together in a common conduit protected within a PVC plastic pipe.
The specific recommended wiring for different services is:
- Telephone service: twisted phone wire, category 5 (CAT 5) or better, with 2- or 4-pair wires for multiple lines in the same wire.
- Data service: also CAT 5 quality, for high speed communications without cross-talk in a local Ethernet network. Category 5 allows you to network your computers up to 100 megabits per second.
- Audio and video service: RG-6 quad-shielded coaxial cable, which eliminates hiss even at loud volumes, for distributing modulated RF video.
"We recommend six outlets in each room," says Romanowich, "two RG-6 for cable, two CAT 5 for phone, and two CAT 5 for computer Ethernet connections. You also can use one of the cables for a remote control or an IR repeater." An IR repeater, an infrared remote control, is used to operate equipment from a distance -- even from a different room.
One of the great advantages of this type of wiring is its invisibility. "You wouldn't see speakers or anything," says Romanowich. "So if you had an antique interior it wouldn't be intrusive."
Home Animation
Romanowich's goal for Home Animation is to create "a nation-wide company recognized for advanced uses of technology in the home for convenience and pleasure." The company is named Home Animation because "the more animated your home, the more fun you have."
References
Home Animation, Inc.
http://www.HomeAnimation.com
Home Automation Association
http://www.homeautomation.org
Wiring Americas' Homes (WAH)
http://www.homeautomation.org/wah.html -> www.connectedhome.org
Home Automation Times: An online home automation publication
http://www.homeautomationtimes.com