HOME DIGITAL MEDIA ARTICLES

Manifest Technology Blog -- Site: | Articles | Galleries | Resources | DVI Tech | About | Site Map |
Articles: | PC Video | Web Media | DVD & CD | Portable Media | Digital Imaging | Wireless Media | Home Media | Tech & Society |
Home Media: | Home Media Articles | Home Networked Media Gallery |

---
Enjoying Portable Audio:
Players, Headsets, Earphones, Speakers (4/08)
by Douglas Dixon
Portable Audio Players
Bluetooth Headsets
Earphones and Earbuds
Wireless Speakers
---
It's a glorious time for music! Never has there been so much music, from so many sources, available in so many ways. We can listen to spinning discs, or to a selection of 24-hour cable music channels. We can tune in to the radio on the go, or pick up satellite channels, or carry our own portable players. Music sites and software can help us find new artists, and even small independents can develop fans on MySpace.

And then you can take your creations and collections wherever you go with today's digital music players, enjoying the sound unobtrusively with tiny MP3 players and listening on wireless headsets or wired earphones. Or step up to wireless speakers to share the sound.

So here's an update with recent developments and representative products to illustrate these trends.

Find related Audio Accessories articles in the Manifest Tech Blog
See my Audio Accessories Gallery
for more on these trends and related products.
---
To enjoy your audio creations, download them to a MP3 music player. While the trend is towards more general portable media players with larger screens to play video (like the Apple iPod nano), there's still a place for small music-only players that are easy to carry along (like the Apple iPod shuffle (with 1 GB of storage for $79, www.apple.com/ipod).
For example, the SanDisk Sansa Clip is a clip-on design like the iPod shuffle, but adds a small but bright multi-line display so you can choose your music, plus FM tuner and voice recorder (1 GB around $39, 2 GB for $59, and new 4 GB for $79, www.sandisk.com).
Find the SanDisk Sansa Clip on Amazon.com
Meanwhile, the flash-based SanDisk Sansa View player with a larger screen for video has added a model with an amazing 32 GB of memory for $349 -- that's some 48 two-hour movies or 8,000 songs on a light player under 3 ounces. The design is similar to the Sansa e200 and new Sansa Fuze, but the screen (and size) steps up from around 1.8" to 2.4".
Find the SanDisk Sansa View on Amazon.com
Or the Samsung YP-U3 also has FM and voice recording, but is shaped like a stick of gum, and with a tiny 4-line OLED display -- plus a built-in slide-out USB adaptor (1 GB, or 2 GB around $69, www.samsung.com).
Find the Samsung U3 on Amazon.com
But as the Apple iPod shuffle has shown, you don't absolutely have to have a display on a music-only player -- you can just shuffle randomly or play through a playlist. The minimum requirements for a simple MP3 player, then, are two controls -- one for volume, and one for next/back.
For a really interesting design, there's an iconic shape that satisfies these constraints, as demonstrated by the iriver Mplayer -- a tiny Mickey Mouse head (1 3/4 inches from ear to ear) that's a 1 GB music player. It's simple to use -- just twist one ear to adjust the volume, and the other to skip within or between tracks. Plus there's the headphone jack between the ears, USB port on the bottom, power button on the side, and a small light for status. The Mplayer is a top seller in Korea, but launch dates in the U.S. are still tentative (www.iriver.com).
---
The other piece of equipment you need to enjoy your music is a set of earphones to plug in and listen. But choosing earphones is not just about sound quality and comfort. In today's busy and noisy world, there are several technological features that help as well -- Bluetooth for wireless connections (no wires to tangle and snag), and noise reduction to help screen out background sounds so you can enjoy the music.
As today's mobile phones focus more on media playback, with built-in storage and streaming audio, your phone headset also needs to graduate beyond voice to music. Some of these headsets even can pair with multiple devices (phone and player), so you can be listening to music, and automatically switch to the phone when calls come in.
For example, the BlueAnt Z9 Bluetooth Headset is amazingly small, but includes a dual microphone array to separate the voice signal from background noise so you and the person you are calling can hear each other better. It performs noise suppression, echo cancellation, and automatic gain adjustment, plus it has both a Standard and Max voice isolation mode for extreme noise environments (around $69, www.blueantz9.com).
Find the BlueAnt Z9 Headset on Amazon.com
In comparison, the Aliph Jawbone Bluetooth Headset is larger and more obvious, but with a very attractive design, in several colors. And it does a tremendous job of noise cancelation by sensing your voice through your cheek to help isolate your speech from the noisy environment (around $89, www.jawbone.com).
Find the Aliph Jawbone Headset on Amazon.com
But as mobile phones start playing music in stereo, and as portable media players start supporting Bluetooth wireless as well, listening with a single earpiece no longer does the job.
This is the reasoning behind the Plantronics Voyager 855 Bluetooth Headset. It starts as a phone headset, albeit designed to fit snugly in the ear for easy insertion and removal (unless you prefer the optional separate ear loop). Then it adds noise reduction technology, augmented with a slide-to-talk design that extends the front cover closer to your voice (and also answers and ends calls). For music listening it includes dedicated controls for both calls and music (volume, call answer /end, track forward/back, etc.). Then for the final step for enjoying your music, it adds a detachable cable with earpiece to run around to your other ear so you can listen in full stereo (around $79, www.plantronics.com).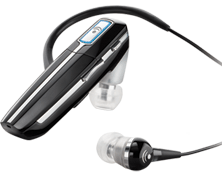 Find the Plantronics Voyager 855 on Amazon.com
---
If you don't want to go wireless, earphones can still be small and light and easy to carry.
However, you can't ask for too much sound perfection from earphones given their small size, especially because you'll likely be listening with them in noisy environments and on portable MP3 players with compressed music. What you do want, given reasonable sound, is fit and comfort for wearing for extended periods.
For example, there are earphone styles that hook over your outer ear (typically with replaceable nets), but if you also want to block sound you'll want a model with earbuds that insert in the ear (typically with several replaceable earpieces for comfort and different ear canal sizes). In-ear buds can fit snugly to provide passive noise isolation from outside sounds, and some even incorporate an in-line box with electronics to perform active noise reduction.
JVC, for example, has a wide selection of earphones and earbuds, from the popular JVC Gumy and Marshmallow Earbuds in fashionable colors (around $9 and $19) to the JVC HA-FX66 Air-Cushion Headphones with angled earpiece and a selection of three silicon rubber and one memory foam cushion earpieces for a custom fit (around $19, www.jvc.com).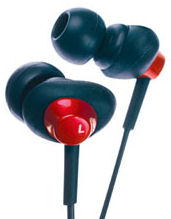 Find the JVC Air-Cushion Headphones on Amazon.com
For clearer sound and better sound isolation, you can step up to the JVC HA-FX300 Bi-Metal Headphones, with features including an aluminum evaporation diaphragm, Bi-METAL structure for the drive unit, aluminum housing, and OFC (oxygen-free copper) cord with friction noise reduction (less noise from cord movement). It also has a contoured canal design earpiece and head (around $99).
Find the JVC Bi-Metal Headphones on Amazon.com
Besides consumer electronics companies, other well-known audio technology companies offer a wide range of earphones and headphones. For example, the Sennheiser CX 400 Ear Canal Headphones feature shallow ear canal adapters for wearing comfort and passive noise attenuation. Interestingly, they come with a short cable for shirt pocket use without extra dangling cable, plus an additional 3 foot extension cable (around $99, www.sennheiserusa.com).
Find the Sennheiser CX 400 Earphones on Amazon.com
But especially with computers, there are other uses for earphones, such as making voice over IP phone calls.
The Plantronics .Audio 480 Virtual Phone Booth Headset is designed as a small, portable computer headset for mobile laptop users. It combines stereo sound-isolating earbuds to block out external distractions and a flexible boom microphone with noise-canceling and wind-reduction technology. It includes an inline control on the cable for volume and microphone mute. And the earpieces include a clever stabilizer eartab that nestles in the folds of your outer ear, to secure them in place without requiring a headband or earloop. The headset is available in an analog version for direct connect with headphone and mic jacks ($59), and a digital version with an analog-to-USB adapter with built-in sound card interface, especially for Macs (around $69, www.plantronics.com).
Plantronics .Audio Virtual Phone Booth Headset on Amazon.com
Or for a different approach to earphones, consider the AirDrives Outer-Ear Stereo Earphones. These hook over the ear, with the speakers hanging outside of ear for a natural directional sound. The benefit is that you can remain aware of your surroundings, so these can work well for running and other sports activities (bend the eargrips for a tighter hold). Since the AirDrives do not block the ear, they obviously do not provide noise isolation, and the sound can be heard by people nearby, so they are not suitable for activities like travel in noisy environments or when you are sitting near strangers. The company also points out that they are comfortable for long wear (since they do not sit in the ear), can be worn with glasses, and will avoid possibly damaging decibel levels from earbuds plugged in the ear (standard size around $99, kids $69, www.airdrives.com).
Find the AirDrives Outer-Ear Earphones on Amazon.com
For stunningly clear sound, try the Ultimate Ears line of personal earphones. The Ultimate Ears Triple.fi 10 Pro contain three individual speakers for each ear, with a crossover circuit that directs specific frequencies to dedicated speakers -- low-end for bass, mid-range for vocals, and high for treble ($399, www.ultimateears.com).
Top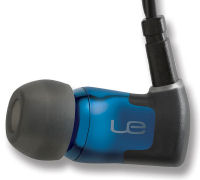 Find the Ultimate Ears triple.fi Earphones on Amazon.com
---
Since Bluetooth is so well supported in mobile phones, and is starting to appear in media players, you can now share your music with wireless portable speakers, for distances up to around 30 feet.
For example, the Samsung YA-BS300 Bluetooth Portable Stereo Speaker is a small pocket-sized 2 Watt speaker (4 inches long, 2 ounces) that pairs well with Samsung's Bluetooth-enabled Samsung YP-T10 slim video player and Samsung YP-P2 3-inch widescreen player (around $129, www.samsung.com).
Find the Samsung Bluetooth Portable Speakers on Amazon.com
For a larger group, the Parrot PARTY Stereo Portable Bluetooth Speakers are more table-sized (9 inches, 21 ounces) and puts out 6 Watts, plus has built-in Stereo Widening and Virtual Super Bass effects (around $119, www.samsung.com).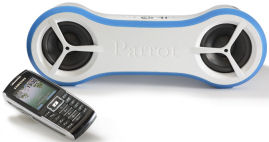 Find the Parrot PARTY Speakers on Amazon.com
The Altec Lansing SoundBlade Stereo Bluetooth Speakers have a smart look -- 2" high output speakers in a thin "blade-like" design -- 6 x 11 inches and only 1 inch thick, with a pop-out stand. But it takes advantage of the Bluetooth protocol to be both a wireless stereo speaker with remote control, plus a wireless speakerphone with built-in microphone ($129, www.alteclansing.com).
Find the Altec Lansing Soundblade Speakers on Amazon.com
Portions originally published in Camcorder & Computer Video magazine, 24, 2, April 2008.