HOME DIGITAL MEDIA ARTICLES

Manifest Technology Blog -- Site: | Articles | Galleries | Resources | DVI Tech | About | Site Map |
Articles: | PC Video | Web Media | DVD & CD | Portable Media | Digital Imaging | Wireless Media | Home Media | Tech & Society |
Home Media: | Home Media Articles | Home Networked Media Gallery |

---
Portable Storage:
Flash, Hard Disk, and Optical (4/2006)
by Douglas Dixon
What could be more bland than memory and discs? -- It's just different kinds of portable storage for your digital data. There certainly was a lot of excitement around sexy high-definition displays and portable media players kicking off the new year at the Consumer Electronics Show in Las Vegas in January. But there also was plenty of activity in portable storage -- fashionable designs in brighter colors, more capacity in smaller sizes (gigabytes in a pendant, much less your pocket), as well as new options for delivering your productions on CD and DVD with snazzy colors and labels.
Let's look at the range of new storage products, from memory cards, to USB flash drives, to portable hard drives, to CDs and DVDs.
Memory cards continue to evolve, adding capacity for use in digital cameras and camcorders, and shrinking in size for smaller devices like mobile phones. For example, the new SanDisk 2GB miniSD card (suggested retail $199) is doubled in capacity, at half the size of the original SD card (www.sandisk.com). Then the new SanDisk 1GB microSD card ($119, formerly known as TransFlash) is incredibly half again smaller, like a tiny fingernail -- but still able to store up to approximately 480 WMA-compressed songs in your mobile phone, downloaded from the Verizon Wireless V CAST Music service.
SanDisk miniSD & microSD
And you don't even need a card reader device to access data stored on the new SanDisk Ultra II SD Plus USB card. It has a hinged cover around the bottom half of the card that folds down to reveal a USB connector, so you can plug it in directly to your computer (1 GB $134 for $134).
SanDisk Ultra II SD Plus USB card
For use with a computer, however, USB "thumb" drives -- solid-state flash memory on a stick with a USB interface -- are a popular and convenient solution for carrying and sharing digital files. You can carry your digital life -- documents and photos, music and video -- everywhere you go, and plug in to any computer to access and share your stuff.
As these USB drives increase in capacity into multiple gigabytes, they also are shrinking in size, and being designed as colorful fashion accessories you can wear around your neck. Companies are offering multiple lines of USB drives -- fun and style vs. more rugged, with higher capacity and performance (using USB 2.0), and with security features to protect your digital data (typically only for Windows). New designs also offer sliding or retractable covers so you won't loose the cap protecting the USB connector.
Some companies are color-coding their product lines to indicate different capacities. The Imation Swivel flash drives (www.imation.com) with brightly colored swivel caps are available in 32 MB, 64 MB, 128 MB and 1 GB capacities ($15 to $99), with orange, lime green, blue and gray hued caps, respectively. And the Imation Swivel Pro drive includes a blue LED light to signal data being transferred, in capacities from 128 MB to 2 GB ($24 to $199). Imation also offers a free download of drive partitioning and password protection software, so you can segment your drive into public and private areas.
For the ultimate in convenient, wearable, go-anywhere storage, the Imation Flash Wristband is available in basic black or blue. It's a flexible rubber band that uses the USB connector as a clasp, and is available with 256 MB for $34.
Imation Flash Wristband
The Sony line of flash drives, for example, includes the Sony Micro Vault "Tiny" drives, roughly 1/2 inch wide and one inch long, with color-coded capacities of 256 MB to 2 GB, with a "fashion-forward" design (www.mediabysony.com).
Sony Micro Vault "Tiny" drive
The higher-capacity Sony Micro Vault Classic has a one-piece design with retractable connector, in capacities from 256 MB to 4 GB. The Sony Micro Vault Turbo model offers transfer speeds up to 28 MB per second, and a read speed of 18 MB per second. The drives also are preloaded with Virtual Expander, offering automatic file compression for up to three times more capacity.
Sony Micro Vault Turbo
And for secure access, the Sony Micro Vault with Fingerprint Access with 512 MB capacity uses a finger swipe sensor to protect encrypted files and offers Auto Login software to store and automatically enter Web site IDs and passwords.
For fast access, drives like the Verbatim Store 'n' Go Pro (www.verbatim.com) include an on-board processor to manage data access, providing error detection and correction and wear-leveling to improve reliability to over one million write/erase cycles. The Store 'n' Go Pro supports a maximum write speed of 14 MB/sec. (over 90 X in terms of CD speed rating), and a maximum read speed of 23 MB/sec. (over 150 X), so you can upload a 100 MB file in less than 7 seconds. The drives also include a 2-color LED that identifies the port speed, and are available in capacities from 256 MB to 2 GB ($65 to $329). Verbatim also offers data encryption and password protection, with security and file synchronization software.
Similarly, the compact Lexar JumpDrive Firefly drive (www.lexar.com/jumpdrive) is available in 256 MB, 512 MB, and 1 GB capacities, the Lexar JumpDrive Lightning is now available in up to 4 GB, with faster 150x write speed (where "x" as equivalent to a minimum sustained write speed capability of 150 KB/sec.). And the Lexar JumpDrive TouchGuard drive with integrated biometric fingerprint sensor is available in up to 1 GB.
Another helpful new feature just starting to appear in flash drives is an integrated display to help you see how much storage is available. Of course, this is a bit tricky to implement, since the drives have no power source to light the display. Instead, these drives use an inert display that is updated when the drive is plugged into a computer.
For example, the Lexar JumpDrive Mercury, available in 1 and 2 GB, includes an integrated capacity meter based on Electronic Paper Display (EPD) technology created by E Ink Corporation, the display is a paper-thin, shatter proof form that is easy to read, and does not rely on power to maintain capacity information.
The Didigo SmartDrive flash drives (www.mydidigo.com) have a BCD (Bi-stable Cholesteric) LCD Display that not only shows the remaining capacity in megabytes, but also has a nice pie chart of disk space usage (1 GB for $119). Even better, it also includes a line of text to help identify the drive's owner or contents (an 11-character string changed by renaming the drive volume label on your computer).
Didigo SmartDrive flash drive
The next leap for USB flash drives is to go beyond being a data storage device to become your portable desktop. The idea here is to include copies of your desktop applications on the flash drive, along with associated preferences, so you sit down at any computer -- in a library or Internet cafe, at work or at school, and be immediately running with your preferred editors, browsers, utilities, and other software applications. However, this feature does require special versions of the software applications, which are now starting to become available (currently only for Windows).
One such platform is the U3 "smart drive" platform (www.u3.com) created by SanDisk and M-Systems, available in flash drives lines including the SanDisk Cruzer Micro and Verbatim Store 'n Go (available up to 2 GB for $179 and 4 GB for $349).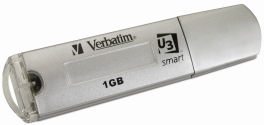 Verbatim U3 "smart drive"
Another approach is used for the Lexar PowerToGo JumpDrive. This uses technology from Ceedo Technologies (www.ceedo.com) to create a private working space to run your applications self-contained, without leaving any trace behind on the host computer. Lexar also plans to make PowerToGo available to its installed customer base as an Internet download.
While flash memory drives are becoming affordable in capacities up to 2 and 4 GB, miniature 1-inch hard drives still can provide another option for affordable storage in small sizes, plus another bump in capacity.
For example, the Imation Micro Hard Drive with a padlock-like design (www.imation.com/microharddrive) is available with 2 and 4 GB for only $159 and $189.
Imation Micro Hard Drive
Or if you prefer your storage in a credit card, the Verbatim Store 'n' Go 8 GB USB HD is only $199, in a credit card form factor (2.75 x 2.125 x 0.5 inches, and 1.8 oz.).
Verbatim Store 'n' Go USB HD
Or try the LaCie Carte Orange (www.lacie.com), with 4 GB for $99, and 8 GB for $149, in a very thin design (2.2 x 3.3 x 0.23 inches).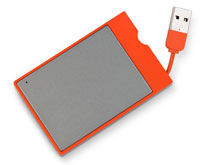 LaCie Carte Orange
Of course, you're paying a heavy premium for the small size and tiny hard drive, so you can step up to 10 times the capacity at the same price, in an only slightly larger form factor. For example, the LaCie Skwarim is available in shocking pink with 30 GB for $149 or electric blue with 60 GB for $199 -- and is still very easy to carry in a pocket (3.3 x 3.3 x 0.5 inches and 3.5 oz.).
For more capacity in a still mobile size, you can move up to derives like the LaCie Mobile Hard Drives (40 to 100+ GB, with USB and FireWire ports), or for less gentle travels, the LaCie Rugged All-Terrain Hard Drive, with tough metal casing and shock-resistant rubber bumper (80 GB for $169 and120 GB for $329). The higher-end drives have larger caches (up from 2 to 8 MB or greater), faster rotation speeds, and therefore better data rates (up from 20 to 30 MB/sec).
So now you have more and more portable gadgets that are storage devices -- cameras and phones, memory cards, and flash drives, and even portable hard drives. But you still need to bring along a computer to manage your data, for example to off-load photos from your mobile phone or camera to a portable hard drive.
Time for another gadget -- the Memorex TravelSync (www.memorex.com), a palm-size portable transfer device ($59) with two USB ports, plus a display so you can choose which files to transfer, and in which direction. It's compatible with a wide variety of devices that support the USB Mass Storage interface, from card readers to digital cameras to media players (but not Apple iPods). It's powered by 3 AAA batteries, although transferring from a hard disk does require external power for the disk.
Memorex TravelLink
Or for even more flexibility, the Memorex TravelLink ($79) adds two memory card slots, supporting CompactFlash I, CF II, SD, SM, MMC, Memory Stick, MS Pro, and MS Duo. It also can be connected directly to a computer to act as an 8-in-1 card reader.
And don't forget optical discs for burning and sharing data. Just when you thought there were enough choices for discs -- CD and DVD, R and RW, dash and plus, single and double layer, colorful and printable -- the industry is poised to bring you more. Many companies, including Imation and TDK, are helping by redesigning their packaging to use stronger labeling and color coding make the disc type and format very clear even at a glance.
New disc options include the faster Verbatim 8X DVD+RW media, to burn an entire 4.7GB disc in about 7 minutes. And the small Verbatim Mini DVD+R DL delivers coaster-size DVDs (around 3 inches or 8 cm) with double-layer capacity (2.6 GB) -- allowing DVD camcorders to record an hour of video at reasonable quality.
Another big trend is the rollout of recordable discs with hard coat surfaces that resist scratching and make them easier to clean by just wiping with a cloth. Originally developed for the new high-def DVD formats, these surfaces are now available for DVD and CD, under names such as Imation ForceField and Memorex DuraLayer.
For printing labels directly on discs, the new Imation AquaGuard surface for inkjet printable CDs and DVDs is water- and smear-resistant, offering not only great print quality but also instantaneous drying, so you can handle them directly from the printer. The surface uses nanoparticle technology to grip and hold ink, to lock printed images in place, and also has a very white surface for better color reproduction and more brilliant images. Media with the AquaGuard surface also is offered by Primera for its inkjet-based disc duplication and printing equipment (www.primera.com).
Imation AquaGuard printable discs

Another option for printing on discs is to use LightScribe media -- just flip the disc over in the drive tray, and use the laser to write the label. However, since you're not printing in color, the result is a sepia effect. New Verbatim LightScribe CDs and DVDs offer not only a gold-background coating that enables up to 30 percent faster label printing, but also more colorful results with vibrant jewel-toned background colors such as yellow, green and orange.

SanDisk - miniSD / microSD memory cards, Cruzer flash drives
www.sandisk.com

Imation - Swivel flash drives, Flash Wristband, Micro Hard Drive
www.imation.com

Sony - Micro Vault flash drives
www.mediabysony.com

Verbatim - Store 'n' Go flash drives
www.verbatim.com

Lexar - JumpDrive
www.lexar.com/jumpdrive

Didigo SmartDrive flash drives
www.mydidigo.com

U3 - Smart Drive
www.u3.com

Ceedo Technologies
www.ceedo.com

LaCie - Carte Orange, Skwarim, Mobile Hard Drives
www.lacie.com

Memorex - TravelSync, TravelLink
www.memorex.com

Primera
www.primera.com

Originally published in Camcorder & Computer Video magazine, 22, 4, April 2006.