HOME DIGITAL MEDIA ARTICLES

Manifest Technology Blog -- Site: | Articles | Galleries | Resources | DVI Tech | About | Site Map |
Articles: | PC Video | Web Media | DVD & CD | Portable Media | Digital Imaging | Wireless Media | Home Media | Tech & Society |
Home Media: | Home Media Articles | Home Networked Media Gallery |

---
Holiday Gadgets 2014: Wearables and Body Tech
by Douglas Dixon
---
Wearables for the new year- Smart watches and eyewear -- Though not yet implanted
---
Contents

---
Wearables / Smart Watches
---
Why a Smart Watch?
Accessible: Pocket watch to wrist watch - as phone peripheral
Fit and function
Dick Tracy 2-Way Wrist Radio / TV

USPS Comic Strips Classics, 1995

Phone Display

Notifications - Alerts, calls, messages, reminders
Information - Weather, news, sports
Text, graphics, color photos,and/or video?

Phone Interaction

Accept / reject calls
Respond to messages
Control music
Buttons or touch?

Voice Peripheral - Mic / speaker

Voice control
Wrist phone with speaker? Walkie-Talkie?
Bluetooth and Wi-Fi, plus 3G?

Personal Monitoring / Fitness

Health feedback - sensors
Heart rate, skin temperature, galvanic skin response (stress), UV light ( sun exposure)

Downloadable Apps

Watchfaces
Open platform, link to companion apps


Peripheral or Stand-alone?

Built-in GPS
Download music

Fitness band or Wristwatch?
Fashion statement or Nerd gear?

Timex functional
Rolex luxury chronograph
Casio fitness / feature
Square or round?
See The Political Power Watch Stops Ticking - New York Times, Oct. 31, 2014
---
"iWatch" Limitations - Wristbands
Music player on the wrist
Phone on the wrist
---
iWatchz Q Collection Clip Wrist Strap for iPod nano 6G
Music & fitness, but no wireless connectivity
Apple iPod nano Gen 6

Multi-Touch interface - navigate music by tapping or swiping
1.54 in. color TFT display, 240 x 240, 220 pixels per inch
Music, FM radio, photos, accelerometer
Redesign adds fitness tracking, larger icons,
Introduced 9/10 - 8 GB $149, 16 GB $179
Redesigned 10/11 - 8 GB $129, 16 GB $149
1.61 x 1.48 x 0.35 in. (40.9 x 37.5 x 8.78 mm), 0.74 oz. (21.1 g)

iPod nano 6G
Slide in and clip
$10

Find the iWatchz Nano Wrist Strap
on Amazon.com
---
Belkin EaseFit Armband for iPod nano 7G
Bluetooth to speaker, but not to phone
Apple iPod nano Gen 7

2.5-in. widescreen Multi-Touch display, 240 x 432, 202 ppi
Music, FM radio, photos, pedometer
Bluetooth to headphones, speaker
No speaker, mic, camera
3.01 × 1.56 × 0.21 in. (76.5 × 39.6 × 5.4 mm), 1.1 oz (31 g)

Lightweight, breathable neoprene and Lycra
Storage pouch for key or cash
$29 / $17

Find the Belkin EaseFit Armband
on Amazon.com
---
Wrist-Size Display
People want larger displays - iPhone 4 at 3.5" - iPhone 5 at 4" - iPhone 6 at 4.7" - iPhone 6 Plus at 5.5"

---
SkyMall Wristband iPhone Holder
Handy and secure! Rotates! Ideal!

---
Predator Wrist Gauntlet
Arm bracer wrist computer, compact wrist-mounted console

Control unit for Predator's advanced weaponry and technology
Sat-Com communication and tactical tool, with holographic projection
Controls for Bio-Mask - Alternate vision modes, zoom, recording/translation, targeting laser
Controls for Cloaking Device, Self-Destruct Device
Plasma Caster, Power Punch Glove
Also power source - Recharge from any common power source
Predator movie (1987) and sequels
---
Fitness Bands
---
---
Fitbit - Wireless Activity Trackers / Wristbands
---
Motivates you to stay active, live better, and reach goals

Real-time stats on wrist
Track steps, distance, calories burned
Monitor how long and how well you sleep

Sync and view on iPhone and Android
Sync to Fitbit.com Dashboard
"Everyday, active and performance fitness products"

Fitbit Zip - Wireless Activity Tracker

Tracks steps, distance, calories burned, $59

Fitbit One - Wireless Activity + Sleep

Tracks steps, distance, calories burned
Adds floors climbed, sleep tracking,
silent wake alarm, $99

Fitbit Flex - Activity + Sleep Wristband

Tracks steps, distance, calories burned,
active minutes, sleep
Adds active minutes (no clock, floors climbed), $99

Fitbit Charge - Activity + Sleep Wristband

Tracks steps, distance, calories burned,
floors climbed, active minutes, sleep
Adds auto sleep detection
Adds Caller ID - OLED display for watch
$129

Fitbit Charge HR - Heart Rate + Activity

Tracks all-day activity stats and sleep; Caller ID
Adds continuous heart rate, multi-sport
$149 - soon
Find the Fitbit Zip, Fitbit One, Fitbit Flex, and Fitbit Charge trackers
on Amazon.com
---
Fitbit Surge - Fitness Super Watch
Tracks all-day activity stats and sleep
with continuous heart rate and Caller ID
Adds call & text notifications
Adds music control
Adds GPS tracking
Touch screen display - monochrome LCD with backlight
Battery - 7+ days
$249 - soon
Tracks 7 days of detailed motion data, daily totals for past 30 days

Stores heart rate data at 1 sec. intervals during exercise and 5 sec. other times

Components: GPS, Digital compass, 3-axis accelerometers, 3-axis gyroscope

Optical heart rate monitor, Altimeter, Ambient light sensor, Vibration motor
---
Fitbit App + Dashboard
iPhone and Android apps
Fitbit.com Dashboard - Online tools
Sync tracker stats - Wirelessly with smartphones
Track - View progress and analyze trends with charts and graphs
Record workouts - Log workouts, track run and hike stats,
map routes & see a monthly exercise calendar
Share & compete - Invite friends and family to share stats,
send cheers and taunts, compete on leaderboard
Log food - Barcode scanner, calorie estimator,
meal shortcuts & expanded food database
Earn badges - Get goal progress notifications,
celebrate fitness milestones
---
Microsoft Band - Fitness and Productivity
---
Microsoft Band
Rubber styling, narrow OLED display, 1.4", 320 x 106
Full-color touch screen, read in direct sunlight
Balance of fitness and productivity
Wear all day to track both activity / exercise and sleep quality
Continuous heart rate monitoring, calorie burn measurement
Microphone for voice control
iPhone, Android, Windows Phone
$199
"Keeps fitness and productivity insights a glance away"
Fitness tracking
Guided workouts - from fitness partners
Heart rate tracking, 24 hours - Calorie burn, sleep patterns, peak and resting heart rate
Running - Pace splits and heart rate
Sleep - Length and quality
GPS - Distance, pace, route mapping
UV monitor - UV index for sunscreen
Notifications - Vibrate
Phone - Incoming call and voicemail
Messaging - Text with pre-set instant response, E-mail
Social updates - Twitter, Facebook, Weather, Finance
Time / alerts - Watch, Timer & Alarm, Calendar alerts
Personalization - Background designs and colors
Cortana personal digital assistant - Windows Phone 8.1
Capacitive 1.4" TFT full color display

320 x 106 pixels, 11 x 33 mm

Thermal plastic elastomer band, adjustable fit clasp
Dust- and splash-resistant
Dual 100mAh rechargeable lithium-ion polymer batteries

48 hours normal use; GPS will impact
Full change under 1.5 hours
Charge cable connector - Magnetically-coupled

Bluetooth 4.0 (Low Energy) [not Wi-Fi]
Windows Phone 8.1, Android 4.3-4.4

iOS 7.1 and later (iPhone 4S to 6)

Size small, medium, large - 39, 41, 49 mm wrist height
$199
Microsoft Health App
Cloud-based service - Crunches data from Band and other devices, smartphones, fitness bands
Store, share and convert data from fitness devices and services
Deliver powerful insights to help you achieve fitness goals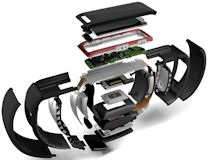 10 Sensors
Optical heart rate
3-axis accelerometer/gyro
Gyrometer
GPS
Ambient light
UV (sun exposure)
Skin temperature
Capacitive
Galvanic skin response (stress)
Microphone
---
Smart Watches
---
OS Notifications from phone to watch
App information to watch
Commands back to phone - Manual and voice
---
Martian Watches - "Make the Classic Watch Smart" - Notification, Voice
---
Analog quartz wristwatch with Japanese movement
Plus integrated OLED display, 96 x 16 pixel
Kickstarter 2012
Notifier $129
Voice Command $249 / $299 - Mic and speaker
"Brings the convenience of notifications to a fashion-forward timepiece at a down-to-earth price"
Display world clock, weather
Display notifications and alerts from apps on phone - iOS or Android

Caller ID (shake to reject), text messages, e-mail, calendar, games, bank alerts, fitness stats
News headlines, finance, sports, weather, travel updates
Social media: Facebook, Twitter, Instagram, Pinterest
Android, iOS7 Notification Center

Vibration - Customized pattern for each notification type

Filters - Chose which alerts to pass through to watch
Tap watch glass to dismiss a notification or recall for up to 5 min.

Camera remote control - Snap photo, activate 3-sec. timer
Phone wireless leash - Find phone (if walk away from phone)
Battery - Up to 6-7 days, 2-3 hour charging; Separate analog watch battery runs up to 2 years
Martian Notifier - Scrolling line of text
Upper command button, lower select button
Bluetooth 4.0 (Bluetooth low energy)
RGB LED light
"Light Touch" vibrating motor
3-axis accelerometer
MicroUSB connection
1.70 in. / 43.2mm diameter, 0.5 in. / 12.7mm thick, 1.83 oz / 52 grams
$129 - White, red, black; Quick-Change Bands - colors
Martian Voice Command - Passport, Victory, G2G - Smartwatch
Adds hands-free voice communication

Noise canceling microphone, Directional Personal speaker
Talk, listen, and initiate voice commands
Answer or place a call, hands-free texting

Passport/G2G - 1.53 x 1.46 x 0.52 in (39 x 37 x 13.34 mm), 2.5 oz (70.9 g)
Victory - 1.61 in diameter x 0.58 in (41 x 14.8 mm), 3 oz (85 g)
Passport, Victory (shown) - $299
G2G - $249
Find the Martian Notifier and Martian Voice Command watches
on Amazon.com
---
Pebble Smartwatch - ePaper Display, Customizable
---
Lightweight and comfortable
Clear ePaper display with backlight, 1.26", 144 × 168
Week-long battery life, waterproof
iOS and Android
Not touch; No mic, speaker
Kickstarter, since 2013; Price drop 10/14
$99, $199
"Customizable watch that conveniently and subtly delivers the information that you want directly to your wrist"
Display readable in bright daylight or underwater, Scratch-resistant

Shake for backlight - Ambient light

Notifications - Text message, email, calendar

Vibration alerts
Phone calls - Caller ID, accept / dismiss
Notifications - From OS/apps - Facebook, Twitter, Instagram
Music playback - iTunes, Spotify, Pandora

Button menu controls - Music, Notifications history, Alarms set

Watchfaces, Settings, apps

Pebble app - iOS, Android

App settings, download Apps, Watchfaces

Open platform - Downloadable apps

Over 1000 apps, JavaScript, C
Categories - Daily, Tools & Utilities, Notifications, Remotes,
Health & Fitness, Games
Software updates downloaded wirelessly
App locker saves apps - max 8 downloaded
Companion phone apps to pass data (one at a time)
Pebble Watch / Pebble Steel
e-Paper display - 1.26-inch, 144 × 168 pixel, LED backlight
Magnetic charger - port on left side
Rechargeable battery lasts 5-7 days on a single charge
Bluetooth (2.1+ EDR and 4.0)
Water resistant to 50 meters / 5 ATM
Standard 22mm watchband
Pebble Watch
Polycarbonate case
TPU rubber / silicone band
33 x 50.8 x 11 mm, 37 g
$99
Pebble Steel
Marine stainless-steel / PVD, leather band
Brushed stainless and black matte (metal band separate)
Corning Gorilla Glass, oleophobic, anti-fingerprint coating
RGB LED light for charge status
43 x 34.1 x 10.3 mm
$199
Find the Pebble Watch and Pebble Steel
on Amazon.com
---
Google - Android Wear - "Information That Moves With You"
---
Connects your phone to your wrist, at a glance
Useful information when you need it most
Receive notifications and respond [Whatsapp illustrated]
Multiscreen - Access and control other devices from your wrist
Google Now information, Google voice search - "OK Google"
Monitor health and fitness
Offline music and GPS tracking
"Organizes your information, suggests what you need, and shows it to you before you even ask"
Respond to text messages; Get meeting notifications, weather updates
Latest posts and updates from your favorite social apps
Notifications from shopping, news and photography apps
Music - Pause, play, and skip tracks
Cast a movie to your TV
Voice response - to texts, instant messages and emails

Call a taxi, send a text, set an alarm, make restaurant reservation
Ask questions like "Will it rain this weekend?"

Achieve exercise goals with reminders and fitness summaries

Fitness apps provide real-time speed, distance, time for your run, cycle or walk
Daily summaries showing step count and heart rate

Android smartphones 4.3 and above
Updates

Offline music playback - Download to watch, listen via Bluetooth headphones
GPS sensor support - Fitness apps track distance and speed without phone
Downloadable watch faces: coming
Android Wear Products
Samsung Gear Live

Vivid screen, visible in direct sunlight
Water and dust resistant
$199

Moto 360

Modern timepiece
Comfortable, familiar, and crafted
Backlit LCD, bottom screen light sensor, 320 x 290
$249

LG G Watch

Buttonless sides - Touch and voice-based user interface
1.65" IPS LCD display
Up to 36 hours
37.9 x 46.5 x 9.95 mm, 63 g
$229

LG G Watch R

"Fusion of classic style and the latest wearable technology"
"At a glance, you're real-time connected to the world around you"
More traditional design, with a round display
Full circle P-OLED display, 320 x 320
Heart rate monitor
Outer dial - Non-rotatable, minute/five-minute/quarter-hour marks
46.4 x 53.6 x 9.7 mm, 62 g
$299
Find the Samsung Gear Live, Moto 360, and LG G Watch
on Amazon.com
---
Apple Watch - "Everything A Watch Should Be"
---
Force-sensitive Retina display, custom font
Heart rate sensor
Digital Crown - Multifunctional input (like iPod Click Wheel)
Side button - Friends - Contact favorite people - thumbnails - Message, call
Microphone for voice control, speaker
Precise timepiece - within 50 millisecs, automatically adjusts to local time
Add specialized functions (complications)

Stopwatches, weather updates, stock quotes

Alerts and notifications, messages / email, phone calls, fitness monitoring
iPhone 5 or 6
Spring 2015, ~ $350 / $500 / $4000+ ?
"Everything we think a watch should be. Available in three distinctive collections."
Home screen - Access favorite apps
Alerts and notifications - Gentle tap, discreet audio cues
Messages - Dictate or preset Smart Replies

Handoff - Start a message on watch, continue on iPhone

Email - Alerts, read, flag, mark read / unread, trash, open on iPhone
Phone - Built-in speaker and microphone, transfer to iPhone, car speakerphone, Bluetooth headset

Silence incoming calls by covering with hand

Glances - Swipe up on watch face - Quickly show information

Calendar, maps & directions, stopwatch, Remote camera, display photos, weather, stocks

Buy coffee using Apple Pay, Passbook boarding pass, control Apple TV
Digital Touch - Direct to others - Send sketch, Walkie Talkie
Fitness monitoring - Heartbeat, motion, exercise, standing
Messages, Calls, Email
Digital Crown - Multifunctional input (like iPod Click Wheel)

Scroll, zoom, select without covering the screen; Push to return to Home screen

Force Touch - Distinguish light tap and deep press for contextual controls
Voice input - Raise wrist and say "Hey, Siri"; press and hold Digital Crown to dictate
Heart rate sensor - Back of case, behind ceramic cover with sapphire lenses

Infrared and visible-light LEDs and photodiodes

Wi-Fi 802.11b/g and Bluetooth 4.0 to iPhone
MagSafe inductive charging - Completely sealed, magnetic alignment
Apple Watch Line
Three lines
Two case sizes: for different size wrists, 38 or 42 mm
iPhone 5 or 6
Available in early 2015 (spring?), starting at $349
Apple Watch
18 models
Stainless steel or space black stainless steel cases
Sapphire crystal
Range of stylish bands
~ $350 ?
Apple Watch Sport
10 models
Anodized aluminum case, silver or space gray
Strengthened Ion-X glass
Colorful, durable bands
~ $500 ?
Apple Watch Edition
6 models
18-karat gold case, yellow or rose
Sapphire crystal
Exquisitely crafted bands and closures
$4000 - $5000 ?
WatchKit Apps - Condense app information to easily scan ("Glances")
Calendar - Schedule, meeting reminders, accept / decline calendar invitations
Maps - Current location, directions, routing, turn-by-turn navigation
Music - Control music iPhone; Listen directly when iPhone at home
Apple TV & iTunes - Navigate and control library on Mac or PC
Remote Camera - Live preview, snap photo, set timer
Time - World Clock, Timer, Alarm, Stopwatch - Graph real-time average of lap times
Info - Favorite stock, weather report, favorite photos zoom/scroll
Siri - Dictate message, view next event, find nearest coffee shop
Settings - Airplane mode, Bluetooth, Do Not Disturb, Mute on/off, locate iPhone

Activity monitoring - Calendar, Maps, Passbook
Fitness - Complete picture of all-day physical activity
Measures quantity of movement, plus quality and frequency
Suggests personalized daily fitness goals and encourages you to achieve them
Heartbeat - Records when press two fingers on screen
Accelerometer - Measures total body activity, counts steps, helps calculate calories burned

Gauge intensity to improve calorie tracking

GPS and Wi‑Fi in iPhone - Measures distances
Activity app - Progress at a glance, three rings
Workout app - For dedicated cardio sessions, real-time stats (time, distance, calories, pace)
Three rings to close:

Move - Weekly goal for active calories to burn per day
Exercise - Brisk walk or above, recommended 30 minutes a day
Stand - Remind to stop sitting, at least one minute in 12 different hours during the day
Passbook and Apple Pay - Convenient, secure payment
Passbook - Store boarding passes, tickets; Alert when discount or loyalty cards are relevant
Apple Pay - Buy coffee, groceries, and more right from your wrist.
Securely use credit and debit cards (unique Device Account Number)
Double-click button, hold wrist up to contactless reader to send payment information
Digital Touch - Connect with other Apple Watch wearers, wrist to wrist
Sketch - Draw with finger, animate, send
Walkie-Talkie - Direct with built-in speaker and microphone
Tap - Thinking of you - silent, gentle tap on wrist, customize
---
Samsung Wearables - Companion Devices
---
Samsung Wearables
Companion devices for select Samsung Galaxy smartphones

Gear Fit

Band - 1.84" curved Super AMOLED - $149
Monitor heart rate, notifications

Galaxy Gear

1.63" Super AMOLED, 1.9 MP camera - $149
Personal assistant, Place and answer calls

Gear 2 / Neo

1.63" Super AMOLED, 320 x 320, heart rate sensor
Gear 2 - 2 MP camera - $299
Gear 2 Neo - polycarbonate, no camera - $199

Gear Live - Android
Find the Samsung Gear Fit,, Galaxy Gear, Gear 2, Gear 2 Neo, and Gear Live
on Amazon.com
---
Samsung Gear S - Watch Phone
Samsung's first network-connected wearable
3G cellular in addition to Bluetooth and Wi-Fi connectivity
Make and receive calls directly from the wrist
2.0" curved display - around contours of the wrist
To $299 / $399 based on carrier
"Extends the smartphone experience to users' wrists through connectivity and convenience"
Messaging
Notifications - Even when away from phone, from social networks, calendars, applications
Schedule, news, navigation, weather, music
Contacts, notifications, messages, emails, QWERTY keyboard
Health and fitness companion - with enhanced multi-sensors, heart rate, built-in GPS
IP67 rating for dust- and water-resistance
2.0" Super AMOLED, 360 x 480)
Heart rate, accelerometer, gyroscope, compass, ambient light, UV, barometer
39.9 x 58.1 x 12.5, 67g (Blue Black), 84g (White)
300 mAh Li-ion battery, typical 2 days
Tizen-based wearable platform
1.0 GHz dual-core, 4 GB memory
---
Eyewear
---
Google Glass - Explorer Edition
---

"Smart eyewear that lets you live lighter, and stay in the here and now"
Titanium band frame, companion lens frames and detachable shades
Display, camera, head motion, voice actions, side touchpad, bone conduction audio / earbuds
Wi-Fi to Internet via phone, Bluetooth to earphones
MyGlass companion apps for Android / iOS
1.51 oz (43g)
$1500
Videos - https://www.google.com/glass/help/
shades & frames
Hands-free - Activate Glass display, respond to notifications

Head tilt - Tilt up to wake up / see notification, nod up for off - On-head detection
Voice actions - "OK Glass" - Send message, make call, take picture, record video, Google search, get directions
Scroll/select - Tap / swipe right side touchpad

Pictures and video - Tap camera button on top of frame - 10 sec videos
Timeline - Navigate row of cards - History of notifications and actions in order
Glassware services - Gmail, music, live updates on sports, stocks, weather
Screencast to MyGlass app
Glass Explorer Edition - $1500 - Charcoal black, tangerine red, cotton white, shale gray, sky blue
Comes with choice of free shade or frame
Frames $225 - Titanium, feather-light, 4 models

Recommended prescription: lenses cut within +4 to -4 with astigmatism to 2D

Shades $150 - Polarized, impact-resistant lenses, 3 models

Twist on and off Glass when not wearing frames

DVF - Diane von Furstenberg - 5 Frames. 8 Shades.
Stereo earbuds $85- customizable with 5 interchangeable color caps (included).
Display - Equivalent of 25-inch HD screen seen from 8 feet -
[LCoS color, LED illuminated, 640 x 360]
Camera - 5 MP photos, 720p video
Audio out - via bone conduction transducer; Mono earbud

Can be used as Bluetooth headset

[3 axis gyroscope, 3 axis accelerometer]
[3 axis magnetometer (compass)]
[Ambient light sensing / proximity sensor]
Wi-Fi - 802.11b/g, Bluetooth
16 GB storage, 12 GB usable, synced with Google cloud storage
Battery 1 day typical use. Video more battery intensive
Micro USB port
Android 4.4 KitKat
1.51 oz (43g)