Manifest Technology Blog -- Site: | Articles | Galleries | Resources | DVI Tech | About | Site Map |
Articles: | PC Video | Web Media | DVD & CD | Portable Media | Digital Imaging | Wireless Media | Home Media | Tech & Society |
Wireless Media: | Wireless Media Articles | Mobile Communications Gallery | Wireless Resources |

---
Blabtones: Cell Phone Ring Tones and Photos
(dotPhoto, 3/2003)
by Douglas Dixon
Ring Tones
DotCom Collapse - DotPhoto Team
InfoFirst - Wireless Services
DotPhoto Web
Pictavision - Click and Deliver
Blabtones
Expanding Services
References
Have you done the cell phone ring dance? That's the spontaneous reaction that happens when you're standing in a group and someone's cell phone starts ringing. Suddenly everyone is bending over to fumble in their pockets or frantically dig in their bags to check whether it's their phone that is ringing.
Of course, if your phone has a distinctive ring sound then you can just look on calmly while everyone else is doing the dance. Recent cell phones do provide a small selection of built-in rings to customize the tone, but you will find that common selections like the William Tell Overture soon become more annoying than individualistic. And people really want to customize their gizmos anyway, not only with colorful faceplates for their phones, but also with a very distinctive ring tone.
Ring tones are big business. "We think this has the potential to earn a lot of money for dotPhoto," says Glenn Paul, Princeton entrepreneur and co-founder of the Clancy-Paul computer stores. Paul is president of dotPhoto, a Ewing-based company that provides photo archiving, sharing, and printing services for users of digital cameras (www.dotphoto.com). DotPhoto introduced its new Blabtones ring tone service through Verizon Wireless at the Cellular Telecommunications & Internet Association (CTIA) Wireless 2003 conference in New Orleans on March 17. "For the first time ever, cell phone users can create their own ringtones," says Paul (www.blabtones.com).
Launched in May 2000, dotPhoto survived the dot-com crash and has expanded from Internet to cell phone services, and from images to audio. It provides free hosting of digital images uploaded by members, and then sells printing and other services. DotPhoto then expanded into cellular phone services last year by developing the Pictavision application for downloading and viewing photos on new cell phones with color displays.
So how can there be profit in ring tones? Especially in these days of Napster and file sharing of songs and even videos across the Internet, how can very short audio clips be a serious business revenue stream?
The answer comes from the different network architecture and billing practices in the cellular business. If you have Verizon Wireless cellular services, delivered through a Verizon-authorized phone, then Verizon controls and manages your connection to the Internet and other services. The phone is a controlled and relatively protected environment; you cannot download arbitrary files and programs, which is probably a good idea in this sometimes unpleasant world of electronic spam and hackers and viruses.

In the Internet world, you typically pay a flat rate for monthly service to one service provider, and then access and download information from the vast array of independent sites across the globe. As a result, nobody has yet figured out how to impose small transaction fees that can be efficiently collected across a wide range of Internet sites.
Conveniently for cellular service providers, you already are used to paying connection and service-based fees for your cellular service. Your carrier then can provide new services, accessed only through their network, and add the additional charges on to your existing bill. A package of 10 custom ring tones, for example, costs around $11 to download.
And of all the possible new services -- E-mail and the Web, news and stock quotes -- the "killer application" right now is in fact ring tones. "People of our generation will say 'I don't know anybody who uses phones like that,'" says Paul, "and it reminds me of people who were our generation when I was 20, and they would say 'I don't know anybody who uses computers, seems like a fad to me.'"
Red Herring magazine, in the June 2003 issue (the last issue before it too died a dot-com death), reports that over 80 million ring tones are downloaded each month in Japan, 60 million in Europe. In the U.S., as the market is beginning to develop, 1.5 million ring tones were downloaded last December. That's an estimated more than 1 billion ring tones downloaded globally in 2002. At a monthly fee of around $3 for ring tone access, ring tones are indeed an interesting market.
"The guys at Verizon Wireless tell me that there is nothing bigger on cell phones right now," says Paul. "It's enormous. When I asked them to quantify they said it's just 'many many, many' times bigger than anything else."
"Ringtones, especially for our new customers, has been one of our most popular services. In fact, customers typically purchase ringtones by the bundle," says Sheldon Jones, Philadelphia-based public relations manager for Verizon Wireless.
Merrill Lynch predicts that the global mobile phone content marketplace -- including ring tones, wallpaper images, and games -- will reach $25 billion by 2005.
Even to enter the cellular market, dotPhoto had to survive the dot-com crash. Other online photo services that arrived with big splashes have since folded, including Zing, PhotoPoint, and Intel's GatherRound.com, which was launched in September 1999 and discontinued service two years later in October 2001.
"We have come through the nuclear winter of the Internet and of venture capital at the same time," says Paul. "What it has taken is a small group of shareholders at dotPhoto who believed in it, and kept putting money in the company and loaning it to the company."
"And still we did not have a lot of money," says Paul. "Shutterfly raised $64 million and built a $16 million business. We had $3.4 million and are at a $4 million run rate right now. You could say we have a little better use of capital."
DotPhoto is significantly smaller than other competitors. While dotPhoto has grown to more than 200,000 customers and 20 million photos online, Ofoto has 5 million registered users, and Snapfish has over 4 million members and 85 million photos online. Many other competitors remain, including services from other new photo sites such as Shutterfly, Picturetrail, PhotoAccess, and PhotoWorks; Internet portals such as Yahoo, MSN, and AOL; traditional photo companies such as Kodak and Fuji; electronics companies like Sony ImageStation; and even discounters like Wal-Mart.
"It's taken a group of determined people at dotPhoto," says Paul. "This little group of people has always done what is necessary to stay in business. There have been some break points where we might not have been there."
One such problem for dotPhoto is managing capacity for the boom in business around the Christmas season. This past season, for example, dotPhoto's business jumped from $300,000 to $450,000 in December. But last February, "we were really choking on orders from December," says Paul. "We were running 3 shifts around the clock and we couldn't keep up with it."
"It was very difficult to raise money to buy equipment. The machines we were using were $100,000 each. It became clear to me that we were not going to get money for equipment. We were very fortunate to find some folks who would do the printing for us." By off-loading some of the peak work, dotPhot was able to print almost a million pictures the past December, and yet did not have to invest in additional new capital equipment. "We never could have handled that the year before," says Paul. "That also allowed us to make the company a more variable expense company."
"We have just a handful of technical people," says Paul, "who have done things that normally would be done by much larger teams of people."
To form dotPhoto, Paul teamed with co-founder Joe Godcharles, owner of a MotoPhoto franchise in Plainsboro, to develop a new photo-processing factory in Ewing. He also hired Walter Krieg, of Research Park-based InfoFirst Inc., to implement the Web hosting service and databases behind the site.
"To have a chance at any business you need to be really fierce about it," says Paul. "It's hard enough. You need to get lucky in a lot of ways and run across the right people, and just be incredibly fiercely devoted to it too."
While focused on dotPhoto, Paul did maintain an interest in his sales quoting software company, Qwik Quote Development in Pennington. "Qwik Quote has a better product than ever," says Paul. "Their development moved to China a year ago. They've been able to put together much better code in China than we could afford to do here."
Meanwhile, Godcharles gave up his MotoPhoto store. "Joe spent almost all of his time at dotPhoto," says Paul, "and when you take time away from a business it usually falters. That was becoming a harder business anyway because one-hour labs were competing with Wal-Marts and drugstores. Last year Joe decided to close it down, which was a great sacrifice to him."
InfoFirst, whch supports the dotPhoto website and developed the mobile applications, was founded in 1996 (www.infofirst.com). It too struggled with the crash. "Last year was abysmal," says Walter Krieg, "we had to let two people go last summer." With Krieg, president, and his partner, Bob Johnson, InfoFirst has three full-time staffers and three to four part-timers. InfoFirst has focused on building the back-end infrastructure to support websites and services. "What we do is behind the scenes," says Krieg, "the database and the workflow. It was a goldrush before; now it's business."
InfoFirst got involved in developing wireless applications for dotPhoto in the middle of 2001. It worked with Verizon to develop the Pictavision photo-viewing application for the QualComm phone platform. QualComm is the developer of the CDMA (Code Division Multiple Access) wireless network technology adopted by Verizon. More recently, QualComm developed the BREW (Binary Runtime Environment for Wireless) programming platform for downloading and running applications on wireless devices. BREW carriers in the U.S., including Verizon Wireless, ALLTEL and U.S. Cellular, represent about 48 million customers.
With the availability of more powerful and downloadable phones, Verizon assembled and packaged a variety of applications and services as its Get It Now service (www.verizonwireless.com/ics/plsql/getitnow.intro). You can review the list of available applications on the Verizon web site, and then purchase and download them to your phone. Many offer a free trial demo, and then can be purchased for a limited period, or on a subscription basis.
Verizon has organized the Get It Now services in several categories: Get Games offers dozens of games, from sports to cards. Get Going offers a variety of travel services, including airline flight information, restaurant guides, and expense reporting. Get Fun offers entertainment goodies, including jokes, horoscopes, and drink recipes. Get Mail provides an E-mail application.
The Get Pix service provides tools to view and share digital images, including dotPhoto's Pictavision, and a mobile video viewer to access public or private webcams and watch live video on your phone, albeit at very small resolution and updated every few seconds.
Ringster
ring tones
Modtones
ring tones
Snapfish
mobile photos
Logitech
mobile video
Finally, the Get Tones service offers four collections of pre-created ring tones. These are libraries of pre-defined tones that are offered as a bundled package. DotPhoto's new Blabtones service would then add the ability to create your own recordings as ring tones.
"Where you used to need a "toolbelt" of devices to get certain capabilities, you now need just one," says Jones of Verizon Wireless. "Convergence has been a key factor in driving adoption and will continue to be. It took only 17 years for the wireless phone to reach the 100 million customer mark; by comparison, it took television 54 years, the automobile 68 years and the landline phone 91 years."
DotPhoto started as a photo sharing and printing service, and has evolved to add more electronic services for sharing digital images. "We're trying to make dotPhoto the one place where you can do everything with a picture," says Paul.
You can join dotPhoto for free, upload and share your photos, and order prints for 29 cents for 3x5s, 95 cents for 5x7s, $2.95 for 8x10s, and $9.99 for 12x18 inches. You also can upgrade to a variety of prepaid plans for quantity purchases. For example, $4.99 a month includes 10 4x6 and 5 5x7 prints, and $14.99 a month includes 36 4x5s, 8 5x7s, and 2 8x10 prints.
One important difference from other services is that dotPhoto allows customers to sell their pictures, and provides the infrastructure for displaying photo albums, ordering prints, and collecting revenue.
Professionals using the dotPhoto Pro service (www.dotphotopro.com) can watermark their images, add keywords for searching, add their own branding, and set custom pricing.
"We have a lot of people who sell pictures," says Paul, "newspapers, professional photographers. We just signed a contract for 25 percent of the radio stations in the country. Every radio station has a website, and they have events and take pictures, and they have stars."
"That's a neat business," says Paul, "because essentially we get free content. We're providing a service to the many people who want to sell pictures."
This ability to create albums and sell photos then becomes a form of viral marketing for dotPhoto. "You can take that dotPhoto album system and bolt it on to any website," says Paul. "There are U.S. Navy carrier groups communicating between the carriers and the families at home. There's a high school in Rockwell Texas at YellowJackets.org. It seems like every hour of the day they're taking pictures there. More than 200,000 people have come from there." (The quantity of photos available from the Rockwell High site is amazing. The album for just the Saturday of their Prom Week last April has over 1,000 pictures posted online.)
"We're giving that feature away," says Paul. "There are over 31,000 web sites linked to dotPhoto. All these people are linking to us, and then they discover dotPhoto, and then they sell their own pictures, and then their friends come in and buy pictures."
Pricing for friends to buy individual prints starts at $1 for 3x5 prints, $1.50 for 4x6, and $7.50 for 8x10.
But while digital photography also is exploding, one big growth constraint is that it requires using a computer to take advantage of all these wonderful new possibilities. "It became clear, almost as soon as we got into the business, the problem with the model was that it was too complicated," says Paul. "You have to take your pictures from your digital camera, you have to get them onto your computer, and you have to upload them from your computer to the Internet. It was just too long a process, and too hard for an awful lot of consumers."
One solution that camera companies and services have been pursuing is simplifying the process of getting photos from the camera to the computer and then to the Web. For example, some manufacturers provided camera "docks" and associated software so you could insert your camera and automatically upload images into your digital photo album.
DotPhoto also experimented with these kinds of devices. "We demonstrated at our shareholders meeting at least two years ago a little computer with a wireless card and a camera attached," says Paul, "and showed how we could take a picture and it go directly to dotPhoto. We even tried to raise money to make such a device, of course nobody was buying that either.
"Then we realized that those devices were going to come to us, in the form of cell phones. Everybody carries a cell phone, nobody carries a camera."
DotPhoto then developed the Pictavision application to download and view photos from your online dotPhoto albums. In fact, you can access any of the albums hosted at dotPhoto that the owners have made publicly available. "It's a limitless photo wallet," says Paul. "There are over 20 million pictures on dotPhoto, and you can get them all for your phone now."
"The new vision of our company has metamorphosed from printing which we set out to do to begin with. The more you use digital pictures the less you want to print them. You'll always print a few. The way to share these things is going to be electronically."
DotPhoto calls this vision "Digital imaging in every palm."
"In about 1983 you may remember Bill Gates going around saying 'a computer on every desk,'" says Paul, "and even those of us in the business through that's a little ambitions. But certainly it happened. Here 20 years later its looking to us like digital imaging in every palm, which again seems a little ambitious to begin with. But if you think about it there are 120 million people in this country with cell phones already, and cell phones are turning over at 35 percent a year."
"It's just like the early PCs, people want the new features, they want the latest and greatest. By 2005 there will be 200 million cell phones, all with color screens, probably half at least will have cameras. That will bring digital imaging to every palm. We would certainly like to have a piece of that."
With the current Pictavision service, you first choose a photo album, and then select a photo name, and then download the individual photo. The albums and photos are listed by name to speed up the interaction by using text. The download of the final photo takes about 18 seconds. dotPhoto keeps the full-size photo on its servers for printing, and automatically generates the smaller screen-sized images to download to your phone.
Pictavision consistently has been one of the top 10 downloads of all BREW applications on the Verizon Wireless network. Pictavision's service is priced at 99 cents for a single interaction, up to 25 images in a single session, or $3.99 a month for unlimited access. It is currently available for the Motorola T720 and Sharp Z-800 phones, and soon the new Audiovox LGVX4400 and Toshiba 9500.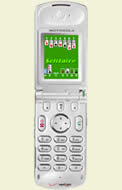 Motorola T720
The next version of the Pictavision service, currently in final testing, adds the ability to save and share your photos. You can save pictures locally on your phone, install an image as the background screensaver, and share photos from your phone by E-mailing them to others. The photo is still stored on the dotPhoto server, so actually you are E-mailing an invitation to the recipient so to download and view it from there.
Pictavision's competitor at the Verizon website, Exego, already allows users to send photos from their cell phone to another cell phone. It costs $6 per month, and the photos must have been uploaded to the website of Raleigh-based Summus Inc.. The full realization of portable photography, however, comes with cell phones that include an integrated digital camera. DotPhoto hopes to introduce its "click and deliver" service this summer to not only to show pictures, but also to capture new pictures right where you are and immediately share them. In this patent pending service, once you approve your photos they will be uploaded to the dotPhoto service, and then automatically processed and shared according to your previously-defined preferences.
"When the pictures come in we can send automatic E-mails, or automatically print them" says Paul, "whatever it is you want us to do with the pictures." This service can be available even if you do not have an Internet account. You can dial an 800 number, set up an account, and have your photos automatically processed in groups. "When the 36th picture comes in," says Paul, "we process them all and send them straight to your mail box."
Blabtones grew out of another service that dotPhoto offers for web photo albums. "We allow you to voice-annotate your pictures," says Paul. "We're still the only site that allows you to do that." You can download a small application to your computer to record a voice-over for your photos, and then upload it to the dotPhoto site to play when visitors view your photos. For businesses, this "talking pictures" technology can turn a static photo album into a more dynamic marketing presentation.
Since dotPhoto already had the infrastructure to record and manage audio clips, it was a small step to allow users to record their own ring tones. The new phones not only have better sound chips to play more interesting audio clips, they also provide the ability to assign individual ring tones to specific callers. "You'll have phones that actually talk to you when they ring," says Paul, "'Come on honey, pick up! It's really me.'" Similarly, you can use distinctive ring tones to identify high-priority and less urgent callers.
Blabtones are scheduled to be available on Verizon Wireless phones that have the Get It Now service and polyphonic sound chips. At launch, it will be available on the Motorola T720 phone. Blabtones are priced like other ring tones, including the 10-tone package for $10.90.
With this ability for anybody to create ring tones, "We hope you'll have the very creative few linking up to the acquisitive many," says Paul. "There may be a couple of thousand people who take advantage of this, and make some outrageously interesting and funny, clever ring tones. The rest of us can then buy them." dotPhoto will make money from delivering the tones to subscriber's phones, Verizon will take its cut, and, for the moment, says Paul, "we'll offer prizes for the top-selling ring tones."
"It's a mechanism that has worked on the Web," says Paul, "to allow people to be creative and see what they come up with."
Having survived the dot-com debacle, dotPhoto is now expanding its services. "We've had many profitable months, and we hope to establish that as a permanent thing." However, access to new capital is still difficult. "We would like to bring in some money to solidify our electronic handling services," says Paul, "which are more profitable and the long term for the industry we think." Paul sees further consolidation coming in the on-line photo industry. "I hope we can be one of the consolidators in the industry," he says. "We can take these larger customer bases that are married to print, which is not very profitable, and overlay our services, and we'll have a good model."
"We can sell pictures and license content," says Paul. "The reselling side could become kind of an eBay of photography. Go to dotPhoto and type in China or Paris and you get a good number of pictures from any part of the world."
"This is our model," says Paul, "creating tools that link people together. You can find any kind of picture you want, you can find any ring tone that you want. We'll allow people to create this stuff and distribute it to everybody else."
dotPhoto
www.dotphoto.com
dotPhoto Pro
www.dotphotopro.com
dotPhoto - Pictavision
www.dotphotoinfo.com
dotPhoto - BlabTones
www.blabtones.com
InfoFirst
www.infofirst.com
Verizon Wireless
www.verizonwireless.com
Verizon Wireless - Get It Now
www.verizonwireless.com/ics/plsql/getitnow.intro
QUALCOMM
www.qualcomm.com
QUALCOMM / BREW
www.qualcomm.com/brew
Yamaha SMAF Audio Format
smaf-yamaha.com