Manifest Technology Blog -- Site: | Articles | Galleries | Resources | DVI Tech | About | Site Map |
Articles: | PC Video | Web Media | DVD & CD | Portable Media | Digital Imaging | Wireless Media | Home Media | Tech & Society |
PC Video: | PC Video Articles | Video Software Gallery | Video Editing Resources |

---
Deliver Everywhere: Adobe's Creative Suite 3
(NAB - 4/2007)
by Douglas Dixon
Adobe Creative Suite
Content Delivery Options
Create and Deliver
One of the themes of this year's NAB conference last week in Las Vegas (www.nabshow.com) was the continued proliferation of formats, channels, and devices that content developers need to support for delivering media. This broad range of needs for even today's independent and corporate content developers is demonstrated by the focus on suites of creation tools from companies including Apple, Avid, and Sony -- and in the highly-integrated new Adobe Creative Suite 3 line (www.adobe.com/products/creativesuite).
See Adobe Creative Suite 3: Summary for an overview of the applications, suites, and pricing.
Just look at the range of delivery options for today's markets -- high-definition with surround sound to tiny screens with headsets, long-form productions to snackable clips, huge flat-screen monitors to hand-held portable players and mobile phones, streaming Internet to physical disc, lean-back passive entertainment to lean-forward interactivity, Windows to Macintosh to Linux to embedded CE devices, set-top to desktop to portable.
Adobe has been moving to address this broadening market, expanding from its roots in tools for documents (Postscript to Acrobat PDF), to design (Photoshop and Illustrator), to production (Premiere and After Effects), and then integrating these together into the Creative Suite family to address the entire production workflow.
For example, as you assemble a disc in Adobe Encore DVD, it's just a single click to jump to working on imported video clips from Premiere Pro, layered menu designs in Photoshop, and even animated transitions in After Effects.

Find Adobe Creative Suite 3 Master Collection (Windows or Mac) on Amazon.com

Find Adobe Creative Suite 3 Production Premium (Windows or Mac) on Amazon.com
Adobe has been working on the next generation of its design and development tools since the release of the previous version, Creative Suite 2, in 2005. While Adobe typically releases major updates on a two-year cycle, it added to its workload for this release by pre-announcing that it would be bringing its full suite of production tools back to the now Intel-based Macintosh platform.
But even Adobe's tool set was not broad enough in this age of Internet media and interactivity, so Adobe acquired Macromedia in 2005 in order to add Web tools and especially Flash to its portfolio. The Flash player software is installed on more than 97 percent of Internet-connected computers worldwide, making it not only a ubiquitous platform for interactive applications, but also powering YouTube and other Internet video sites to provide no-fuss video playback.
The result of this effort was officially announced in March 2007 -- the Adobe Creative Suite 3 product line, addressing production across the range of print, web, interactive, video, film, and mobile. This collection includes full upgrades of 13 major applications, several new applications, plus some 6 additional technology components.
The Design and Web components of the suite officially shipped on April 16, with the Production (video) tools due to ship in the third quarter 2007.

Adobe Creative Suite 3 - Design - Web - Production - Master Collection
The Adobe tools are available as individual applications priced from around US$149 to $999, or bundled in Design, Production, and Web suites at prices equivalent to buying a couple of the individual applications ($999 to $1700), or the whole Master Collection for $2499. Adobe offers aggressive upgrade pricing for past users (i.e. Photoshop CS3 upgrade for $199, vs. $649 for the full version), and really aggressive pricing for educational users.
What's so compelling about Adobe's strategy is the way the need for different delivery mechanisms has driven the applications to both extend into new domains and to integrate more tightly with each other. For example:
- After you author a DVD production in Encore DVD, you not only can burn it to DVD and Blu-ray, but you also can export a Flash production that presents the full DVD interactive navigation and video playback experience, but in a Web-accessible form.
Adobe Premiere Pro CS3 - Includes Encore CS3 and OnLocation CS3
- Or to deliver a video production from Premiere or a Flash production to mobile devices, the new Adobe Device Central accesses an online library of profiles for a broad range of mobile phones and consumer electronics devices in order to convert to a compatible format for a specific device, and even displays a preview of the result with the simulated device interface.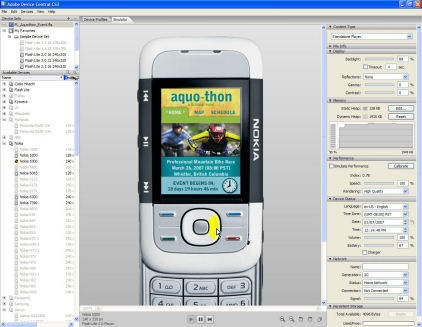 Adobe Device Central
- For faster animation of graphic designs, Adobe reports that more than 70 percent of current Flash users already use Photoshop for photo editing and/or Illustrator for line art and type. As a result, the full structure of layered artwork can now be imported into Flash, including attributes and formatting, and with the organizational hierarchy preserved and ready to be animated in motion.
Adobe Flash CS3 Professional
- For more richly interactive "Web 2.0" websites, the new Dreamweaver Web design tool includes a pre-built, cross-browser compatible library of widgets and effects using the AJAX (Asynchronous JavaScript and XML) technology that can provide the kind of instant dynamic interaction seen on sites like Google / Gmail.
Adobe Dreamweaver CS3
- The new high-end Adobe Photoshop CS3 Extended moves beyond photographers and graphics professionals to support manufacturing and engineering by adding tools for image analysis and editing 3D and motion-based content.
Adobe Photoshop CS3 Extended
- And since these new cool interactive Web applications would also be useful even when not connected to a server, the new Adobe Apollo technology allows developers to deploy rich Internet applications on the desktop using HTML, JavaScript, Ajax, and Flash.
- The newly announced Adobe Media Player uses the Apollo technology to extend video playback with Flash interactivity from the browser to a stand-alone desktop application. It provides offline playback, built-in discovery and community features for viewers, and monetization and branding options for content publishers. A free beta download is planned for later in 2007.
- While YouTube video clips have become very popular, not everyone wants to install and learn a video editing tool. Adobe has also started bringing its video editing tools online by providing web-based video remix and editing technology to Photobucket users (www.photobucket.com).
- Even documents have become web-enabled, as Acrobat Connect supports real-time, interactive web conferencing and collaboration, using Flash and Adobe Reader, and scaling up to the Professional version with up to 2,500 participants.
Building these tools has been a massive amount of work for Adobe, and the resulting array of applications can be a lot for developers to keep track of. Perhaps as a result, Adobe has become even more open about its plans, especially when compared to the lock-downs preceding Apple's announcements. Adobe has always pre-briefed the media and run extensive beta programs, but now it's going much further in pre-announcing its plans, including the move back to the Mac platform and even details of upcoming "official" announcements.
And Adobe has gone even further to post free public betas on its Adobe Labs site, not only for new applications, but even the new crown jewel Adobe Photoshop CS3 (labs.adobe.com).
And for content creators, the opportunities to create and deliver content continue to grow. As of February 2007, Adobe reported that there are more than 200 million Flash-enabled devices shipping worldwide. And with the Flash Lite player profile for mobile devices, developers can deliver interactive applications and video across a broad range of products, including the over 300 models of Flash-enabled phones and consumer electronics products, triple the number since January 2006.
| | |
| --- | --- |
| | Adobe Creative Suite 3 Design and Web suites shipped in April 2007, and the Production tools ship in the third quarter 2007. |