Manifest Technology Blog -- Site: | Articles | Galleries | Resources | DVI Tech | About | Site Map |
Articles: | PC Video | Web Media | DVD & CD | Portable Media | Digital Imaging | Wireless Media | Home Media | Tech & Society |
PC Video: | PC Video Articles | Video Software Gallery | Video Editing Resources |

---
Creative USB Sound Blaster Audigy 2 ZS Video Editor
(9/2005)
by Douglas Dixon
The Box
Installation and Audio Tools
Audio Playback and Customization
Video Capture
Looks Good, Sounds Great
References
Do you want to work with high-quality video and audio? Are you overwhelmed by today's plethora of capture and playback options for analog and digital media? Creative Labs has packaged up an answer for you in a convenient and powerful box: the Creative USB Sound Blaster Audigy 2 ZS Video Editor.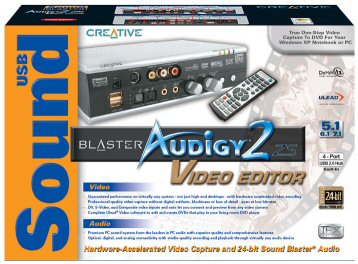 Creative USB Sound Blaster Audigy 2 ZS Video Editor
That's a long name, but represents a lot of capability:
- The USB part means that this is an external box with a USB 2.0 connection, so you don't need to open up your computer to install a board (and you can use it with laptops).
- The Sound Blaster Audigy ZS name means that this is part of Creative's audio product line, with high-end surround sound playback, up to 7.1 channel, 24-bit/96 kHz, THX certified.
- The Video Editor part extends this box beyond audio to include digital and analog video capture (and display) with advanced video processing, enabled by the bundled Ulead Video Studio editing and DVD MovieFactory authoring applications.
The Audigy 2 ZS Video Editor is an interesting paring of a premium surround-sound replacement for your PC's audio system, combined with high-quality video capture. And it's highly flexible, with analog, digital, and optical audio connectivity, plus DV, S-Video, and composite video inputs and outputs. All in an external USB box that even serves as a 4-port USB hub (www.creative.com/products/product.asp?product=11226).
Let's start by looking at the Audigy 2 ZS Video Editor box to understand its features. Generally, the front of the box has the inputs and the controls, and the outputs come out the back.
Front and back panels
The front controls include dials for Master Volume (press to Mute) and Input Microphone Gain, buttons for Power and CMSS (Creative MultiSpeaker Surround), and LED indicators, including for Dolby Digital and DTS playback.
For analog audio connections, the front panel has convenient mini jacks for analog Microphone Input (mono) and Headphones (stereo). The back adds Stereo audio In and Out pairs of Left and Right RCA jacks.
For powered analog speakers or home theatre receivers, use the three mini jacks for surround Line Out (Front Left/Right, Rear Left/Right/Side, Center/Subwoofer).
The box also sports audio optical SPDIF In and Out jacks, and Coaxial SPDIF Out (i.e., for DAT / Digital Audio Tape, MiniDisc, or hard disk recorders). There's also a DIN jack for controlling selected Creative speaker systems.
And for video capture, the box includes a DV / FireWire connector (4-pin IEEE 1394) on the front for accessing digital camcorders. For analog devices such as VCRs, use the S-Video In and Out, or RCA jacks for Composite Video In and Out, along with Stereo Left and Right Audio.
As a bonus, there's also the high-speed USB 2.0 connector for connecting to your PC, plus an integrated 4-port USB hub to daisy chain other USB devices (with two connectors each on the front and back).
The Audigy 2 ZS Video Editor starts with audio -- it upgrades and replaces your existing PC audio system. And for video, the other important concept behind this product is that it is not a generic Windows-compatible DV or analog video capture device; it is a custom device that needs compatible software to access its features.
As a result, you first need to use the Installation and Applications CD to install the necessary drivers and Creative applications. When the install is complete, Windows sees the box as the configured system audio and sound device, as an available video device for compatible applications, and also as a generic USB hub.
The Applications CD also installs an incredible variety of software tools to capture, edit, and play audio, and to customize the audio playback. Creative provides the floating MediaSource Go! control pad for single-click access to common functions, and the associated MediaSource Go! Launcher dialog listing all the applications by category: Programs (players and tools), Product Settings (customize), and Product Support (diagonstics).
Use the Creative Smart Recorder to capture analog audio and convert to digital tracks. You can set up direct or scheduled recording, or use the Record Wizard interface to step through the process. You then can mange your recorded files, clean then up with click and hiss removal, and segment them by automatically splitting separate tracks between periods of silence. These tools support Windows Wave (WAV), MP3, and Windows Media Audio (WMA) formats, including high-quality WMA Pro and WMA Lossless.
For more advanced editing, use Creative WaveStudio, version 6. You can fade and pan, normalize, and apply effects, including DirectX plug-ins. You also can use WaveStudio for Smart Recorder functions, including recording and clean-up, and for format conversion between different file formats, sampling rates, and sample sizes.
And to batch convert a group of audio files, use Creative Audio Converter to import a list of files and set their destination formats.
For audio playback, the Audigy 2 ZS Video Editor software includes the Creative MediaSource Organizer and MediaSource Player, plus the MediaSource DVD-Audio Player. The MediaSource Player is a typical audio player for playlists, with the option to switch to the MediaSource Organizer interface to browse your entire audio collection. Plus, the Player supports recording (including multi-channel), and ripping tracks from CDs.
For listening to higher-quality DVD-Audio, the MediaSource DVD-Audio Player supports Advanced Resolution DVD-Audio music playback in full 24-bit quality and 5.1 surround sound. The product includes a Creative DVD-Audio Sampler Disc CD with a tracks of music in a variety of styles, with full 24-bit/96kHz quality.
After you record, edit, and organize your clips, you can use the Organizer interface to transfer files and tracks to external disks, or access the Creative MediaSource CD-ROM Burner tool to burn Audio and MP3 CDs. The Creative suite also includes the Creative MiniDisc Center to record audio to MiniDisc.
What makes these players extra special, of course, is the advanced audio features and integration with the Creative audio and effects controls. The Player includes cross-fading, Time Scaling, and Smart Volume Management with music analysis for loudness and tempo.
The Audigy 2 ZS Video Editor setting controls provide intimate customization of audio playback, especially for surround sound. The hardware includes Dolby Digital EX and DTS-ES sound with built-in decoding.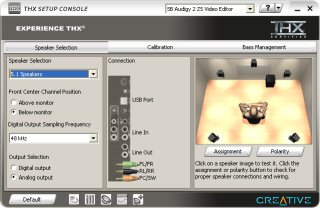 Creative THX Setup Console
The software controls are available from player buttons and menus, and also as stand-alone applications from the Start menu:
- Creative Diagnostics -- tests and repairs the hardware.
- Device Control -- configures the device interface, SPDIF, and decoder options.
- Creative Speaker Settings -- sets the speaker modes and configurations, including bass.
- Creative Graphic Equalizer -- acts as a multi-band EQ.
- Creative Surround Mixer -- adjusts the volume and balance of audio sources and speakers.
- Creative THX Setup Console -- adjusts the speaker configuration, and calibrates the surround and bass balance.
- SoundFont Bank Manager -- loads, auditions, and edits SoundFont MIDI banks and presets.
Then there's the Creative EAX Console for advanced 3D audio features and effects:
- Effects to apply environmental effects like a Concert Hall or Haunted Cavern.
- Karaoke to create live background music, suppressing the vocals in the music (and shifting the pitch), and then enhancing the microphone input.
- CMSS 3D (Creative MultiSpeaker Surround) to upmix from stereo to surround.
- Clean-up for hiss and click removal.
- Time Scaling for 50% slowdown to 2X speed-up.
You also can use the included Demo CD to experience and experiment with all these features.
As a bonus, Creative also includes an IR remote control with an associated on-screen display (OSD) on your computer display. The remote not only controls volume, but also has playback controls and even numeric buttons for controlling playback and selecting tracks in the Creative MediaSource Player.
And that's just the audio! For video capture, the Audigy 2 ZS Video Editor includes a full range of interfaces (DV, S-Video, and composite video inputs and outputs), hardware-accelerated encoding and enhancement, and bundled Ulead video editing and DVD authoring software.
The included applications are customized versions of the popular Ulead applications, Video Studio 8 SE and DVD MovieFactory 3 SE (plus the Ulead DVD Player 1.5). These are required to access the video features of the box; the Audigy 2 ZS Video Editor does not interface to other Windows applications. However, you can install these custom versions in addition to the full versions of the Ulead products, currently Video Studio version 9 and DVD MovieFactory 4.

Ulead Video Studio 8 SE
Use Ulead DVD MovieFactory to quickly convert videos to DVDs (www.ulead.com/dmf). You can use the Disc-Direct option to transfer from tape or live video straight to DVD. Or customize a disc by importing collections of video clips and having them automatically laid out into index menus. You also can create collections of photos and create photo slideshow DVDs for viewing on your set-top. And you even can burn rewritable discs that you can return to later to re-edit their contents, appending new clips and editing the menus.
Use Ulead VideoStudio for more advanced video editing (www.ulead.com/vs). Use the built-in Movie Wizard for automatically creating a synopsis video of a longer clip. Capture clips and trim unwanted scenes. Edit with multiple video and audio tracks. Add transitions, music, narration, animated titles and special effects. And export in a variety of formats, from DV to MPEG for VCD/DVD to streaming Windows Media Video (WMV) and RealVideo.
Again, the Audigy 2 ZS Video Editor provides the extra magic for these applications. With hardware-accelerated encoding, you can capture direct in DV format, or in MPEG-1 or MPEG-2 format, with options customized for VCD (Video CD), SVCD (Super VideoCD), and DVD -- and with the option of LPCM, MPEG, or Dolby Digital audio. Plus, you can capture to WMV formats. The hardware encoding also reduces the processing burden on the host PC, so you can work better on less powerful machines and laptops.
The built-in hardware video enhancements include the LSI Logic DoMiNo FX video processor to improve the video quality, plus PerfectView Pro MPEG encoding to reduce artifacts such as blockiness, and TrueView Pro Motion Compensated Temporal Filtering (MCTF) to reduce analog video noise.
The Creative USB Sound Blaster Audigy 2 ZS Video Editor was introduced in July 2005 for an estimated street price of US $259. It requires an Intel Pentium III 1.3GHz or equivalent processor and Microsoft Windows XP (SP1). Since it's an external box for high-bandwidth video and audio, you also really need a full Hi-Speed USB 2.0 port.
The fact that this is a plug-and-play USB device raises an interesting issue about sharing it among multiple machines. Of course, this would seem to make a lot of sense when using this box as a flexible and high-quality video capture device. But sharing this box does not seem so reasonable when you're using it as your PC's audio system. In fact, Creative recommends uninstalling and physically removing your existing audio card.
However, this draconian step should not be necessary. You can leave your existing audio system alone, and when you install the Audigy 2 ZS Video Editor it will take over as your system's default audio device. You then can use the Sounds and Audio Devices control panel to selectively choose the audio device to use for playback and recording. And you can detach the connection and have your system revert back to the default built-in audio hardware. Windows tries to manage around these changes, although the whole concept of powering off your live audio subsystem on the fly is a bit disconcerting.
For video enthusiasts, the Audigy 2 ZS Video Editor is an intriguing combination of a replacement surround audio system, and a video capture breakout box. It provides high-quality and flexible video capture options, especially for analog composite and S-Video material. And it's a great opener for getting more involved with digital and surround-sound audio, again with high quality capture and playback, and a variety of analog and digital inputs and outputs. You can experiment with playing back high-fidelity multi-channel audio, and with digital interconnects between devices.
As an external USB box, it's even feasible to share among multiple computers, although Windows may get confused about where to find your audio. And with built-in MPEG encoding and DV jacks, it offers flexible video capture even to more underpowered laptops (as long as they support USB 2.0). However, as a custom audio and video device, you do need to use the bundled Creative and Ulead applications to capture from the hardware. Of course, once you've captured the video from the box, you can then do any further editing in any other application.
So check out the Audigy 2 ZS Video Editor, especially if you are looking for a clean external video / audio capture solution, and are hankering to get into higher-quality surround sound.
Creative USB Sound Blaster Audigy 2 ZS Video Editor
www.creative.com/products/product.asp?product=11226
Ulead DVD MovieFactory
www.ulead.com/dmf
Ulead VideoStudio
www.ulead.com/vs