Manifest Technology Blog -- Site: | Articles | Galleries | Resources | DVI Tech | About | Site Map |
Articles: | PC Video | Web Media | DVD & CD | Portable Media | Digital Imaging | Wireless Media | Home Media | Tech & Society |
PC Video: | PC Video Articles | Video Software Gallery | Video Editing Resources |

---
Digital Video Trends for 2006 --
High-Def to Handheld (1/2006)
by Douglas Dixon
HDV Is Here
High-Def DVD
WMV HD and MPEG-4
Portable Multi-Function Devices
Portable Media Players
Portable Storage
References
2006 promises to be an exciting and yet confusing year in digital video, as the consumer electronics business pushes hard towards high-definition video -- at the same time that consumers are stampeding wildly to hand-held devices with tiny screens. So which is it going to be -- big screen or little? Or maybe both at the same time?
In recent history, we've benefited from the mass-market adoption of digital technology, with the resulting dramatic price drops for hardware and software, and widespread support for common formats even in $50 consumer applications. We've made it though the transition to digital acquisition and editing with DV camcorders, and the explosion of DVD as an effective delivery medium for professionals and consumers alike.
The next year promises to bring the same kind of break-out excitement for high-definition video, with sub-$1000 camcorders using the HDV format, and good support in a broad range of editing applications. And to deliver this startling crisp content, 2006 will finally see high-def DVD formats coming to market to store and share this HD content, although complicated by competing incompatible formats.
Yet at the same time that HD production finally is expanding beyond high-end production to come into the reach of a broader market, low-res short-form video is also taking off in the form of personal media players and mobile wireless devices.
What a range of opportunities -- You can shoot real full-length HD productions, delivered on wide-screen and even high-def DVD -- or go back to small bite-size clips, targeted to people on the go. The creative possibilities, and the ability to reach wide audiences through independent and Internet distributions, have never been better.
The HDV high-definition video format has become a viable option over the past year, starting with higher-end cameras, and then incorporated into editing software (www.hdv-info.org). And now HDV is becoming available in a wider range of even consumer equipment and software. HDV is real high-def video, but stored on standard DV media. The video is compressed using MPEG-2, like DVD, but in wide-screen 16:9 aspect ratio, and at higher resolution than standard-definition 720 x 480 video.

As a result, HDV video is more aggressively compressed to fit up to 6X more data into the same bandwidth used for DV (25 Mbps), and not much more than used for MPEG-2 on DVD (typically 6 to 8 Mbps). HDV supports two basic formats: 720p (1280 x 720, progressive), at approximately 19 Mbps, and 1080i (1440 x 1080, interlaced), at approximately 25 Mbps.
You can import HDV video into a computer much like DV using a FireWire interface. HDV is now supported on the Macintosh, from Apple iMove HD (www.apple.com/imovie) to native editing in Apple Final Cut Pro 5 (www.apple.com/finalcutpro). And it's available in new versions of pro and even consumer video software on Windows like Vegas Movie Studio+DVD (www.sonymediasoftware.com).

However, editing HDV does require significantly more processing power to handle the increase in resolution -- you'll probably want to upgrade your system before doing intensive work. One way of easing the strain is to convert the native HDV video to an intermediate format like CineForm (www.cineform.com) or Windows Media Video. You then can edit more easily, and then export directly from high-quality CineForm, or replace lower-quality intermediates with the original HDV video for the final rendering. For example, Ulead Media Studio Pro 8 has a Smart Proxy feature that automatically creates an intermediate as you work (www.ulead.com/msp).
But then how can you share and display the final HD production? You can transfer back to your HDV camcorder and display from there. And you can export to SD formats -- you'll loose the higher resolution, but get great quality on DV or for wide-screen DVD. Or you can display from a computer by exporting to WMV HD format -- use 720p for good playback on a wide range of machines, or higher-res 1080i on higher-end systems.
But where is the DVD format for HD content? There's been a lot of press about this recently, as high-def DVD products will be shipping in 2006, using blue-laser discs that can squeeze 3 - 5X more data on a disc. But the excitement will be dampened by a nasty war between two competing formats.
In one camp is HD DVD, an incremental improvement championed by Toshiba and NEC, and officially accepted by the DVD Forum consortium (www.hddvdprg.com). HD DVD offers 15 GB of capacity per layer, or 30 GB for a dual-layer disc, and then 45 GB for triple-layer.


In the other camp is Blu-ray Disc (BD), a more aggressive step forward championed by Sony and Panasonic, with strong support from the consumer electronics and computer industries (www.blu-raydisc.com). Blu-ray offers 25 GB of capacity per layer, or 50 GB for a DL disc.
Expect HD DVD players to ship early in 2006, followed by recorders in the second half of the year. Meanwhile, Blu-ray should come out of the gate with both players and recorders, including PC drives and burners. But given the confusion over conflicting formats, don't except these to be a quick success.
Interestingly, however, both HD DVD and Blu-ray have adopted the same two next-generation video compression formats (which can be used for many other purposes) -- the updated MPEG-4 AVC (also known as H.264, www.mpegif.org) and Windows Media Video (WMV, being standardized as VC-1, www.microsoft.com/windows/windowsmedia). These formats compress significantly better than MPEG-2 (requiring only around 1/3 to even 1/5 the space), and work well across the full range of applications from highest-definition digital cinema to tiny-screen portable devices.
Using these formats, you can create your own content and then share clips on a computer, stream over the Internet, download to handheld players, and even burn to DVD to play on some set-top players, especially using the DivX branded versions of MPEG-4 (www.divx.com).
The Apple QuickTime Player is a handy player for MPEG-4 files, including the 3GPP variant used on many portable cameras and camera phones (www.apple.com/quicktime). You can upgrade to QuickTime Player Pro to add the ability to edit and export clips in these formats.


You also can edit these formats with new versions of today's video editing tools, including Adobe Premiere Elements 2.0 (www.adobe.com/products/premiereel). Or try Nero Recode to convert formats, again for use on some set-top players, and even for downloading to the Sony PlayStation Portable (www.nero.com).
The Macromedia Flash Video format also is becoming popular beyond the Web to portable devices (www.macromedia.com/devnet/mx/flash/video.html).
After all, why should you have to be tethered to a computer or television to enjoy your video productions? Leave the big-screen display behind, and take your video along with you -- today's portable devices now also serve as media players, including game machines, mobile phones, and even digital cameras.
For example, you may have thought the Sony PlayStation Portable (PSP) was a game machine, or even a movie player for watching features on the new UMD (Universal Media Disc) small optical disc (www.us.playstation.com/psp.aspx). But the PSP also serves as a nice media player for videos and photos, with its bright 4.3 inch widescreen LCD, at 480 x 272 pixels.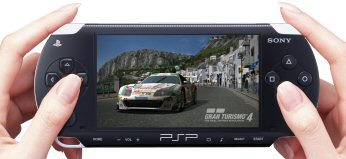 But why carry a separate player at all, when mobile phones are evolving into multi-function devices? Today's camera phones also can shoot and play MPEG-4 video clips, and share them over the cellular network though multimedia messaging and e-mail. Multimedia phones also can play streaming wireless video using services like Verizon Wireless V CAST (www.getvcast.com) and MobiTV (www.mobitv.com). Even better, the addition of flash memory cards to more phones means that you can download your own content to bring along, using your phone as a portable player.
V CAST NBC Mobile
Then there are full-fledged PDA phones, including the Palm Treo 650 with optional camera (www.palm.com), and Microsoft Pocket PC and Windows Mobile smartphone devices with built-in Internet Explorer and Windows Media Player (www.microsoft.com/windowsmobile), like the Samsung SCH-i730 (www.samsungusa.com/wireless). These are the best of both worlds -- the open PDA platform and local storage, connected to the Internet though wireless cellular service. You then can run a variety of applications to store and play your videos from storage cards, plus access, download, and stream content from any Web site or Internet host.
While these multi-purpose devices allow you to bring everything along in one unit, the best way to enjoy your media is to use a dedicated device that's designed specifically for that purpose, especially with displays and navigation.
Of course, there's a tremendous variety of portable media player devices that are focused on video and audio playback. You can trade off cost and capacity, screen size and weight, and additional capabilities to find the best unit for your needs.
To start with, for music and a relatively small amount of video, you can go with a player using solid-state flash memory, which helps reduce the size and cost, but limits the capacity to only up to a gigabyte or so.
For example, the ZVUE personal media player minimizes cost (down to $99) by not including built-in memory and using larger AA batteries (www.zvue.com). It has a 2.5", 160 x 240 screen, is relatively large at 4.33 x 2.91 x 1.1 in., and weighs 5 oz. without batteries. It's an inexpensive playback engine -- just add memory as needed.
ZVUE personal media player - iriver U10
In comparison, the iriver U10 compacts the design of a flash-based player around the 2.22", 320 x 240 screen, to a compact 2.7 x 1.8 x 0.6 in., and 2.50 oz. (www.iriveramerica.com). It even dispenses with the controls -- you navigate just by pressing the edges of the screen. And the U10 includes a FM tuner and voice recorder. It's available with 512 MB for $199, and 1 GB for $249.
For more capacity, however, you'll need to step up from flash memory to a player using hard-disk storage with the tiny 1" drives, offering tens of gigabytes.
Of course there's the new Apple iPod video, available with 30 GB disk for $299, and 60 GB for $399 (www.apple.com/ipod). With a 2.5", 320 x 240 screen, the iPod uses a taller 4.1 x 2.4 x 0.43/0.55 in. design, at 4.8/5.5 oz. It plays MPEG-4 / H.264 video, up to 150 hours in 60 GB, and supports Apple FairPlay DRM (Digital Rights Management) to protect clips purchased from the iTunes store.
Apple iPod video
For a larger display to share with a group, the Creative Zen Vision offers a 3.7", 640 x 480 screen, in a larger unit at 4.9 x 2.9 x 0.8 in., and 8.4 oz. (www.creative.com). Beyond MPEG-4, it also supports It also includes FM radio, voice recording, speakers, A/V out, and a removable battery, and is available with 30 GB for $399. The Vision plays MPEG-4, DivX, and WMV formats, including Windows Media DRM for purchased content.
But why stop at just playback, and why require that TV shows be re-purchased in portable formats? With DVR (Digital Video Recorder) software on your computer, you can record TV shows and then download them to your portable player. And, since many of these devices can record audio, why not video as well?
For example, Archos has a broad line of portable video recorders (PVRs) -- handheld players that also can record video (www.archos.com).
The small Archos Gmini 402 Camcorder has a 2.2 in., 220 x 176 screen, and includes a 1.2 Mpixel camera for MPEG-4 capture, all in 5.64 oz, with 20 GB storage for $399.
Archos AV700
But for a wide-screen shared experience, the Archos AV700 Widescreen Mobile DVR sports a 7", 480 x 234 widescreen display, in a larger 4.2 x 8.2 x 0.8 in., 20.8 oz. design. Even better, it has A/V input to record directly, and even can schedule recordings though the included hub. The AV700 is available with 40 GB for $599, and 100 GB for $799, for storing up to a million photos, 55,000 songs, of 400 hours of full-screen MPEG-4, AVI, and WMV video.
This kind of availability of portable storage in flash cards and tiny hard disks also means that you can bring along more than your digital media -- just connect these devices to a computer as removable storage to drag and drop your files to go. Of course, you don't necessarily want to be filling up your mobile phone with documentation files, or your digital camera with spreadsheets, so it also can make sense to use dedicated portable storage devices.
And there's that counter-trend toward high-def video, which means even portable USB "thumb" drives with 1GB of flash memory really are not going to have the kinds of capacity needed for dealing with longer-form full-res video.
One answer is to step up to tiny portable hard drives that offer convenient USB plug-and-play access in small form factors. For example, the lock-shaped Imation Micro Hard Drive is available with 2 GB for $159 and 4 GB for $189 (www.imation.com), and the rectangular Memorex Mega TravelDrive with 4 GB for $149 (www.memorex.com).
Imation Micro Hard Drive -- Memorex Mega TravelDrive
Or here's the new credit-card LaCie Carte Orange with 4 GB for $99, and 8 GB for $149 at 2.16 x 3.34 x 0.23 in. and 0.12 lbs. (www.lacie.com).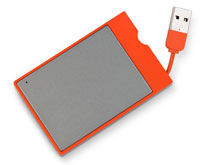 LaCie Carte Orange
However, the trade-off for the convenience of these tiny devices limits them to 1" disks with single-digit gigabytes of capacity, and relatively slow transfer rates of up to 9 MB/sec. By stepping up to larger but still palm-sized designs you can still have highly portable storage, but with the kind of 40 to 80 GB capacities desirable for more intensive digital media work. These devices are more like 5 x 3 x 1 inch in size, and weigh around 7 - 8 oz., but include 2.5" hard drives and multi-megabyte caches to offer throughput more around 25 MB/sec.
For example, the Western Digital Passport Portable is available with 40 GB for $149, 60 GB for $179, and 80 GB for $199 (www.wdc.com). The shock-resistant Buffalo MiniStation HD Portable at 40 GB for $136, and 80 GB $183 (buffalotech.com).
Western Digital Passport Portable - Buffalo MiniStation HD Portable
And the slightly larger LaCie SAFE Mobile Hard Drive includes fingerprint access security at 40 GB for $149, and 80 GB for $199.
LaCie SAFE Mobile Hard Drive

Home theatre -- or handheld? Integrated all-in-one for phone, data, and media -- or separate devices? Big or small, or both at once? Whichever you like, you'll be seeing a lot of options over the next year.

HDV Is Here

HDV Information
www.hdv-info.org

Apple - iMove HD
www.apple.com/imovie

Apple - Final Cut Pro
www.apple.com/finalcutpro

Sony Media Software - Vegas / Studio
www.sonymediasoftware.com

Ulead - Media Studio Pro
www.ulead.com/msp

CineForm
www.cineform.com

High-Def DVD

HD DVD
www.hddvdprg.com

Blu-ray Disc (BD)
www.blu-raydisc.com

WMV HD and MPEG-4

MPEG Industry Forum - MPEG-4 - AVC / H.264
www.mpegif.org

Microsoft - Windows Media Video (WMV)
www.microsoft.com/windows/windowsmedia

DivX
www.divx.com

Apple - QuickTime
www.apple.com/quicktime
www.apple.com/mpeg4

Adobe - Premiere Elements
www.adobe.com/products/premiereel

Nero - Recode
www.nero.com/us/Nero_Recode_2.html

Macromedia - Flash
www.macromedia.com

Portable Multi-Function Devices

Sony PlayStation Portable (PSP)
www.us.playstation.com/psp.aspx

Verizon Wireless - V CAST
www.getvcast.com

MobiTV / Idetic
www.mobitv.com

Palm - Treo 650
www.palm.com

Microsoft Windows Mobile
www.microsoft.com/windowsmobile

Samsung - SCH-i730
www.samsungusa.com/wireless

Portable Media Players

ZVUE personal media player
www.zvue.com

iriver - U10
www.iriveramerica.com

Apple - iPod
www.apple.com/ipod

Archos - Gmini 402, AV700
www.archos.com

Creative - Zen Vision
www.creative.com

Portable Storage

Imation Micro Hard Drive
www.imation.com

Memorex Mega TravelDrive
www.memorex.com

Western Digital - Passport Portable
www.wdc.com

Buffalo - MiniStation HD Portable
buffalotech.com

LaCie - Carte Orange, SAFE Mobile Hard Drive
www.lacie.com

Originally published in Camcorder & Computer Video magazine, 22, 1, Jan. 2006.