Manifest Technology Blog -- Site: | Articles | Galleries | Resources | DVI Tech | About | Site Map |
Articles: | PC Video | Web Media | DVD & CD | Portable Media | Digital Imaging | Wireless Media | Home Media | Tech & Society |
PC Video: | PC Video Articles | Video Software Gallery | Video Editing Resources |

---
JVC Everio Disk Camcorders (11/2005)
by Douglas Dixon
Everio C Series -- Microdrive
Everio G series -- Hard drive
Highly Portable
Storage Media for Consumer and Professional Video Cameras
References
Anybody who shoots video -- whether consumer or professional -- has a love / hate relationship with video tape. Tape has worked great for years in an amazing profusion of formats -- it has the capacity to store hours of video, and it's convenient to handle and store. But it's just so inaccessible, with your video all spooled up, requiring tedious rewinding and forwarding just to queue up clips. We'd be so much happier with some kind of random-access media that allowed us to just read and write clips on demand, and even erase and reuse available storage as needed.
As a result, both the consumer electronics and professional video industries have developed alternative video camera designs using solid state memory and optical discs. But memory cards are expensive, and spinning optical discs can be bulky -- and both are limited in capacity, with single-digit GBs of storage.
So why not stop messing around, and use the same solution that works so well in computers and portable media players: just include a hard disk. After all, if you can fit a 60 GB hard disk in a iPod, you should be able to fit one into a camcorder in place of the tape transport. Of course, while this solves the immediate problem of shooting longer videos, it does leave open the question of how you are going to remove and store your clips.
JVC is definitely a believer in this disk-based approach, with the JVC Everio digital media cameras, with palm-size form factors and weighing under 14 ounces (www.jvc.com/presentations/everio). The Everios are small and light because they get rid of the bulky camcorder tape transport and replace it with a hard drive.
The initial C Series products were released in October 2004, and use a removable 4 GB Microdrive CF card for storage (along with a SD card for images). The new G series, introduced in August 2005, upgrades to built-in 20 and 30 GB hard disks.
The initial JVC Everio C Series products were released in October 2004, and use a removable 4 GB Microdrive CompactFlash (CF) card for video storage, along with a SD card for images. The new Everio G series, introduced in August 2005, upgrades to use built-in 20 and 30 GB hard disks.
Microdrive
I had a chance to try out the middle member of the Everio C series Microdrive line, the GZ-MC200, in the boxy "cube" design style (SRP $1099). There's also the compact vertical style GZ-MC100 ($1199), and a higher-end 3-CCD 5 megapixel GZ-MC500 ($1599). These prices include a 4 GB Microdrive, available separately for $340 -- although Hitachi now has a 6 GB Microdrive Card for $269. Meanwhile 1 GB SD cards are available for under $100.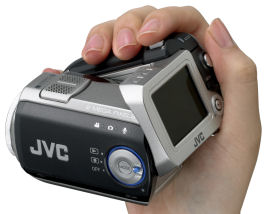 JVC Everio GZ-MC200 digital media camera
The hard drive-based Everio G series includes two pairs of 20 and 30 GB units, the GZ-MG20 and GZ-MG30 ($800 and $900), and higher-res 1.33 Megapixel CCD units, the GZ-MG40 and GZ-MG50 ($900 and $1000) that support stills up to 1152 x 864 resolution.
These Everio camcorders record in MPEG-2 video format with Dolby Digital audio, nicely compatible with burning directly to DVD. The 1 inch Microdrive can store up to one hour of good-looking video in 4 GB using ultra fine mode (8.5 Mbps), or cram up to 300 minutes in economy mode (lower res 352 x 240 at 1.5 Mbps). The 30 GB hard disk can store 7 hours at 9 Mbps and up to 37 hours at 1.7 Mbps.
The Everio GZ-MC200 model is certainly fun to carry and use. The relatively small 1.8-inch color LCD takes up most of the back, with the recording and menu controls. The left side contains the lens assembly, with the 10x optical zoom lens and main mode setting control on the side -- you can shoot video (NTSC or PAL), still images up to 1600x1200, and even use this as an audio recorder. The unit is cleverly hinged, with the back LCD panel connected to the drive bay along the right side, so the display can tilt up for viewing while you hold the camera at waist level (the better to stabilize this flyweight unit).
Everio GZ-MC200 front
But what about after you've shot the video, how do you access and use it? A year or two ago I would not have recommended MPEG-based camcorders, simply because the video quality often was compromised to squeeze it onto smaller storage media, and because desktop video editing tools really could not handle the highly compressed MPEG format. But today's tools (and more powerful systems) are up to the job.
For example, I tested a near-final beta version of the new Adobe's Premiere Elements 2.0 (released Sept. 2005) with the GZ-MC200. The camcorder supports the new USB Video Class/USB 2.0 high speed interface, providing full data transfer and device control like over FireWire. Just connect to the GZ-MC200, and the new Media Downloader in Premiere Elements 2.0 scans the Microdrive and SD cards to display the stored clips and photos, so you can select the ones to upload to you computer. You then can edit the MPEG-2 video directly in the timeline, and even write to DVD directly from Premiere Elements, complete with scene menus.
Tapeless camcorders are wonderfully portable, so you can bring them along when a larger camera would be just too bulky and heavy. But they can get so small that the controls are too tiny to use, and so lightweight that they are difficult to hold steady. This GZ-MC200 is just big enough to be usable, and has enough capacity to make sense to bring along on a day trip.
Of course, there is the issue of what to do with the video once you have filled up the disk. For longer use, you'll need to buy additional Microdrives, which can be very expensive, or wait a bit longer for SD cards to bulk up in capacity and drop further in price. These storage options just cannot compare to tape as an inexpensive removable mass store, so you really do need along a computer with significant storage capacity if you're taking an Everio on a longer vacation. You may love tape, or hate it, but these new tapeless camcorders just do provide a whole new kind of experience, as the form factor approaches the size and weight of a five-pack of tapes.
Tiny memory cards permit very compact camera designs like the Panasonic D-Snap line (www.panasonic.com/d-snap), but the cards are relatively expensive and limited in available capacity. You can store some 20 minutes of good quality MPEG-2 video on a 1 GB card, or more like 6 hours in MPEG-4 format.
Meanwhile, consumer DVD camcorders have become very popular, with the ability to immediately play the discs. However, the 8 cm Mini DVD media holds only 1.4 GB, or up to 30 minutes of reasonable-quality video.
For the professional market, the Panasonic DVCPRO P2 Series cameras use solid state memory, with four SD cards ganged together into a RAID 0 array (www.panasonic.com/p2). The 4 GB P2 card is available for a little over $2000, with an 8 GB card due in Fall 2005.
Meanwhile, Sony has chosen to use blue-laser discs in the Sony XDCAM Professional Disc System, with 23.3 GB XDCAM discs available for around $30 (www.sony.com/professional).
JVC Everio Digital Media Cameras
www.jvc.com/presentations/everio
Adobe - Premiere Elements
www.adobe.com/products/premiereel
Panasonic - D-snap Products / SV-AV100
www.panasonic.com/d-snap
Panasonic - SD Technology
www.panasonic.com/sd
Panasonic DVCPRO P2 Series
www.panasonic.com/p2
Sony XDCAM Professional Disc System
www.sony.com/professional