Manifest Technology Blog -- Site: | Articles | Galleries | Resources | DVI Tech | About | Site Map |
Articles: | PC Video | Web Media | DVD & CD | Portable Media | Digital Imaging | Wireless Media | Home Media | Tech & Society |
PC Video: | PC Video Articles | Video Software Gallery | Video Editing Resources |

---
AIST MoviePack:
An Open Approach to Video Editing (1/2000)
by Douglas Dixon
Lets face it: editing video is a pain. There's lots and lots of material to deal with, hours and hours of video and audio. You need to collect it, organize it, keep track of it, and you're always running out of disk space for storing it. And the job is hard: editing requires great attention to detail, since you need to work with frame-rate accuracy, at the level of a thirtieth of a second. And, of course, you then need to add professional touches like fancy titles, background music, exciting transitions, and even video effects. Definitely a pain.
MoviePack user interface
One approach for getting started with video editing is to begin with an inexpensive consumer video editing program like Avid Cinema, MGI VideoWave, or Ulead VideoStudio. These are available for under $100 (street price), and provide the basic ability to assemble clips, crop them, add titles and transition effects, and save the resulting movie. However, you'll eventually bump into the limitations of their design, where the one feature you really need, like one more audio track or more precise control over a transition, is just not available. After all, the designers of these programs had to eliminate advanced capabilities and simplify their features in order to make them easy to use for the beginner.
So your next option is to step up to a full-featured editing program like Adobe Premiere or Ulead Media Studio Pro, but these are more like $500 - $600 programs, and have totally different and much more complex interfaces. These programs do tend to come bundled with high-end capture and compression boards, so they can provide better performance and even real-time previews using hardware acceleration.
However, these high-end tools are really too complex for beginning users, and yet there's no nice upgrade path between these two levels. Adobe has no low-end tool below Premiere, and the step up from Avid's Cinema is Avid Elastic Reality for over $800,and then up to its professional studio tools. Ulead does have the low-end VideoStudio and the high-end Media Studio Pro, but these are totally separate programs with very different interfaces, and no upgrade path between them.
But there is a new possibility developing. A new application called MoviePack from AIST promises impressive specifications and hot new technology wrapped in an "open architecture" approach, as part of a planned new family of products from low-end consumer to very high-end video production tools.
In this article, we'll examine what makes the AIST approach so different, and review a beta version of MoviePack to get a preview of its promise. This kind of "open systems" approach to software design is a developing trend in the computer industry, and we can hope that it is adopted by other developers of video tools.
AIST Product Line
A new player in the video editing market, AIST (Animated Image Systems Technology), is developing a new line of video editing products that promise to provide powerful capabilities within a family of modular, object-oriented video editing tools. AIST GmbH is a German software company with headquarters near Munich that was founded in 1995 and currently employs around 50 people.
AIST's first product series was MovieMania, animation software for 2D image and video compositing, with versions that spanned the consumer, semi-professional, and professional markets. The MovieMania Broadcast Edition, with full support for equipment from FAST Multimedia Inc., is being used by over 5,000 production companies worldwide. AIST products are being distributed in over 30 countries.
AIST has now focused on a new video editing software line. The first product in this family, MoviePack, is scheduled to ship in January 2000. MoviePack is a powerful prosumer editing tool priced at around $999 (MSRP), with functionality in the range of Adobe Premiere combined with the Adobe After Effects add-on ($699 street).
The full product line planned by AIST includes a lower-end consumer tool, MovieStart, priced at around $299, with a simpler template-based interface. It also includes two higher-end tools, Cinegy, a professional tool priced at around $1999, and Cinegy++, a film post-production tool priced at around $4699, with support for 8K resolution, 120-bit color, and motion-tracking and stabilization running on Windows 2000.
The AIST product line is intended to provide a new generation of hardware-independent all-in-one video editing, animation, and compositing tools. They are designed with an "open architecture" approach to permit adding on new capabilities. MoviePack itself promises an impressive collection of advanced features, including 4K-pixel resolution, 32-bit color, real-time preview, unlimited video and audio tracks, unlimited composting layers, a built-in effects generator, professional color correction and keying functions, a 3-D rendering engine, virtual cameras, and a titler.
Open Architecture
What's different about AIST's approach to video editing is the openness of the architecture, compared to the existing more closed products, with fixed capabilities and no upgrade path beyond plug-ins. The AIST products are part of the same "open architecture" family; they are actually different versions of the same core software. This approach permits users to add new capabilities without needing to start over with a new, more advanced, program. This openness also includes support for third-party plug-ins, from products like Adobe Premiere, Adobe After Effects, Borix FX, and Hollywood.
MoviePack and its siblings are all based on the same kernel, designed to accommodate pluggable modules to add new and more advanced functionality. The key modules include input/output, video effects, video rendering, user interface, and third-party plug-ins. With this architectural approach, you could theoretically step up from one product to the next by buying the appropriate set of new modules, or just add one or two modules with the specific capabilities that you need.
MoviePack is also designed to be highly portable across different PC systems, video capture boards, and operating systems. It supports all standard video hardware like graphic and video capture boards, and can be installed on any computer operating under Windows 95, Windows 98 or Windows NT.
All-In-One Editing
AIST's approach with MoviePack is to provide all the necessary ingredients for video editing within one program, and one unified user interface. Unlike other tools that require the use of multiple programs or separate plug-ins, MoviePack is intended to provide a complete solution for non-linear video editing and digital image compositing, including titling and animation functions.
AIST then goes a step further to provide great flexibility in customizing and controlling these functions though an object-oriented approach. Transitions, effects, and title templates are defined as objects with user-settable parameters. Custom settings can be saved in libraries and reused later. You even can define your own custom effects as collections of such objects, and embed them in other operations. The user interface can also be customized to your skill level and needs.
MoviePack User Interface
MoviePack has a busy user interface, with six windows in its default configuration. While the large number of windows reflects its complexity, they also provide access to its wide range of functionality, and provide multiple ways of viewing the editing operation you are trying to perform. However, MoviePack also provides you with great flexibility in organizing the interface: the windows can be floating independently and overlapping, or will automatically dock along the sides or bottom of the working area. Pop-up menus are also available to explicitly float or dock the windows, dock them in specific positions, and even attach multiple windows together with a tabbed interface to save space.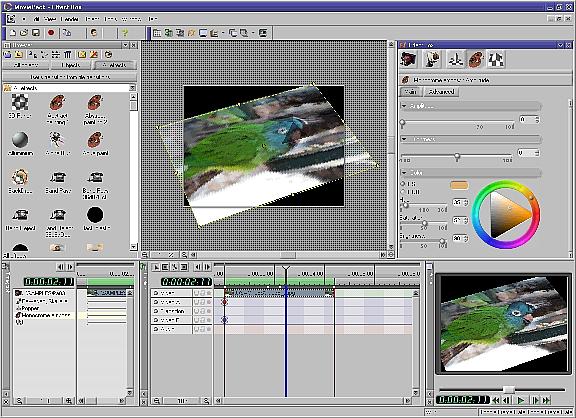 Figure: full-screen MoviePack window
top left: Browser -- all effects
top center: Canvas
top right: Effect Box: color for emboss
bottom left: Timegraph -- collection of effects
bottom center: Timeline -- effects on still image
bottom right: Preview -- scale & rotation
You begin with the Browser window (at the top left of the screen in the default configuration). The Browser window provides access to all the objects used for editing, including source files (video, audio, and images), and MoviePack components (objects, effects, and transitions). Using the Browser, you can select components to be added to your production, and drag and drop them into the other windows for customization.
The Timeline window (in the bottom center of the screen) provides the traditional view of the objects in your production, organized over time. These include the usual video and audio clips, and transitions between them, effects, and even more 3-D concepts like cameras and lighting. Your production is the result of playing these clips and applying these effects over time. Move the triangular Timeslider icon in the timeline to select a specific point in time. What you see at that frame time is the result of applying these clips and effects from the Timeline at that point, in top to bottom order.
The Canvas window (at the top center of the screen) shows the current individual object being edited. You can select the active object by clicking it in another window, or by moving the Timeslider icon in the Timeline and then marking a specific object. In the Canvas, you can move the object around, or click on control points to rotate the object in 3-D space.
The Preview window (in the bottom right corner) then can be used to preview the production in its current form. You can use the play controls to step or play through the current production. You can also set the green Preview Section bar in the Timeline to select only a range of time and objects to be previewed. The preview attempts to play in real time in the window; there is no delay for a separate rendering step, and the window can be re-sized. The speed of the playback depends on the speed of your PC and the level of hardware support in your display card.
MoviePack also has a Monitor window that provides dual-screen video monitors for precise trimming of individual clips. You can step frame by frame through a clip and set the trim points. The dual screens let you have multiple views of a clip, compare two clips, or synchronize them.
Next, you can apply effects to objects by selecting them from the browser window and dragging them to the Timeline or Canvas. You can then use the Effects Box window (in the top right corner) to edit the parameters of the effects, and immediately see the results in the Canvas and Preview windows. Since effects vary over time, you use the Timeslider to select times to insert keyframes and change the parameter values at that point. MoviePack then interpolates between the parameters. MoviePack supports a wide range of different types of video effects, including 2-D, 3-D, blur and sharpen, color adjustments, chromakey, stylize, and general image convolutions. It also supports audio effects such as noise reduction, high pass filter, delay, and fuzz.
Figure: Browser window with Stylize Effects,
showing Effect Box window with Random Puzzle settings
and Preview showing result of current settings
The Effect Box has tabs along the top to select between the different effects that have been applied to the object, as well as multiple tabs within window to view all the available parameters for that effect. Since MoviePack has so many possible effects with so many parameters, and the effects can be changed over time using keyframes, MoviePack provides an additional Timegraph window (in the bottom left corner) to view the effects. The Timegraph window is a kind of timeline for the behavior of an individual object over time, including its motion and effects. It lists the actions from top to bottom, showing the keyframes where the parameters are changed. The list is even hierarchical; if you click on an action it will expand to show the individual parameters within it.
Figure: Browser window with image Adjust functions,
showing Effect Box window with Posterization settings
Because MoviePack provides so many options, and controls within those options, it is helpful to be able to save custom settings that you have developed. Since MoviePack's design is object oriented, you can change and object's behavior by making a copy of it and adjusting its parameters. You also can combine a group of effects into an object, and then save the result. The MoviePack Album window lets you create and save and reuse groups of video clips and other MoviePack objects. You can also save your entire workspace and return to your project later.
AIST Technology
AIST's major technology focus for MoviePack has been providing a full scalable real-time preview window for all edits, effects, and compositions. In older applications, you need to wait for the application to pre-render the modified video. Even with higher-end applications bundled with accelerator hardware, only those effects supported by the hardware could be run in real time. MoviePack performs real-time previews without special-purpose hardware by taking advantage of newer graphics cards that support the Microsoft Direct3D or SGI OpenGL standards. Of course, on lower-end machines or older graphics cards, MoviePack will need to reduce the window size software in order to still support real-time rendering.
AIST has implemented two key technologies to provide this kind of scalable performance, Adaptive Mesh Technology (AMT) for efficient 3-D effects, and Queued Processing Management (QPM) for multi-processing systems. Adaptive Mesh Technology automatically calculates the number of polygons required for 3-D effects in order to significantly reduce the rendering time while still maintaining smooth edges. Queue Processing Management automatically distributes the computing load across multiple CPU's in a multi-processor system to balance the work across the available resources. As a result, MoviePack's performance should scale up directly when you move it to a multi-processor system.
Even in beta form, these optimizations are implemented and demonstrable by AIST. The Beta 3 version reviewed here even ran fairly well on an older 266 MHz Windows 95 system without OpenGL acceleration, although the user interface response was a bit sluggish. The stated minimum requirements for MoviePack are a Pentium II (with MMX), at least 200 MHz, 64 MB RAM, plus an OpenGL card to take advantage of the real-time preview capabilities.
The Bottom Line
AIST MoviePack is certainly a powerful and promising video editing tool. It combines an extensive feature list with a convenient and customizable user interface. The Beta 3 version reviewed here seemed to have most of the basic functionality implemented, except for some options buried in dialog boxes. It also included an extensive collection of sample projects and associated materials, and documentation including a 94-page Tutorial and a 205-page Reference (albeit in German).
AIST has been running a lengthy beta program for MoviePack called "The 6th Day" (as in "...and on the 7th, the world was perfect." Like other new-style beta programs used by companies like Microsoft, you pay to participate (in this case, $39.95), but you then get a reduced rate on the upgrade to the final software ($299 for the upgrade, where the suggested final retail price will be $995). The beta CD also includes help files and a tutorial. During the beta period, participants can download updates as they become available. The beta software then will expire approximately six months after the official start of the beta period. AIST claims that over 20,000 testers have signed up for the beta program.
AIST has developed a very customizable interface for defining effects as objects, customizing them with numerous parameters, organizing collections of objects in containers, and then saving the resulting actions and animations. This approach promises both the ability to customize your own working environment, but to also share, or even sell, packages of customized behavior. Many of the built-in transitions are actually constructed in this way from more primitive components.
Beyond the initial MoviePack tool, however, AIST's open architecture approach also hold the potential for a line of easily upgradable video tools, spanning low-end consumer to top-of-the-line video production. AIST has certainly set an ambitious course with its new product family. MoviePack appears to be a promising start along that line. AIST's approach provides a nice model for developing powerful and flexible video tools.
References
AIST Inc. North American office, Vancouver, Canada
www.aistinc.com
AIST GmbH (Animated Image Systems Technology), Ampfling, Germany
www.aist.com