Manifest Technology Blog -- Site: | Articles | Galleries | Resources | DVI Tech | About | Site Map |
Articles: | PC Video | Web Media | DVD & CD | Portable Media | Digital Imaging | Wireless Media | Home Media | Tech & Society |
PC Video: | PC Video Articles | Video Software Gallery | Video Editing Resources |

---
Roxio Easy Media Creator 8 (1/2006)
by Douglas Dixon
Media Creator Home
Organizing and Sharing Media
Burning Discs
Music and Audio
Photos and SlideShows
Video and DVDs
Media Suite
References
Got a suite tooth? Want to be able to work with all kinds of digital media, without the mess of learning a bunch of different applications? Roxio has the answer for you in its latest version of the popular Roxio Easy Media Creator suite -- EMC version 8, released in October 2005 for Windows XP or 2000 (www.roxio.com/go/emc8). This is a comprehensive suite, including some thirteen separate applications and four utilities, plus additional specialized task assistants and sub-components. It combines CD and DVD authoring, copying, and burning, plus digital media capture, editing, and sharing for photos, music, and video.

Even coming so quickly after the release of EMC 7.5 last April, version 8 is a major upgrade in capabilities and ease of use, with improved media organization and management, support for high-definition video editing and formats, plus built-in media sharing over home networks and the Internet. And EMC 8 is priced at only U.S. $99.95, or $69.95 with upgrade / competitor rebate.
So let's bite in to sample the range of goodies in EMC 8, and to taste some of the new flavor.
Easy Media Creator starts up with the Home screen -- a launcher page that provides a logical list of the kinds of functions that are available, and then helps you choose the task that you might want to perform (i.e., Data, Copy, Backup, Organize, Photo, Audio, DVD & Video). Unlike other launchers, EMC now builds in support for common tasks so you can perform them directly, and then only actually launches a separate application for more detailed functions.
Home screen
From directly in the Home screen you can quickly burn data discs by dragging and dropping a list of files, create and convert music CDs, copy CDs and DVDs, and save and burn disc contents as image files. You also can use the built-in tools to display disc information and finalize and erase discs.
In fact, the Home screen is so focused on listing the tasks that you can perform that it's not always clear which application is used to do what -- similar-sounding tasks may be built-in, or may launch different applications, or may be performed by different modes in the same application. Of course, as you get more experienced, you can just directly run the specific tool you need for the job.
Easy Media Creator provides a central Media Manager application to display, organize, and track all media file types. You can explore files in disk folders, view media by type and import date, and organize your files into albums and Smart Views based on search criteria. These albums and views are then available when you open and browse files in the other EMC applications, from Creator Classic to PhotoSuite, making it easier to organize different kinds of media across multiple formats and applications through the whole process of import, editing, and sharing.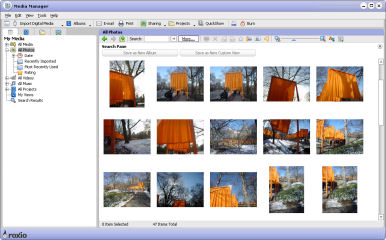 Media Manager
EMC is further integrated with a common Media Import module that is used to import photos from removable disks, cameras, and scanners; audio from analog sources, CDs, and DVDs; and video from camcorders, capture devices, and DVDs.
And to further simplify figuring out how to perform various tasks, Media Manager provides direct access to projects like creating slideshows, enhancing multiple photos, creating photo panoramas, creating quick video summaries, and burning media to DVD.
Then, to share your files, you can print images, burn files to disc, send e-mail attachments (if not too large), or share files across a home network. But for even easier electronic sharing, EMC 8 adds two new interesting options, LiveShare and MediaSpace.
LiveShare is for sharing albums over the Internet by using peer-to-peer networking. You can set up connections directly between different machines running EMC 8, and share files within Media Manager, so your remote friends can see your new photos instantly.
MediaSpace is for sharing media clips within your home across your local network, using UPnP (Universal Plug and Play, www.upnp.org). This provides a common interface across computers and consumer electronics devices to access and play media clips, so, for example, you can use your new set-top DVD player to browse and view the clips organized in Media Manager.
The historical core of Easy Media Creator, of course, is Easy CD / DVD Creator Classic, originally focused on burning data and music discs. Creator Classic continues on in EMC for advanced burning options, now including parallel recording to multiple burners and simultaneous image and disc burning. EMC also still includes the Drag-to-Disc packet writing module for drag-and-drop burning directly within Windows Explorer.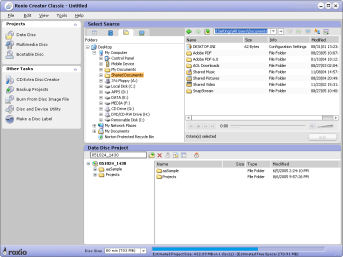 Creator Classic
Plus, EMC 8 bulks up the suite's backup capabilities with technologies integrated from Sonic Solutions, which purchased Roxio in mid-2004. You can use Creator Classic for quick backups, RoxioBackup to schedule routine backups, or Sonic Backup MyPC for comprehensive backup and archival strategies.
And EMC includes a nice collection of disc utilities for examining discs and drives, testing burning speeds, creating disc labels, managing disc images on hard disk, and even mounting disc images as virtual drives to access their contents.
Easy Media Creator provides especially interesting options for capturing and editing music and audio. You can copy music tracks from CD with the Capture tool, and use Easy Audio Capture for quick captures of analog audio and Internet streaming audio.
Even better, the updated LP and Tape Assistant helps capture from analog records or tapes, segmenting the audio into tracks, and enhancing and cleaning up the resulting recordings. EMC 8 now includes music fingerprinting technology that can identify the tracks and automatically tag your recordings with artist and album information.
You also can use Sound Editor to edit, enhance, and mix audio waveform files. Then to enjoy hours of music on one disc, use the new Music Disc Creator to create music compilation discs in MP3 or WMA format, or the new DVD Music Assistant to burn up to 50 hours of music to DVD in Dolby Digital format.
For serious photo and video editing, Easy Media Creator includes the full Roxio PhotoSuite and VideoWave applications. PhotoSuite provides an even more friendly and accessible interface for performing common photo operations, plus access to more advanced options to edit, fix, and enhance your images.
PhotoSuite
There's also a Photo Projects Assistant for creating albums, calendars, collages, and posters; a Panorama Assistant for stitching multiple photos; and a Multi-Photo Enhance tool for batch photo editing and enhancement.
The new SlideShow Assistant can create snazzy slideshows with nice transitions, fun effects, and automatic pans and zooms. It also supports multi-image shows (i.e., on a 2x2 grid), plus HD and widescreen shows. You can save the result as a video clip, or take the automatically generated result and further customize it by editing the project in VideoWave, or by using MyDVD Express to create a DVD.
Similarly, Easy Media Creator includes Roxio VideoWave for editing and enhancing video, with a friendly interface for basic storyboard or timeline editing. Or use CineMagic to automatically create a short highlight video from a longer clip.
VideoWave

New in EMC 8 is support for popular HD formats, including capture and editing from HD camcorders. You can export the result in SD or HD format, including DivX HD files that can be burned to DVD for playback on DivX HD compliant DVD players. Just be aware that Videowave still is a consumer tool not designed for intensive editing, and that editing HD files requires a bulked-up machine.

For creating DVDs, Easy Media Creator includes the full Sonic MyDVD, for automated assistance in assembling and designing DVDs with menus of multiple clips and chapters. MyDVD also can copy tapes direct to disc.

To copy non-protected DVDs, use the Disc Copier tool, which also can resize DVDs to a smaller disc, including the new ability to create compilation DVDs from multiple discs. There's also a DivX-to-DVD Creator tool for creating discs from DivX video clips.

Sound yummy? Easy Media Creator 8 is a winning combination of a highly integrated set of digital media tools and simplified task assistants, combined with full-featured applications for more detailed work -- Creator Classic, PhotoSuite, VideoWave, and MyDVD. More than just a bunch of programs slapped together into a suite, Roxio has refined EMC 8 to a coherent whole, with common media capture and management, plus integrated workflow from the task assistants into the more advanced applications.

Roxio - Easy Media Creator 8
www.roxio.com/go/emc8

Universal Plug and Play (UPnP)
www.upnp.org

Originally published in Camcorder & Computer Video magazine, 22, 1, Jan. 2006.