Manifest Technology Blog -- Site: | Articles | Galleries | Resources | DVI Tech | About | Site Map |
Articles: | PC Video | Web Media | DVD & CD | Portable Media | Digital Imaging | Wireless Media | Home Media | Tech & Society |
PC Video: | PC Video Articles | Video Software Gallery | Video Editing Resources |

---
Designing Your Audio / Video Dream Machine:
Sony VAIO R Series (10/2004)
by Douglas Dixon
Sony VAIO
VAIO R Series
Performance
Memory and Expansion
Double-Layer DVD
Video and Audio Display and Capture
Digital Interfaces
Applications
VAIO Experience
References
What would make your ideal dream machine for video and audio editing? Is it heavy iron -- a hot processor with big and fast disks? Or powerful tools -- software for slinging digital media? For video enthusiasts, an integrated system with high-end, yet affordable, components can provide it all -- power and fun in an attractive package. This is what Sony has been up to with its VAIO line of desktop and notebook PCs, and the new VAIO R Series desktop system provides a wonderful example of how to think about configuring your own dream machine.
Sony originally introduced its VAIO PC line in 1996 (www.vaio.net), with distinctive designs and purple coloring (think "violet"). VAIO stands for Video Audio Integrated Operation, as in the integration of video and audio (obviously), but also the integration of A/V technology for entertainment with computer technology for processing and integration.
The latest VAIO products, introduced in May 2004, include the stunningly thin VAIO X505 notebook, weighing just 1.84 lbs, and tapering from 0.8" at the back hinge to 0.38" at the front. Yet the X505 still includes a 10.4" screen, with Intel Pentium M 1.10 GHz processor, 512 MB memory, and 20 GB hard disk (but a CD/DVD drive, wireless, and even video and network connectors are external). A definite lust machine, though pricey (starting at $2999).
But we're going to focus here on the new R Series desktop systems, the next generation VAIO designed for "professional quality video editing and music mastering solutions," and loaded with the latest technology including Hyper-Threading processor, Gigabit Ethernet, a hot new double layer DVD burner, and a liquid-cooled design. Ahhh!
This is not a hands-on "review" of the R Series, it's more of a "preview" -- we'll use the VAIO as a example of how to think about designing and configuring your own ideal video / audio desktop system.
The VAIO R Series started shipping in June 2004, and is available in several models (www.sonystyle.com/vaio). The VAIO RA710G and RA810G are pre-configured systems priced at $1699 and $2199, respectively (display not included). The RA910G is customizable. Starting at $1,558, you can load it up with features including a faster processor, more memory and disk space, and additional optical drive. Sony also offers a wide range of other options, including LCD displays, peripherals, software, and, of course, digital cameras and video camcorders. We'll focus here on configuring the high-end RA910G, based on information and pricing from Sony as of July 2004.
The most striking element of the R Series is the holes sliced through the middle of the tower case, part of Sony's focus on system cooling and noise reduction. The system uses a heat pipe cooling system to pull heat away from the processor, and then dissipate it through a heat exchanger. A large low RPM fan then cools the heat exchanger, replacing the traditional CPU fan. Further reducing noise, the system also includes an optical drive with speed-down functionality, a Firmware-supported silent mode, and large slow speed fans on the graphics card and power supply. Now you can work in peace!
Configuring your base system starts with the core processor. These days only 1 GHz seems terribly slow, especially for video decoding and compression, and we want our systems to be doing multiple things at once without slowing us down. The VAIO R Series is built on the Intel Pentium 4 Processor with Hyper-Threading Technology, including 1 MB Level 2 cache and 800 MHz front side bus, available with processor speeds from 3 to 3.6 GHz ($554 additional).
The Intel Hyper-Threading technology allows multiple "threads" of processing to run simultaneously on the single processor, almost as if you were running a system that actually had multiple processors (www.intel.com/technology/hyperthread). This can significantly improve applications that are written to support multi-threading, allowing you to continue working while a heavy computation like video compression (or even reformatting a long document) runs in the background without swamping the system. Or it can help to better juggle the workload when you have several applications working at the same time.
Then you need enough memory and storage space to manage all that digital data, and fast interfaces for moving it around within your system. The current R Series configuration support up to 2 GB of 400 MHz DDR memory (add $316). It features PCI Express interfaces for up to 16x support for fast graphics. All the expansion slots are used in the standard configuration, including one 8X AGP slot of the graphics card. In a pinch, you can remove the modem card (if you are using broadband networking) to free up a slot.
To speed data transfer to other systems, the R Series includes GigaBit Ethernet, sharing another 10X faster, stepping from 10Base-T, to 100Base-TX, and now 1000Base-TX Ethernet (if your network supports it).
The platform has two 5.25" half-height and four 3.5" expansion bays, and can be configured with one DVD burner, an option second DVD-ROM reader, and multiple hard drives. Sony is offering hard drive configurations up to a 400 GB drive (add $231), and up to four such drives for a total of 1600 GB (add $1296). With multiple Serial-ATA connections, the platform has the possibility of supporting more than 1.5 Terabytes of storage.
However, the hottest piece of hardware on the R Series is the double-layer DVD burner. Just when you though all those DVD format were starting to make sense, yes, there's another new format -- but this gives you (almost) double the storage on each disc. Sony describes the burner as a "DVD+R Double Layer / DVD+-RW Drive" -- so let's parse that in pieces (and back to front):
- First of all, it works like you would expect from a CD burner: It works as a DVD-ROM drive, which means it can read (and play from) regular DVD discs, including pre-recorded DVD-Video movies, as well as movies and data burned to recordable discs. And, as a DVD burner, it burns R (write once) and RW (rewritable) discs.
- However, DVD formats are more complicated than CD, so this drive is also dual-format, supporting both the "dash" and "plus" varieties of writable DVD media (i.e., DVD-R and DVD+R). Dual drives helped to resolve the confusion over these two formats, since dual burners can burn to either format, and the resulting disc, whatever format, should be compatible with most set-top DVD players and PC DVD drives.
- Just when things stated making sense, we now have a new format -- "double layer." Instead of just supporting regular single-sinded, single-layer writable discs with 4.7 GB of capacity, this drive supports the new double-layer media, which provides up to 8.5 GB of storage.
All this time, movie DVDs were actually manufactured on dual-layer media (called DVD-9), that store the data on two layers, so that the laser actually re-focuses through the translucent upper layer to read the data on the bottom layer. However, until now, dual-layer was only available for replicated (manufactured) discs, and not something you could do yourself with a home burner. But in the spring of 2004, new recordable media and dual-layer drives have started becoming available, lead by the Verbatim Double-Layer DVD+R media (www.verbatim.com).
Be warned, however, that this is brand new and tricky technology, so you should expect that DVD media and drives will be in short supply, and command a premium price, at last through this year. In addition, dual-layer equipment will require new versions of software. For example, you (or the software) will need to specify where to insert the layer break, the physical break in your data between the two layers on the disc. And the software needs to ensure that the same amount of data is written to both layers so that the laser can focus properly.
All this will take some time to shake out in the drive and media manufacturing, and the authoring and disc-burning software tools. Early testing with the first dual-layer products has revealed some compatibility problems with older players, so keep in touch with software and firmware updates for your applications and drives as the industry works through supporting this new format.
All that fast processing is great, but your user experience is focused on the video and audio: the display and the speakers. These days, PCs need to display everything from scrolling windows to full-motion video to real-time interactive 3D games. The R Series includes the ATI RADEON X600 or X800 256 MB card (add $360), with dedicated processing for 3D graphics and video processing, at up to 200 billion operations per second (Giga FLOPS). To display these visions Sony offers a range of flat panel LCD monitors (not included with the base system), ranging from 15" ($499) to the StylePro Series 20.1" LCD ($1,099).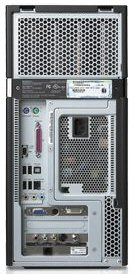 Front and back panels
Beyond the visual, you'll want to experience your DVDs and games with full surround sound. The R Series includes integrated Intel High Definition Audio with 5.1 surround sound. While the base system includes stereo speakers with subwoofer, Sony offers 4.1 and 5.1 multimedia and gaming speaker system ($229).
For displaying from the system, there's a VGA/DVI monitor port / TV-out port, and an audio S/PDIF output to audio components, plus a Headphone jack.
For viewing TV, capturing digital media, and displaying the results, the system includes a variety of both analog and digital connectors, available on both the front and rear panel for convenient access. The integrated Sony Giga Pocket TV Tuner / MPEG encoder/decoder lets you watch TV, and record TV and from other A/V inputs.
For video / audio capture, you can use the coaxial input (VHF/UHF TV), composite video / audio inputs (front and rear), and S-Video inputs (front and rear), plus the usual Line In and Microphone audio inputs.
Of course, you also can use the i.Link (FireWire) and USB 2.0 connectors to input and export digital media. Sony has studded the R Series tower with interface connectors on the front and back to connect to all those peripheral devices in your digital life.
The new USB version 2.0 (also known as Hi-speed) steps up to 480 Mbits/sec, from 12 Mbps for USB 1.0 (www.usb.org), around the same range as FireWire at 400 MB/sec. (What Sony calls i.LINK is what you know as FireWire, also known as IEEE 1394, see www.1394ta.org.) The R Series includes seven USB 2.0 connectors and two i.Link connectors (4-pin on the front for connecting to consumer devices, and 6-pin on the rear for computer and peripheral connections).
The connectors on the front panel are great for hooking up devices to transfer data, including digital still cameras (typically USB), DV digital camcorders (typically FireWire), portable devices and music players, and even USB thumb drives for transferring data. Stepping up to USB version 2.0 is a great help with these for faster uploading of digital photos and quicker backup to thumb drives.
The rear connecters work well for more permanent connections, such as external DVD burners and external hard disks for backup and auxiliary storage of large video files. You can use a pocket-size USB or FireWire drive for easy backup and mobile storage (around 60 GB for under $300), or a big, big FireWire / USB 2.0 drive to offload those huge video files (around 500 GB -- half a terrabyte -- for under $600).
Unfortunately, the R Series does not include the new yet-even-faster FireWire 800 interface (also known as IEEE 1394b). Although it's not yet widely supported in today's devices, redoubling the FireWire bandwidth will supply plenty of headroom for activities like real-time DV capture to external hard disk while simultaneously burning to external DVD. However, since all the slots are in use on the R Series, adding a new interface board may require some juggling (such as removing the modem card).
Once you have built your A/V dream system to enjoy playing your DVDs and photos and music, you might also want to take advantage of that power to design and share your own media creations. Sony bundles a broad range of VAIO Creation Suite software with the R Series, with its own media software, plus Screenblast products from its Sony Pictures Digital group (www.screenblast.com) and some third-party products from companies like Adobe (www.adobe.com).
To organize and edit your digital photos, use Sony PictureGear Studio to import and manage digital photos, and Adobe Photoshop Elements 2.0 for image editing.
For organizing and creating your own music, start with Sony SonicStage music jukebox to manage your music library and export to compatible portable devices, and SonicStage Mastering Studio with MP3 Encoder to import and enhance analog music. Then use Screenblast ACID to mix your own audio soundtracks from loops, and Screenblast Sound Forge to edit and enhance your digital audio.
To organize and edit video, use Sony Dvgate Plus to capture, edit and record digital video, and Adobe Premiere LE for more advanced professional video editing (the Video Premium package ($170) upgrades to the full version of Adobe Premiere).
And for DVD, use the InterVideo WinDVD player to watch your discs, and Sony's Click to DVD tool to author your own DVDs.
Sony also includes the VAIO Media application to share your files and media across the network.
Sony's VAIO systems are great examples of how to design A/V dream machines that combine the horsepower, interfaces, and applications required to not just enjoy digital media, but to create your own productions. Any such system walks a fine line between cost and performance, built-in vs. external components, and stable vs. cutting-edge technology.
Some general suggestions:
- You can always build your own system for less if you have the time and knowledge, but there are great advantages to an integrated system like the VAIO supported by a single vendor.
- With the advent of FireWire and USB 2.0 you can easily add on more disk space and other external peripherals, but it's probably worth spending a little more up front for more built-in memory and disk space in your main system. And, if you have any more room in your budget, paying extra for a larger-resolution display does allow you to juggle more windows on the screen.
- The base configuration of the R Series definitely should hold you for a while without needing to upgrade, with its PCI Express bus, serial ATA disks, and Gigabit Ethernet. You may eventually want to step up to FireWire 800, which will require juggling slots. Just be aware the Double Layer DVD drive is very new, so expect some software and firmware upgrades to get it fully mastered.
The final point on the VAIO R Series is that it runs actually runs the Windows XP Media Center Edition 2004, so you can use it in a living room kind of environment and control its media functions by a remote control. When you're done creating and computing, you can kick back, relax, and dream away, playing music, or watching TV with the integrated TV programming guide.
Sony VAIO Information - VAIO.net
www.vaio.net
www.vaio.net/models/desktops/r
Sony VAIO Products - SonyStyle
www.sonystyle.com/vaio
Intel - Hyper-Threading
www.intel.com/technology/hyperthread
USB-IF - USB Implementers Forum
www.usb.org
FireWire - 1394 Trade Association
www.1394ta.org
Verbatim - Double-Layer DVD+R media
www.verbatim.com
Sony - Screenblast digital media software
www.screenblast.com
Adobe - Photoshop and Premiere
www.adobe.com
Microsoft Windows XP Media Center Edition 2004
www.microsoft.com/windowsxp/mediacenter