Manifest Technology Blog -- Site: | Articles | Galleries | Resources | DVI Tech | About | Site Map |
Articles: | PC Video | Web Media | DVD & CD | Portable Media | Digital Imaging | Wireless Media | Home Media | Tech & Society |
PC Video: | PC Video Articles | Video Software Gallery | Video Editing Resources |

---
Ulead Video Studio 9 (6/2005)
by Douglas Dixon
Welcome Screen
VideoStudio Interface
Capture - DV Quick Scan
Edit - Storyboard and Timeline
Editing and Filters - Transition Effects - Overlays and Keying - Animated Titles - Audio
Share
Movie Wizard - DV-to-DVD Wizard
Video Wizards
References

See also: Ulead DVD MovieFactory 4 Disc Creator
It's fun to edit your own movies -- but it also can be difficult. There's the logistics of freeing up big hunks of hard disk space and dealing with tapes; the complexity of all those compression options and delivery formats; and just the sometimes overwhelming choices and options in trying to use video editing software. It also can be intimidating to give yourself the challenge of taking your personal videos and somehow competing with the professional look of TV and movie productions.
On a Mac, you can get started with iMovie (www.apple.com/imovie), and then graduate up to Final Cut Express HD ($299) and Pro (www.apple.com/finalcutexpress). On Windows, you have a lot more choices, depending on how deep you want to dive in. You can get started with video editing using Microsoft's free Movie Maker for Windows XP (www.microsoft.com/windowsxp/moviemaker), bundled with new systems). The step-by-step interface is great for firing up occasionally for quick and simple editing, but you'll be limited as you grow and want to do more creative editing. On the other hand, Adobe's new Premiere Elements offers an accessible interface to learning real DV video editing for only $99, and backed by the depth of the professional Premiere Pro engine so you can continue to learn and grow (www.adobe.com/products/premiereel).
Between starter video editing tools and full-up professional editing lies a middle ground of tools for hobbyists and enthusiasts -- products like Pinnacle Studio (www.pinnaclesys.com) and Sony Vegas Movie Studio+DVD (mediasoftware.sonypictures.com). These are designed for people who want to get started easily and be able to bang out quick edits, but also want some flexibility for fine-tuning and enhancing their movies. As a result, the new versions of these home video editing tools are growing in two different ways: both automating editing for novices through movie-making and tape-to-DVD wizards, while also adding more advanced features to provide additional creative headroom as even hobbyist users gain more sophistication.
The latest step forward is the new Ulead VideoStudio 9, introduced in April 2005 for US $99 (MSRP), with a $49 upgrade from previous versions (www.ulead.com/vs). For assisted editing, VideoStudio 9 includes a Movie Wizard for automated movie making, a DV-to-DVD Wizard for transferring tapes to disc, and automatic music analysis and soundtrack generation. Plus, the core VideoStudio Editor adds support for a wide range of more sophisticated features, including 16:9 widescreen format, time stretch and reverse playback, video distortion, chroma key, and overlay of Flash animations. It also adds new video filter effects including particles and strobed motion, and new audio effects such as leveling and reverb.
Let's then step though the process of editing with VideoStudio 9, looking at how Ulead has helped to organize the process, and highlighting these new capabilities.
VideoStudio 9 starts up with a simple Welcome screen, offering the three main applications: DV-to-DVD Wizard to quickly transfer a tape to disc, Movie Wizard for automated editing from a group of clips, and the VideoStudio Editor for more traditional editing.
VideoStudio 9 -- Welcome screen
You now also can work with widescreen video material -- just click the small "16:9" icon to set up your project in widescreen editing format.
Next, fire up the VideoStudio Editor, which starts up in Edit mode. VideoStudio displays its interface only in full screen, with the large Preview area in the center. There are no floating palettes or optional resizable windows in this interface to hide or get lost, although you can expand the Storyboard and Preview areas to full size to view them more detail.
As you work, you can click among the tabs at the top of the window to switch between different types of editing at any point in the process. The Library panel on the right side provides access to available clips (Video, Image, Audio, Color) and pre-defined effects (Transition, Video Filter, Title, Decoration, and Flash Animation). The Options Panel on the left changes to display the available options for the currently-selected clip or element.
Don't be too worried about experimenting as you work -- you can use multiple Undo and Redo to recover from changes, and VideoStudio also now has an Auto Save option to periodically save your project.
To grab more clips to work with, click back to the first Capture tab. Select Capture Video to import AVI video clips or grab single frame images from available Windows video devices (e.g., TV tuners or DV cameras). Use Import from DVD to rip clips from a DVD (now including VR format discs recorded on a set-top DVD recorder), and VideoStudio analyzes the disc contest to list the Titles and Chapters available to import.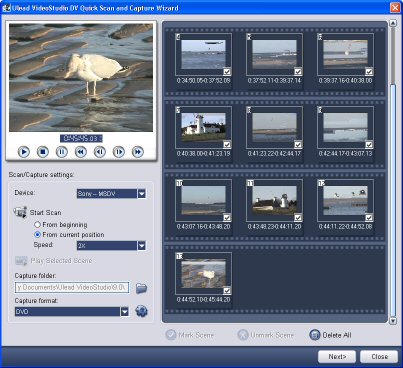 Capture -- DV Quick Scan
But for even easier capture from a DV camcorder, use the new DV Quick Scan feature. It plays through your tape in fast scan mode to find all the scenes, and then displays the thumbnails and timecodes so you can painlessly select the clips that you actually want to import. You can scan by playing at normal speed for more exact results, or scan at 2X or even 4X -- although the resulting grabbed thumbnails may be distorted due to the high-speed scanning.
Then capture the selected clips, as VideoStudio controls the video camera to create a file for each captured segment. The clips can be input directly as full-quality DV AVI files, or compressed to MPEG format for use on DVD or VCD.
After capturing more clips to the Library, click the Edit tab to lay out your movie. You also can import clips from hard disk, including AVI, Windows Media, QuickTime, RealNetworks, and MPEG (VideoStudio works well for editing compressed MPEG files). You also can import animation files and even Macromedia Flash files.
To build your movie, drag clips from the Library to the Storyboard area along the bottom of the screen. Editing can be as simple as laying out a list of clips in the order you want to use them, and then inserting transitions and applying effects.
For more detailed editing, switch to the multi-track Timeline to adjust clip lengths, and add overlay tracks that can span multiple clips, with the main Video track, two video overlay tracks (Overlay and Title), and two audio tracks (Voice and Music). You also can switch to a separate Audio view to more precisely edit the clip and overlay audio tracks.
The Timeline has new zoom controls to view the entire project, or zoom in for detailed editing as you drag in the Timeline to set the timing and duration of a clip. And VideoStudio now supports Ripple Editing, so when you adjust (or delete) a clip, the remaining material slides along the selected tracks to make room (or fill the gap).
When you select a clip, the Options panel displays the actions that you can apply to it. You can Multi-trim the clip into separate pieces, or Split by Scene. Use new options to not only Rotate sideways, but also play in Reverse, and change the Playback Speed (from 10% to 1000%) -- with time stretching to adjust the length without distorting the audio. There's also a Color Correction option to tweak a clip's color, contrast, and gamma (which does not work well on MPEG clips, since it highlights the compression blocks).
Storyboard view - Edit tab - Video FIlter - Distort
Then punch up your clips using the Video Filter drop-down menu in the Library panel, with some 27 video enhancements (Brightness, DeNoise) and visual effects. Click the Attribute tab in the Options panel to dig deeper, including applying multiple effects, customizing the filter options with keyframed parameters over time, and distorting the clip for a 3-D look by dragging each corner. New effects include Video Pan and Zoom for motion and zoom into the frames, Strobe Motion for slow-mo to speeded-up playback, and particle filters like Cloud and Rain to add atmosphere to a scene.
After laying out the clips in order, and enhancing the individual clips with video filters, click over to the Effect tab to apply transition effects between the clips. Use the Library menu to choose from 17 different groups of transitions, from slides and wipes to 3D effects, plus new Mask and Flashback effects (the thumbnails in the Library animate to show the effect). Again, just drag the transition between two clips in the Storyboard, and use the Options panel to customize them.
Next, you can go beyond clip-based editing in the Storyboard to building up multiple layers of overlayed tracks in the Timeline view.
Timeline view - Overlay tab - Chroma Key
Click the Overlay tab, and drag video clips (or images) to the Overlay track in the Timeline. Click and drag in the Preview window to position and resize the overlay on top of the main video track, for a picture-in-picture effect. Use the Options panel to make the overlay move, flying into and out of a selected region of the frame. Even better, use the Mask and Chroma Key options to turn the overlay background transparent, either by using a mask shape (like an oval) , or by keying on a background color (like green).
You also can use Macromedia Flash animations as overlays, with fun motion graphics and text on a transparent background.
Similarly, it's really easy to add Title text overlays. Switch to the Title tab and just double-click to enter and edit the text directly in the Preview window. Use the Options panel to set the text font and attributes, and to apply animation to have the text fly in and out, with an optional pause. Or use a pre-designed title from the Library, complete with pre-built animations.
Now you also can animate multiple titles on the same frame, using grid lines for precise positioning.
In addition to the visual overlays, click over to the Audio tab to add in Music and Voice tracks. VideoStudio can import audio clips in common formats, rip tracks from audio CD, and record voice-overs using your sound card. You then can adjust the Playback Speed, and apply Audio Filters, including Amplify and Remove Noise to clean up tracks, plus new Volume Leveling and Reverb to enhance the sound. Switch to the Audio view in the Timeline to mix the tracks, including adjusting keyframed rubber-band lines for each clip.
Click the Auto Music tab in the Options pane to access the Auto Music Maker by SmartSound (www.smartsound.com). Select from the music styles and variations to create your own royalty-free background soundtracks, automatically adjusted to fit the duration of the video.
Finally, click the Share tab when you have finished editing.
Actually, you can preview your work on an attached TV monitor even as you edit with the DV SmartPlay option, which sends the preview out your FireWire/1394 interface to an external DV device.
You also can use Project Playback to play your project full-screen, and optionally record it back to a DV camcorder. With the default Instant Playback option, VideoStudio will preview your production as possible -- although this can result in jerky playback depending on the power of your system and the complexity of the project (with multiple animated effects and overlaid tracks). Or choose High Quality Playback to first render your project to a temporary preview file, so it can play back smoothly.
Use Create Video File to export your project using a variety of presets for desktop, disc, or streaming; or define your own custom format. You also can use Export to save a Library clip in preset formats, and DV Recording to transfer a DV AVI file to tape. VideoStudio now also includes the Share Video Online option to upload videos to Neptune.com.
Or record direct to DVD with Create Disc. Use the DVD authoring wizard to add to your project by assemble a list of clips (including importing from DVD), then edit chapter points and select a menu template design before writing to DVD or VCD.
For even easier editing, try the VideoStudio Movie Wizard to edit together a movie (or photo collection) from a collection of clips.
Movie Wizard - Organize clips
On the first screen, you can again organize a list of clips. Add clips from the VideoStudio Library, capture new clips, import video or image files from hard disk, or rip clips from DVD.
Next, select a graphical theme design, including opening and end titles, a frame overlay around the video, and background music mixed with the video.
Finally, export the final production, using either Create Video File to hard disk or Create Disc to DVD. Even better, you can use the automatic Movie Wizard to make a first cut of editing your clips, and choose Edit in Ulead VideoStudio Editor, so you can review and adjust the results as a VideoStudio project.
If you just want to extract a group of clips from a tape to DVD, use the VideoStudio DV-to-DVD Wizard.
To start, click Start Scan to scan the tape for scenes, again at up to 4X speed (depending on your camcorder). Then review the thumbnails and timecodes to select the clips that you want included on your disc.
You can scan from the beginning of the tape, or from the current position to the end, but you do have to scan the tape -- the DV-to-DVD Wizard is really not built to just transfer an entire tape to disc.
Next, apply a theme template (as in the Movie Wizard), choose your video quality and burning options, and start the burn.
The DV-to-DVD Wizard then works through the process of capturing the clips from tape, compressing them, building the DVD data, and then writing the result to disc. This requires lots of free hard disk space for the working files, and lots of time for data transfer and processing -- the software displays a warning message that a one hour DV tape will require 20 GB of disk space, plus five hours to complete the disc. (This is especially painful if the DVD burn fails, and you have to start over again from the beginning.)
While the DV-to-DVD Wizard provides a handy approach for cherry-picking a collection of clips off a tape, the slow transfer and storage requirements also provide strong motivation to use a dedicated DVD tool. For example, Ulead's DVD MovieFactory can do the whole job on the fly without requiring temporary storage or extra processing, plus provides more options to first create the DVD on hard disk, and then burn later.
Whatever your level of experience with video editing, today's consumer tools like Ulead VideoStudio 9 are ready to help. If you are getting started, the Movie Wizard can automatically weave together a collection of clips into an edited production, or the DV-to-DVD Wizard can transfer clips from tape to disc.
If you want to dig in more, you can transfer the Movie Wizard production into the VideoStudio Editor, all ready for some final tweaks to finish your movie. And the cool DV Quick Scan feature is particularly helpful for conveniently grabbling clips from tape without worrying about pre-analyzing and logging the contents of the tape (similarly, Import from DVD makes it easy to grab clips from disc).
And for more experienced hobbyists or enthusiasts, the VideoStudio Editor now offers more professional filters and controls, including support for 16:9 widescreen footage.
Just remember this is a consumer tool, so the response is a bit sluggish, especially when editing MPEG material, with multi-second delays before starting a preview playback or even when dragging a slider to scan through a clip.
If you're looking for a friendly but not too limiting approach for video editing, then VideoStudio 9 might just be the answer. It's straightforward and easy for occasional use, or for more adventure you can click deeper in with the more advanced controls.
Apple - iMovie
www.apple.com/imovie
Apple - Final Cut Express HD / Final Cut Pro HD
www.apple.com/finalcutexpress
www.apple.com/finalcutpro
Microsoft - Movie Maker
www.microsoft.com/windowsxp/moviemaker
Adobe - Premiere Elements / Premiere Pro
www.adobe.com/products/premiereel
www.adobe.com/products/premiere
Pinnacle - Studio 9
www.pinnaclesys.com
Sony - Vegas Movie Studio+DVD
mediasoftware.sonypictures.com
Ulead - VideoStudio
www.ulead.com/vs
SmartSound - Soundtrack creation
www.smartsound.com