Manifest Technology Blog -- Site: | Articles | Galleries | Resources | DVI Tech | About | Site Map |
Articles: | PC Video | Web Media | DVD & CD | Portable Media | Digital Imaging | Wireless Media | Home Media | Tech & Society |
PC Video: | PC Video Articles | Video Software Gallery | Video Editing Resources |

---
WebCams -- for Video Blogging, Conferencing, and Surveillance (3/2006)
by Douglas Dixon
Digital camcorders are great for shooting and editing video clips, but there's another even more immediate and fun aspect of video on computers -- live video conferencing and even remote surveillance using tiny and inexpensive webcams.
Starting at around US$30 list price, consumer web cameras like the Creative WebCams (www.creative.com/products/webcams) and Logitech QuickCams (www.logitech.com) can deliver live video directly over a USB connection, so you can use a variety of different kinds of software to grab fun clips, monitor the view out your window, run live video conferences with instant messaging, or even allow remote surveillance over the Web.
Sound interesting? Let's take a look at some of these products to explore your options for using webcams. See the sidebars for a run-down of common features and available software for these products -- Since USB webcams are designed to deliver live digital video to your computer, they offer a lot of flexibility in terms of the different kinds of software applications you can use with them.
The Creative WebCam line includes some 12 models, from simple low-res video conferencing models to higher-quality models with motorized pan and tile (www.creative.com/products/webcams).
The higher-end Creative WebCam Live! Motion ($149) is designed as a ball on a flexible stand. The ball contains the camera, with motorized pan/tilt control (200 degrees horizontal, and 105 degrees vertical). The base is multi-use -- to sit flat on a desk or clamp onto a flat-screen monitor or notebook display.
Creative WebCam Live! Motion
The camera itself uses a CCD sensor with 640 x 480 resolution, delivering up to 30 frames per second over the USB 2.0 interface. The sensor works well at dusk and in other low-light conditions. The lens is fixed focus (protected inside the motorized ball), with a 76 degree wide-angle view. The product also includes a lightweight over-ear headset with mic and earphone.
The Creative WebCam Live! Ultra for Notebooks ($99.99) squeezes similar camera imager specifications down into a highly compact and portable package, with 640 x 480 resolution and a 76 degree view. The adjustable base is designed to grip onto notebook screens, and the product includes a hands-free headset and travel pouch. You can manually rotate the camera vertically some 180 degrees to point at your face, or away from your notebook. The lens includes a manual focus ring.
Creative WebCam Live! Ultra for Notebooks
The included Creative WebCam Center software offers modes for Capture of video and photo at different formats and resolutions, and Time-Lapse video capture. The Remote Monitoring mode captures images at a regular interval and uploads them to a FTP site for external viewing. The Motion Detection mode responds to a significant change in a selected area of the frame, and optionally sounds an alert, records a brief video clip, sends an image snapshot by e-mail, or even broadcasts video for a period. You also can run a continuous Broadcast Video session using Yahoo! Messenger, or use the scheduler to activate these various functions. There's even a Video Stitch tool to create time-lapse videos from a collection of stills.
Creative also offers free WebCam Live! Effects software, video effects to spice up your video conferences (or recorded clips) with visual enhancements and effects, face-tracking distortions and morphs, and snazzy backdrops.
The Logitech QuickCam line includes a similar range of some 12 models, all with a built-in microphone (www.logitech.com).
The higher-end Logitech QuickCam Orbit MP ($129) looks like a ball on a stand, but also has an optional 9" pole so it can be positioned closer to eye level. It has a true 1.3 megapixel sensor, plus motorized pan/tilt control (189 degrees horizontal and 102 degrees vertical).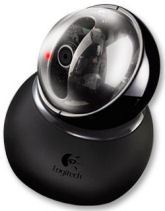 Logitech QuickCam Orbit MP ($
Use the included QuickCam software to set up the lighting and audio, snap still photos, and adjust the pan, title, and digital zoom, and turn on automatic face tracking. The audio tuning wizard helps with optimal placement of the microphone and speakers, and can enable acoustic echo cancellation for better sound.
Logitech also offers Video Effects software to enhance you look when using video conferencing software. These include both Face Accessories (masks and decorations that you can apply to your own image to change your look), and animated 3D Avatars (virtual people and creatures that imitate your facial expressions and head movements).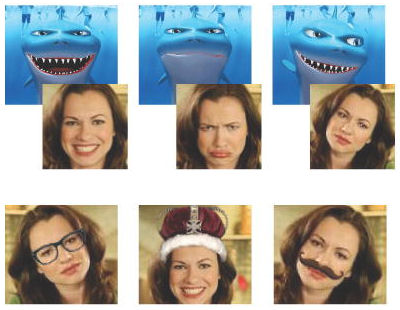 Logitech Video Effects software
These consumer webcams are very flexible, because you can plug them into a computer and run a wide range of software applications to use them in different ways. For remote monitoring and surveillance, however, you don't necessarily want to dedicate a computer to this task, and depend on the software running continuously for extended periods.
A better solution for remote access is to use true Web-enabled cameras like the D-Link Network Internet Cameras (www.dlink.com/consumer). These cameras have the network connections (wired and wireless) and Web interfaces built-in, so you can monitor them directly over the network, without requiring any computer connection. The D-Link line starts at around $100, and includes units with wired and wireless connections, 2-way audio, pan / tilt, and even up to 10X optical zoom.
D-Link SECURICAM Network DCS-5300G Internet Security Camera
---
USB-based webcams are designed to be connected to your desktop or notebook computer. You then can run different software applications for your desired uses -- video conferencing, surveillance monitoring, or even entertainment.
Both the Creative Webcam (www.creative.com/products/webcams) and Logitech QuickCam (www.logitech.com) product lines are widely available, and offer a variety of different kinds of cameras, from low-res instant messaging starting at around $30 to higher-res devices with pan and tilt control up to around $150.
Some considerations in choosing a webcam:
- Basic design: These webcams can be designed for desktop and/or notebook use. Desktop designs can sit on a table surface or rest on a monitor. Smaller and more portable notebook designs can clamp on the notebook screen. Some offer adjustable bases for both types of uses.
- Imager and resolution: Simple webcams can provide 352 x 288 resolution, good enough for basic video conferencing. Most webcams offer basic live video and still image capture at up to VGA resolution at 640 x 480 pixels. Some use a true 1.3 megapixel image sensor for higher quality and sharpness, especially for still image grabs -- while some are "software enhanced" (filtered up) at the highest resolution. Most offer full-rate video capture at 30 frames per second, which should be no problem for current computers with USB 2.0 interfaces. Some offer better sensitivity in low light, helpful for video conferencing in a dark room or surveillance into the evening.
- Lens and focus: Some webcams are fixed focus, while others offer a manual focus ring, to focus on your face for a video conference, to view across the room, or for a distant focus out the window. Some offer a wider-angle lens (around 76 degrees) so you can get a group of people into the frame for a video conference, or see the full vista out a window.
- Audio capture: Some webcams include a built-in microphone, so no other equipment is needed for conferencing with playback through the computer's speakers. You can also connect a headset to your system's microphone input and headphone jacks for better voice quality and more private conversations. An echo-canceling microphone is helpful for more natural conversations.
- USB Interface: Higher video rates require systems and cameras that support the faster USB 2.0 High Speed interface. Most webcams also support the slower USB 1.1 interface to work on older systems, albeit at lower resolution.
- Motorized pan and tilt: The more expensive webcams (around $130) have motorized pan/tilt, providing software control of pan (over 180 degrees side to side) and tilt (over 100 degrees vertically).
- Digital zoom: Consumer webcams do not have optical zoom lenses. However, they do offer digital zoom (up to 4X) to enlarge an area of the captured frames. This can be especially useful for remote viewing, when the video being transmitted over the network is actually lower resolution then the captured video frames.
---
Most webcams include a Windows driver that supports the standard Windows video interface, so that they are compatible with most Windows applications.
Besides the driver software, these products typically ship with other bundled software, providing applications including video monitoring and capture, video instant messaging, video e-mail, video editing, video conferencing, and video surveillance:
- Video monitoring and capture: The best way to get started with a new webcam is to use the main application provided by the manufacturer to experiment with options and settings. For example, the Creative WebCam Center / Monitor software can be used to configure the camera and capture clips and stills, as well as provide more advanced surveillance features including remote monitoring, motion detection, and time lapse video capture.
- Video conferencing / instant messaging: The popular instant messaging software now supports video as well. Creative ships Yahoo! Messenger with its products, and also recommends AOL Instant Messenger (AIM). Logitech also recommends the MSN Messenger Video Conversation feature, and the new Skype 2.0. These cameras also can work with Windows Messenger, and third-party tools such as SightSpeed.
- Video and photo editing: For example, Creative bundles various ArcSoft video and photo tools with its webcams, including ArcSoft VideoImpression (movie making), PhotoImpression (image editing), Multimedia Email (digital postcards), Collage Creator, and Greeting Card Creator.
- Video e-mail and blogging: These same video capture, editing, and messaging tools also can be used to capture short clips for video e-mail and even video blogging. For e-mail, keep the clips small by lowering the resolution, compressing harder, and being terse. And try to avoid actually sending clips as e-mail attachments -- instead post the clips on a Web site and have the e-mail reference the clip file, or use a service like SightSpeed that stores the clips on a server until they are delivered.
Similarly, you can use these applications to create clips to post as video blog entries. As with any video production, use good lighting, avoid cluttered backgrounds, and use the camera set-up options for a well-balanced image. Then edit and post to your preferred blogging site in its recommended formats. To create nicer productions with professional effects, check out Serious Magic Vlog It! with optional green-screen virtual backgrounds ($49, www.seriousmagic.com/products/vlogit).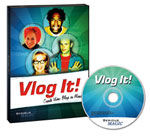 Serious Magic Vlog It!
- Video surveillance: You can use the instant messaging and video conferencing applications like SightSpeed for remote video surveillance, as long as someone is around to start up the sending application. Or use software like the Creative WebCam Center / Monitor, with features including remote monitoring, motion detection alerting, and video broadcasting. Two issues to be aware of: some firewalls may block these kinds of video connections (less of a problem when monitoring across a home network), and Internet broadcasts are available to anyone who can connect to them, so be aware of your security options.
For more video conferencing options and tighter integration with the cameras, Creative bundles SightSpeed software for voice and video calls and video mail over the Internet (www.sightspeed.com). The basic SightSpeed service is free, including unlimited text messaging, voice calls, video calls, and 30 seconds of video mail. The Pro plan ($4.95/month or $49.50/year) adds features including multi-party text, voice, and video messaging, plus long-term video mail storage.
SightSpeed software
To use SightSpeed, you first create an account (e-mail address and password) so you can identify yourself and connect to other users over the Internet. You then can use the extensive controls to set up and test the camera, speakers, and microphone, plus your Internet connection speed. The camera setup provides access to advanced camera controls including exposure, color, white balance, and indoor/outdoor viewing. You also can set the digital zoom and pan within the frame. Creative provides a face tracking mode to automatically zoom and pan this way to track a face in the field of view. There's also a video optimizer to test and verify your video display.
Next, you connect to another user, choosing to text chat, voice messaging, or video messaging. Users are identified by their e-mail address, as registered with the SightSpeed service. If they are also running SightSpeed they can choose to answer the call (or you can set it to auto-answer, which is helpful for remote surveillance). Then conference away, chatting and gesturing as desired. You can shrink the display to just the video window, preview or hide a thumbnail view of your local camera, temporarily pause the video and mute the audio, and even remotely control the other person's camera to pan, tilt, and zoom it (if they choose to permit).
Another new application for webcams goes beyond remote surveillance to accessing all kinds of digital media materials from your home computer -- using a remote computer, laptop, PDA, or even mobile phone. Creative bundles the free Orb Media server from Orb Networks to provide secure access to digital media on your home computer through a simple Web interface (www.orb.com). You can stream your music, video, and even live TV (from a TV tuner) to any Web-enabled device.
Orb also offers the OrbSecure service ($11.29 annual subscription fee) for remote webcam monitoring, including motion-detection alerts through email and/or SMS to your mobile phone.

Creative - Webcams
www.creative.com/products/webcams

Logitech - QuickCams
www.logitech.com

D-Link - Internet Cameras
www.dlink.com/consumer

Serious Magic Vlog It!
www.seriousmagic.com/products/vlogit

SightSpeed
www.sightspeed.com

Orb Networks
www.orb.com

Originally published in Camcorder & Computer Video magazine, 22, 3, March 2006.