Manifest Technology Blog -- Site: | Articles | Galleries | Resources | DVI Tech | About | Site Map |
Articles: | PC Video | Web Media | DVD & CD | Portable Media | Digital Imaging | Wireless Media | Home Media | Tech & Society |
Portable Media: | Portable Media Articles | Portable Media Player Gallery |

---
Apple iPods Reimagined: 2010 Version (9/2010)
by Douglas Dixon
See my Apple iPod / iPhone Gallery for more on the iPod and iPhone product lines, market, and chronology

Find related Apple articles in the Manifest Tech Blog
---
---
It's back to school time for the kids, but for the consumer electronics industry it's already time to ramp up for the holiday season. So it's not surprising that Apple has announced its annual September update to the Apple iPod line. (Yes, Apple is now definitely a CE company, and not Apple "Computer" any more.)
This year's event featured another impressive performance by Steve Jobs, extolling the great now iPod line, but not fully explaining the scope of the changes -- it's not just features and functions, but more of a re-imagining and repositioning of what iPods are all about. Yes, the new iPods are smaller and lighter and less expensive and sexier than ever, but they also are significantly re-focused in terms of how you might want to use them.
Keynote speech - Steve Jobs - Sept. 1, 2010 - new iPods, Apple TV, iTunes 10

- Apple iPods '10: shuffle, nano, touch
---
iPod touch - Entertainment
In particular, the iPod touch (yes, Apple uses lower case for the product names) is now the star of the line, having supplanted the nano as the most popular model. The touch is now fully targeted as a gaming and entertainment system -- Jobs called it the number one portable game player in the world, outselling Sony & Nintendo portables combined, with over 50 percent market share in the U.S. and worldwide.
The new touch is thinner and lighter, yet has picked up many features of the recent new iPhone 4, including the high-res Retina display, dual cameras with microphone for FaceTime video calling and HD video recording, three-axis gyroscope for gaming, and more powerful Apple A44 mobile processor. So the touch is now "the iPhone without the phone" -- almost -- as Jobs carefully did not use that description himself, instead attributing it to others. In particular, the touch still does not have the GPS capability of the iPhone, and so misses out on the exciting and interesting apps developing in location-based tracking and services.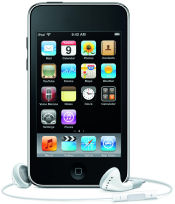 - iPod touch 1 9/07 - - touch 2 9/08 - - touch 3 9/09 - - touch 4 10/09 -
---
iPod shuffle - Clip and go
Meanwhile, the tiny clip-on iPod shuffle reaches back to the 2008 version to return the control pad that was eliminated in last year's version (the only controls were on the earbud cord). Trimmed to a smaller size just large enough for the controls, it retains last year's VoiceOver feature to announce song and playlist name, since there's no display for browsing your collection. But the new version is only available with 2 GB of storage suitable for "hundreds of songs", and no longer with a 4 GB model. The price also drops $10 to $49.

- iPod shuffle 2/05 - - shuffle 2 9/06 - - shuffle 3 3/09 - - shuffle 4 10/09 -
---
iPod nano - Multi-touch music
Limiting the shuffle's capcity fits in to the biggest change in the iPod line-up -- repositioning the iPod nano from a media / video player back to a music-focused player, but now with a multi-touch display. The new nano is square, with the display filling the front face -- the controls have been eliminated and replaced by touch-screen gestures. This is a very different nano, shrunk by half to only about 1 1/2 x 1 1/2 inches. The interface is iPod-ish, with a home screen and the ability to customize the icons, but the tiny 1.5" screen means that only a few buttons or song names visible on the screen at a time, requiring a lot of touching and swiping to explore a larger collection.
This is therefore a new product, not a derivative of the previous nano line. It's no longer a media player, having lost video playback, camera, microphone, and speaker, although it does retain the FM radio. Instead, the new nano is focused as a multi-touch music player, now even with a clip on the back (like the shuffle). It's now more like the shuffle with a display, and with 8 GB of storage for $149 or 16 GB for $179 for thousands of songs.


- iPod Mini - iPod nano 1 9/05 - nano 3 9/07- - nano 4 9/08 - - nano 5 9/09 - - nano 6 9/10 -
---
iPod classic - Take Everything Everywhere
Meanwhile, although unmentioned in the Jobs keynote (which was described as covering the entirely new iPod line), the iPod classic still lives on as the boring older sibling, with heavier hard disk instead of less expensive flash memory, and therefore offering 160 GB for $249, compared to 32 GB for $299 or 64 GB for $399 with the touch. That's enough to hold 40,000 songs or 200 hours of video for those who want their entire collection in their hand.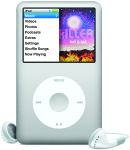 - iPod video 6/05 - - iPod classic 9/07 - iPod classic 3 9/09
---
---
What Apple is doing with the iPod line is much more than just becoming a consumer electronics company, or even a mobile device company with the expansion to the iPhone and then the iPad.
These devices are a great business, but the lock-in to Apple's online stores makes it even better -- at the recent announcement event, Jobs reported that Apple now manages over 160 million user accounts complete with credit card information, and ready for easy one-click shopping. Jobs reported that 11.7 billion songs have been downloaded from the iTunes store, along with some 450 million TV episodes and 100 million movies -- plus 35 million books from the recent iBooks store, and 3 billion apps from the App store (as of January).
This ready collection of content and entertainment then feeds to the desktop though iTunes on the Mac and PC, to mobile devices through Apple's iOS mobile operating system across the iPhone, iPad, and several generations of the iPod touch, and to the living room through the reenergized Apple TV. Ching!
---
iOS 4
The content conduit to Apple's mobile devices is the recently renamed Apple iOS mobile operating system -- a common interface running across the iPhone, iPod touch, and iPad. From any of these platforms you're just a tap away from buying and downloading new apps, music, videos, and e-books, thanks to the convenient built-in App Store app, iTunes app, and iBooks app.
iOS 4 brought multitasking and ebooks to the new iPhone 4, and iOS 4.1, announced as "coming soon" at the Apple event, will bring the updated platform to the iPod touch, complete with the new Games Center social gaming hub and iTunes Ping social networking, helping to consolidate the touch as a gaming and entertainment system. This will be followed by iOS 4.2 in November, to bring the package to the iPad.
This will consolidate Apple's interface across all three lines of devices, and add gaming as a more visible element of the content pipeline.

---
iTunes 10
Apple also announced the release of iTunes 10, featuring the new Ping social network for music discovery. The iTunes Store now offers HD TV rentals for 99 cents, and supports AirPlay wireless playback to compatible speakers and devices in the home.
Apple also has reworked the iTunes logo, removing the CD icon in the background, since iTunes is poised to surpass the sales of CDs in the U.S. next spring, and is the top online media sotre in the world. Apple now boasts over 160 million iTunes users in 23 countries, accessing a library of over 14 million songs, 65,000 TV episodes and 10,000 movies including 3,000 in stunning high definition video.

---
Apple TV
This mass of content also feeds Apple's venture into the living room with Apple TV, which brings iTunes movies and TV shows to a set-top box. The box is now even smaller -- fitting in the palm of your hand, but the key improvement is moving to a rental model for all the content, so there's no purchasing, no issue of running out of storage on the box. Apple is pushing this new outlet even harder by dropping the price to $99 from $299.
Apple offers online rental of HD TV show episodes from some but not all the major broadcasters (ABC, ABC Family, Fox, Disney Channel, BBC America), now for 99 cents compared to a $2.99 purchase. You also can stream from Netflix, watch online video and photos from YouTube and Flickr and MobileMe, play audio from podcasts and Internet radio, and access music, photos and videos from your home PCs and Macs.

---
See my Apple iPod / iPhone Gallery for more on the iPod and iPhone product lines, market, and chronology
---
Apple iPod shuffle (gen 4 '10) -- No display - 0.44 oz., 2 GB (9/10)



Small and wearable
Add buttons from gen 2, plus VoiceOver & spoken playlists from gen 3
Clickable control pad on front 18%
Holds hundreds of songs
Crafted from single piece of polished aluminum, built-in clip
Introduced 9/10 - 2 GB $49 - silver, blue, green, orange, pink
[ gen 3 - 2 GB $59, 4 GB $79 ]
Front control pad: Center button play / pause, Outer skip fwd / back, volume
Buttons: Top Switch: Play, shuffle, off
VoiceOver button: Speaks song info, also playlist names, 25 languages
3.5-mm stereo headphone jack for audio and USB charging
Built-in rechargeable lithium-ion battery

Up to 15 hours audio playback
80% charged in 2 hours; fully charged 3 hours

Audio formats: AAC (8 to 320 Kbps), Protected AAC (iTunes Store), MP3 (8 to 320 Kbps), MP3 VBR, Audible (formats 2, 3, 4, Audible Enhanced Audio, AAX, and AAX+), Apple Lossless, AIFF, WAV
Frequency response: 20Hz to 20,000Hz
1.24 x 1.14 x 0.34 in. (29.0 x 31.6 x 8.7 mm), 0.44 oz. (12.5 g)
[gen 2 - 1.62 x 1.07 x 0.41 in., 0.55 oz.]
True volume: 0.35 cu. in. (5668 cu. mm) including clip
iPod shuffle - www.apple.com/ipodshuffle

Find the iPod shuffle (gen 4) on Amazon.com
---
Apple iPod nano (gen 6 '10) -- Music & Multi-touch - 1.54", 0.74 oz, 8 & 16 GB (9/10)

Multi-Touch interface - navigate music by tapping or swiping
Smaller - eliminate click wheel - touch based

Half size and weight - 46% smaller, 42% lighter
Built-in clip - instantly wearable

16 GB - about 4,000 songs
Smaller display, No camera, no video playback, no mic
Introduced 9/10 - 8 GB $149, 16 GB $179, silver, graphite, blue, green, orange, pink, (PRODUCT) RED
[ gen 5 same price ]
1.54 in. color TFT display, 240 x 240, 220 pixels per inch
FM radio - Regional settings for Americas, Asia, Australia, Europe, and Japan

with Live Pause - Pause broadcast and rewind (within a 15-minute buffer)

Pedometer, Nike + iPod Sport Kit (sold separately)
Accelerometer sensor
Polished aluminum and glass enclosure
Shake to Shuffle, Genius Mixes, create and edit playlists
Accessibility: VoiceOver gesture-based screen reader, touch to hear description of item

White on Black contrast, Mono Audio

Hold down finger for Home screen, two fingers to rotate screen

Customize Home screen by dragging icons from other screens

Top controls: Sleep/wake, Volume; Bottom: Dock connector, Earphones
Audio formats: AAC (8 to 320 Kbps), Protected AAC (iTunes Store), HE-AAC, MP3 (8 to 320 Kbps), MP3 VBR, Audible (formats 2, 3, 4, Audible Enhanced Audio, AAX, and AAX+), Apple Lossless, AIFF, and WAV
Frequency response: 20Hz to 20,000Hz
User-configurable maximum volume limit
Built-in rechargeable lithium-ion battery

Up to 24 hours music playback
Fast-charge about 1.5 hrs. (up to 80%), Full charge 3 hrs.

1.61 x 1.48 x 0.35 in. (37.5 x 40.9 x 8.78 mm), 0.74 oz. (21.1 g)
[ gen 5 was 3.6 x 1.5 x 0.24 in., 1.28 oz. ]
Volume 0.614 cu inch (10,056 cu mm) including clip
iPod nano - www.apple.com/ipodnano

Find the Apple iPod nano (gen 6) on Amazon.com
---
Apple iPod touch (gen 4 '10) -- WiFi - 3.5", 3.56 oz, 8, 32, 64 GB (9/09)
Adds Retina display - from iPhone: 960 x 640, 326 ppi [4X higher res]
Adds cameras with HD recording: Video editing, FaceTime video calling

Front HD, and back VGA + microphone

Adds three-axis gyroscope: Advanced motion sensing - acceleration, full 3D attitude, rotation rate - for motion gestures and greater precision in games
Apple A44 mobile processor from iPhone - Performance, battery life
iOS 4.1, Game Center
Thinner, lighter: 0.28 in. (7.2 mm thin), 3.56 oz. [gen 3 was 0.33 in., 4.05 oz.]
64 GB = 16,000 songs, 80,000 photos, or 80 hours of video
Introduced 9/10 - 8 GB $229, 32 GB $299, 64 GB $399, Polished aluminum
[ gen 3 8 GB $199, 32 GB $299, 64 GB $399]
3.5-in. widescreen Multi-Touch display [same size]
Retina display: 960 x 640 resolution at 326 pixels per inch

[gen 3 was 480 x 320, 163 ppi]
Individual pixels 78 micrometers across
LED backlighting and ambient light sensor, 24-bit color

Back camera: Still photos (960 x 720)

Video recording: HD (720p) to 30 fps with audio

Front camera: VGA-quality photos and video up to 30 fps
Tap to control exposure for video or stills
Photo and video geo tagging over Wi-Fi
Built-in video editing, or iMovie app ($4.99), upload to YouTube, Facebook
Controls: Sleep/wake (top), Volume up/down (side), Home (front bottom)
Sensors: Three-axis gyro, Accelerometer, Ambient light sensor
30-pin dock connector
3.5-mm stereo headphone minijack, Speaker, Microphone
Wireless 802.11b/g/n Wi-Fi (802.11n 2.4GHz only)
Bluetooth 2.1 + EDR
Maps-location based service, Nike + iPod support built in
Built-in rechargeable lithium-ion battery

Playback time: Music up to 40 hours, Video 7 hours
Fast charge about 2 hours (80% capacity), full charge 4 hours

4.4 x 2.3 x 0.28 in. (7.2 mm thin), 3.56 oz. [gen 3 was 4.3 x 2.4 x 0.33 in., 4.05 oz.]
iPod touch - www.apple.com/ipodtouch

Find the Apple iPod Touch (gen 4) on Amazon.com
---
Apple iPod classic (gen 3 '09) -- 2.5", 4.9 oz, 160 GB (9/09)
Capacity -- Take-everything-anywhere
160 GB up to 40,000 songs, 25,000 photos, 200 hours of video
Music: 4 minutes per song, 128 Kbps AAC
Video: H.264 1.5 Mbps, 640x480, 128 Kbps audio
9/10 same, 9/09 - 160 GB $249, gray and charcoal
2.5 inch (diagonal) color LCD, LED backlight (same)
320 x 240 resolution, 163 pixels per inch
Genus playlists
Extras: Clocks, Alarms, Stopwatch
Sync Contacts, Calendars, To-Do Lists with iTunes
Record voice memos with optional Apple Earphones with Remote and Mic
Use as external disk, store text files in Notes folder
Audio: AAC (8 to 320 Kbps), Protected AAC (from iTunes Store),
MP3 (8 to 320 Kbps), MP3 VBR, Apple Lossless, AIFF, WAV
Audible (formats 2, 3, 4, Audible Enhanced Audio, AAX, AAX+)
Video: H.264 to 2.5 Mbps, 640x480, 30 fps in .m4v, .mp4, and .mov formats
Built-in rechargeable lithium ion battery
Up to 36 hours of music playback, 6 hours video on single charge
Fast-charge 2 hours (80% capacity), full charge 4 hours
4.1 x 2.4 x 0.41 in. (103.5 x 61.8 x 10.5 mm), 4.9 oz (140 g)
9/08 - Battery: Up to 36 hours music; 6 hours video playback
Charge in 4 hours (fast charge 2 hours 80% capacity)
Apple iPod classic - www.apple.com/ipodclassic

Find the Apple iPod classic (gen 3) on Amazon.com