Manifest Technology Blog -- Site: | Articles | Galleries | Resources | DVI Tech | About | Site Map |
Articles: | PC Video | Web Media | DVD & CD | Portable Media | Digital Imaging | Wireless Media | Home Media | Tech & Society |
Portable Media: | Portable Media Articles | Portable Media Player Gallery |

---
Palm Handheld Video Players (4/2001)
by Douglas Dixon
Sony CLIÉ - Generic Media
TealPoint TealMovie - Firepad FireViewer
ActiveSky - MGI PhotoSuite Mobile
It's the dirty secret of all us home video enthusiasts: All those stacks of tapes piled up around the house, stuffed in the back of cabinets, or buried in closets. So many tapes, some with incomplete and missing labels, each containing a jumble of material recorded at different times. Who knows what is on them all, and who can face the effort it would require to go though them and get them all organized? Yes, it would be fun to look at some of them again, share them with friends and family, and even edit some on a computer, but it's just too big an effort!
Back at the dawn of time (way back in the year 2000), the Palm handheld and other PDA (personal digital organizer) devices were envisioned as practical business tools, to be used for serious applications such as electronic datebooks, address books, and to-do lists. But handhelds have started to get interesting for multimedia. Creative software developers have brought photo viewers and even video players to the Palm, and Microsoft introduced the PocketPC platform, including the Casio Cassiopeia with digital camera attachment.
Now, in the beginning of 2001, video on handhelds has taken another leap forward. On the Pocket PC platform, Microsoft introduced Windows Media Player 7 for Pocket PC in December 2000 (www.microsoft.com/windows/windowsmedia). This new version means you can play Windows Media format audio and now video files on handhelds from Compaq, HP, and Casio.
Meanwhile, the Palm platform has expanded its multimedia capabilities with Sony's introduction of the CLIÉ handheld, which includes a bundled video player. Several companies have also released new video converters and players for the Palm platform. Now your Palm is not just an organizer, it is also a multimedia player, so you can convert and download your own video - and audio - clips to a Palm handheld.
In the Fall of 2000, Sony introduced its own version of a handheld organizer by licensing the Palm platform design and software. Sony calls its product the CLIÉ (pronounced KLEE-ay), or more formally the PEG-S300 Personal Entertainment Organizer (www.sony.com/clie). The CLIÉ is currently selling for around $349 (street), compared to $399 for the Palm Vx.
The CLIÉ design is very similar to the Palm Vx, with the same processor and built-in memory (8 MB internal and 2 MB Flash). The CLIÉ is approximately the same shirt-pocket size as the Palm V series, although slightly narrower and slightly thicker. The grayscale screen has the same display resolution, but is slightly smaller. The CLIÉ display is clear and crisp, and has a true backlight for using the unit in dim lighting, not the reverse white-on-black effect of the Palm V.
Sony has improved the basic Palm design with several user interface and expandability features. A small Jog Dial thumbwheel on the left side of the device lets you scroll though lists and select items with one hand, although you still need to use the stylus for more complex operations. The CLIÉ uses the USB interface to synchronize with a PC, but does not support the Macintosh.
For additional storage and future expansion, the CLIÉ has a Sony Memory Stick Removable Media expansion slot on the top of the unit. The base unit ships with an 8 MB Memory Stick, and larger sticks are available, up to 64 MB ($129). Unfortunately, the initial CLIÉ software cannot run applications or access some data directly from the memory stick, so you need to run the included MS Gate utility to copy programs and data between the Memory Stick and the main memory of the CLIÉ.
Sony also has enhanced the base Palm software with multimedia capabilities. The built-in Address Book application has been customized to let you include a small thumbnail picture with each entry. The CLIÉ also includes the PictureGear Pocket photo viewer application so you can download and view photos and slide shows.
Even better, the CLIÉ includes the gMedia video player application from Generic Media (WAS www.genericmedia.com/gmedia). The gMedia player has a nice simple interface: it lists the available movie clips, and then you tap on one to play it. The clip listing screen lets you cycle through the available information about each clip. including resolution, play duration, and size.
The clip player screen includes a play control bar with buttons to pause and restart playback, and rewind back to the beginning. It also has a slider bar that you can drag to scan through the clip. The player screen also has back / next buttons to cycle through the list of available clips without needing to return to the main screen. The clips do not fill the full square of the CLIÉ display screen; they are displayed with a 4:3 aspect ratio, which leaves room at the bottom of the screen for the play controls.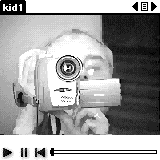 You can convert and download your own AVI files using the Sony PictureGear Lite desktop application for Windows. Picture is designed for organizing photo images and transferring them to Sony consumer products like digital cameras and the CLIÉ PictureGear Pocket photo viewer, but it also can convert video files. The handheld files are grayscale only, and can be scaled to 80x60, 120x90, 160x120, with a default frame rate of 10, 6, and 4 frames per second respectively. You can also choose between higher compression or higher quality images. The PictureGear Lite application then converts the input file and automatically schedules it to be downloaded at the next HotSync.
The gMedia player only is available bundled with the Sony CLIÉ handheld, and not for other Palm-based systems. It has a clean and simple interface for playing video clips at a reasonable frame rate, albeit without any sound. It does not have any other advanced options, although you can beam your clips to other CLIÉ handhelds.
The next breakthrough solution for playing personal video clips on the Palm platform came from TealPoint Software, developers of over a dozen productivity software products for Palm-based handhelds, including the TealDoc document viewer and TealPaint image editor (www.tealpoint.com).
In December 2000, TealPoint introduced the first version of TealMovie, which allows you to convert, download, and play movies on your handheld, in color and grayscale, with smooth playback at good frame rate, at full-screen resolution, and with audio.
Yes, audio on the Palm platform! And you thought the Palm could only beep and play simple sounds to remind you of appointments. While you cannot get great sound out of the Palm's small speakers, TealMovie can play recognizable, albeit scratchy, sound with your videos. In general, music will reproduce better than speech, and female voices better than male. TealMovie supports sound playback on all models above a Palm III.
The main screen in the TealMovie player application is the Media List, which lists all the currently installed clips and lets you play, categorize, rename, delete, and display information about them. TealMovie also provides options to optimize audio playback on your handheld. The Settings dialog identifies the speed and model of your Palm, set the volume level, with an Overdrive level for extra volume, and apply a bass boost for low frequencies.
TealMovie plays video clips full-screen if possible, without letterboxing or reserving space for play controls. To pause playback or adjust the volume, tap the screen to bring up the play controls. Due to the compression used in TealMovie, you cannot drag the slider to scan through the movie.
TealMovie Encoder
To convert your desktop video files for downloading, TealPoint provides the TealMovie Encoder application under Windows. The encoder converts Windows AVI video and Wave audio files to the custom TealMovie format. To use the encoder, first select the input video and audio files (the audio can come from the video file, or from a separate file). Then select the output file, and specify the name for the clip on the Palm. The Encoder then provides a wide range of options for cropping the input video, and for video and audio encoding.
The Cropping dialog lets you preview any frame of your movie as you adjust the input video image size to fit the square screen of the Palm. You can adjust the aspect ratio of your video clip between Full Screen, which may requiring cropping some material from each side of the frame, and Letterboxed, which reduces the movie as necessary to fit into the screen, which may introduce black bands at the top and bottom of the screen.
The Audio Options dialog provides options to use uncompressed audio, or to compress the audio for significant space savings with little cost to sound quality. To improve sound quality on the Palm's small speakers, it also has options to prefilter the audio to improve the volume and to further boost the volume for quieter sound files.
Finally, the Encoding Options dialog provides control over the video quality and data rate. You can compress files in color or grayscale. Color clips are still displayable on grayscale Palm devices, but can also be shared with color units. You can control the target data rate and video quality, from very low quality at around 600 bytes per frame, to medium quality at 1700 bytes per frame, to maximum quality at 3000 bytes per frame. A typical clip uses approximately on megabyte per minute of playing time.
TealMovie supports smooth playback of up to 25 to 30 frames per second, but, due to the persistence of the Palm LCD display, increasing the frame rate higher than around 10 fps is not noticable on a grayscale Palm display. As a result, the Encoder application will default to automatically selecting a frame rate of around 10 to 15 fps which divides evenly into the source frame rate. Otherwise, you can select a specific frame rate.
Once you have selected your options in the TealMovie Encoder, press Encode to start the encoding process. The encoding speed is close to real time on a fast machine, or 2 to 3 times slower on an older (266 MHz) machine. The Encoder displays the original source and encoded output frames as it is compressing the video, which makes it easy to preview different quality settings without needing to compress the entire file (there is no Windows player for TealMovie files). To play the files on your Palm, use the standard Palm Install tool to HotSync them to the TealMovie player on the Palm.
TealMovie is available to try out as a free download from TealPoint for a 30 day trial period. It includes a complete User's Manual, and the applications have helpful explanatory text in the dialogs. The registration cost for TealMovie is $19.95, but, like all TealPoint shareware products, the download is completely usable, and does not expire or omit any functionality. The TealMovie application does remid you to register each time you play a movie, and the clips created by the Encoder desktop tool are marked "Encoded with unregistered copy."
FirePad, Inc. is taking a more enterprise-oriented approach to multimedia on the Palm with its FireViewer application (www.firepad.com). FireViewer began as an image viewer for high-resolution images, such as schematics or maps, now up to up to 32,000 x 32,000 pixels. In a series of announcements in late 2000, FirePad is expanding its media-handling capabilities for rich content including video, Adobe PDF, Adobe FrameMaker, and vector rendering for geographic information systems and computer-aided design.
FireViewer is also designed as part of a business enterprise solution, with the FireConverter desktop application for individuals to convert files to FireViewer format, the FirePublisher document server for hosting rich media documents for access throughout a business, and the FireProducer streaming video server.
FirePad has also expanded its solutions for Internet and wireless access, with support for HTML viewing and navigation, photo sharing though a free Web service, and Palm OS wireless web clipping applications to display streaming video and high-resolution images.
The FireViewer Palm application and FireConverter desktop tool for Windows are free downloads from FirePad, as is FirePublisher for low-volume use.
Finally, ActiveSky offers a video player for playing clips from media Web sites on both the Palm and PocketPC platform (www.activesky.com). ActiveSky does not offer a desktop converter application for individual use, but instead partners with commercial sites such as Atom Films and UndergroundFilm.com that provide clips in the SKY format to download and play on your handheld.
The ActiveSky Media Player application only displays videos in widescreen aspect ratio, with play controls at the bottom of the screen, including a frame advance function. ActiveSky currently does not support audio on the Palm, and the frame rate on downloaded clips appears slow. The new Version 2 of the player has better compression for cleaner and sharper video, and supports bandwidth adjustments for wireless streaming video.
MGI Software Corp. (now Roxio www.roxio.com) announced PhotoSuite Mobile, a photo and video viewer application for the Palm platform, in January 2000. This is the first established desktop imaging company to release a Palm application. It will be available in February 2001 for $24.95.
The PhotoSuite Mobile Album application for the Palm platform allows you to store, view, and share both photos and video clips on your handheld. MGI claims to support video playback up to 30 fps, and video pause with single frame advance. The product also includes PhotoSuite Mobile Organizer, desktop software to organize, edit, and convert photo and video files.
Palm Video
So, it appears that the Palm is in fact a multimedia player. We have seen amazing progress in the past year, with a variety of approaches for supporting handheld video, both in terms of the technical capabilities and the business models.
For individuals who want to download their own videos, TealMovie provides a complete solution, with full-frame video, smooth playback, color images, and, best of all, audio. For display of a variety of rich media formats, especially for enterprise and wireless use including video, FireViewer provides a comprehensive and expanding platform. And ActiveSky is working with a variety of media hosting Web sites to permit content to be displayed on handhelds.
With the growing emphasis on removable media and wireless communication for the Palm platform in 2001, we can expect to see multimedia access become a mainstream application on handhelds, whether to catch the latest movie preview or to watch the news as live streaming video. Enjoy!
References
PalmOne - Handhelds and smartphones
www.palmone.com
Sony CLIE Personal Entertainment Organizer
www.sony.com/clie
Generic Media - GMedia
www.genericmedia.com/gmedia
TealPoint Software - TealMovie
www.tealpoint.com
Firepad, Inc. - FireViewer
www.firepad.com
ActiveSky Media Player
www.activesky.com
MGI PhotoSuite Mobile - Roxio
www.roxio.com
Microsoft Windows Media Player 7 for Pocket PC
www.microsoft.com/windows/windowsmedia