HOME DIGITAL MEDIA ARTICLES

Manifest Technology Blog -- Site: | Articles | Galleries | Resources | DVI Tech | About | Site Map |
Articles: | PC Video | Web Media | DVD & CD | Portable Media | Digital Imaging | Wireless Media | Home Media | Tech & Society |
Home Media: | Home Media Articles | Home Networked Media Gallery |

---
Articles: | PC Video | Web Media | DVD & CD | Portable Media | Digital Imaging | Wireless Media | Home Media | Tech & Society |
Home Media: | Home Media Articles | Home Networked Media Gallery |

---
Portable Media Devices: Players, Storage, Power
(8/2006)
by Douglas Dixon
Portable Players
Portable Audio Players: SanDisk Sansa c100
Portable Media Players: SanDisk Sansa e200 & iriver clix
Portable Media Recorders: RCA Lyra X3000
Sony PSP Media Manager
Portable Sound: CPS Cellboost T-Speaker, Creative I-Trigue L3800
Portable Storage: Imation Clip & Pivot, Verbatim FlashDisc & USB HD Drive, Ceedo / U3 / Mingo
Portable Power
Battery Chargers: CPS Cellboost & iRecharge, RIDATA Solar Charger, Turbo Charge
Power Adaptors: Mobility iGo, Blackstone MFuel
References
How many portable devices do you carry? The market continues to evolve rapidly, so let's look at new developments in three related areas -- portable media players for both playing and recording, to enjoy music, photos, and videos on the go; portable storage devices so you can take your files, and even your desktop computing environment, along as well; and portable power adaptors to help manage all the batteries and power adaptors that all these devices require.
The big theme for portable devices is the continued unrelenting growth in storage capacity -- now with multiple gigabytes of solid state flash memory available for around $100. This means that your MP3 music player has room to store hundreds of songs, or be upgraded with a color screen to support photos and video. And a portable storage drive can have the room to store your entire working desktop, including e-mail and active documents.
Even small "MP3 players" do much more than playing music, and have much larger capacities. For example, the SanDisk Sansa c100 Series MP3 players pack up to several gigabytes of music, plus a color screen, into an inexpensive and compact package (www.sandisk.com). The c140 model has 1 GB for $109, and the c150 has 2 GB for $149. And in a player that's 1.35 x 3.10 x 0.94 inches and 1.6 ounces.
SanDisk Sansa c100 audio player
You can just connect the USB cable to transfer files directly as a USB drive, or use the Windows Media Player or other applications to syncronize files. The 2 GB player holds some 960 songs in WMA format, for 64 hours of music playback, which should be enough even for a long plane ride.
Besides music playback, the c100 also displays (tiny) photos and slideshows, has a FM digital tuner with 20-channel presets, and does voice and FM recording. It runs on a single AAA battery for up to 15 hours of battery life. It plays MP3, Windows Media Audio (WMA), and Audible e-book audio formats, with Microsoft WMA PlaysForSure support for subscription and download purchased music. The interface is particularly easy to use, with four lines of menu or song information text on the bright 1.21-inch screen.
But if 1000 songs are not enough, you may want more capacity -- and a larger screen to help in navigating your collection. And with more capacity and a bigger screen for photos, why not add video playback as well? That's the approach for the SanDisk Sansa e200 series video players, scheduled to be available in three capacities: 2 GB for $199, 4 GB for $249, and 6 GB for $299. At 6 GB, you can store some 3840 WMA songs (256 hours).
SanDisk Sansa e200 media player
The e200 players have a 1.8 inch TFT color screen (QCIF+), and are not much bigger than the c100, at 1.70 x 3.50 x 0.52 inches and 2.6 ounces. The design includes backlit controls for navigation, a microSD expansion slot for additional memory, and a replaceable and rechargeable lithium-ion battery with up to 20 hours of battery life.
This is the same idea behind the iriver clix flash media player, announced in May 2006 to replace the U10 (www.iriveramerica.com, www.iriverclix.com). The clix has a 2.2 inch color TFT display, and comes with 2 GB capacity for $199. It improves navigation speed and video performance, and adds support for Macromedia FlashLite 2.0 games and animation.
The clix supports MP3, WMA with PlaysForSure, and OGG music formats, and MPEG-4 simple profile QVGA (15fps) videos. It also includes an FM tuner and FM / voice recorder. And it supports the new Windows Media Player 11 and the public beta of the MTV Networks new URGE digital music service.
The player design is impressively clean, at 2.7 x 1.8 x 0.6 inches and 2.5 ounces. There's no control pad -- like the U10 it uses an interesting "direct click" interface, where you control playback simply by pressing on the sides of the screen. The rechargeable battery provides 25 hours of playback.
You can go far with memory-based media players, but you'll need 10 times more storage to store large collections of music, plus podcasts, photos, and longer videos and videocasts. And you'll want a larger screen and built-in speakers, especially to play your material for a group. This is the domain of players with hard disks, offering up from 20 to 60 to now over 100 GB of storage, and 3.5 inch and larger displays, with products like the Creative Zen Vision.(www.creative.com).
But why stop at just playing video -- music players can record FM radio, so why shouldn't media players also record TV video? You can find these kinds of video recorder products from Archos (www.archos.com), and now in the RCA Lyra X3000 Personal Multimedia Recorder, introduced in March 2006 from Thomson (www.rca.com). The X3000 has 20 GB of storage for $399, and will step up in May to the X3030, with 30 GB for $399. With 20 GB, you can store some 300 hours of MP3 music, 80 hours of video, or 10,000 JPEG images.
RCA Lyra X3000 Personal Multimedia Recorder
The Lyra has a bright 3.6 inch screen, with 320x240 pixels. The design is not flashy, but is quite functional -- the unit comfortably shaped and light at 4.95 x 0.83 x 3.07 inches and around 8 ounces. The controls are clear, with labeled buttons on the top (On/Off, Back, Record), plus the usual navigation pad on the front -- except that the pad works for both button pushes (up, down, left, right, select), and for stroking your finger in a circle to move thorough menus and adjust the volume.
The menus and navigation are similarly straightforward, with simple menus and helpful prompts. The unit is set up to automatically play a Welcome video when you first turn it on, which finishes with an explanation of how to turn it off in the Setup menu.
The Lyra plays MP3, WMA (including subscription tracks), and Audible audio files, displays photos and slide shows, and plays WMV and DivX / MPEG-4 video. Its other features include a built-in microphone for voice recording, an SD slot to transfer photos from a digital camera, and a removable and rechargeable lithium ion battery for at least four hours of video playback.
But the really interesting aspect of the Lyra is the home theater docking base. Hook up the A/V outputs for displaying from your player on a TV, and use the full-size IR remote to control playback. Or hook up the A/V inputs for recording video and audio directly on the Lyra, from a TV, VCR, or other device. You can even connect the included IR blaster to have the Lyra directly control your cable box, satellite receiver, or VCR for scheduled recordings.
Portable video recorders open up whole new possibilities for viewing TV and shows on the go. You can transfer videos directly to the player, without needing to first capture and convert them on a computer. Even better, you can schedule recording of shows in the evening, and watch them the next day.
---
Another approach to portable media is the Sony PlayStation Portable (PSP) (www.us.playstation.com/PSP). The PSP is not just a handheld gaming machine -- it's also a movie player for films on UMD disc. Also, less well known, it's a fine media player for your own music, photos, and videos -- but these must be downloaded onto flash memory on a Memory Stick card.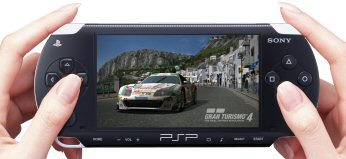 Sony PlayStation Portable (PSP)
The problem, however, has been that it's not particularly obvious how to convert files to formats that are playable on the PSP, or how to store them properly on the Memory Stick for playback. Newer video editing and conversion applications have added PSP export and even downloading features, at least for videos, Now Sony Media Software has provided a full solution for all formats -- the PSP Media Manager ($19, www.sonymediasoftware.com
). This provides simple drag and drop downloading, with automatic format conversion for photos, audio, and video, including extracting audio from CDs and downloading of podcast and video blog feeds. Plus, you can copy and back up saved games.
Also make sure you have the latest PSP firmware upgrades. System Update 2.70 from April 2006 adds support for Macromedia Flash content in the Internet browser, and the ability to save audio podcasts from RSS channels.
To download lots of content to the PSP, check out the SanDisk Gaming Memory Stick PRO Duo cards, in semi-transparent neon colors. These are available in up to 4 GB (from 256 MB for $34, to 2 GB for $109, and 4 GB for $219). SanDisk also has announced the high-performance RapidGX Memory Stick PRO Duo Game card (1 GB for $84.99), bundled with PSP conversion and download software (from Mediafour) and Memory Stick PRO Duo card reader.
---
Tiny little MP3 audio players are great for personal use -- larger media players have built-in speakers so you can share the music, but small devices only have a headphone jack. But there still are times when it would be nice to listen to your music without headphones -- at home, or in the car, or in a hotel room.
What you need is a similarly tiny speaker -- like the Cellboost T-Speaker from Compact Power Systems ($19.99, www.cellboost.com). This sweet little unit comes in clean white and runs in one AA battery -- just plug its standard headphone jack into any player, including iPods.
CPS Cellboost T-Speaker
Of course, no matter what your player, there are an amazing variety of larger speakers available for sharing your music. Companies like Creative offer portable two-speaker systems that you can dock your player into, or others you can plug in to a player (or notebook) to boost the sound. Or for fully using your player at home, you can step up to a serious 2.1 system like the Creative I-Trigue L3800 ($149), with dual 9 watt satellite speakers plus 30 watt subwoofer, and including a remote control to access a Creative Zen MP3 player (www.creative.com).
Creative I-Trigue L3800
---
Flash memory is great for small music players, but it also has a more prosaic use as a portable data drive. Now that solid state is affordable in multiple gigabytes, you can carry a non-trivial amount of data in a small rugged USB thumb drive.
For example, there's the new Imation Clip and Pivot Flash Drives, with tough rubberized casings and reinforced rings to snap onto backpacks, shoulder bags or belt loops (www.imation.com/flash) -- with so much storage you really don't want to lose them. They also come with security software. The rotating Pivot is available from 256 MB to 4 GB, at $32 to $239. The water-resistant Clip drive slides out from the colorful soft rubber case. It's available from 256 MB to 2 GB, for $29 to $119.
Imation Clip Flash Drives
While more storage is always welcome, there's also a need for storage to share -- the way we used to use floppy discs for inexpensive give-away file sharing. This kind of use has been replaced by CDs and networking, but there still are times it would be nice to be able to just quickly hand over a collection of files such as recent photos. This is the idea behind the new 16 MB FlashDisc from Verbatim amd Memorex -- a small and inexpensive flash drive designed for exchanging data ($19 for a 3-pack, www.verbatim.com). It even has a circular design like a disc with a write-on label area, and is available in vibrant colors.
16 MB FlashDisc
Yet while flash is now affordable up to several gigabytes of capacity, tiny hard drives offer even more capacity while still being highly portable and affordable. For example, the Verbatim Store 'n' Go USB HD Drive is available in 4 and 8 GB for $129 and $199 -- that's around twice the capacity for half the price of a flash drive, although in a slightly larger size.
For using a shared computer, Verbatim also includes Mobile Launchpad software with its USB HD drives to run your applications directly from the drive and access personal files and data without loading them on the host system (based on Ceedo Technologies, www.ceedo.com).
Another approach to carrying your work on a flash drive is from U3 (www.u3.com) -- a feature built into flash drives so you can carry not only your data, but also your programs and preferences, so you can do your work anywhere, on any Windows PC.
Verbatim U3 Flash Drive
The next step along this line is to clone your entire desktop environment with Migo Mobile Computing Software (www.migosoftware.com). Mingo first runs on your main system to sync your desktop environment to a flash drive. Then plug in the flash drive on a guest machine, and Mingo replicates that environment, complete with your desktop wallpaper and icons, Internet settings, e-mail, and personal documents. You can even store multiple such environments on a single flash drive, and add security protection.
Migo Mobile Computing Software
Not bad: Portable storage has gone from slowly copying around 1 MB of data to a floppy disk, to burning 700 MB on a CD and then 4.7 GB on a DVD, to quick drag and drop to pocket-size portable drives offering up to 4 to 8 GB. Load up your collection of active files, and you really can take it all with you!
---
Media players are great for long trips, but battery life can become an issue when you are playing them continuously (especially video clips). And as you add to your collection of cool gadgets, they do require you to bring along even more batteries and plugs and chargers and docks -- especially when each devices uses different batteries and custom power adaptors.
One hope for sanity is to find sources for batteries and chargers that support multiple devices, and are more easily available. These kinds of products are becoming more visible in stores, especially in the travel section. Even better, they go beyond cell phones and media players to also power devices like digital cameras and camcorders, and even notebooks.
Here's a sampler of some of these new options.
- If you don't have a spare battery, one easy alternative is the Cellboost disposable battery/chargers from Compact Power Systems (www.cellboost.com), available for cell phones, smart phones, MP3 players, game players, and camcorders. Just plug in to your device's charger port and you're good to go. These are priced from $7.99 for cell phones, to $9.99 for the iPod and iPod mini, to $19.99 for selected camcorders.
CPS Cellboost
CPS also has a line of iRecharge rechargeable batteries, ranging from $39 for the iPod Shuffle (up to 40 hours of additional play time) to $79 for the iPod and iPod mini (12 hours) to $49 for camcorders (3 hours), and $59 for portable DVD players (3 hours). There's also a iRecharge for Sony PSP ($29), offering up to eight additional hours of play time, and designed as an integrated stand especially for movie watching.
- For even more flexibility in recharging, there's the Advanced Media / RIDATA Model S1000 Solar Powered Battery Charger (www.ritekusa.com). This has a 8.5 x 2.5 inch solar panel connected to two AAA batteries. It can charge the batteries directly, or pass power through a USB port to devices like MP3 players. Output for the AAA battery is 1.5V / 300mA, and for USB is 5V / 200mA. The specs list typically charging times per battery as 2 to 3 hours in full sun, and 4 to 6 on slightly overcast days.
RIDATA Solar Battery Charger
But there's another approach to dealing with the profusion of different devices, and the resulting need for product-specific batteries and chargers -- Use the same basic power unit, but then attach device-specific adaptors with the necessary tips to plug in to each device.
One example of this approach is the Turbo Charge cell phone charger (www.turbocellcharge.com) -- basically a AA battery in metal tube, with an adaptor and tip that matches each type of cell phone ($19.95 with one adaptor and $24.95 with all 8). You can pick up a new battery wherever you go, and then charge up your phone. Even better, the iPod version, called the iTurbo, is due to debut in June.
Turbo Charge
This idea extends nicely to wall chargers that can handle larger devices, up to camcorders and notebooks. The iGo power adapters from Mobility Electronics (www.igo.com) are available in multiple versions, from 8 watts to charge mobile phones and portable audio players (starting at $19), to 70 watts (around $79), to up over 100 watts to charge high-end notebooks (from $119). The product line includes units for plugging into a wall outlet (home and office), and/or cars and airplanes. Plus, there's a Dualpower accessory to split the feed and simultaneously power two devices (bundled or $24 separately).
Mobility iGo
As travel adaptors, the iGo products are rated from 110 volts to 230 volts and 50/60h, and therefore only need a generic travel adapter plug that allows the adapter to plug into the wall socket.
But the real magic of the iGo approach is the swappable "iTips" designed to fit a wide array of devices: mobile phones and handhelds/PDAs; portable music and media players (including portable DVD players, gaming systems, GPS systems, and satellite radios); digital cameras and camcorders; and notebooks and external hard drives. Check the iGo website to find the iTip for your specific make and model ($9.99 for many, $14.99 for some iPods).
Blackstone International is taking a similar approach with its line of MFuel portable power adaptors (www.mfueldirect.com). These include chargers for wall power, cars, and planes, complete with adaptors and tips, in three color-coded lines: Yellow low-power chargers (i.e., 18 watts for cell phones, media players, digital cameras, and camcorders) Red high-power adaptors (i.e., 75 watts for notebooks), and White universal chargers (i.e., 100 to 120 watts). The MFuel Power Bank line offers external batter packs with similar flexibility in charging, with models for portable electronics ($199 for up to 65 hours of additional cell phone time), notebooks ($299 for 10 hours), and universal connectivity ($399 for 12 hours for notebooks and 100 hours for cell phones).
So if you're tired of lugging around motley collections of electrical adaptors and connectors, check out these kinds of universal power systems that can cover the whole gamut of devices from tiny cell phones to camcorders and notebooks.
Portable Media Players
SanDisk Sansa c100 MP3 players / e200 video players
www.sandisk.com
iriver clix
www.iriveramerica.com
www.iriverclix.com
RCA - Lyra X3000
www.rca.com
Creative Zen Vision
www.creative.com
Sony PlayStation Portable (PSP)
www.us.playstation.com/PSP
Sony Media Software - PSP Media Manager
www.sonymediasoftware.com
Portable Sound
Compact Power Systems - Cellboost T-Speaker
www.cellboost.com
Creative - I-Trigue L3800 Speakers
www.creative.com
Portable Storage
Imation Clip and Pivot Flash Drives
www.imation.com/flash
Verbatim16 MB FlashDisc
Verbatim Store 'n' Go USB HD Drive
www.verbatim.com
Ceedo Technologies
www.ceedo.com
U3
www.u3.com
Migo Mobile Computing Software
www.migosoftware.com
Portable Power
Compact Power Systems -- Cellboost, iRecharge
www.cellboost.com
Advanced Media / RIDATA - S1000 Solar Powered Battery Charger
www.ritekusa.com
Turbo Charge cell phone charger
www.turbocellcharge.com
Mobility Electronics - iGo power adapters
www.igo.com
Blackstone International -- MFuel
www.mfueldirect.com
Originally published in Camcorder & Computer Video magazine, 22, 6, Aug. 2006.