Manifest Technology Blog -- Site: | Articles | Galleries | Resources | DVI Tech | About | Site Map |
Articles: | PC Video | Web Media | DVD & CD | Portable Media | Digital Imaging | Wireless Media | Home Media | Tech & Society |
Portable Media: | Portable Media Articles | Portable Media Player Gallery |

---
Portable Media Devices (4/2005)
(Creative Zen Portable Media Player
Archos Pocket Video Recorder,
Samsung SCH-a890, Verizon V CAST)
by Douglas Dixon
Beginnings: Portable Music Players
Adding Video: Creative Zen Portable Media Player
Recording Video: Archos Pocket Video Recorder
Video Capture on Mobile Phones: Samsung SCH-a890
Video on Mobile Phones: Verizon V CAST
Portable Video
References
The explosion of consumer interest in handheld devices has fueled an ongoing battle in the consumer electronics industry -- not so much between different companies, products, or technologies -- but more fundamentally to understand and satisfy consumer desires: finding the right combinations of features to be integrated into convenient portable form factors that win with consumers. For example, over the past few years we have seen this kind of battle play out in the convergence of mobile phones and PDAs, now apparently settling on PDA/phones in the style of the PalmOne Treo.
Similarly, the portable music player market seems to have settled into several tiers, from "lipstick" sold state players to "mini" and larger players based on hard disks. But the convergence thing is still going strong: as technology improvements allow audio players to add more storage and larger displays, the drive to integrate additional functionality becomes unstoppable -- as the pure Apple iPod audio player includes games and organizer functions, and then expands to the iPod Photo, and other players add additional features such as FM radio and voice recording.
Meanwhile, a different class of device has been invading the same territory. As mobile phones have added digital cameras and expandable memory, they too have become portable music players and digital photo albums. The tremendous adoption rates and continued upgrades of mobile phones will soon cause the number of these devices to overwhelm stand-alone digital cameras and audio players. The dedicated devices will need to compete on quality (i.e., better camera lens) and usability (i.e., more convenient than a tiny numeric touchpad).
This year's new skirmish comes from the addition of motion video to these devices, as portable media players and mobile phones offer two very different models for storing and accessing video content. Portable media players from companies like Creative and Archos have an obvious advantage for video playback in that they have larger displays and more storage (with hard disk drives), which works well for downloaded content, especially full-length movies. But mobile phone video services like Verizon V CAST now can provide on-demand access to fresh broadcast content like news and sports, albeit short form clips and displayed on a smaller screen.
As a starting point, consider how the market for portable music players has consolidated into three general categories: tiny "lipstick" players based on sold state cards holding up to about 1 GB, weighing under an ounce and priced under $100 (recently joined by the iPod Shuffle); pocket-size players adding a small hard drive for up to around 6 GB, but still weighing under 4 ounces and priced up to around $250 (like the iPod Mini); and slightly larger players with larger drives up to 40 GB and beyond, weighing under 6 ounces and priced a tad higher at $200 - $400 (www.apple.com/ipod).
The designers of these devices are caught in a constant trade-off between capacity and portability. In particular, the displays of the smaller units have been reduced to simple grayscale text, still good enough to display menus and song titles. But displaying photos and video requires bulking up for a better display. To add photos to the iPod, Apple added a 2 inch diagonal, 220 x 176 LCD display with 65K colors, and updated the iPod Photo up to 60 GB for $450, increasing the weight from 5.6 to 6.4 ounces, and the thickness from 0.57 to 0.75 inches.
Even after bulking up a portable player to display photos, the step to video still requires more processing power on the device, as well as a more sophisticated interface between the device and the computer to manage video content. The iPod is managed with Apple's iTunes digital jukebox software, which then needed to be extended for the iPod Photo to support synchronizing images as well.
Meanwhile, Microsoft's solution is to use Windows Media Player to synch all forms of digital media with portable devices, including music, photos, and video. Windows Media Player 10, released in September 2004, supports synchronizing the media library with over 70 supported portable devices (identified with Microsoft's new PlaysForSure logo program, www.playsforsure.com). Media Player 10 also enhances purchasing protected content from online stores, using Windows Media Digital Rights Management (DRM), and maintaining the DRM protection into supported portable devices.
To move beyond audio, Microsoft established the Portable Media Center (PMC) as a new class of portable device that integrates directly with Windows Media Player -- just select clips or playlists under your media Library, and click Sync to transfer them to the device, converting formats as needed. The interface for PMC devices is familiar from Media Center PCs, with simple menus designed for simple controls (i.e., accessed across the room with a remote control instead of a mouse and keyboard). But since the focus for PMC devices is video playback, it makes sense to increase the screen size (and resolution) and bulk up the player a bit to provide more accessible controls.
The result is a device like the Creative Zen Portable Media Center, with a 3.8 inch LCD TFD display at 320 x 240 resolution, and including analog audio and video outputs for display on televisions (NTSC or PAL). The Zen PMC is priced around $499 with a 20 GB hard drive, and is no longer quite pocket sized at 5.67 x 3.18 x 1.06 inches and 12 ounces (www.creative.com).
Creative Zen Portable Media Center
With the Zen PMC you can store some 9,000 songs or 85 hours of movies in Widows Media 9 Audio and Video formats, including downloaded clips and movies, broadcast shows recorded on a Media Center PC, as well as your own videos that you have captured and edited. While handheld, the device is large enough that you can comfortably watch longer videos, and even share the experience with another person or two.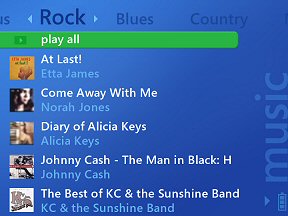 Creative Zen: Rock albums
Even better, you can make your media portable without even requiring a computer as an intermediary. The Archos AV400 pocket video recorder line serves as both a playback device and a self-contained media recorder (www.archos.com). It also supports a wider variety of formats, and is less tightly integrated with Windows Media Player. It plays audio in MP3, WMA (with DRM), and WAV formats, and supports voice recording with a built-in microphone and stereo music recording with an optional FM Tuner. It displays images in standard JPEG and BMP formats, and includes a CompactFlash reader to transfer photos from a digital camera. And for video, it supports MPEG-4 video playback in Windows AVI (and DivX) format, and can directly record video and TV through a docking cradle, including scheduled recordings.
Archos AV400
The AV400 display is a 3.5 inch TFT LCD at 320 x 240 resolution. The product line started with 20 and 80 GB capacities and then took a big jump to 100 GB in early 2005: the AV420 ($499.95), AV480 ($749.95), and AV4100 ($799.95). The units are relatively small at 4.9 x 3.1 x 0.8 inches (1.0 thick for higher capacities), and only 9.88 (11.29) ounces.
The AV400 supports older Windows (98 and later) and Mac (9.2 and later) machines, and on Windows XP it supports Windows Media Player 10, including Windows Media DRM for audio, with video DRM support promised before mid-year. In addition, like the Zen PMC and other Windows-based devices, when you connect to your PC (over USB), the device is mounted on the desktop as a removable drive, so you can use it as a convenient portable disk drive, and therefore manually copy media files directly to and from the storage.
While these portable devices are great for packing mass quantities of media, and especially for long-form albums and movies, they are yet another device (and associated power supply) to pack and carry. Meanwhile your mobile phone is always with you, but has been restricted as a portable player by the smaller display and limited built-in storage (i.e., measured in MBs and not GBs). But as cameras become more ubiquitous in mobile phones, all the capability is in place to have your phone become a media playback and recording device for audio, images, and video.
The mobile carriers have been growing the business of providing on-demand access to media: downloading ring tones and then music, screen savers and then photos. This revenue opportunity then was further expanded by camera phones, with the need for uploading services to send photos to friends and transfer to a computer. The next obvious step as mobile phones become general media storage and playback devices was to add memory cards to expand the storage capacity.

Interestingly, this has lead to a serious conflict with customer expectations: consumers are used to connecting to their computer to synchronize media files, while the mobile business is based on monetizing all transfer of content to and from the phone. As a result, mobile phones do not have USB ports, and while more phones are adding Bluetooth communications for use with wireless headsets, the carriers are not supporting it for general file transfer to a computer. For the moment, loading your mobile phone as a music jukebox or photo album is best done through the storage card.
Camera phones now do video as well, at least recording and playback of short clips. For example, the Samsung SCH-a890 from Verizon Wireless ($249.99 after $70 rebate) is definitely portable -- this flip unit is comparable to the iPod mini at 3.5 x 2.0 x 1.0 inches, and 2.8 ounces (www.samsungusa.com/wireless). It's around the same size, thicker, but also lighter -- plus the display is in color, at 176 x 220 and 262K colors (plus a smaller display on the outer case). Besides the phone features, it includes organizer functions and voice activation, plus multimedia messaging, downloadable applications and games through Verizon's Get It Now service, and Mobile Web access (www.verizonwireless.com).
Samsung SCH-a890
For photos, the rotating 1.3 megapixel camera shoots at up to 1280 x 960 resolution, and captures short MPEG-4 video clips (up to 15 seconds) at 176 x 122 resolution and 15 frames per second. Your photos, videos, and audio clips can be saved on the phone in the Media Gallery, shared with friends through multimedia messaging, transferred via e-mail, or uploaded to the Verizon Pix Place Web portal (www.vzwpix.com).
The trade-off for all this capability in a tiny handheld device, however, is the limited built-in memory compared to 4 to 6 GB on small audio players: the memory is apparently sub-divided into chunks including 8 MB for photo and video capture, 14 MB for the media gallery, and 54 MB for downloaded applications.. And there's no built-in memory card slot on this model.
Yes, today's mobile phones can be portable media players, but only for relatively short clips (and with the small screen really viewable only by one person at a time). But there's one more option with mobile phones that breaks the local storage limitations -- using the wireless access to view streamed content. This is the premise of the Verizon Wireless V CAST third-generation (3G) wireless consumer multimedia service, introduced in February 2005 ( www.verizonwireless.com/getitnow/videoclips).
V CAST is built on the Verizon broadband EV-DO (Evolution-Data Optimized) 3G network, with transmission speeds capable of bursts up to 2.4 megabits per second (Mbps), and average download speeds of 300 to 500 Kbps. Verizon reports that by the end of 2004 the EV-DO network had been deployed in areas covering 75 million people, or one-third of its network in the United States, and is targeting 150 million by the end of 2005.
For an additional monthly access fee of $15, the V CAST service provides unlimited access to more than 300 videos from leading content providers, including News from CNN and NBC; Entertainment from E!, Comedy Central, VH1, and Sesame Street; Sports from ESPN, Fox, Nascar, and NBA; and Weather from AccuWeather. The service also includes new "3D" games, unlimited airtime for Get It Now downloadable applications and games, and Mobile Web service.
V CAST - NBC Mobile and ESPN 2
V CAST uses the PacketVideo player on supported phones including the Samsung SCH-a890 and LG VX8000. The clips play at 176 x 132 resolution at 15 frames per second using Windows Media 9 format. Most clips around 2 to 3 minutes in length, and take 10 to 30 seconds to buffer up before playing.
However, these clips are not live: the news and weather clips can be updated several times a day, and the sports and entertainment clips are updated daily to weekly. Verizon is also releasing several original series as "mobisodes" -- original one-minute mobile episodes including "24: Conspiracy" from Twentieth Century Fox Television, and two productions from Twentieth Television: "Sunset Hotel," a soap opera, and "Love and Hate," described as a "quasi-reality series."
The consumer electronics revolutions continue: digital photography is ubiquitous, portable audio players have exploded into the mainstream, and cameras are converging onto mobile phones. But the battle for consumer favor continues, as the market has not yet established the right balance of form factor and functionality for how all these devices will integrate.
Mobile phones can certainly be a personal audio player, photo album, and even video and TV display, but are restricted by the small form factor: the clips are relatively short, memory expansion is limited to storage cards and not hard disks, and the viewing experience is compromised by smaller displays and limited A/V connectivity.
Meanwhile, portable audio players are bulking up to add photos and then become portable media centers with video playback. With larger screens, they are worth packing to provide a more comfortable travel and group viewing experience. And with hard disk capacities growing from 10 / 20 GB to 80 / 100 GB, you do not need to decide which portion of your music library to bring on a storage card -- you can just bring it all on hard disk.
You'll never have to be without your favorite media again.
PalmOne - Treo
www.palmone.com/us/products/smartphones
Apple - iPod
www.apple.com/ipod
Microsoft - Windows Media Player 10
www.microsoft.com/windows/windowsmedia/mp10
Windows Media Cool Devices
www.microsoft.com/windows/windowsmedia/devices
PlaysForSure
www.playsforsure.com
Creative Zen Portable Media Center
www.creative.com
Archos
www.archos.com
Verizon Wireless
www.verizonwireless.com
Verizon - V CAST
www.verizonwireless.com/getitnow/videoclips
Verizon Pix Place
www.vzwpix.com
Samsung Telecommunications
www.samsungusa.com/wireless