HOME DIGITAL MEDIA ARTICLES

Manifest Technology Blog -- Site: | Articles | Galleries | Resources | DVI Tech | About | Site Map |
Articles: | PC Video | Web Media | DVD & CD | Portable Media | Digital Imaging | Wireless Media | Home Media | Tech & Society |
Home Media: | Home Media Articles | Home Networked Media Gallery |

---
Articles: | PC Video | Web Media | DVD & CD | Portable Media | Digital Imaging | Wireless Media | Home Media | Tech & Society |
Home Media: | Home Media Articles | Home Networked Media Gallery |

---
New Developments in Portable Media Players
(4/2006)
by Douglas Dixon
Flash Music Players
mobiBLU - DAH-1500i Cube MP3 Player
SWISSMEMORY - s.beat MP3 Digital Audio Player
SanDisk - Sansa c100

Flash Video Players
LG - FM30 Portable Digital Player
SanDisk - Sansa c100
Samsung - YP-D1 Pocket DSC MP3 Player

Hard Disk Video Players / Recorders
Creative - Zen Vision:M
Samsung - YM-P1 Portable Media Player
LG - PM70 Portable Media Player
RCA - Lyra X3000 Personal Multimedia Recorder
Dream'eo Solo Portable Media Device

Mobile Phones - Verizon V CAST Music
This year's Consumer Electronics Show held in Las Vegas in January (www.cesweb.org) was focused on two totally opposite product categories -- big displays and small screens. We want our video big for the home theatre, with high-definition displays and cameras and DVDs -- but we also want our media to be mobile, in small portable players with tiny screens and personal headphones.
Even though the Apple iPod has defined the portable music and now video player market, there's still lots of innovation happening in portable media players, with alternate approaches to designs, features, and price points. This new year will see further refinement and design improvements in portable players, with higher capacities allowing video playback in smaller devices based on flash memory, and further size reductions and new features like GPS in disk-based players.
Here's a look at some of the promised new products for this year.
To show the range of amazing portable music players, start with the mobiBLU DAH-1500i Cube MP3 Player (www.mobiblu.com), a tiny cube less than one inch square (0.94 inches, and 0.63 ounces). It's available in capacities from 512 MB for $99, 1 GB for $129, and 2 GB.
mobiBLU DAH-1500i Cube MP3 Player
The cube is a full music player, plus FM radio, plus voice recording using the built-in microphone, and even a clock. It plays MP3 and WMA (Windows Media Audio) formats, with Equalizer modes and SRS WOW bass and surround sound effects, and supports purchased music protected with WMA DRM (Digital Rights Management).
The mobiBLU sports a bright blue self emitting OLED (Organic Light Emitting Diode) display, with the ability to navigate through folders to organize your music. It's powered by a built-in lithium-ion battery for 8 to 10 hours, recharged though the USB connection or with an optional AC charger.
Or for something completely different, the Victorinox Swiss Army Knife (which added a USB drive last year), has now been upgraded to be a full-fledged music player -- the SWISSMEMORY s.beat MP3 Digital Audio Player (www.swissbit.com). It's a full knife with all the fold-out cool tools, plus a full-fledged music player available with 1, 2, or 4 GB of storage. It supports drag-and-drop loading and playback of MP3, WMA, WAV or OGG Vorbis digital audio files, plus includes an FM radio and voice recorder.
SWISSMEMORY s.beat MP3 Digital Audio Player
The s.beat even comes with a remote control with dual earphone connections to share your music. Because of difficulties traveling with all the knife tools, the s.beat is also available in a flight version without the tools, or you can remove the MP3 player / USB drive from the knife body to carry on board.
Meanwhile, SanDisk has redesigned its popular Sansa line of flash-based portable media players to compliment their impressive features and pricing with sleek new designs. The SanDisk Sansa c100 series audio players (www.sandisk.com) feature a 1.21-inch color screen for convenient navigation, and for viewing thumbnail-size album art, and photo slideshows with music. It's available with 1 GB for $119 or 2 GB for $169.
SanDisk Sansa c100 audio player
The c100 also includes a FM digital tuner with 20-channel presets, supports FM on-the-fly recording, plus voice-recording with the built-in mic. It plays MP3, WMA, and Audible audio files, and includes Microsoft PlaysForSure support (WMA DRM), for purchasing music downloads or for subscription music services like Rhapsody To Go. It runs on a single removable AAA battery for up to 15 hours of music playback.
As music players have added capacity, performance, and color screens, the next step then become obvious -- add video playback as well, as Apple did with the iPod. In comparison, the LG FM30 Portable Digital Player (www.lgusa.com) with 1 GB provides video playback in a small matchbook size (2.4 x 1.6 x 0.55 inches), and even includes an attachment to wear around the neck. It supports MP3, WMA, OGG and ASF music, and MPEG4 video. The battery provides up to 60 hours of continuous music playback. [ As of April 2005, LG had decided not to introduce these products at this time. ]
Then there's the new SanDisk Sansa e200 media player is still light and fashion-based, but has enough capacity in flash memory to store and play more videos. The design is sleek (1.7 x 3.5 0.5 inches), built with a Liquidmetal Titanium alloy back casing that is highly resistant to scratches. It's available with 2 GB for $199, 4 GB for $249, and 6 GB for $299.
SanDisk Sansa e200 media player
Like the SanDisk c100 music player, the e200 plays music and displays photos, with FM radio and voice recording, plus it adds video playback and microSD expansion slot for additional capacity. The rechargeable and replicable lithium-ion battery provides up to 20 hours of playback.
But why stop at just adding video? In this time of converged devices, how about including a camera, as with the Samsung YP-D1 Pocket DSC MP3 Player (www.samsung.com), in a vertical phone-style form factor with a built-in 2 megapixel digital camera. It's available in capacities of up to 1 GB for $249 and 2 GB for $299.
The YP-D1 has a 1.8" color TFT LCD display. It plays music (MP3, WMA, OGG, including Microsoft PlaysForSure), JPEG photos and text files, and MPEG-4 video. It includes a FM radio and voice recording, plus a built-in speaker so you can listen to music or radio without earphones. It also can act as a USB host, allowing stored content to be displayed on a connected TV. It's powered by a Li-ion battery with up 20 hours of music playback time.
While music players based on flash memory can be wonderfully small and light, they can offer only up to a handful of gigabytes of capacity at affordable prices. The next step up is to full-fledged portable media players based on a hard disk, offering capacities of 20 GB or more, plus larger screens and (stereo) speakers better for shared viewing, and more capabilities and connections, including video output to display on an external television.
For example, the Creative Zen Vision introduced last year is a nice portable (but not really pocktable player) for enjoying and sharing videos, photos, and music. It features a bright 3.7-inch, 640 x 480 display with 30 GB capacity for $399, and weighing 8.4 ounces. Or to squeeze into a smaller, more vertical package, there's the new Creative Zen Vision:M (www.creative.com) with a 2.5-inch, 320 x 240 display and vertical touch pad, at 4.09 x 2.44 x 0.73 inches and 5.75 ounces. It's available with 30 GB for $329 -- in five colors (blue, green, pink, black, and white).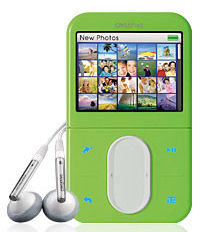 Creative Zen Vision:M
The Zen Vision:M includes an FM tuner, radio and voice recording, video output to a TV, and personal organizer storage that syncs with Microsoft Outlook. It plays audio (MP3, WAV, and WMA), displays JPEG photos, and plays MPEG-4 and WMV video -- with PlaysForSure support for both purchased music and video. It uses a rechargeable Li-Ion battery that provides up to 14 hours of audio or up to 4 hours of video playback. Creative also offers a variety of portable and personal speaker systems for enjoying your media at home and on the road.
The next big step in this year's devices is to go beyond video playback to add direct video recording, so these devices become a portable DVR (Digital Video Recorder).
For example, the Samsung YM-P1 Portable Media Player has A/V inputs for recording from TV and video, and A/V outputs for playing back on a television. It has a large wide-screen 4-inch TFT-LCD screen with full 16 million colors, and weighs 0.76 pounds. Plus, the YM-P1 has a built-in SDIO slot for expanded memory and future accessories. It's listed with 20 GB for $399 and 30 GB for $449.
The YM-P1 plays music (MP3, WMA, OGG, and even AC3), photos (JPG, BMP) and text files, and video (MPEG4, DivX, Xvid, avi, WMV). It supports Microsoft PlaysForSure Audio and Video for purchased music and movies. And it includes FM radio, voice recording, and even built-in games. The battery provides up to six hours of video, and up to fifteen hours of audio.
[ As of April 2005, this product was no longer expected in the U.S. market. ]
And the LG PM70 Portable Media Player sports a 30 GB hard drive, 4.3-inch widescreen display, and built-in stereo speakers. It has direct composite A/V line-in recording from TV sources, and line-out connections to an external TV. Besides music, photo, and video playback, the PM70 also provides personal information management (PIM) features, so you can sync with Microsoft Outlook and view your contacts and calendar, and even read email.
[ As of April 2005, LG had decided not to introduce these products at this time. ]
Then the RCA Lyra X3000 Personal Multimedia Recorder (www.rca.com) provides even more recording flexibility with a remote control and Home Theater Docking Base so it can act as a programmable "VCR" to time-shift your favorite shows. It's available with 20 GB for $399, with a 3.6-inch, 320x240 screen, and still relatively pocket-sized at 0.75 inches thick and under 8 ounces.
RCA Lyra X3000 Personal Multimedia Recorder
The X3000 supports MP3, WMA (including subscription), and Audible audio, photos, and MPEG-4 video. It includes a SD slot and can transfer photos directly from an SD memory card or compatible camera. RCA also plans a DirecTV2Go interface to transfer recorded content from a DirecTV DVR at 10X speed to watch on the device, or play back on another TV.
Finally, for even more capability and integration in your portable player, there's the Dream'eo Solo Portable Media Device (www.dreameo-usa.com) with 3.5" touch-screen LCD display -- that not only plays media, but also provides GPS tracking, with complete maps of the entire U.S. and Canada, plus guidance as you drive with detailed maps, turn-by-turn voice directions, and automatic routing. It sells for $999 with a 20 GB hard drive, measures 4.96 x 3.19 x 0.94 inches, and weighs 7.76 ounces.
The Solo includes an internal mic for audio recording, plus S-video output to both NTSC and PAL TVs. It also has a SD / Multimedia Card and I/O function card slot. It plays audio (MP3, WMA, and WAV), photos (GIF, JPEG, PNG, BMP), and video (WMV, MPEG-4, ASF, AVI, DivX up to 320 x 240). It uses a rechargeable Li-Ion/polymer battery, that 6 hours of audio and 3 hours of video playback.
So the evolution of portable media players continues, beyond playback to video recording, from small screens to widescreen, with memory card expansion slots and even WiFi networking (as in the Sony PSP), and adding a digital camera and GPS mapping. You can wear a tiny music player around your neck, slip a small video player in your pocket, or bring along a player with a larger screen for sharing with groups.
But no matter how much we enjoy our entertainment, a media player is still an optional device in our lives, while we always have our mobile phone everywhere we go. And mobile phones are getting more integrated as well -- with cameras, plus photo, music, and even video playback. But mobile phones were still not really designed as media players, and did not have the ease of connection to PCs to manage your media libraries -- although the Sprint TV and music services and the Verizon V CAST video services were steps in the right direction.
The new Verizon Wireless V CAST Music service (www.verizonwireless.com/music) blows away these limitations, connecting a full-fledged online service to a mobile phone designed as a media player, so you can both synch your music collection to the phone to listen on the go, and have the instant gratification of finding and downloading new music directly to your phone.
Verizon Wireless V CAST Music service -- Samsung a950

The V CAST Music service is initially available with the LG VX8100 and Samsung a950 phones. The LG VX8100 includes a USB port so you can connect with your computer like other media players, and also has a MiniSD card slot. You can synch your songs over USB using Windows Media Player 10, or copy them on a memory card. However, songs must be in WMA format (or will be transcoded when synched); the phone does not support MP3. The service does supports Windows Media DRM for purchased music, so you can buy music online from your computer from the V CAST Music Online Store for 99 cents -- and then just copy the song the to the phone to play there as well.

But when you need immediate gratification, you also can search the V CAST Music service directly from the phone, and buy and download the music immediately. A download arrives in only a minute or so, delivered over Verizon's high-speed EVDO network. Purchases from the phone cost $1.99, but are dual downloads -- you can then also download a separate copy on your computer (also at higher quality).

Consumer Electronics Show
www.cesweb.org

mobiBLU - DAH-1500i Cube MP3 Player
www.mobiblu.com

SWISSMEMORY - s.beat MP3 Digital Audio Player
www.swissbit.com

SanDisk - Sansa c100, Sansa e200
www.sandisk.com

LG - FM30 Portable Digital Player, PM70 Portable Media Player
www.lgusa.com

Samsung - YP-D1 Pocket DSC MP3 Player, YM-P1 Portable Media Player
www.samsung.com

Creative - Zen Vision:M
www.creative.com

RCA - Lyra X3000 Personal Multimedia Recorder
www.rca.com

Dream'eo Solo Portable Media Device
www.dreameo-usa.com

Verizon Wireless - V CAST Music service
www.verizonwireless.com/music

Originally published in Camcorder & Computer Video magazine, 22, 4, April 2006.