Manifest Technology Blog -- Site: | Articles | Galleries | Resources | DVI Tech | About | Site Map |
Articles: | PC Video | Web Media | DVD & CD | Portable Media | Digital Imaging | Wireless Media | Home Media | Tech & Society |
Portable Media: | Portable Media Articles | Portable Media Player Gallery |

---
"Non-Traditional" Portable Media Players (8/2005)
Sony PlayStation Portable (PSP)
and SmartDisk FlashTrax XT
by Douglas Dixon
SmartDisk FlashTrax XT
Direct Recording on the FlashTrax XT

Sony - PlayStation Portable (PSP)
PSP Movies on UMD
Downloading Media to the PSP
PSP as a Media Player
How would you like your portable media? At home, you can play your music CDs in a dedicated CD player with your stereo system, or in a combination CD/tape boombox, or at your TV using a multi-purpose DVD player or video game system, or, of course, you can use your general-purpose computer. The same kinds of mixed uses for devices are flourishing for portable media devices as well: not only portable audio and now video players, but other kinds of devices that also serve as media players, including portable gaming systems, PDAs, and even mobile phones.
Let's explore to interesting examples of these trends to see the range of possibilities and trade-offs for bringing along your media -- music, and photos, and videos. The SmartDisk FlashTrax XT is a feature-full portable player with the ability to record -- audio and video -- with no computer required. And the Sony PlayStation Portable (PSP) is a portable game machine turned movie player and general media viewer.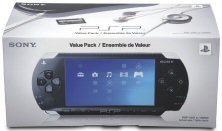 Sony PlayStation Portable (PSP)
One approach for designing a portable media center is to integrate it tightly with your existing computer-based media, i.e., with the WIndows Media Player, now upgraded to version 10 on Windows XP. Microsoft has even designed the Portable Media Center interface for mobile devices to provide a convenient interface for syncing and accessing your media on the go (www.microsoft.com/windowsmobile/devices/portablemediacenter).
For example, the Creative Zen Portable Media Center (PMC) device contains 20 GB of storage for photos, music, and video, displayed on a 3.8 inch 320 x 240LCD display ($499.99 U.S. list price, us.creative.com/products/category.asp?category=210). But more importantly, the PMC devices provide a very smooth and comfortable interface (based on the set-top Windows XP Media Center Edition) that allows you to use your desktop media library to organize and tag your media to then access on the portable device, e.g., by artist, album, genre, and personal playlists.
Creative Zen Portable Media Center
(See also Portable Media Devices -- Creative Zen Portable Media Player)
Another approach is to open up the portable device to support a wider range of formats and functionality, but therefore requiring a more custom interface and more sophisticated user. Take the SmartDisk FlashTrax XT portable multimedia player/recorder (www.smartdisk.com/eWeb/smartdiskus/www/staticpages/FlashtraxXT.asp). It's not just a flexible media player, but it also supports a wider range of media formats, includes a FM radio, transfers photos from CompactFlash (CF) memory cards (or other media with an available adaptor), and displays on an external TV (both NTSC and PAL). And it directly records audio and video.
SmartDisk FlashTrax XT
The FlashTrax XT, released in April 2005, is designed with a unique flip-top 3.6" color LCD, and is available with a 40 or 80 GB hard drive ($399.99 or $499.99 US, respectively). Flipping up the display exposes the navigation controls, and the play controls are lined across the front of the unit. The unit is 3.82 x 6.22 in x 1.38 inches, and weighs 15 oz / 427 g.
The device supports MP3 and WMA audio formats, but not purchased music with DRM (Digital Rights Management) protection; and JPEG, BMP, GIF, and some RAW image formats. For video, it supports Windows Media Video 9 SP (Simple Profile), and MPEG-4 video in a variety of file formats (MPEG4 Simple Profile, DivX, QuickTime 6 MPEG-4, and XviD).
The FlashTrax XT uses a custom interface with plain icons. At the main menu, choose the desired mode: Music, Movie, Photo, FM Radio, Setup, and Files. Then navigate through the storage hierarchy to find the files you want to play -- hard disk or CF card, with whatever folder structure that you want -- it's up to you to organize the files in ways that are convenient for you to access.
To record with the FlashTrax XT, first choose the source from the Setup menu: live audio from the Microphone, FM Radio from the tuner, or NTSC or PAL Video from the video input jack (using a cable with break-out connectors for video and left and right audio). For video recording, you can choose the audio format (MP3 or G.726 / ADPCM), quality (Good / 900 Kbps, Better / 1400 Kbps, Best / 2000 Kbps), and resolution (CIF / 352x240 for NTSC, or 1/2 D1 / 704x240 for NTSC).
The FlashTrax XT is designed as an open device. You can use the Files menu to browse the disk and rename, copy, and delete files and folders. It also supports updating the firmware. And connect it to a PC or Mac via USB to simply download files from your computer or uploading recorded files. No special software is required -- the FlashTrax can display existing files in common formats, and you can organize files in folders however you like.
Similarly, the FlashTrax not a particularly sexy -- the controls are spare, and the interface displays are simple and utilitarian, reminiscent of old DOS-based text interfaces, including menus along the top of the screen to adjust playback settings. You can't listen to audio while viewing a slide show, for example, or shuttle through a clip while listening to audio. And the built-in speaker is tinny at louder volumes.
But that's not what the FlashTrax XT is about. It's an accessible multi-purpose device for people who know what they want
---
Portable gaming systems may seem like a strange choice for serving as a portable media player, but today's platforms are certainly powerful enough, and the addition of removable solid state memory for tasks like saving game state then provides the ability to store and display other media files.
Which leads to the new Sony PlayStation Portable (PSP), released in March 2005 for North America, at a list price of $249.99 US (www.us.playstation.com/psp.aspx). The PSP looks like a video game controller, except that it's also the whole computer, plus display, and disc drive, and stereo speakers. The system is powerful enough to generate real-time 3D games, with a 333 MHz processor and 32 MB main memory, displayed on a bright 4.3 inch widescreen LCD, at 480 x 272 pixel resolution and full 16 million colors.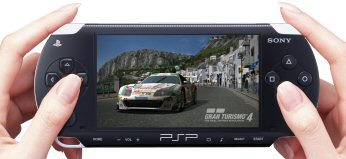 Sony PlayStation Portable (PSP)
Given its heritage, the PSP is obviously first a game machine, with great-looking 3D graphics for releases like Twisted Metal: Head-On, NBA Street Showdown, FIFA Soccer, Tiger Woods PGA Tour, Ape Escape: On The Loose, and Tony Hawk's Underground 2 Remix -- priced around $39 to $49.
These PSP games play from a new kind of optical disc, the UMD (Universal Media Disc). It's a red laser disc like CD and DVD, but smaller (2.36 in. / 60 mm in diameter), and holds 1.8 GB of data. The disc is stored in a caddy for protection, which inserts directly in the top of the unit.
The PSP also uses the Memory Stick Duo format for removable storage. Sony currently offers High-Speed Memory Stick PRO Duo media at 512 MB for $109, 1 GB for $199, and 2 GB for $499.
But once you've got a disc, why waste it just on games? A clue to the PSP's larger potential is bundled with the initial shipments of the PSP -- Spiderman 2, the entire movie, ready for you to watch on UMD disc. A variety of movies are being released in UMD movie format, from new releases at around $28.95 to catalog titles at $19.95.
UMD (Universal Media Disc)
You access the PSP through a menu interface that floats gently over the current background. Use the PSP's Directional buttons (on the left) to navigate the menus, moving left and right to select a category (Photos, Music, Video, Games, Settings), and then up and down to select an item within that category, including installed storage devices for playable content -- UMD disc and Memory Stick. Then use the Enter keys (on the right) to Select the current item ("X"), or Cancel out of a menu ("O"). Press the dedicated Home button (at the bottom left, next to Volume Up/Down) at any time to jump back to the PSP's home menu.
Movies on UMD provide a DVD-like navigational interface, depending on how they were authored. The animated main menu for Spiderman 2 offers the option to Play Movie, watch Previews, choose Audio settings (English or French), and select Subtitles (Off or English). During playback, use the Left and Right firing buttons to jump to the next or previous chapter point. You can also use the triangle button to pop up a content-specific Options menu as a control panel to choose playback options on the fly (including video angle, audio, subtitles), and to use soft keys for playback control (e.g., fast reverse, frame advance).
However, the UMD is just for manufactured prerecorded content -- it's not available in a writable / recordable format. But the Memory Stick Duo is available for downloading your own content. You can insert a card from a digital camera to view the photos, or put the PSP in USB Connection mode (under the Settings menu) and mount the Memory Stick as a removable file on your computer to just drag and drop files from your desktop.
Working with photos and music to the Memory Stick is straightforward: the PSP supports JPEG image format and MP3 and Sony's ATRAC3plus audio formats (www.memorystick.com/psp). You can just copy files to the appropriate folder structure (PSP/PHOTO and PSP/MUSIC), and then use the PSP's menus to view the desired type of content from the installed memory card. You can step to a specific image or clip to display it, but you then need to bring up the Options control panel for more control: for photos, to rotate, zoom and pan, step through the images, or display a slide show; and for music, to shuffle, repeat, and scan forward / reverse.
You can also purchase copy-protected music at the Sony Connect Music Store (musicstore.connect.com).
Working with videos is trickier. The PSP supports the new advanced MPEG-4 -- H.264/MPEG-4 AVC, Main Profile Level 3. You can download free clips from the Sony Connect PSP site (www.connect.com/psp). To convert and download your own clips, Sony offers its Image Converter 2 software to files ($19.99, www.sonystyle.com/prodcompass?ProductSKU=MSSWIC2). You can't just drag arbitrary MPEG files, even if you know the required folder (MP_ROOT/100MNV01).
You also can use the straightforward PSP Video 9 shareware application from Sajeeth Cherian's Videora Holdings to convert video files to PSP-compatible formats and manage the files stored on the PSP (free, donations requested, www.pspvideo9.com).
Even better, you can convert your own (not copy-protected) DVDs to view on the PSP using Nero Recode 2, part of the Nero 6 Ultra Edition ($99.99 retail, $79.99 download, www.nero.com/us/Nero_Recode_2.html). With Recode 2, you can open up your DVDs, select portions to extract, and then transcode to PSP-compatible MPEG-4 format using built-in presets.
When watching videos, you again can use the Options menu to control playback, including switching between display modes (zoomed to fill the screen).
The PSP works fine as a media player for small numbers of files, but it does not support nested folders or other mechanisms to organize and manage large collections. And since it is a gaming platform, it lacks dedicated buttons for common playback control like scanning and stepping through clips, so you need to bring up the Options control panel for simple operations. (The directional and L/R buttons provide some of these functions, and you can press the tiny Start button to pause playback.)
Of course the PSP is a great gaming machine, and very reasonable movie-watching device, even with the handheld display. It certainly is small enough to use even on long crowded trips, at approximately 6.7 x 2.9 x .9 inches and 280 g / .62 lbs. The removable battery will last for around 4 to 6 hours, depending on the strain from intensive games.
Plus, as a bonus, you can take along your own media files, including music clips, photos, and videos. You still may want a dedicated music player if you like to choose your music from a large collection, requiring better organization and more storage. But the PSP is a heck of a platform for combining interactivity, real-time 3D graphics, and full-motion video, so it will be interesting to see how developers can take advantage of its potential. And did we mention the built-in 802.11B wireless networking, supporting both ad-hoc networking of up to 16 consoles, and connection to existing networking infrastructure? Hmm, this might become a portable wireless media viewer, or more ...
Microsoft - Portable Media Center
www.microsoft.com/windowsmobile/devices/portablemediacenter
Creative - Zen Portable Media Center (PMC)
us.creative.com/products/category.asp?category=210
SmartDisk - FlashTrax XT
www.smartdisk.com
www.smartdisk.com/eWeb/smartdiskus/www/staticpages/FlashtraxXT.asp
Sony - PlayStation Portable (PSP)
www.us.playstation.com/psp.aspx
Sony - Image Converter 2
www.sonystyle.com/prodcompass?ProductSKU=MSSWIC2
Nero Recode 2
www.nero.com/us/Nero_Recode_2.html
Sajeeth Cherian / Videora Holdings - PSP Video 9
www.pspvideo9.com
Sony - Downloading to PSP Memory Stick
www.memorystick.com/psp
Sony Connect Music Store
musicstore.connect.com
Sony Connect - PSP downloadable clips
www.connect.com/psp