HOME DIGITAL MEDIA ARTICLES

Manifest Technology Blog -- Site: | Articles | Galleries | Resources | DVI Tech | About | Site Map |
Articles: | PC Video | Web Media | DVD & CD | Portable Media | Digital Imaging | Wireless Media | Home Media | Tech & Society |
Home Media: | Home Media Articles | Home Networked Media Gallery |

---
Articles: | PC Video | Web Media | DVD & CD | Portable Media | Digital Imaging | Wireless Media | Home Media | Tech & Society |
Home Media: | Home Media Articles | Home Networked Media Gallery |

---
Beyond MP3 Players: Sharing Your Entertainment
with Portable Media Viewers (2/2006)
(Creative Zen Vision and Sony PlayStation Portable)
by Douglas Dixon
Creative Zen Vision
Zen Vision Formats and Downloading - Zen Vision Playback - Zen Vision Extras
Sony - PlayStation Portable (PSP)
PSP Formats and Conversion - PSP Downloading and Playing - Portable Media Viewers
References
Portable MP3 music players have exploded in popularity in the past couple of years -- cramming collections of songs, then photos, and now video clips into astoundingly tiny and featherweight devices. However, these tiny players really are only for personal use -- designed for solo listening through headphones and one-at-a-time viewing. But what about portable shared media -- clips to go, but also to share -- with a speaker so your friends can hear the audio, and a larger screen that more than one can view at a time?
Two interesting possibilities for this kind of portable viewing are the Creative Zen Vision and the newly upgraded Sony PlayStation Portable (PSP). Both offer bright screens large enough for shared viewing with others, and yet both are relatively light and easily carried, albeit not quite pocket-sized.
The Creative Zen Vision is designed for portable media storage and playback, with A/V outputs so you can even use it as a presentation device. And while the PSP is primarily a gaming machine, its popularity (over 10 million units sold worldwide in less than a year after its launch), and movie playback capabilities do make it a very interesting portable media viewer as well.
---
The Creative Zen Vision is a true portable media player -- with a good-size 3.7" LCD and speakers, but still relatively light and portable (www.creative.com/products/pmp). It also includes FM radio reception with 32 presets, voice recording, and A/V output.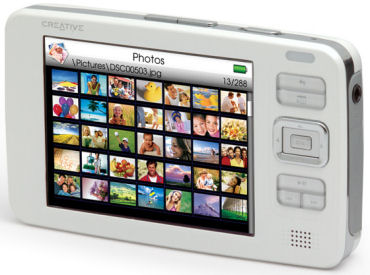 Creative Zen Vision
You can use the Zen Vision as a personal media player, listening to the audio on your headphones and using the easily-readable menus to explore your music and other media content. You also can use it as a shared player, watching videos on the bright screen and listening to the audio through the built-in speakers. Plus, you can use it as a portable projection device, connecting to a TV with A/V cables.
Released in October 2005, the Zen Vision is a significant step up from the previous Creative Zen Portable Media Center from February 2004 -- increasing the capacity (from 20 to 30 GB), doubling the resolution (from 320 x 240 to 640 x 480), dropping in size and weight (from 5.6 x 3.18 x 1.06" and 12 oz. to 4.9 x 2.9 x 0.8 in. and 8.4 oz.), and lowering the price (from $499 to $399).
The rechargeable Li-ion battery lasts up to 13 hours for audio playback, and 4 1/2 hours for video. It is also removable so you can use a spare for longer trips.
For music playback, the Zen Vision supports MP3, WAV (Linear PCM), and Windows Media Audio (WMA) formats, including WMA with Digital Rights Management (DRM) 9 or later for purchased music. When recording it uses IMA ADPCM (16 kHz mono for voice and 22 kHz stereo for FM radio).
For photo playback, it supports JPEG compressed format.
For video playback, it supports MPEG-1, MPEG-2, MPEG-4-SP, Windows Media Video (WMV) 9, Motion JPEG (MJPEG), and compatible AVI.
You can convert and download clips to the Zen Vision by syncing using Microsoft Windows Media Player 10 (a free upgrade for Windows XP). Creative also provides two additional software applications with the product:
- The Creative MediaSource Player/Organizer is designed to be used as your primary music organizer and jukebox
- The Creative Media Explorer is intended to supplement an existing media player/organizer to help you to download your existing music collection and access the Zen Vision more like a removable disk.
You also can use the Zen Vision as a portable storage device, but you do need to explicitly dedicate a portion of the disk space for data files (under Extras > Options > Set Capacity). When you connect to the Zen Vision through a USB connection, it is mounted under Windows XP as a Portable Media Device, and the Media and Data sections then appears as separate folders under the device. As a result, you can access your data files only from a computer; you cannot accidentally delete them from the player itself.
Once you've downloaded your clips, the Zen Vision is ready for action. The menu navigation and playback control buttons are conveniently located along the right side of the screen, with the volume controls at the top of the unit. The Options button also displays a pop-up context menu with options for what you are currently viewing.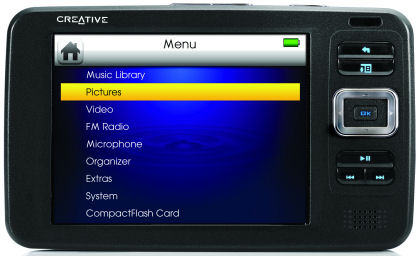 Creative Zen Vision menu
For audio playback, you can access your collection by categories (Albums, Artists, Genres, Recordings, etc.). Since 30 GB can hold a lot of music to scroll through -- some 15,000 songs -- the menus provide a nice option to skip rapidly through each letter of te alphabet. You also can create Playlists of tracks and set Bookmarks within Tracks, all directly in the Zen Vision. The Vision also provides a DJ menu with the option to play random albums and tracks, or view your Most Popular or Rarely Heard tracks.
For audio recording, you can record from FM radio or from the built-in microphone. You then can play back the recorded tracks and even delete them if desired to free up space.
For photo viewing, you can view individual photos with music playing in the background, or display timed slide shows for images grouped in folders.
And for video playback, you have all the usual playback controls to play and skip through your clips, and even play at different speeds.
The Zen Vision adds a couple more nice features. It has organizer features to sync with Microsoft Outlook to store and view your contacts, calendar, and tasks. For additional transfer options, it supports TiVoToGo to viewing recorded TV content. Plus, the Zen Vision has a built-in Compact Flash slot for Type I & II cards, so you can transfer photos from your digital camera to view on the Zen Vision. With the optional 5-in-1 memory card adaptor, the Zen Vision can serve as a storage and backup device for trips, storing files on the hard disk.
For more fun, Creative also offers wired and wireless (IR) remote controls, and a USB charger / docking station.
---
Another interesting alternative for portable media viewing is the Sony PlayStation Portable (PSP) -- it's a game machine, plus movie viewer, plus media player, all in a convenient hand-held package for around $249 (www.us.playstation.com/psp.aspx). With the performance and hand-held form factor of a game machine, plus the bright wide display of a movie player, the PSP is also nicely designed to serve as a portable media player for your music, photo, and video -- especially after a recent series of ROM upgrades that added Web browsing and support for a wider variety of media formats.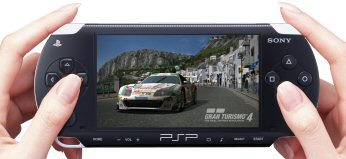 Sony PlayStation Portable (PSP)
The core function of the PSP, of course, is as a game machine. It starts with a 333 MHz processor and 32 MB main memory, and adds a bright 4.3 inch widescreen LCD, with full-color 480 x 272 pixel resolution. The design and controls are laid out for two-handed use, but still in a small and portable unit -- 6.7 x 2.9 x .9 inches and 280 g / .62 lbs. The removable battery lasts around 4 to 6 hours, depending on your usage.
Sony used the new UMD optical disc format for the PSP for both delivering both games and movies. The Universal Media Disc is smaller than a CD or DVD (2.36 in. / 60 mm in diameter), holds 1.8 GB of data, and is stored in a caddy to slip easily into the top of the PSP. Interestingly, this idea of watching full-length movies on a tiny personal screen has caught on better than you might have expected. All the major studios are now releasing both new and catalog titles in the UMD format, and Sony reports that movies are selling well, almost equivalent to games.
UMD (Universal Media Disc)
For the moment, however, UMD is solely a read-only format for delivering prerecorded games and movies. For your own content, the PSP also supports downloading content for playback from removable Memory Stick Duo cards. Current retail prices for High-Speed Memory Stick PRO Duo media are around 512 MB for $69, 1 GB for $178, and 2 GB for $388.
Plus, the PSP has built-in 802.11B wireless networking, supporting both ad-hoc networking to up to 16 PSPs for multi-user games, and connection to existing wireless networks for Internet access.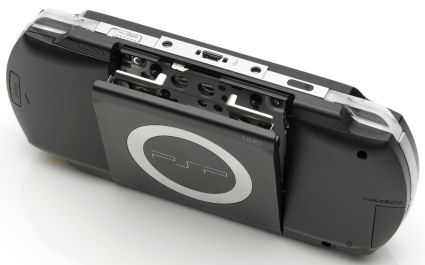 PSP - UMD door
Sony has continued to enhance the capabilities of the PSP through a series of ROM upgrades. These are easy to install -- just download from the Sony PSP Support site to a Memory Stick Pro card, and then run from the main PSP menu.
One cool addition was an Internet browser that can connect through the wireless network to surf the Web. But more important for media viewing, Sony has added support for a wider range of popular media formats:
- Beyond MP3 audio, the PSP supports Sony ATRAC3/ ATRAC3plus, MP4 / MPEG-4 AAC, and WAV / Linear PCM.
- Beyond JPEG photos, it supports TIFF, GIF, PNG, and BMP.
- Beyond MPEG-4 video, it also supports the newer MPEG-4 H.264 / AVC.
For video, the PSP requires clips be compressed using a specific subset of the features supported in the MPEG-4 specification. You can't just download arbitrary MPEG-4 files, even if you know the required special folder (MP_ROOT/100MNV01).
Sony offers free video clip downloads from the Sony Connect PSP site (psp.connect.com), and you can purchase copy-protected music at the Sony Connect Music Store (musicstore.connect.com).
To convert and download your own clips, Sony offers its Image Converter 2 software to files ($19.99, www.sonystyle.com/prodcompass?ProductSKU=MSSWIC2).
You also can use the straightforward PSP Video 9 shareware application from Sajeeth Cherian's Videora Holdings to convert video files to PSP-compatible formats and manage the files stored on the PSP (free, donations requested, www.pspvideo9.com).
Plus, other video software tools are adding support for the PSP, including CyberLink PowerDirector 5 ($ 89.95, www.cyberlink.com), InterVideo DVD Copy 4 Platinum ($79.95, www.intervideo.com), and Nero Recode 2, part of the Nero 6 and 7 Ultra Edition ($99.99 retail, $79.99 download, www.nero.com/us/Nero_Recode_2.html).
You access and download media files to a Memory Stick in the PSP through the USB connection, much like digital cameras and other devices. Just put the PSP in USB Connection mode (under the Settings menu) to mount the Memory Stick as a removable file, and then just drag and drop files from your desktop.
Just be sure to put your files in the right folder on the PSP: Each type of media must be stored in the proper location in order for the PSP to find and play it (see www.memorystick.com/psp): i.e., PSP/MUSIC and PSP/PHOTO. You can create sub-folders to help organize your collections, but only one level -- nested sub-folders are ignored.
You then control playback using the PSP buttons, which admittedly are designed for gamer use. The PSP menu interface floats over the current display. Use the PSP's Directional buttons (on the left) to navigate the menus, moving left and right to select a category (Photos, Music, Video, Games, Settings), and then up and down to select an item within that category, including installed storage devices for playable content -- UMD disc and Memory Stick. Then use the Enter keys (on the right) to Select the current item ("X"), or Cancel out of a menu ("O"). Press the dedicated Home button (at the bottom left, next to Volume Up/Down) at any time to jump back to the PSP's home menu.
For music, the PSP can display song information, provides repeat and shuffle playback modes, as well as the option to Group your collection using your preferred organization.
With photos, you can browse and display individual images, zooming in and out, play all your images as a photo slideshow, and even transfer photos to another PSP using the ad-hoc networking.
During playback, press the triangle options button to display a pop-up control panel with playback controls and options, including an information display about the current content.
---
These portable media player devices like the Creative Zen Vision and Sony PlayStation Portable really are a different category of device from the tiny MP3 audio players and even pocket-sized personal players like the iPod Nano and even the video iPod. With larger screens, built-in speakers, more comfortable controls, and more readable menus, these media players expand from personal to shared use for enjoying your entertainment.

You can listen to music in a hotel room or on the beach without requiring headphones, and share your photos and video clips with family and friends without having to hand the player from one person to the next.

With A/V outputs, the Zen Vision even can serve as a highly portable presentation device, at a party, or for business presentations. With a 30 GB hard disk, it can pack a lot of media, and doubles as a really convenient transportable data storage device.

And for the game player or movie lover who already has (or is interested in) the Sony PSP, the recent upgrades make it a great viewing platform for sharing your own music, photos, and video downloaded to the Memory Stick. The built-in wireless networking and Web browsing provides a nice bonus for accessing on-line resources as well.

So get out there, and share your enjoyment with media.

Creative Zen Vision - Portable Media Player
www.creative.com/products/pmp

Sony - PlayStation Portable (PSP)
www.us.playstation.com/psp.aspx

Sony - Image Converter 2
www.sonystyle.com/prodcompass?ProductSKU=MSSWIC2

Sony - Downloading to PSP Memory Stick
www.memorystick.com/psp

Sony Connect - Music Store
musicstore.connect.com

Sony Connect - PSP downloadable clips
psp.connect.com

CyberLink - PowerDirector 5
www.cyberlink.com

InterVideo - DVD Copy 4 Platinum
www.intervideo.com

Nero - Recode 2
www.nero.com/us/Nero_Recode_2.html

Sajeeth Cherian / Videora Holdings - PSP Video 9
www.pspvideo9.com

Originally published in Camcorder & Computer Video magazine, 22, 2, Feb. 2006.