Manifest Technology Blog -- Site: | Articles | Galleries | Resources | DVI Tech | About | Site Map |
Articles: | PC Video | Web Media | DVD & CD | Portable Media | Digital Imaging | Wireless Media | Home Media | Tech & Society |
PC Video: | PC Video Articles | Video Software Gallery | Video Editing Resources |

---
Video Jukeboxes: New Web Players (10/2000)
by Douglas Dixon
Windows Media Player 7 -- RealNetworks Real Entertainment Center
Do you like to collect audio and video files on your PC? Do you enjoy searching the Internet for new and interesting material? Do you want to record songs from your CD and record collection, and then organize them into your own playlists? If so, you should check out the new integrated media jukebox and player applications from Microsoft and RealNetworks.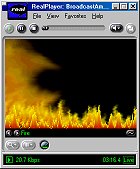 These tools do it all, from building and organizing your personal media library to playing different kinds of video and audio materials, and then even let you take it with you by burning your favorite songs to CD or downloading them to a portable player.
You can collect audio and video material by recording from CD or searching the Internet, and access online guides to find additional material to fit your tastes. As you collect material, you can organize it into your own personal media library, complete with artist and album information downloaded from the Internet. Then to play your collection, you can build your own personal playlists or mixes, and play material in different media formats, both from your local disk and streaming across the Internet.
New Tools
In May 2000 both Microsoft and RealNetworks released their new media player / jukebox applications, available as free downloads from their Web sites. Microsoft introduced a beta version of a major upgrade to the Windows Media Player, version 7. RealNetworks introduced betas of the Real Entertainment Center, combining the RealPlayer 8 streaming media player, the RealJukebox 2 music and video jukebox, and the RealDownload 4 download manager.
The new versions of these tools are significantly easier and more fun to use, with cleaner, friendlier interfaces. Their new snazzy look includes downloadable "skins" to change their appearance and a variety of video effect visualizations synchronized to the music. They also have built-in access to the Internet for media guides and searching, without requiring switching to a separate browser window.
The new Windows Media Player is a major enhancement to the previous versions, including a much more interesting visual interface and the addition of jukebox recording and organizing functions to become a fully integrated audio and video media application. The Media Player has a visually uncluttered design, with big buttons to make the main functions easy to access. The default display has a straightforward design, with buttons to access the major functions down the left side of the display, play controls across the bottom, and a main display area for the currently playing media.

Figure: Media Player, showing online Media Guide for broadband media
In the main Media Player window, the top Now Playing button shows the current video or audio clip, with additional controls and visualizations. The next two buttons are for acquiring material: Media Guide accesses the WindowsMedia.com on-line Media Guide, and CD Audio plays and records CD audio. Once you build a collection, use Media Library to organize your material and build playlists, or Radio Tuner to access on-line stations. Finally, use Portable Device to download playlists to a portable audio player.
The bottom Skin Chooser button displays a list of user interface "skins" or visual designs for the player. You can use the Full display mode when recording or accessing material, and then switch to Compact mode with one of the skin designs to hide the menus and buttons when playing material. Media Player comes with a variety of skins, from classic to mini to wild and wacky. The default player has slide-out trays to access the playlist and advanced controls.
While in Compact skin mode, the Media Player also leaves a small "Anchor" window in the lower right of your display. Since skins can have a variety of looks and exposed features, the anchor provides an easy and consistent way of getting back to Full mode.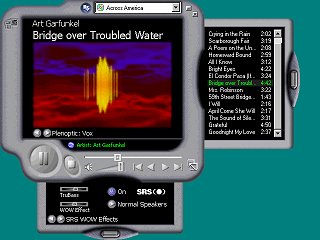 Figure: Media Player in Compact mode
Left: Graphical audio visualization, slide trays extended for track list and audio effects
Right: "Eye" skin design, plus audio controls
The new Windows Media Player is available for Windows 98, Windows 2000, and the upcoming Windows Millennium release. The version described here is the May 2000 Beta release. Older versions of the Media Player also are available for the Macintosh and Unix. Check the Windows Media site for the latest version, available as a free download.
RealNetworks also has begin integrating its products into a bundled set, combining the RealJukebox audio recorder and organizer and the RealPlayer video player into the new Real Entertainment Center product. The Real tools share a similar look, and have a busier visual interface than the Windows Media Player, with more information displays and additional buttons for direct access to organizational functions. You still do your audio work in RealJukebox and your video playback in RealPlayer, but either can be used to access on-line guides, radio stations, and searches.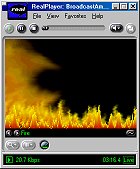 RealPlayer, Compact mode, with graphical "Fire" audio visualization
The Real Entertainment Center also includes Real Download 4, formerly NetZip Download Demon, which makes downloading more convenient and reliable by allowing you to schedule downloads, even of multiple files, and even reconnects and resumes a download if needed to complete a transfer that failed part way thorough.
The RealPlayer interface includes the main play controls and current media source information across the top of the window, a channel list of selected sites down the left side, and the main playback window on the right. RealPlayer does have a Compact view to hide the channel and control bars when playing a video source, but does not support fancy skins.

Figure: RealPlayer, showing online Real.com Take 5 guide to movies
The RealJukebox interface provides several different mechanisms to view and access your collection. The main play controls are along the top of the window, with information displays for the currently playing and recording tracks. The next row of buttons provide access to building your collection from CD or an on-line Music Guide, accessing, and searching your collection by Genre or Artist/Album, and organizing Playlists from tracks or Radio and TV stations. You can then save your collections to portable music devices or audio CDs.

Figure: RealJukebox, showing online Radio Tuner for Pop music
The main window area is then split into several columns, with an Explorer-style tree on the left for the major functions and stored tracks, the main display in the center of album or track information, and a column on the right with general controls and an interactive visualization. In Skin mode, the RealPlayer reduces to a smaller window with just the play controls for the current track, plus pull-out trays with a visualization and additional information on the track.
The Real Entertainment Center is available in various versions for Windows, Macintosh, and Unix / Linux. The Windows version supports Windows 95, Windows 98, Windows 2000 or Windows NT 4.0 with Service Pack 4. The Macintosh version supports Mac OS 8.1 or later. The Unix version supports the previous RealPlayer under Solaris, Linux, and SCO. The applications discussed here are beta versions of the Basic tools, as of June 2000.
The Basic versions of these applications are available as free downloads from the RealNetworks site, but since Real needs to make some profit from its software, it offers "Plus" versions of the applications with advanced features. The individual applications are available for $29.99 each, or all three as the Real Entertainment Center Plus for $49.99. Owners of previous versions can upgrade an application for $19.99.
Compression Technology
Behind the scenes, these tools are built on the next generation of improved video and audio compression technologies from Microsoft and RealNetworks, promising higher quality video scaling from narrowband 28.8 Kbps (thousand bits per second) modem connections through broadband up to 1 Mbps (million bits per second). Video algorithms now have gotten good enough that Microsoft and RealNetworks can claim "VHS quality" at 500 Kbps, and even "near-DVD" quality at 1 Mbps.
Just the fact that these companies are doing side-by-side comparisons to a DVD player tells you a lot, especially since the data rates are around ten times smaller. While you can see a difference if you look carefully, there is no doubt that many of us would be quite happy with this kind of quality on our home TV. Of course, we will also need a high-speed DSL or cable modem connection to support these kinds of data rates.
The new Windows Media Technologies 7 from Microsoft includes new compressors, with broadcast-quality video at 60 frames per second, and Windows Media audio compression promising a sound "more like CD-Quality audio in half the file size of MP3." It also includes a new screen-capture compressor for distributing videos of presentations captured from the PC screen. Microsoft also built in digital rights management technology for secure distribution and sales of digital audio.
The new RealSystem 8 from RealNetworks includes the new RealVideo 8 compressor developed with Intel to provide significantly enhanced video quality. RealNetworks has also focused on supporting a wide range of media formats in its players, with over 40 media data types. Real licensed support for the Windows Media Audio format from Microsoft, and also supports RealAudio, MP3 and streaming MP3, Liquid Audio, WAV, and MIDI formats. For video, the Real player now also supports Web graphics and interactive formats including HTML controls, Macromedia Flash, RichFX (formerly WebGlide) 3-D computer generated video, and iPoint technology from Princeton Video Image for interacting with video objects.
Record Your CDs
The Jukebox functions in these two products are designed to help you build and organize your media collections. You can copy your favorite songs onto your PCs hard disk to organize and play. With today's compression technology and disk drives, you can even think about organizing your entire CD, LP, and cassette collection on your PC: a typical MP3 compression rate is around 1 megabyte per minute, 3 to 4 MB for a typical song, and Windows Media audio promises half that rate. This means an entire album can be stored in 50 to 60 MB, so you can fit 20 CDs into around 1 GB of disk space.
Since the recording process is all digital, reading digital audio from the audio CD and then compressing it, the recording process can run faster than CD play rate. For example, RealJukebox can record at up to 12X speed, so you can record an entire CD in around six minutes. In addition, since today's hard disks can easily handle audio recording rates, so you can listen to the CD while it is being recorded. In addition, you can also still record from analog sources using your PC's audio input jack.
RealNetworks also offers an upgrade to RealJukebox with performance and usability enhancements, including faster recording to MP3 format, variable-bitrate CD recording for smaller files, a 10-band graphic equalizer, cross fade for non-stop listening, printing of jewel case inserts, and file conversion capabilities.
Organize your Media Library
But the whole point is to organize your music, not just record it. Unfortunately, audio CDs do not contain digital data with track lists and other information about the album, and you really do not want to spend your time typing in this information for each song in your library. Conveniently, these tools make use of on-line resources to automatically provide album information for any CD by extracting a digital signature from its contents.
The Windows Media Player accesses the online All Music Guide (AMG) to provide artist biographies, discographies, liner notes, reviews, and other information from within the player. RealJukebox provides an Artist Guide that provides similar information, as well as related links to popular music sites and recommendations for similar artists. You can also use RealJukebox to store cover art, biographies, photos, and other additional information as part of your music collection.
As you build your collection, you can use these tools to help organize your collection, select favorites, and build your own playlists. You can browse and sort your collection by categories like artist, album, or genre. RealJukebox also provides an AutoPlaylist feature that can automatically generate large or small playlists based on your preferences.
Find Media Online
But there's lots more music and video out there on the Internet, and these products provide built-in access to online media guides, with no separate Web browser required. They also provide Internet search capabilities to find free and for sale downloads and other Web sites with information on your favorite music and artists.
The Windows Media Player provides integrated access to the WindowsMedia.com Media Guide, with the best of the Web in music, radio, movies, broadband data, and more.
Similarly, both RealJukebox and RealPlayer provide access to the Real.com Download Music Guide to the latest music, free downloads, and genre-based recommendations.. The Real.com Take 5 guide also provides a showcase of A/V news, entertainment, and other programming.
These products also provide a Radio Tuner function to access over 2,500 radio stations throughout the world in many different genres.
Playing Media
Of course, the real purpose of these products is to play all that cool media that you have reordered and collected. You can play media online by streaming it over the Internet, or download media files to your PC to save and playback later.
You can build and save playlists from all your media, local and online. The players let you reduce their size to show only the current media, or expand the window to show interactive visualizations and provide playback controls.
A new addition to both players is support for 3-D audio effects. The Windows Media Player provides SRS Labs WOW audio enhancement for a panoramic 3-D sound image, and SRS bass enhancement to improve audio quality by adding deep bass and dynamic range. The Real players provide QSound iQfx 2.0 Basic for 3-D stereo effects.
For more control, Windows Media Player provides a 10-band audio equalizer and video controls for brightness, contrast, saturation, and hue. The RealPlayer Plus product includes a 10-band graphic equalizer, SmartEQ to automatically adjust to the type of music, auto-gain and pregain, room size and reverb controls, video tint, brightness, and contrast, plus the ability to record a streaming source, if enabled by the content creator.
Save Your Collections
Finally, these products let you take your music with you by transferring your playlists to portable music players such as the RCA Lyra, Creative Nomad, and Diamond Rio. RealJukebox also directly supports saving music to Iomega Zip drives and Adaptec CD-R and CD-RW drives. These options may require more work on your part to install the right drivers. The players provide options to check the Internet for new device support
Integrated Media
Both Microsoft and RealNetworks have created impressive upgrades to their products to provide more fun and more integrated media tools. We should expect to see this emphasis to continue in the future, with more personalization through downloadable skins and customization through embedding the players in other Web sites and presentations. Microsoft has also tried to build in support for digital rights management to permit secure online transactions for selling songs and other media over the Web, but it's much too early to see how this will shake out in an era of massive downloading of unpaid material.
Both companies have also worked hard to try to smooth out the process of playing media on the PC platform and accessing Internet resources from their tools. The tools are better at not taking over control of all other media types when they are installed, and performing automatically upgrades over the Internet. They also have built-in Web browsers to display Internet media guides and other online material without needing a separate Web browser.
But using media tools on PCs is still too often a painful experience. The tools take a long time to load, so much so that RealNetworks defaults to using a StartCenter to pre-load its tools when you start up your machine. Accessing physical devices like a CD-ROM drive or a modem to the Internet can cause visible delays, in which the applications do not draw their windows properly or even temporarily stop responding at all. And playing video over modem connections is still frustrating, especially with long waits to start up playback.
Using the tools off-line, without an Internet connection, can be clumsy as well. Clicking the wrong button will cause a delay while the media guide or radio tuner attempts to access an Internet site, and then results in the display of an unsightly and unhelpful browser error message. Some buttons unexpectedly still do launch a Web browser in a separate window, for example to access on-line help. RealJukebox perhaps does the best job of trying to keep track of when you are working off-line, and trying to provide helpful feedback as you work in the different modes.
Perhaps the most irritating problem with working off-line is when you record the contents of a CD. Since you are not connected to the Internet, the jukebox applications cannot look up the CD album track information, and therefore lists them as "Unknown." Next time you go online, you still then need to go through a manual process to look up and verify the album, instead of having the application doing this automatically.
The bottom line, however, is that both Microsoft and RealNetworks have produced significantly improved applications for audio jukebox recording and organizing and audio / video media playback sources. Both companies have also developed major Web resources to serve as media guides for streaming and local downloaded media, plus access to radio stations and media searching.
The Windows Media Player does a great job of providing a single integrated tool with simple controls, but based on the Microsoft media formats. The RealNetworks tools are less integrated and have busier interfaces, but provide more control and options and support a wider range of media formats. Since this area is developing so rapidly, and the applications support different kinds of media formats, I would continue to recommend that you download both products to try them out for yourself. And do have fun exploring media on the Web and personalizing the players.
References
RealNetworks.com - Streaming media players
http://www.realnetworks.com
Microsoft Windows Media - Windows Media Player
http://www.microsoft.com/windows/windowsmedia