Manifest Technology Blog -- Site: | Articles | Galleries | Resources | DVI Tech | About | Site Map |
Articles: | PC Video | Web Media | DVD & CD | Portable Media | Digital Imaging | Wireless Media | Home Media | Tech & Society |
PC Video: | PC Video Articles | Video Software Gallery | Video Editing Resources |

---
Making Streaming Video:
Inexpensive Tools for Getting Started (9/2000)
by Douglas Dixon
RealNetworks RealProducer - Windows Media On-Demand Producer
Apple QuickTime Player Pro
The use of the Web for streaming media has exploded over the past year, driven by the ongoing competition between RealNetworks, Microsoft, and Apple. Each has developed successive generations of Web media players, and hosted portal sites for streaming media. So, how can you join in this revolution, and make your own streaming video files to post on your Web site? The answer is easy: the developers of each of the three major streaming media formats also provides easy to use tools for converting media files to Web streaming formats.
We'll take a look at the basic streaming media conversion tools provided by these three companies, all available to download for free or low cost. Although the examples we will use are from the Windows tools, the same or similar tools are available for the Macintosh and other platforms. Once you have experimented with these tools you can step up to a variety of more advanced options for authoring streaming media, both from these three companies and from third-party developers of video editing and conversion tools. But we'll start with the basics to help get you going with streaming video.
As of March 2000, Media Metrix reported that the RealNetworks RealPlayer has become the fourth most used application on home computers, moving ahead of other Internet and online interface software applications such as America Online and Netscape Navigator / Communicator. Of the other media players, Microsoft Windows Media Player had about 60 percent of the users of RealPlayer, and Apple QuickTime had about 30 percent.
"The data indicate that streaming media, including both audio and video, has arrived as the second most used Internet and online interface application despite the fact that less than five percent of all PC households in the U.S. have broadband modem speeds," said Bruce Ryon, Senior Vice President of the New Media Group, Media Metrix. While the most popular use for these tools is for streaming audio, this also means that Web users now have the necessary players to also view streaming video. So, it's time to start streaming!
RealNetworks lead the development of streaming media, releasing the first RealPlayer in 1995 and becoming the major format used on the Web. Its key products are RealJukebox, for organizing and playing music files, especially "ripped" from CD-ROM, and RealPlayer, for accessing and viewing streaming audio and video over the Internet. The basic versions of these products are free downloads, partially supported by advertising. The more advanced Plus versions are available for $29.95. In May, RealNetworks announced the Real Entertainment Center to bundle these products into a single package. Check out the RealNetworks Real.com site for a wide variety of streaming media in Real format.
The introductory RealNetworks tool that we will be using is RealProducer Basic 7.0 Gold, for converting files to the RealMedia streaming format. It is available as a free download for Windows, Macintosh, and Linux. The Windows download is around 4.3 megabytes. Version 7 was released in January 2000, based on the RealNetworks "G2" technology. In April, RealNetworks released beta versions of tools for its next enhancement, Realsystem 8, which offers "the best video quality at half the data rate."
RealNetworks also offers a more advanced tool, RealProducer Plus, for $149.95. The Plus version offers a wider range of compression options, including compatibility with older RealPlayer formats. The Plus package also includes the RealMedia Editor that allows you to trim, cut and paste your existing RealMedia files, and a bandwidth simulator to preview your material under different network conditions.
"RealNetworks has a better understanding of streaming media: what it is, how to use it," says Steve Jacobson, product manager. "We want to make a high quality user experience. RealProducer is easier to use. It's fine for the average consumer, and also has an expert mode. RealProducer Plus provides more control for the codecs, multiple bandwidths, and compatibility."
Using RealProducer
RealProducer is a straightforward tool for converting video material to RealMedia format (.RM). Most of the action controlled from a single window, with the input video clip on the left, the converted output clip on the right, and settings for compression options along the bottom. RealProducer also offers a Wizard to step you though the conversion process.
RealNetworks RealProducer
To begin processing, use the New Session dialog to select your input source and output file. The input can be captured live from a Windows-compatible capture device, or imported from a file in standard Windows and Macintosh formats: Video for Windows (.AVI), QuickTime for Windows (.MOV), Waveform audio (.WAV), and Ulaw audio (.AU).
RealProducer then displays the first frame of the file in the input video window. You can enter information about the clip (title, author, description, etc.), and then select the compression parameters. RealProducer specifies video compression in terms of the general level of quality and the target audience data rate.
Video quality is specified as normal, smooth, or sharp, and audio quality as voice, voice with background music, music, or stereo music. You also specify the desired streaming bandwidth as 28K or 56K modem, ISDN, corporate LAN, or 256K, 384K, or 512K DSL/cable modem. For more precise control of compression settings, use the Target Audience Settings Options to set specific data rate values for each target audience bandwidth and each audio and video quality setting.
RealProducer then encodes the input material to the specified data rate, while attempting to preserve the level of video and audio quality that you specified. Compressing material to play well at a specific bandwidth may require trade-offs between the video and audio quality and the video resolution. You may want to reduce the resolution of the input video so that it looks better and plays more smoothly over a low-bandwidth connection.
RealProducer also provides the option to compress the material as a slide show, preserving the full audio but showing the video only as still images every few seconds. Or, as a last resort to reduce bandwidth, you can encode only the audio portion of a clip.
Once you have specified the compression options, press Start to begin the encoding. You can monitor the encoding process in the output video window. Then press Play to run RealPlayer to preview your clip.
RealProducer is a simple tool focused on conversion and compression to RealMedia format. It is not a general video editor; for example, there are no controls to set in and out points. You can use the Video Settings Options dialog to reduce the resolution of the input video by resizing or even cropping the frames to a smaller region of interest. You can also use the Video Filters Preferences to set filtering parameters for noise reduction, higher quality resizing, and video de-interlacing.
Finally, in order to post your clip on the Web, you need to create a Web page that references the file. RealProducer includes a Web Page Wizard to create the Web page for you automatically with the necessary HTML code. You can edit this page, or copy the HTML code into your own page. Then upload the Web pages and RealMedia files to your web site and click to play your own streaming files.
Output from RealProducer Web Page Wizard
RealProducer also provides the RealMedia SureStream capability to encode multiple data rates into a single file. This allows you to post a single file on your Web site, and, with a RealNetworks server installed, stream the appropriate data rate to different users depending on the capacity of their Internet connection.
Microsoft has made a major push into streaming through the widespread free distribution of the Windows Media players and tools. Microsoft includes the Media Player with all versions of Windows, and even includes the server as part of Windows NT. The new Windows Media Player is based on Active Movie and DirectX, and has replaced the old Microsoft Media Player. The Windows Media Player supports playback of both local and Web-based video and audio. Microsoft also has developed the WindowsMedia.com Web site to serve as a guide to Windows Media content for downloading and streaming.
In May 2000, Microsoft introduced a beta version of Windows Media Player 7, a major upgrade to both the look and functionality of the player to make it single integrated tool for accessing and organizing all your media content, from local CD to local disk to the Internet.
The release of On-Demand Producer described here, Windows version 4.0, is available as a free download from the Microsoft Web site, at around 3.9 megabytes. It was developed in conjunction with Sonic Foundry (www.sonicfoundry.com). Sonic Foundry also offers a more advanced version of this tool, Stream Anywhere, which converts to both Windows Media and RealNetworks formats and is available for $199 (list).
"On-Demand Producer is an entry-level video editor, with cropping, audio, and encoding to ASF, says Sean Alexander, technical product manager, Digital Media Division "The Microsoft MPEG-4 video codec gives highest quality at all rates. It's a single solution that does everything well."
Using On-Demand Producer
On-Demand Producer converts from standard Windows formats to the Windows Media Advanced Streaming Format (.ASF). It can process live video from a video capture device, or process standard Windows video (.AVI) and audio (.WAV) files.
On-Demand Producer also has a straightforward interface, with a video window for the input clip on the left, three tabs with file information and processing options on the right, and play controls along the bottom of the window. It also offers a Full View display option, which adds a timeline at the bottom of the display.
Windows Media On-Demand Producer
To convert a file to Microsoft Streaming ASF format, first open the file (or group of files). You can then view the files in the video window and the timeline. The three tabbed controls on the right provide General information about the input files, Summary fields to enter title, author, and other information about the clip, and Processing controls for video brightness and audio volume. You can also trim the input clips by entering in and out points, and set video and audio fade in and out.
When you are ready to start the conversion, select Save As Windows Media to bring up a Wizard to step through the conversion process. First, choose the input file(s) to be processed, and then select an Encoding Template with video and audio compression parameters. You can also define and save your own custom Templates, with the desired network bandwidth and audio and video compressors. The advanced video settings include video frame rate, image quality (from smooth to crisp), output resolution, and cropping options.
When you finish the Wizard, On-Demand Producer then encodes the input material. As it is processing, it displays the input video frames in the left window, and the output frames in a window on the right, along with compression statistics. When it finishes processing, On-Demand Producer runs the Windows Media player to display the output video clip.
On-Demand Producer Encoding
To prepare your material to post on the Web, use the Publish Windows Media Wizard. This creates the redirector file (ASX/WAX) that is needed to publish media on a Windows Media server. Redirector files are text files that tell Internet browsers where to find your ASF files. The Wizard then creates an HTML page that references the redirector file, via the server machine where you are going to post it.
"You edit in On-Demand, encode, and then use the Wizard to generate ASX on the server side," says Alexander. "ASX is a metafile, with copyright, title, interactive features, and hyperlinks. It's an XML derivative, with multiple files in a single package."
On-Demand Producer offers additional authoring features and conveniences, including saving your conversion jobs as Projects for later reuse, importing and exporting compression Templates and project Scripts, and setting commands (links) and markers in the Timeline.
Meanwhile, Apple has continued to develop and enhance the QuickTime format, adding Web access capabilities, and then full streaming support in 1999 in version 4. QuickTime continues to be a popular format for cross-platform development. Apple also has focused especially on promoting the use of the QuickTime format for movie trailers on the QuickTime site (www.apple.com/quicktime).
The QuickTime 4 software is included with new Macintosh computers, and is available from Apple as a free download for Windows. QuickTime 4 includes a redesigned QuickTime Player application that provides a simple interface for playing video and audio files and for accessing and playing streaming digital media over the Internet.
The QuickTime Pro upgrade, available for $29.99, adds file export options to the QuickTime Player to turn it into a simple but powerful media creation and editing tool that can be used to import media files in a wide variety of formats, perform simple cut and paste editing, and then convert and export files in the desired format.
"QuickTime is fully cross-platform," says Steve Bannerman, QuickTime product marketing manager. "It works the same on Windows and Macintosh. QuickTime supports a breadth and depth of media types: text, stills, 3-D, and VR."
Using QuickTime Player
The QuickTime Player, Pro version, can be used to easily convert material to QuickTime streaming Movie format (.MOV).
To begin a conversion, first open the input media in QuickTime Pro. You can open QuickTime files directly, or use the Import option to open standard Windows file formats, including video (.AVI) and audio (.WAV) files. Since the Pro version of the QuickTime Player includes video editing capabilities, you can prepare your material by cutting and pasting clips together, adding and deleting tracks, and trimming.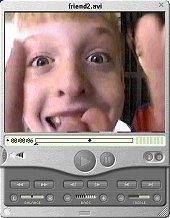 Apple QuickTime Player Pro
"The QuickTime Player is designed to do the most popular things for consumers and prosumers," says Bannerman. "It's clean and uncluttered, with context-based elements. QuickTime Pro is a holster of tools It's handier for assembling edited media once the content has been edited."
When you are done preparing your clip, use the Export option to save the material in streaming format. Select the Export option to QuickTime Movie format, and then specify Prepare for Internet Streaming, as either Fast Start or Hinted Streaming. Also select the desired data rate with the Settings option, from 20 to 40 to 100 Kbps, with voice, music, or stereo audio, and low or high motion video.
Finally, save the result as a standard QuickTime Movie file (.MOV). To access this material over the Web, you can simply link to the file from your Web page to run the QuickTime player from a Web browser, or you can use the QuickTime HTML syntax to embed the clip in a Web page.
Conclusion
You can get started with creating streaming media quickly and easily with these simple and inexpensive conversion tools. Now visitors to your Web site can click on a link to play video and audio files directly over the Internet.
Since these tools are intended for straightforward conversion operations, you may want to prepare your clips in a video editor before importing them. It's to your advantage to provide the best material for the compression process, both by reducing the amount of data in the file by trimming, cropping, and reducing the resolution, and by enhancing the quality, perhaps by adjusting the brightness or using a better filter. With the new versions of consumer editors like Ulead Video Studio, you can even skip a step and export directly to various streaming formats.
As you gain experience with these tools, you will want to move on to more advanced techniques. You can embed video clips directly in your Web pages so they play in place, instead of popping up a player application in a different window. To get more ideas, and to learn the HTML code for new presentation techniques, check out the streaming portal Web sites and look at how other sites support streaming media.
You can also create more sophisticated streaming media presentations. RealNetworks offers tools for creating Web slide shows, streaming PowerPoint presentations with audio and video, and authoring presentations with multiple media sources using the SMIL format for synchronized multimedia. "SMIL is a standards-based Web layout language for multimedia," says Peter Zaballos, director of systems marketing at RealNetworks. "You can create dynamic interactive presentations, fully synched, with video, audio, and images."
The Microsoft Windows Media authoring suite also includes tools for editing presentations with stills and audio, publishing presentations from PowerPoint, exporting streaming media from Adobe Premiere, converting from QuickTime format with Terran Media Cleaner EZ, and scripting presentations with a timeline.
So, grab these tools and make your Web site come alive with streaming media!
References
RealNetworks.com - Streaming media players and tools
www.realnetworks.com
QuickTime Authoring - QuickTime Pro
www.apple.com/quicktime/authoring
Microsoft Windows Media - Windows Media Player & tools
www.microsoft.com/windows/windowsmedia