HOME DIGITAL MEDIA ARTICLES

Manifest Technology Blog -- Site: | Articles | Galleries | Resources | DVI Tech | About | Site Map |
Articles: | PC Video | Web Media | DVD & CD | Portable Media | Digital Imaging | Wireless Media | Home Media | Tech & Society |
Home Media: | Home Media Articles | Home Networked Media Gallery |

---
Flash Recordable Storage (6/2006)
by Douglas Dixon
Flash Market
Prerecorded Flash
Portable Discs
References
The recordable media industry has been focused around shiny discs -- from CD to DVD and now high-def DVD, for both mass market content and consumer recording. But the spectacular growth in mobile phones and portable media devices has driven the development of solid-state memory as a convenient recording alternative, now becoming available in multi-gigabyte sizes to rival DVD.
Flash memory is growing in capacity, with 2 GB cards falling under US $100, and some 4 and 8 GB formats available for under $150 and $350. And flash is shrinking in size: the popular SD format (the size of a postage stamp) has now spawned the MiniSD format (60 percent smaller) and now MicroSD (like a fingernail).
SanDisk miniSD & microSD
This portable storage area is heating up, with USB flash drives available in a profusion of sizes and styles, with built-in security, and now built-in LCD displays to show available capacity. And mini 1" hard drives can provide even better pricing in slightly larger packages, with 4 GB for $99 and 8 GB for $149.
At the recent International Recording Media Association (IRMA) Recording Media Forum in La Quinta, California (www.recordingmedia.org), Pedro Vargas, director of mobile entertainment for SanDisk, the world's largest supplier of flash memory data storage products (www.sandisk.com), described the new possibilities for also distributing pre-recorded content on flash memory, especially for portable content on mobile devices.
Vargas described SanDisk's major markets for flash in five areas, with impressive growth potential:
multimedia cell phones (68% CAGR -- compound annual growth rate, 2005-08),
gaming (62%), audio players (33%),
USB drives (24%),
digital cameras (3%).
With some 800 million phone handsets worldwide in 2005, and $61B in mobile data services revenue, SanDisk projects the global mobile market for 2008-09 to expand with mobile gaming ($13B), movies ($20B), and music ($15B). The opportunity for movies is particularly interesting, as only 4 out of 10 movies ever re-coup their investment, with some 470 titles earning $20B for the box office release, then the 29,000 catalog titles earning $14B in media sales and $8.2B in rentals and other distribution including television.
SanDisk's approach was to develop the TrustedFlash format, based on the SD format, but with hardware encryption and authentication on the card to support multiple DRM (digital rights management) schemes including CPRM and OMA. The format has been adopted by players including the Windows Media Player, Real, and Yahoo Music, and has been approved by Disney, Sony Pictures, EMI, and Universal.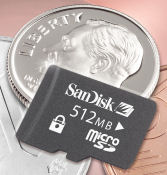 SanDisk TrustedFlash
The result is the SanDisk Gruvi card, which can combine preloaded content (ROM) with writable memory (RAM), with some of the content directly accessible (albeit with DRM restrictions), plus additional content that can be unlocked through user purchases.
For example, the "A Bigger Bang" album from the Rolling Stones is distributed on a 256 MB Gruvi MicroSD card for $39.95. It includes the complete album, with DRM that permits unlimited playback on a phone or a PC (though the Yahoo Music Engine player), plus up to 3 copies to a PC library. The card also includes four additional Rolling Stones albums, which are available for preview and then can be unlocked by purchasing a song or album.
Rolling Stones "A Bigger Bang" on Gruvi MicroSD card
Of course, shiny discs still have compelling advantages for sharing and collecting media -- $99 for a 4 GB flash card is a high cost for the convenience, compared to around 20 cents for a 4.7 GB DVD. As a result, consumers have been enamored with mini DVDs for digital camcorders (80mm discs with 1.4 GB per side) -- It's more economical than solid state memory, and more convenient than tape, as you get the immediate gratification from viewing your clips on a DVD player.
The Sony UMD disc for PlayStation Portable is a similar idea (a 60 mm disc holding 1.8 GB), and even showed that consumers would not reject discs in a caddy. Unfortunately, however, the UMD was only used for prerecorded content, and was not consumer recordable.
UMD (Universal Media Disc)
The result: the PSP is a great multimedia viewing machine for consumer media -- music, photos, and video -- but only if stored on Sony's Memory Stick flash cards. The DVD may be the format to share and back up, but solid state is just so convenient for portable devices.
SanDisk - solid-state storage
www.sandisk.com