HOME DIGITAL MEDIA ARTICLES

Manifest Technology Blog -- Site: | Articles | Galleries | Resources | DVI Tech | About | Site Map |
Articles: | PC Video | Web Media | DVD & CD | Portable Media | Digital Imaging | Wireless Media | Home Media | Tech & Society |
Home Media: | Home Media Articles | Home Networked Media Gallery |

---
Digital Holiday Trends 2007:
Audio Accessories -- Wireless and Noise Reduction (11/2007)
by Douglas Dixon
Mobile Headsets -- Plantronics
Headphones -- Noise Reduction / Wireless, 3-D -- JVC, Turtle Beach
Portable Speakers -- Samsung, Sony, Parrot
Wireless Transmitter / Receivers

Find related Audio Accessories articles in the Manifest Tech Blog

See my Audio Accessories Gallery
for more on these trends and related products.
---
It's holiday shopping season again, and time to explore the trends and new possibilities in portable electronics and associated accessories -- media players, mobile phones, and portable navigation systems. And this is also the season of high definition -- digital cameras, widescreen TVs, and high-definition camcorders.
So let's look at the trends in these areas, and some sample products that illustrate them. Just be warned that prices continue to change drastically, especially in the holiday season, so the numbers listed here are a snapshot as of early winter.
For "How-to" guides and tips on connecting digital devices, also see the Digital Tips site from the Consumer Electronics Association, covering digital televisions (HDTV), home audio, MP3 players, plus digital cameras and camcorders and accessories (www.DigitalTips.org).
---
Audio Accessories -- Earphones and Headsets, Wireless, Noise Reduction
The most important accessory for a portable media player is, of course, some kind of earphone or headphone so you can listen to the music. But it's clumsy dealing with the wires -- running them over and under your jacket, snagging them on the subway, and packing them away so they won't tangle. Even worse, mobile phones use a different earpiece -- mono and not stereo, typically wireless with a Bluetooth connection, and with a smaller audio connector, so now you have two separate devices and two different earphones to juggle between listening to music and taking calls.
The answer, obviously, is to move to dual-use earphones and headphones -- phone and player, mono and stereo, and, of course, wireless. And as Bluetooth becomes more accepted and built in to more devices, it opens up interesting opportunities for sharing between a broader range of devices.
A second major trend in audio accessories is the trickle down of noise suppression technology from high-end headsets to small earbuds and earpieces. Snug-fitting earbuds and full-ear headphone flaps offer a first level of passive sound isolation to block ambient noise. Then active noise cancellation performs signal processing to cancel out background noise. This can be amazingly effective in reducing (but not totally eliminating) noisy environments, from the background music and hum in a restaurant or bookstore to the rumble of a train or airplane.
---
Even wireless phone headsets are going stereo and adding noise suppression, as with the Plantronics Voyager 855 Bluetooth Headset ($149, www.plantronics.com). This starts with an in-ear headset design -- the buds fit snugly to hold them in place and to block out noise (you can add optional ear loops if needed). The side of the headset has a sliding boom that extends closer to your voice, and also answers and ends calls.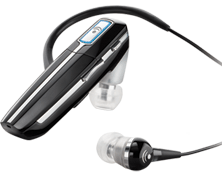 Find the Plantronics Voyager 855 on Amazon.com
The Voyager 855 also performs two-way noise reduction, reducing background noise and adjusting audio levels to enhance sound quality on both ends of the conversation.
It can pair two devices, so you can switch between listening to music and taking incoming calls. And you don't need to get out your devices to operate them -- The headset supports the Bluetooth remote control protocol, with dedicated controls for call and music playback (volume, mute, call answer /end, track forward/back, pause/play).
But listening to stereo music though one mono earphone is still not a great music experience. So the Voyager 855 adds a second earbud connected with a detachable cable (not wireless) for that full stereo sound. The battery provides up to 6 hours of stereo listening time, 7 hours talk time, and 160 hours of standby.
---
Headphones -- Noise Reduction / Wireless, 3-D -- JVC, Turtle Beach
Beyond earphones, JVC has developed several models of noise canceling headphones with earpieces to block sound and powered for active noise cancellation, but still lightweight and even easy to fold up flat for travel (www.jvc.com).
The new JVC HA-NC250 noise canceling headphones have a double housing structure in the earpiece to block outside sounds with an extra sound insulation layer. The noise cancellation circuitry then includes feedback technology that constantly monitors the noise cancellation process, to eliminate up to 85 percent of extraneous background noise.
Find the JVC HA-NC250 Noise Canceling Headphones on Amazon.com
The headphones also function as a pair of normal headphones when turned off, providing high-quality sound reproduction with a 40mm neodymium driver. They are powered by a single AAA battery that lasts up to 50 hours, weigh 5.3 ounces, and are available for $135.
And for something very different in headphones, there's the Turtle Beach Ear Force AK-R8 -- surround-sound headphones for gamers and DVD movie fans ($149, www.turtlebeach.com). Each earpiece has four individual speakers, for the front, center, rear, and subwoofer channels, providing a surround experience without having to crank up your speakers and irritate the neighbors.
Find the Turtle Beach Ear Force HPA2 (headphones only) on Amazon.com.
---
These handheld portable media players are designed as personal devices -- for you to listen to on headphones and view on the relatively tiny screens. But sometimes you want to share your music with others, or just want to play it in your room (or hotel room) without being tethered to earphones. The answer, of course, is to use a portable speaker system -- preferably not much bigger than your media player.
For highly portable sound, the new Samsung Bluetooth Portable Stereo Speakers (YA-BS300) are under 4 inches long, and only 2.19 ounces ($129, www.samsung.com). Use them for music to play audio from Bluetooth-enabled portable media players, with a Bluetooth wireless range of up to 32.8 feet. They also have a line-in jack for wired audio devices.
Find the Samsung Bluetooth Portable Speakers on Amazon.com
Even better, the speakers also will connect with Bluetooth-enabled cell phones to be used as a speaker phone, to make hands-free and conference calls.
Each speaker is 1 watt, and they include the Samsung DNSe (Digital Natural Sound engine), with four selectable settings and 3D Surround Stereo. The battery charges through USB, and provides music playback up to 4 hours, and standby up to 150 hours.
The Sony Travel Speakers provide a clever solution for travel -- they are passive speakers, with no batteries or AC adaptor required (www.sonystyle.com). Just plug in the stereo mini plug and enjoy your music. They also fold out so the speaker is across the entire front surface, and the protective speaker lid folds under as the speaker stand. They are 5.2 x 0.8 x 2.8 inches, and 7 ounces -- model SRS-TP1 for $24.99.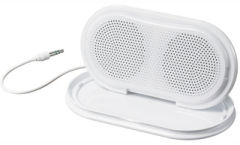 Find the Sony Travel Speakers on Amazon.com
For portability around the home, if not for travel, step up to the Parrot PARTY stereo Bluetooth speakers, with 6 watt output in a design 9 inches long, and 21 ounces ($139, www.parrot.com/usa/products/parrotparty). They also have a line-in jack, built-in audio effects for stereo widening and bass boost, and play for 4 hours.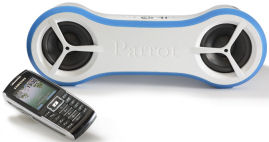 Find the Parrot PARTY Speakers on Amazon.com
---
Bluetooth is not just for wireless audio between your mobile phone and in-ear headset. It is being built in more and different kinds of devices, and you also can use standard peripherals to add wireless capability to existing components.
There's music packed up in your phone and MP3 player, so now you can share from your phone though Bluetooth -- and play through your PC speakers or even your hi-fi system. Or broadcast in the other direction, from your MP3 player or PC media library to listen on your phone headset.
To interchange between a variety of devices, see the dual-use Sony HWS-BTA2W Bluetooth transmitter/receiver ($79, www.sonystyle.com).
Find the Sony Bluetooth transmitter/receiver on Amazon.com
As a transmitter, it streams wireless stereo audio from devices with standard stereo mini plugs, such as MP3 players, PCs, and home stereo systems -- to play to a cell phone, wireless headset, PC, or home or car audio system.
As a receiver, it converts almost any speaker system into a stereo Bluetooth speaker via the line in jack -- to play from a cell phone or other Bluetooth-compatible source.
And to connect your computer into this wireless world, use a small connector like the Kensington Bluetooth USB Adaptor 2.0 ($29.99, www.kensington.com). Plug in to a USB port on a Windows or Mac, and link your computer up to Bluetooth-compatible devices including cell phones, PDAs, printers, mice, and keyboards -- up to 7 devices within a 65 foot range.
Find the Kensington Bluetooth USB Adaptor 2.0 on Amazon.com