Manifest Technology Blog -- Site: | Articles | Galleries | Resources | DVI Tech | About | Site Map |
Articles: | PC Video | Web Media | DVD & CD | Portable Media | Digital Imaging | Wireless Media | Home Media | Tech & Society |
DVD & CD: | DVD & CD Articles | DVD Software Gallery | High-Def DVD Gallery | DVD Authoring Resources |

---
DVD Authoring - 2002 Round-Up (1/2003)
by Douglas Dixon
DVD Formats
DVD Hardware
DVD Player Software
Desktop DVD Authoring Software
Video Editing to DVD
Automated DVD Authoring
Personal DVD Authoring
Professional DVD Authoring
Wrap-Up

See the DVD Authoring Software Gallery for information on software products
What economic doldrums? This past year of 2002 saw tremendous growth in the DVD market, and a steady launch of interesting new products. This is good news for all of us, as it means prices are continuing to drop, and more choices for saving and sharing our videos and photos.
In this article, I'll highlight the trends of the last year in DVD, and provide pointers to a broad array of new products that you may want to check out. In DVD, as in video editing in general, there is no single "right" answer for all your needs. It makes sense to have several products in your tool kit, both for quick transfers to DVD and for more sophisticated productions. So investigate the products on the web, download the trial versions, and find the right combinations of features and price that work best for you.
And don't feel left out if you do not yet have a DVD burner -- you can still create interactive productions and share them on CD in VideoCD (VCD) and Super VideoCD (SVCD) formats, to play back on other computers and even (with VCD) on many set-top DVD players. You also can create and play DVD productions on hard disk, and burn short productions to CD to show on another computer.
Even a continued format war within the DVD industry has not appreciably slowed the growth of DVD. To summarize the situation, there are two families of recordable DVD disc formats, each with a Recordable (R) write-once format, and a ReWritable (RW) format that can be re-used multiple times.
The DVD Forum (www.dvdforum.com) defined the original DVD formats, including the tremendously successful DVD-Video for movies, DVD-Audio for music, and DVD-ROM for prerecorded data. It also defined the base recordable formats: DVD-R and DVD-RW (similar to the familiar CD-R and CD-RW), plus a third DVD-RAM format that provides performance like a hard disc, but is not compatible with standard DVD players.
These original recordable formats were very successful. Pioneer originally introduced professional DVD-R recordable drives that were used for early DVD authoring, and then drove the price down below $1000 by last year so DVD-R burners could be included in consumer computers from Apple and Compaq, among others. Panasonic also has championed the DVD-RAM format, not only for enterprise and desktop data backup, but also for set-top DVD recorders and even DVD camcorders.
More recently, a second industry consortium, the DVD+RW Alliance (www.dvdrw.com), introduced competing formats, first a DVD+RW ("plus") format that was intended to encompass the capabilities of the full range of recordable formats and also have high compatibility with existing players. Later, the Alliance also defined a DVD+R write-once format that began shipping this year. The +RW format is championed by Philips, and has been adopted in systems from Dell and HP, among others.
While this format war complicates the DVD market and raises compatibility issues, the situation is not as bad as it might seem. The whole premise of these formats is compatibility, so this is not a VHS vs. Beta kind of war where consumers who guess wrong with their purchases end up with orphaned equipment and nowhere to play their tapes. Instead, the discs that you burn today, no matter what format, should be compatible with a wide range of equipment, and even more compatible with newer and future equipment.
That said, the compatibility situation is still a bit murky, much like the early days of CD. In general, discs you burn in the Recordable (R) formats are more compatible with existing players than the ReWriteable (RW) formats, and newer players are more compatible with a wider range of disc formats. There also is a wide range between different products; as the industry settles down and gets the manufacturing process under control you will find that some players support a much wider range of formats, and that some discs are much more compatible. For the moment, do your research, and if in doubt, stick to name-brand manufacturers.
Your general strategy then can be to use ReWritable DVD media for test and experimental discs, and then burn your permanent discs to Recordable format, which are cheaper, cannot be accidentally rewritten, and are more compatible with other players.
On the DVD media front, much like the history of the CD industry, we are seeing the demand for Recordable discs grow much faster than ReWritable media, which results in lower prices, that then accelerate the trend. This year, Recordable media prices dropped under $5 to close to $1 in bulk, while ReWritable media was approaching $5. DVD media, in all formats, is now available from a broad range of manufacturers, including familiar names such as Verbatim (www.verbatimcorp.com). When buying media, just make sure you are getting the right format for your burner ("dash" or "plus"). Also be aware that DVD-R media comes in two flavors: the consumer-priced DVD-R for General use, and the original DVD-R for Authoring for professional use.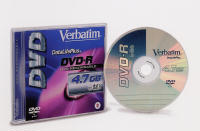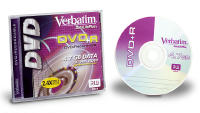 The past year certainly saw a flowering of new DVD recording drives, both internal and external. Companies like LaCie (www.lacie.com) have taken advantage of the higher-speed FireWire (IEEE 1394) and USB 2.0 interfaces to provide a wide array of options for expanding your systems with external drive. You no longer need to crack open your case to add a drive, and can easily share drives between machines. Add big external hard drives for more storage for video files, DVD and CD recorders to burn your productions, tape drives for backup, and even portable "pocket" drives with up to 60 GB of storage that even are self-powered through the FireWire interface.
To ease your mind even further, Sony announced in September the first of the next generation in DVD burners: drives that support both sets of formats (www.storagebysony.com). The Dual RW drives support up to 4X recording on DVD-R and 2X DVD-RW (on new high-speed media), plus 2.4X recording for the DVD+R/+RW formats, and also 24X CD-R and 10X CD-RW recording (using high-speed discs). The drives are available in two formats: the internal Sony DRU-500A with an ATAPI interface (estimated retail price of under $350), and the external Sony DRX-500UL drive with both an FireWire / i.LINK and a USB 2.0 interface (under $430).

New versions of DVD player software have turned computers into the preferred environment for exploring commercial DVDs, both to find the hidden "easter eggs" and to understand how professional DVDs are authored. Apple Mac OS X includes the Apple DVD Player application (www.apple.com/macosx), and Microsoft Windows XP includes the Windows Media Player, since upgraded to Windows Media 9 (www.microsoft.com/windows/windowsmedia).
Meanwhile, the third-party DVD player applications have evolved to become general players for not only the DVD MPEG formats, but also for a variety of media files. Besides playing DVD discs and other Video CD formats, they also can play DVD-format volumes from hard disk, so you can author first to hard disk to check your own productions. They also provide powerful features to explore the structure of DVD discs, including titles and chapters, subtitles, and alternate audio and video streams. These include new releases of CyberLink PowerDVD (www.gocyberlink.com) and InterVideo WinDVD (www.intervideo.com), and Sonic's recent addition of CinePlayer (www.sonic.com), all for around $50 to $70.


For actually creating your own DVD productions, there now are a wide variety of choices available for DVD authoring software, for Macintosh and Windows, starting at prices under $100. The product designers are struggling with how to simultaneously make their products easy to use, while also adding more features and providing the ability to customize your design. The products take very different approaches to the interface and ease of use, automation versus customization, and price points.
This past year has seen the addition of more advanced features like photo slideshows and motion menus (video button thumbnails and menu backgrounds), even in the entry-level DVD authoring products, as well as the incorporation of more video editing capabilities especially for trimming, splitting, and combining clips. Meanwhile, traditional video editing tools are including DVD authoring features. Expect to see this trend continue, as DVD authoring is built into even more products, blurring the lines between categories.
While you will need to try out the products to find the right balance for your needs, we can help clarify matters by grouping the choices roughly by functionality and price. You may also want to have several of these tools available, depending on the job.
Mainstream video editing tools, consumer to professional, now incorporate DVD authoring features. This may involve copying a full production to DVD, with chapter points marked in the timeline, or exporting to a DVD authoring module to import other clips and design the DVD menus.
These include Pinnacle Studio 8 with Smart Capture at low resolution to save disk space when editing (www.pinnaclesys.com), Roxio VideoWave 5 Power Edition acquired from MGI (www.roxio.com), and Ulead VideoStudio 6 (www.ulead.com/vs). Roxio also introduced VideoWave Movie Creator with three modes of assisted editing: CineMagic automated editing, a step-by-step StoryBuilder, and a StoryLine storyboard editor. These products are available for around $80 to $100, or products like Studio are also bundled with capture hardware such as a FireWire board for around $130.
For more professional editing, the new Adobe Premiere 6.5 includes MPEG export to Apple DVD Studio Pro or Sonic DVDit! (www.adobe.com/premiere) and Ulead MediaStudio Pro 6.5 includes DVD authoring (www.ulead.com/msp). These are available for around $500 to $600, and also bundled with capture hardware. The new Pinnacle Edition, with features including background rendering and autosave, can burn direct to DVD from the timeline or export to the bundled Pinnacle Impression DVD Pro (www.pinnaclesys.com, around $700).
Meanwhile, CyberLink and InterVideo have expanded their DVD player product lines to include tools for video editing with DVD authoring options, CyberLink PowerDirector and InterVideo WinProducer, for around $120 - $150, plus the more automated PowerProducer and WinDVD Creator.

The simpler "Automated" DVD authoring tools, at under $100, are designed to transfer videotapes to DVD as quickly and easily as possible, so you can view your videos more conveniently with DVD index menus and make copies to share. These tools typically for you to select the input material and, and then take care of all the work of importing and converting the video and audio, and then burning the result to DVD.
Products like Ulead DVD MovieFactory (www.ulead.com/dmf, around $49) provide a "wizard" style interface to capture video and detect scene changes, and also import video clips in a variety of formats, and then automatically lay them out in menus with thumbnails for each clip. You can trim the clips, organize them in sub-menus, and personalize the design with pre-defined design templates, or apply your own background images and music. Finally, you can preview your production before burning it to DVD, VCD, and SVCD.

Pinnacle also introduced Expression, a similar tool focused on organizing video clips and photos slide shows on DVD (www.pinnaclesys.com, around $49). Expression simplifies the DVD creation process by automatically adjusting the compression rate to the amount of material, permitting the same project to be output in DVD and Video CD formats, and even provides tools for creating disc labels and jewel case inserts.
In the past year these tools have added support for DVD features such as motion menus, as well as the ability to create photo slide shows. The key feature, however, is "once-click" or "direct to DVD" operation, in which these products can go end to end, from capturing from DV to recording to DVD, without further user intervention. Depending on your computer, DVD burner and disc format, some of these products can perform real-time MPEG encoding and even burn to DVD at the same time.
But the hottest new area is the ability to create disks, and then open them up again to re-edit them. MedioStream NeoDVD 4 can burn and re-edit discs using the VR (Video Recording) variant of the DVD-Video format (www.mediostream.com, from $29 to $49). Sonic MyDVD 4 uses OpenDVD technology to save project information to the DVD, so that you can re-edit recorded discs and even append to existing ReWritable discs (www.sonic.com, from $79 to $99).
The basic "Personal" DVD authoring tools, at around $300 to $600, allow you to spend more time designing a DVD presentation, with custom menus, graphics, and navigational layout. These applications each offer different trade-offs of functionality and complexity versus ease of use.
Apple's iDVD 2 provides a comfortable drag and drop interface for users familiar with iMovie and the other Mac iTools (www.apple.com/idvd, bundled with DVD Macs). You can design menus using built-in templates, or explicitly control the button layout and graphical elements in each menu. iDVD also encodes your clips in the background to save time when creating the final production.
Similarly on Windows, Sonic DVDit! provides tools for creating chapter points within a clip, as well as a PE (professional edition) version that supports features such as widescreen video (www.dvdit.com, SE around $299, PE $599). DVDit! is also bundled with the new Adobe Premiere 6.5.
Ulead also introduced DVD Workshop, with more direct control over features such as compression options (www.ulead.com/dws, around $299). It provides access to more sophisticated navigation features such as repeating clips, or explicitly jumping to another clip or a menu.
Finally, the more "Professional" tools, at $1000 and up, open up more of the capabilities of the DVD specification, but still package and simplify the authoring process to avoid the full complexity of the full-bore "Hollywood" film authoring tools.
Apple's DVD Studio Pro provides access to almost all DVD features, including multiple angles and languages, subtitles, and scripting (www.apple.com/dvdstudiopro, around $999). It does not automatically convert input clips to DVD MPEG format, but instead is designed to work with a video editing application like Final Cut Pro in which you can edit and convert your clips, and an image editing application like Premiere in which you can prepare your menu graphics.
On Windows, Pinnacle updated Impression DVD-Pro, which includes support for unlimited menus, motion menus, multiple video angles, up to eight audio tracks, up to 32 subtitles, and up to six channels of Dolby Digital / AC-3 audio (www.pinnaclesys.com, Pro around $399, SE around $199).

Sonic also updated ReelDVD to support up to nine video angles, eight audio streams and 32 subtitle streams, integrated with the Hollywood-standard Sonic Scenarist DVD engine (www.sonic.com, around $1500). Sonic also produces several other higher-end professional tools for Mac and Windows.

Even in this quick round-up, you can see the wide diversity of software now available for DVD authoring. By the end of 2002, most of these tools can capture and import in a variety of formats while segmenting it by scene cuts, and write your final production in DVD and VCD formats to a profusion of CD and DVD burners. Some also can write your production in DVD format to hard disk for you to test, and then burn copies to DVD discs.
The most exciting new development, however, is the ability to "crack open" DVDs that you have burned to re-edit the DVD, especially by adding new clips. You can edit existing DVDs in place on ReWritable discs, or import a DVD as a new project to hard disk. This is a new feature, however, and will take a while to shake down, get working well with all formats, and propagate through the software product lines.
DVD on the desktop really is here -- You can get starting transferring tapes, clips, and photo collections to DVD (and CD) for under $50, with some ability to customize the navigation of your productions with hierarchical menus, and the menu designs with background images and audio, and even with motion video menus. And you can step up to more professional features starting at around $300, with more customized designs and menu layout.